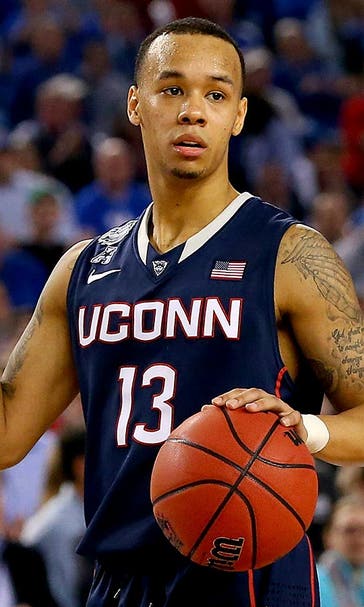 Heat announce 2014 roster for Orlando, Las Vegas Summer League play
July 1, 2014

MIAMI, FL -- The Miami HEAT announced today that 2014 NBA draftee Shabazz Napier will join Justin Hamilton and 2013 draftee James Ennis representing the HEAT at both the Orlando Pro Summer League and Samsung NBA Summer League in Las Vegas. Miami HEAT Assistant Coach/Player Development Dan Craig will serve as the Head Coach during summer league play.
Practice sessions will take place in Orlando, beginning on Wednesday, July 2.
The HEAT begins summer league play on Saturday, July 5 in Orlando, and will play five games over the seven-day event, with a championship day being played on the final day of the league, July 11. The team will then head to Las Vegas, with their first game scheduled for Saturday, July 12. The team will play a tournament style schedule, with a champion being crowned on Monday, July 21. At a minimum, the team will play at least five games.
Miami Heat Summer League roster
| | | | | | | | |
| --- | --- | --- | --- | --- | --- | --- | --- |
| NO. | NAME | POS | HGT | WGT | BIRTHDATE | PRIOR TO NBA/HOME CNTRY | YRS PRO |
| 63 | Ivan Aska (ORL) | F | 6-7 | 230 | 06/26/90 | Murray State/Virgin Islands | R |
| 54 | Danilo Barthel | F | 6-10 | 220 | 10/24/91 | Germany | R |
| 62 | Jerrelle Benimon (ORL) | F | 6-8 | 246 | 08/01/91 | Towson/USA | R |
| 52 | Nobel Boungou-Colo (ORL) | F | 6-8 | 215 | 04/26/88 | Republic of Congo | R |
| 61 | Andre Dawkins (ORL) | G | 6-4 | 206 | 09/19/91 | Duke/USA | R |
| 50 | Larry Drew | G | 6-2 | 180 | 03/05/90 | UCLA/USA | R |
| 32 | James Ennis | F | 6-7 | 210 | 07/01/90 | Long Beach State/USA | R |
| 58 | Frank Gaines (LV) | G | 6-4 | 193 | 07/07/90 | IPFW/USA | R |
| 56 | Langston Hall | G | 6-4 | 180 | 11/01/91 | Mercer/USA | R |
|   7 | Justin Hamilton | C | 7-0 | 245 | 04/01/90 | LSU/USA | 1 |
| 53 | Eli Holman | F/C | 6-10 | 259 | 03/22/89 | Detroit Mercy/USA | R |
| 55 | Tyler Honeycutt | F | 6-8 | 198 | 07/15/90 | UCLA/USA | 2 |
| 57 | Tyler Johnson | G | 6-4 | 186 | 05/07/92 | Fresno State/USA | R |
| 51 | Trey McKinney Jones (ORL) | G | 6-5  | 220 | 08/27/90 | Miami (FL)/USA | R |
| 13 | Shabazz Napier | G | 6-1 | 171 | 07/14/91 | Connecticut/USA | R |
| 60 | Ronald Roberts, Jr. (LV) | F | 6-8 | 225 | 08/05/91 | Saint Joseph's/USA | R |
| 59 | Scott Suggs (LV) | G | 6-6 | 190 | 11/10/90 | Washington/USA | R |
NOTE: (ORL): Orlando Pro Summer League Only // (LV): Samsung Las Vegas NBA Summer League Only
---
---