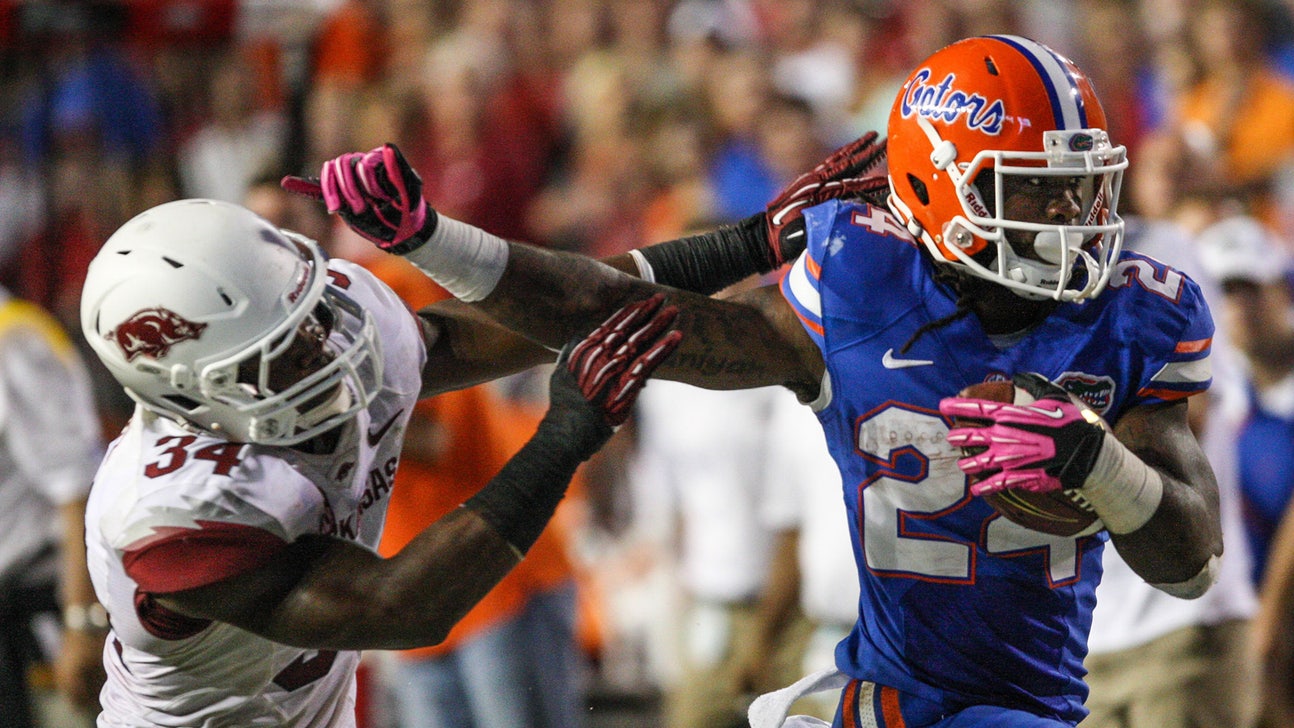 Healthy and determined: Gators RB Matt Jones ready to roll after 2013 misfortunes
Published
Aug. 3, 2014 9:15 p.m. ET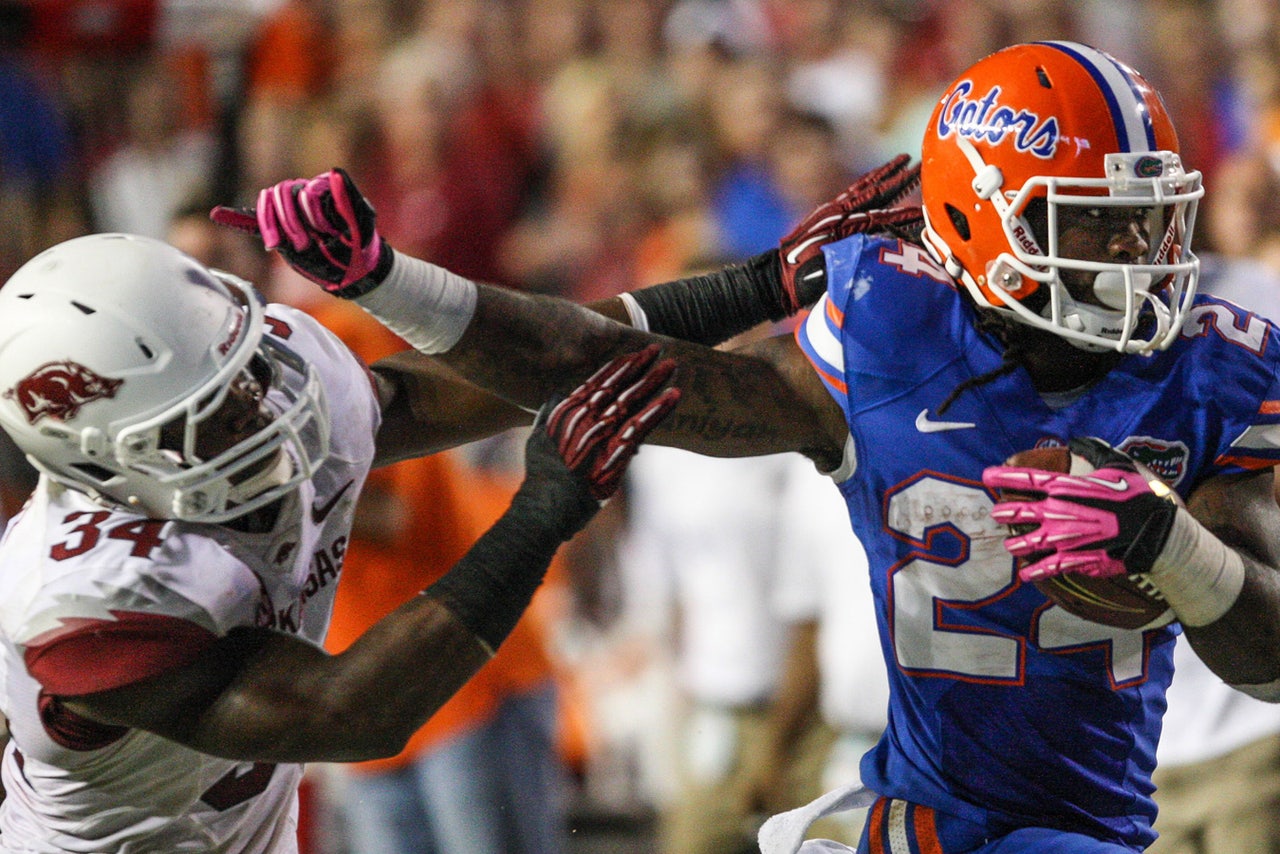 GAINESVILLE, Fla. -- Matt Jones didn't feel right. He had a fever. He started to vomit over and over. Fatigue set in.
Alarmed at how bad he felt, Jones sought medical attention.
''I felt really weak and couldn't get my strength back,'' Jones said Sunday at UF's Media Day.
Jones discovered he had a viral infection during a trip to the hospital and subsequent stay. Soon, the weight started to drop from Jones' stout 6-foot-2 frame like would-be tacklers who get in his way.
Jones' illness came right as the Gators were about to open fall camp a season ago. He missed most of camp and did not play in the season opener against Toledo.
Jones made his debut on a warm and muggy afternoon in South Florida in a loss to Miami. Jones reeled off a 9-yard run on Florida's second play of the game but six plays later fumbled inside Miami territory.
Unfortunately for Jones and the Gators, their troubles were just beginning on the way to a 4-8 season.
Jones slowly recovered from the viral infection and three weeks after his sluggish performance at Miami, he rushed for 176 yards and a 67-yard touchdown in a win at Kentucky. The Gators were 4-1 when they traveled to LSU in early October.
Jones rushed four times for 17 yards on Florida's first drive of the game, but the fourth carry was his last of the season. He suffered a torn radial meniscus in his left knee.
''I knew I was hurt,'' Jones said. ''I played the next play. I got up and said, 'something ain't right.' My strength wasn't there.''
Two days later Jones was back at the hospital undergoing surgery to repair the injury, one of many season-ending injuries the Gators suffered during their first losing season in 34 years.
Fast forward to Sunday and Jones has no interest in ever hitting the rewind button on last season. Instead, he pondered the possibility of sleep deprivation come Monday morning when the Gators open fall camp to prepare for the 2014 season.
''Being sick and then coming back and getting hurt, it was like double trouble,'' Jones said. ''It was a nightmare. When you have a nightmare you've got to wake up sometime. I woke up and it was great. I'm definitely stronger because of what I've been through.
''I might not sleep too good (tonight). I'm going to be up ready to go. I'm going to be ready to go this whole camp.''
The Gators recruited Jones out of Armwood High in Tampa to provide them with the kind of big, bruising running back they needed in former offensive coordinator Brent Pease's pro-style attack. However, Pease is no longer here and Jones is.
Enter Kurt Roper and his no-huddle, up-tempo system.
Jones will still get carries. But he will also be asked to spread out to the slot and line up at receiver.
It's a system that Jones said he is comfortable in.
''When you get recruited, they know you can run the ball,'' Jones said. ''Now it's about catching the ball and blocking. In this offense, (the running backs) definitely do that. This is the offense I ran in high school, that's why I really like it. I've been in the slot, catching the ball. It's similar. I feel at home.''
As the Gators look to quickly regain their footing, Jones can provide a sturdy presence to help them find their way.
Florida coach Will Muschamp reiterated again Sunday that while the Gators' offense is schematically different than the one they ran in his first three seasons, it's the same philosophically.
Muschamp and Roper want the offense to be balanced in the run-pass equation. That means Jones' ability to catch the ball is as important as his skills as an inside runner.
If Jones stays healthy, there will be opportunities for him to make a difference.
''He's a 230-pound back. About midway through the third and fourth quarter you get tired of hitting him,'' Muschamp said. ''He's got extremely good hands and he's very good at protection. A very smart player. I thought he had as good a spring (in 2013) for a back that I've been around.''
Muschamp said Jones, who lost around 15 pounds during his illness last season, is at 233 pounds entering camp. That's about five pounds heavier than what the Gators projected his playing weight.
Muschamp is fine with that.
''I watched him run the 110s at 233 and I told him you can weigh 235 if he wanted to,'' Muschamp said. ''He looks really good. He's healthy, he's in shape, he's excited and itching to get started.''
Junior defensive tackle Jonathan Bullard, who arrived at UF in the same recruiting class as Jones, sees a teammate determined to have a big season.
''He's slim but he's bigger if that makes sense,'' Bullard said. ''He shed some fat and got more muscular. He took it real serious. He knows this is a big year for him. We all expect big things from him.''
The Gators enter camp with solid depth at the tailback position. Jones, sophomore Kelvin Taylor and redshirt senior Mack Brown all played significant snaps last season. Newcomer Brandon Powell has impressed teammates and coaches during his short time in the program.
Still, Jones offers a combination of speed, size and power the others don't.
''He can help in a lot of ways,'' fullback Hunter Joyer said. ''He changes the whole perspective of the defense and how they prepare for us. Just having him on the field is a huge asset for us.''
While Jones has only eight receptions in his first two seasons, quarterback Jeff Driskel knows he has a reliable target in Jones.
''He is obviously a huge guy and a tough guy to bring down,'' Driskel said. ''He's got the quickness, he's got the speed, and he's got really good hands. I think that is something people don't really think about, is him out of the backfield or splitting out and running a route.''
For now, good health is the asset Jones appreciates the most. He said that prior to last season he had never been seriously injured or missed time due to sickness.
And then he experienced both in a span of two months.
The time away from the field has Jones motivated to do something special once he gets back on it.
''I feel way healthy,'' he said. ''I feel like two steps ahead of my game. When you are trying to come back off an injury, you've got stuff to prove.''
---