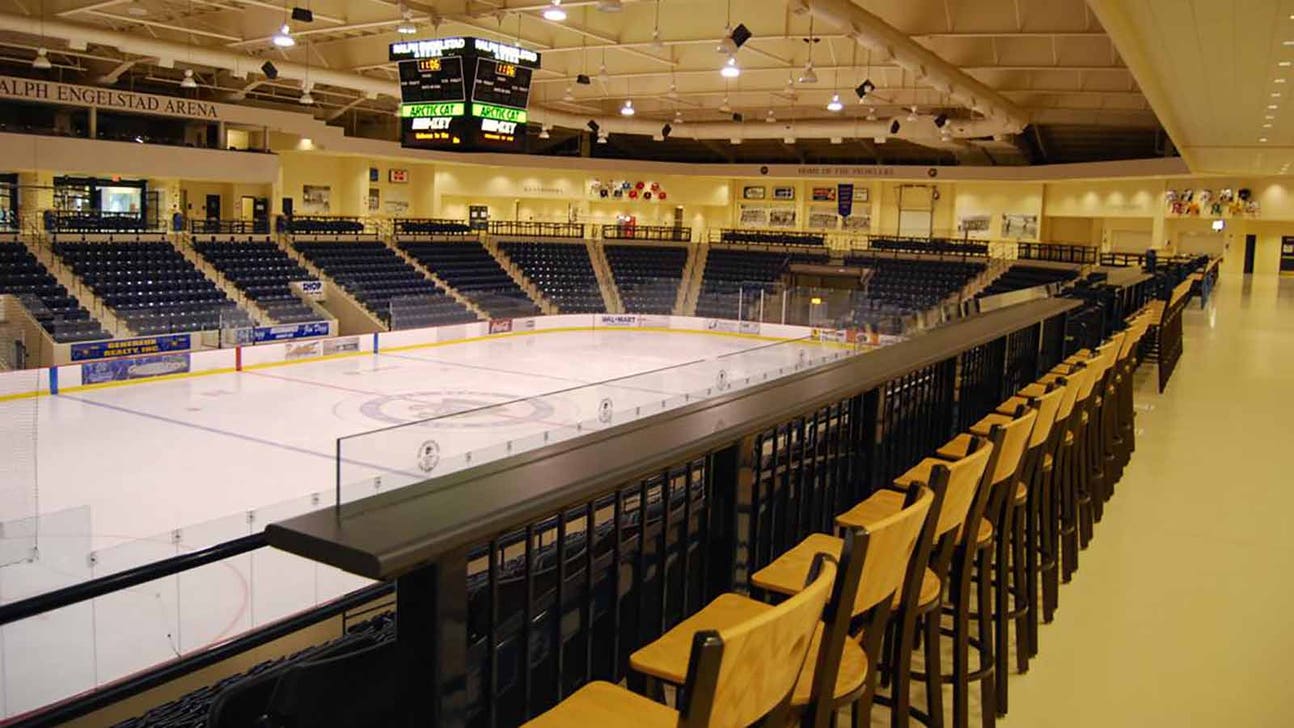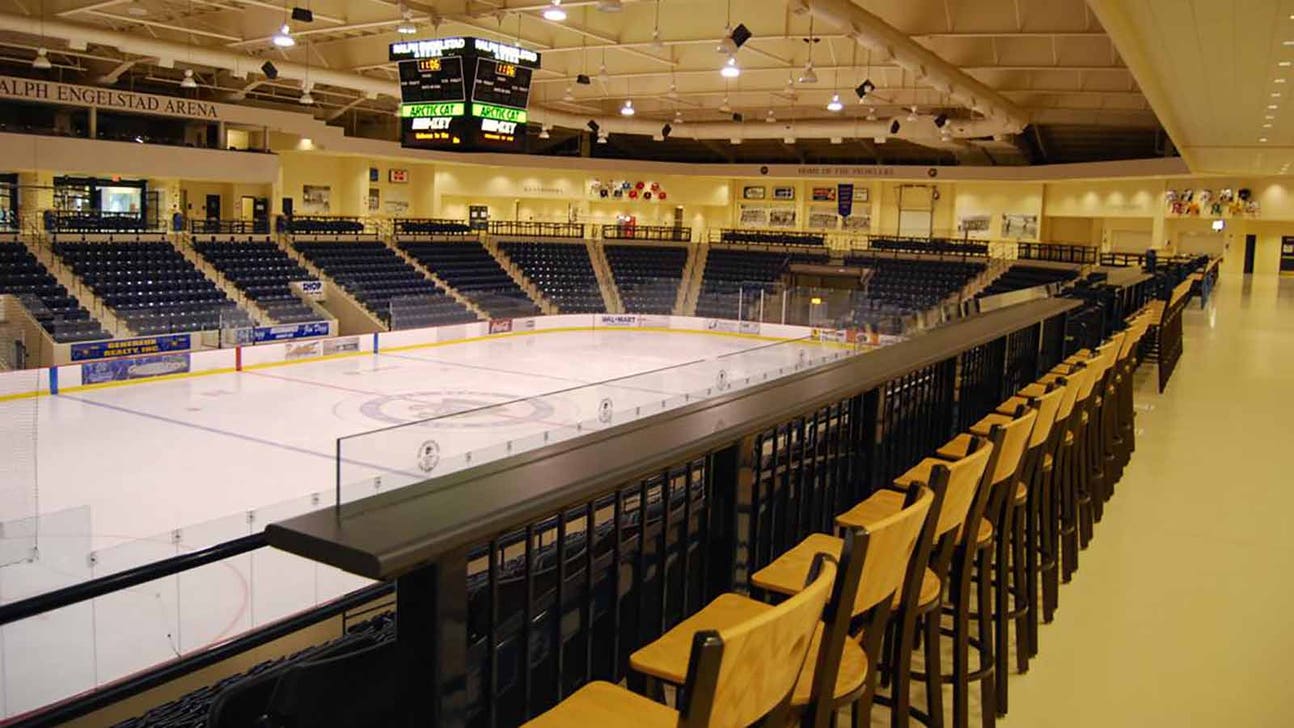 HDM: Thief River's 'mini Ralph' a hockey palace
Published
Jan. 19, 2017 4:32 p.m. ET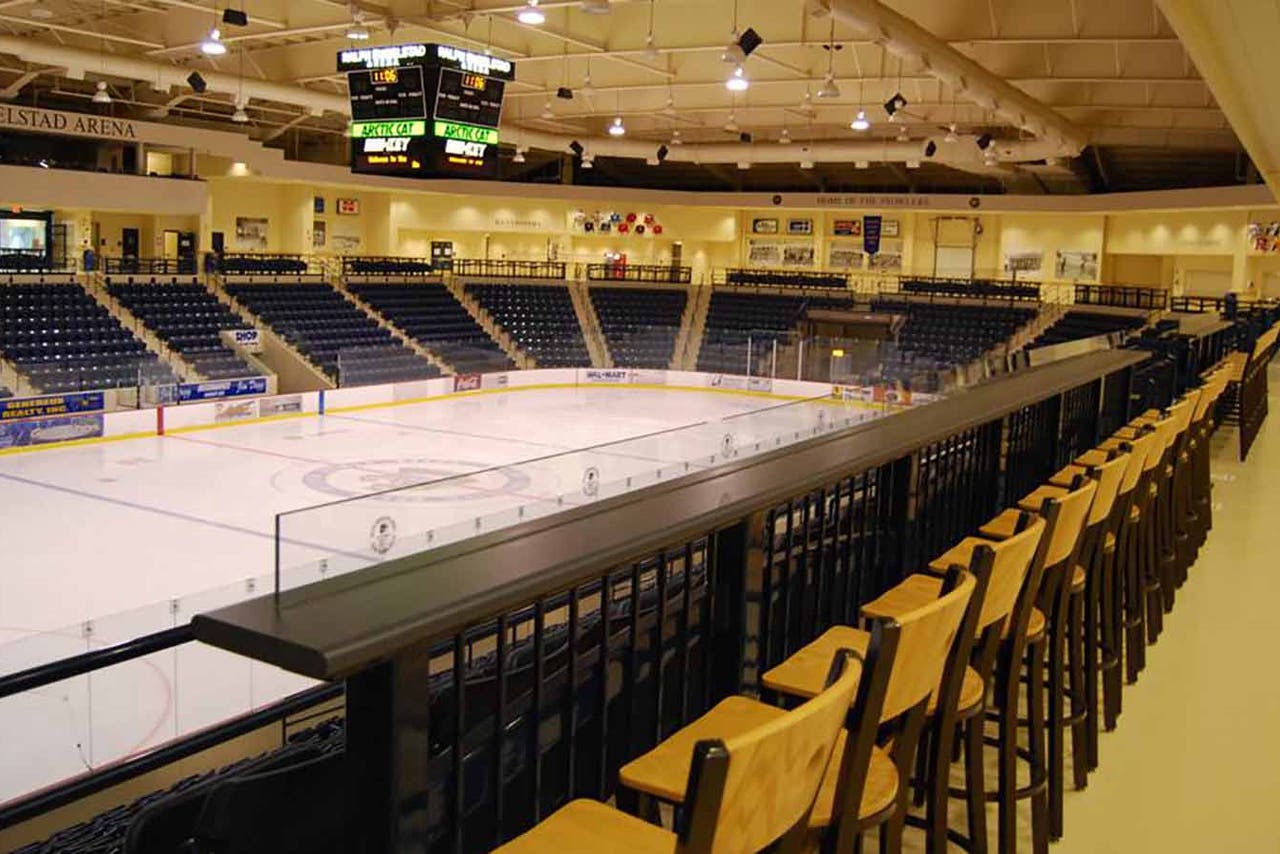 The Thief River Falls Prowlers face Mahtomedi on Saturday in Stillwater as part of Hockey Day Minnesota. Before they kick things off at our outdoor rink in Lowell Park we're taking an in-depth look at one of northwest Minnesota's premier hockey towns, and the state-of-the-art facility they call home: Ralph Engelstad Arena.

There are three sheets of ice in Thief River Falls, the oldest of which is an unassuming brick building downtown.

Known simply as "The Old Arena," the red brick structure has been standing since 1936, and was the city's only indoor rink until the Huck Olson Memorial Civic Center was built in 1971.

Trophies line a shelf atop a narrow viewing gallery, while an ancient flyer promoting the Thief River Thieves of the all-but-forgotten States Dominion Hockey League hangs on the wall, dated 1946.

These days the building is used mostly for youth practices and operates as the home of the Thief River Falls Amateur Hockey Association.



"It's great for young kid's games in the sense that the ice sheet is smaller," local hockey coach Tim Bergland said. "You're right on top of them in the stands. The glass comes up to your belly button."

Open doors and running fans provide ventilation, while rows of wooden benches are obstructed in several places by yellow support beams.

"You get out of the wind, anyway," Bergland said.

Things are a bit different at the hockey palace half-a-mile away.

A younger sibling to the famed facility in Grand Forks, N.D., with whom it shares a name, Thief River's Ralph Engelstad Arena was a gift from the controversial casino magnate whose name adorns the building, and has turned a city of just under 9,000 into a hockey hub since opening in 2003.

A native of Thief River and a former college hockey player, Engelstad (who died in 2002) and his wife provided the bulk of the funding for the $15 million building, which now hosts everything from youth hockey programs and local high school teams to a Junior A franchise.

Tasked with running the facility, Joe Amundson functions as both rink manager and director of the city's parks department.

He says the building has its own unique niche.

"You have [Ralph Engelstad Arena in Grand Forks] and you have the [Herb Brooks National Hockey Center] in St. Cloud, they're kind of their own ballpark, and then you have community rinks, and then you have the 'mini Ralph' in between," Amundson said.

"Mini" is a relative term.

The rink can hold nearly half the city's population, while its polished floors and wide concourses bears more than a passing resemblance to its $100 million sibling in Grand Forks.

At full capacity it can accommodate more than 4,000 people, a larger crowd than many Division I college hockey facilities can handle, and was one of two host facilities for the 2005 World Junior Championship.

"It's almost too nice for us. You almost feel guilty," Bergland said. "It's such a wonderful facility, especially for high school."

Bergland is the head coach of the Thief River Falls High School boy's hockey team and has been around long enough that he can recall helping lay piping at "The Huck" in the early '70s.

Bergland went on to play four years at the University of Minnesota before spending more than a decade in the pros, including stints with the NHL's Washington Capitals and Tampa Bay Lightning.

"Our bantams on down have very strong numbers and we like to think that [The Ralph] has something to do with that," he said.

Bergland is the president of the Thief River Falls Norskies, a Junior A club that competes in the Thunder Bay, Ontario-based Superior International Junior Hockey League.

He says it's somehow managed to expand the sport's popularity in Thief River even further.

"We've really developed a fan base that wasn't necessarily a hockey fan base," he said. "A lot of people that are coming to these games, you don't see them at high school games."

Amundson says the Ralph has changed the profile of the community off the ice as well.

"It definitely has a strong economic impact associated with it in a very positive sense," he said. "The exposure it gives ... somebody comes there for a hockey game and they realize they can bring their own events there."

Basketball and wrestling are both staples, along with weddings, trade shows and concerts.

The Minnesota Vikings even showed up two years ago for a flag football game in support of their Arctic Blast snowmobile rally.

"We're our own game there," Amundson said. "Even across the country.

"There's nothing like it."
---