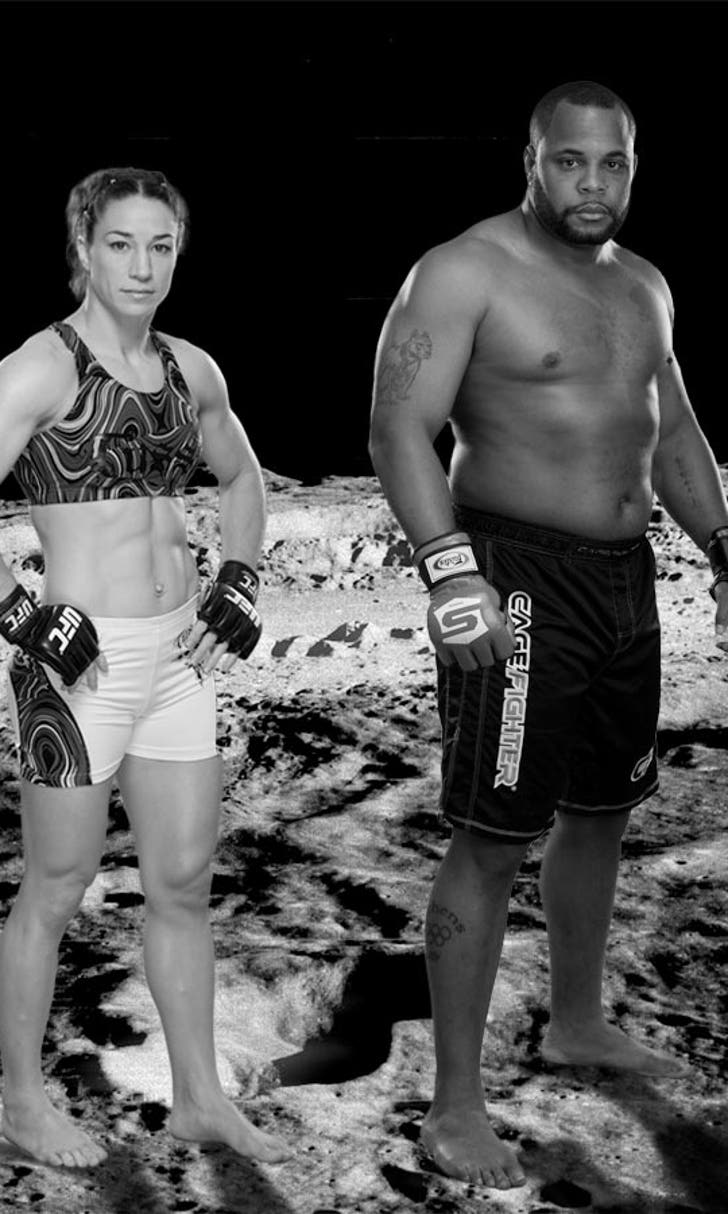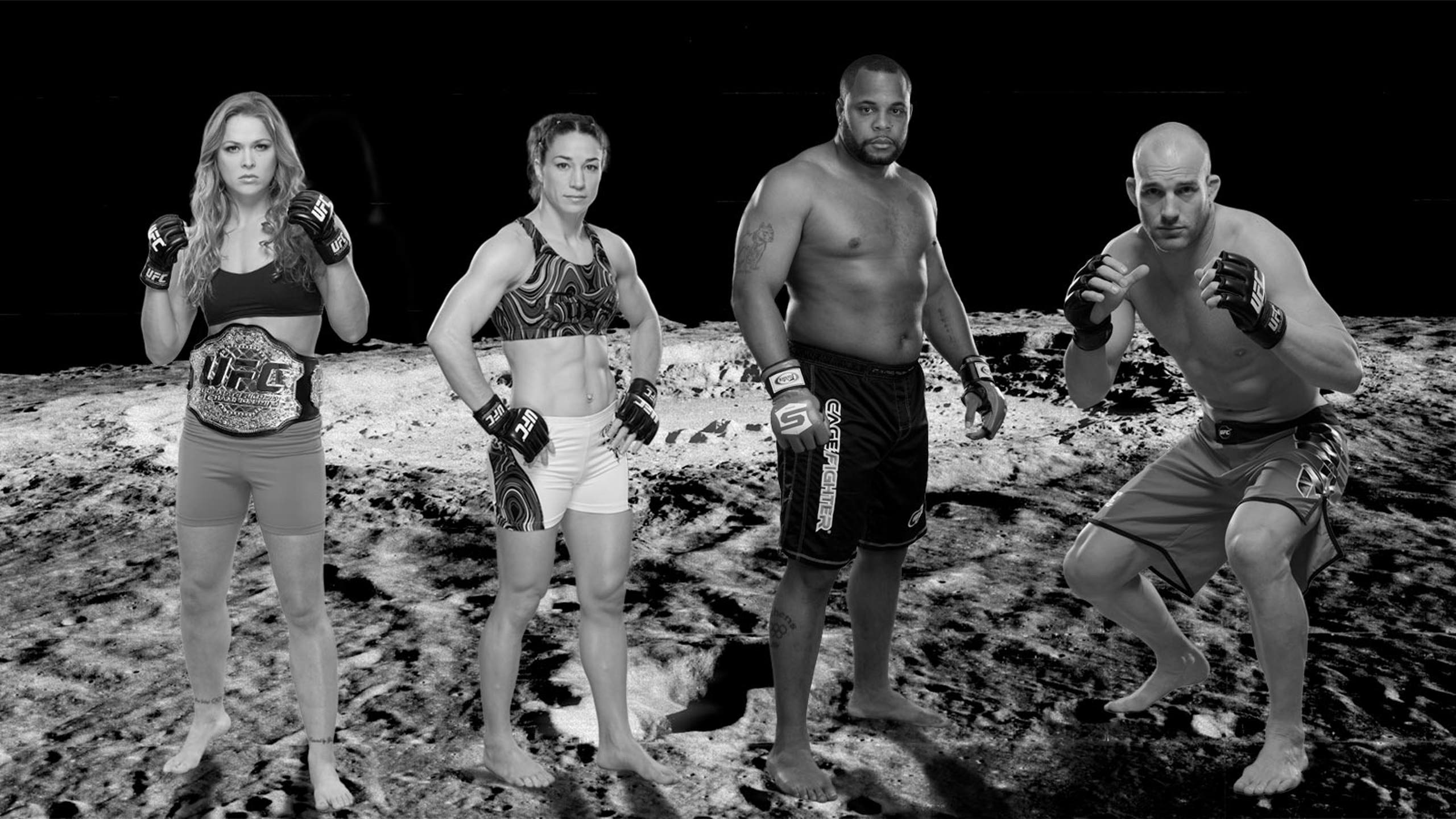 Haymaker's alternate-reality prognostications for UFC 170
BY foxsports • February 21, 2014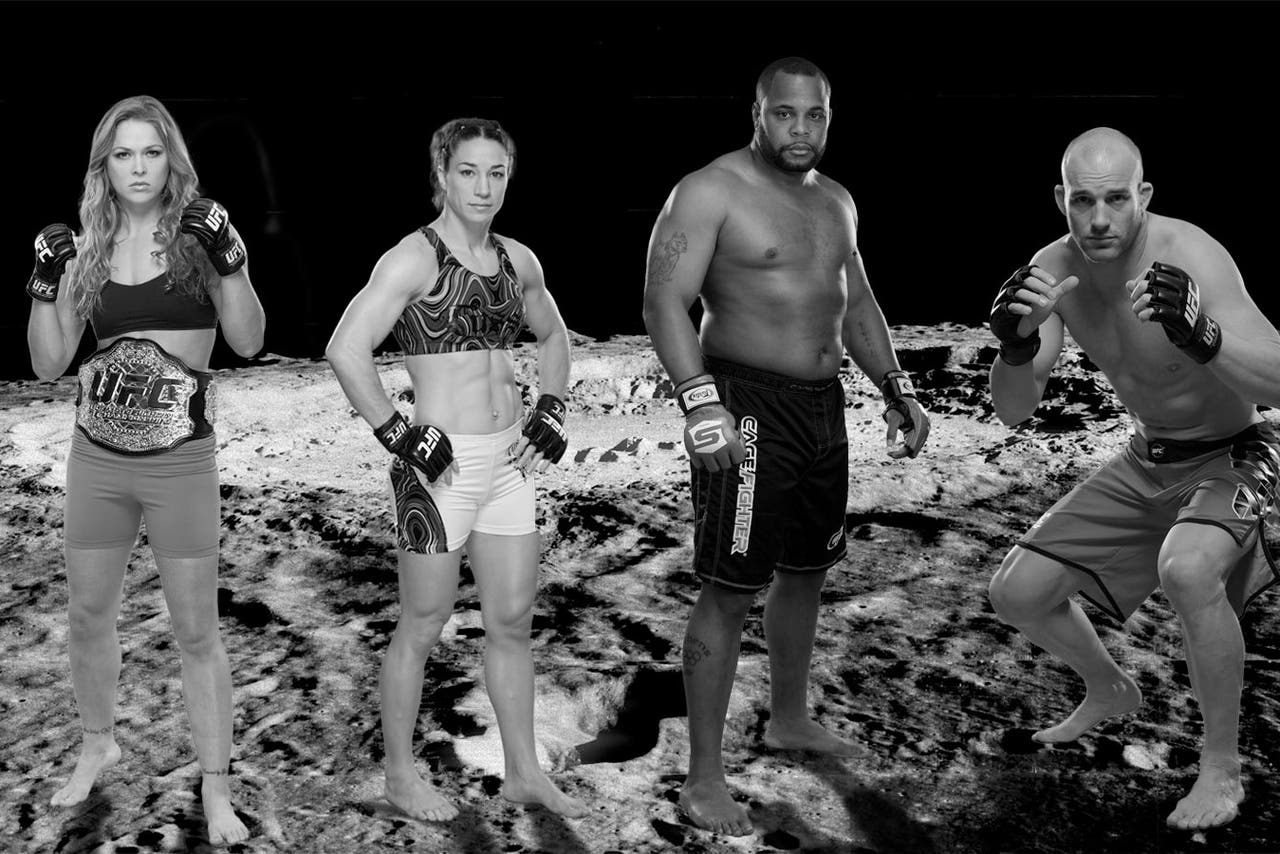 OK, we don't actually know what's going to happen at UFC 170. Do we look like Sylvia Browne to you? Of course, that's not going to stop us from telling you what could happen.
In some alternate reality, Saturday night in Las Vegas might look a little bit like this:
Robert Whittaker vs. Stephen Thompson
Joe Rogan absolutely geeks out that both of these guys are karate black belts. The obligatory Lyoto Machida mention is made by Mike Goldberg. "Wonder Boy" is called a prospect even though he's 31 years old.
The fight is fun, as expected. Both guys show off some cool techniques. But Whittaker wins with a good, old-fashioned right hook to the jaw. Rogan tries to tie karate into the finish somehow, but then admits it's completely BS.
Mike Pyle vs. T.J. Waldburger
Pyle's pre-fight lobbying of Dana White to install a "Mullet of the Night" bonus fails, which prompts Vitor Belfort to text White 100 times during UFC 170.
Pyle has more success inside the Octagon against Waldburger, who has managed to fight seven times in the UFC without anyone ever learning who he is. Pyle takes some hard punches to the face, gets lumped up, but keeps coming until he finished Waldburger late with a submission.
Pyle says afterward that, at age 38, he's in the prime of his career and wants to fight "at least for another 10 years." He makes a reference to Randy Couture, which quickly gets bleeped out by the production crew.
Rory MacDonald vs. Demian Maia
MacDonald walks to the cage in a knit cap, some tight acid-washed jeans and a pair of black-rimmed glasses. His sponsor is the garage sale in some dude's backyard down E. Tropicana Ave.
This is an important fight for MacDonald, who approached Mousasi-levels of boredom in his previous two contests. Unfortunately, try as he might, Maia just isn't able to close the distance and get the Canadian prospect down to the ground. MacDonald sprawls and then yawns, sprawls and then yawns. He's not showboating; he's just sleepy.
MacDonald wins a lackluster decision as Dana White cringes Octagon-side. After the fight, MacDonald announces he'll be moving from Montreal to a loft in Williamsburg, Brooklyn, where he plans on starting a second career as an artist.
Daniel "Hangry" Cormier vs. Patrick Cummins
Cummins walks to the Octagon wearing a green hat and apron courtesy of his lucrative new sponsorship deal with Starbucks. His walkout song? "Cry Me A River" by Justin Timberlake.
The camera will pan to the back and behind Burt Watson is Cormier finishing up a buttery biscuit from Popeye's. That lean, mean Cormier is gone and the jolly, spare-tire middle Cormier has returned.
Cummins is in some kind of trouble and, as you might expect, this one isn't much of a fight. Cormier goes after Cummins quicker than his post-weigh-in meal. The former Olympian gets a quick takedown and rides Cummins the entire first round. Cummins has a hard time getting a hold of Cormier, who's emitting sweat and fast-food oil, giving a new meaning to the term "greased up."
The second and third rounds look pretty much like the first, with Cummins either on his back or pressed against the cage. When his name his announced as the winner by Bruce Buffer, Cormier drops to his knees and breaks down. They're tears of joy this time.
In the postfight interview with Joe Rogan, Cormier is still sniffling. He announces he's leaving American Kickboxing Academy. Not because he wants to move back up to heavyweight to fight Cain Velasquez, he can just no longer justify those late-night Checkers runs with Javier Mendez if he wants to remain at 205.
Ronda Rousey vs. Sara McMann
McMann's music plays and the camera pans to the back, but the Olympic wrestling silver medalist is nowhere to be found. Goldberg and Rogan are dumbfounded until they see McMann sneak into the Octagon from the opposite side of the arena. She's not into all that attention stuff, ya know.
Rousey, on the other hand, embraces the pageantry. Instead of walking out with her trainer Edmond Tarverdyan and teammates, the UFC women's bantamweight champion has Vinny Chase, E, Turtle and Johnny Drama en tow. Ari isn't far behind on a cell phone. The woman knows how to promote.
The fight itself is serious business. Rousey isn't able to judo throw McMann every time she goes for a takedown like she did with Miesha Tate. McMann is a stud wrestler and extremely strong. She's on the losing side of the fight, but makes it out of the first round and the second. Rousey's boxing looks good -- she's the best female MMA striker, after all.
The championship rounds come and both women are looking tired. It's been a classic fight. McMann takes Rousey down in the fifth round and drops some ground and pound. It's been close enough that she could squeak out a decision. Until, from the bottom, Rousey pulls off an armbar out of nowhere.
McMann taps; Rousey celebrates. McMann goes to congratulate her; Rousey blows her off to go celebrate with the "Entourage" crew.
Rogan gets ahold of Rousey in the Octagon afterward and asks her about the win as boos poured down from the crowd. Rousey said she could have finished it in the first, second, third or fourth round. But she wanted to increase the level of difficulty for herself. Asked why she didn't shake McMann's hand, Rousey said something vague about insulting her family and her being a phony.
At the end of the interview, Rousey lets out a loud "Wooo!" Rogan looks incredulous. Goldberg mumbles something about "playing the heel." The crowd boos some more. Dana White has a devilish grin on his face.


---