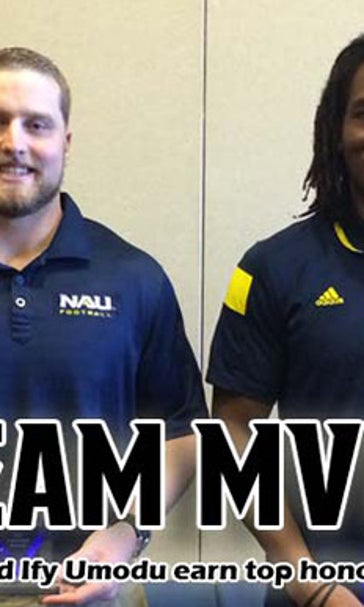 Hasquet, Umodu earn top awards at NAU football banquet
November 24, 2014

FLAGSTAFF, Ariz. --€" Senior linebacker Austin Hasquet and senior wide receiver Ify Umodu were named Northern Arizona's Defensive and Offensive Players of the Year for the 2014 season.
Hasquet also won the team's Academic Excellence Award. He finished second on the team with 87 tackles and also registered one interception and one sack. Umodu had a team-high 47 receptions for 691 yards and five touchdowns.
Here's what the players had to say after being recognized.
Hasquet: "Being the Defensive MVP is truly humbling. I'm honored to be singled out, but at the end of the day all I try to do is perform at a level that allows me to help the team win games. I wouldn't have been named the MVP without the defensive line and secondary playing so well. It makes my job a lot easier when there are so many talented players around me."
Umodu: "Being named the Offensive MVP is a representation of the hard work my teammates and I put in during the offseason. They helped me be in the best possible position to succeed on the field and I'd like to thank them for everything we were able to accomplish."
Here are the remainder of NAU's award winners.
Special Teams Player of the Year: Ryan Hawkins
John G. Yost Memorial Award (Offensive Lineman of the Year): Joe Gurski
Defensive Lineman of the Year: Deon Young
David Couture Award (Most Inspirational, Offense): Chas Cartwright
Stevon Thomas Award (Most Inspirational, Defense): Siupeli Anau
Lumberjack Awards (Competitive Greatness): Beau Gardner (offense), Blake Bailey (defense)
Comeback Player of the Year: Roy Garcia
Newcomer of the Year: Marquice Paige
Playmaker Award: Alex Holmes (offense), Marcus Alford (defense)
Battle Axe Award (Hard Hitter): Nick Butier
Most Improved: Leroy Guenther (offense), John Herrero (defense)
Outstanding Juniors: Casey Jahn (offense), Darius Lewis (defense)
Outstanding Sophomore: Eric Rodriguez
Outstanding Freshmen: Blake Porter (offense), John Herrero (defense)
Scout Team Players of the Year: Hunter Correll (offense), Louis Collins (defense)
---