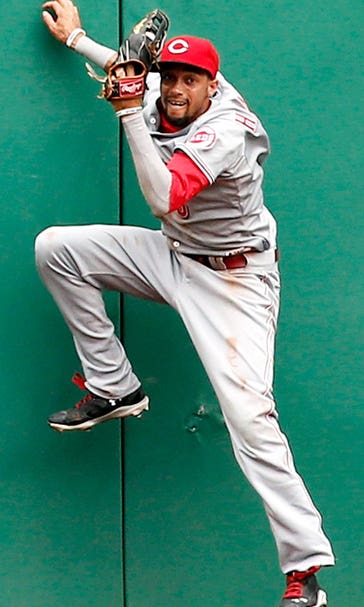 Hamilton eyeing unexpected Gold Glove
September 6, 2014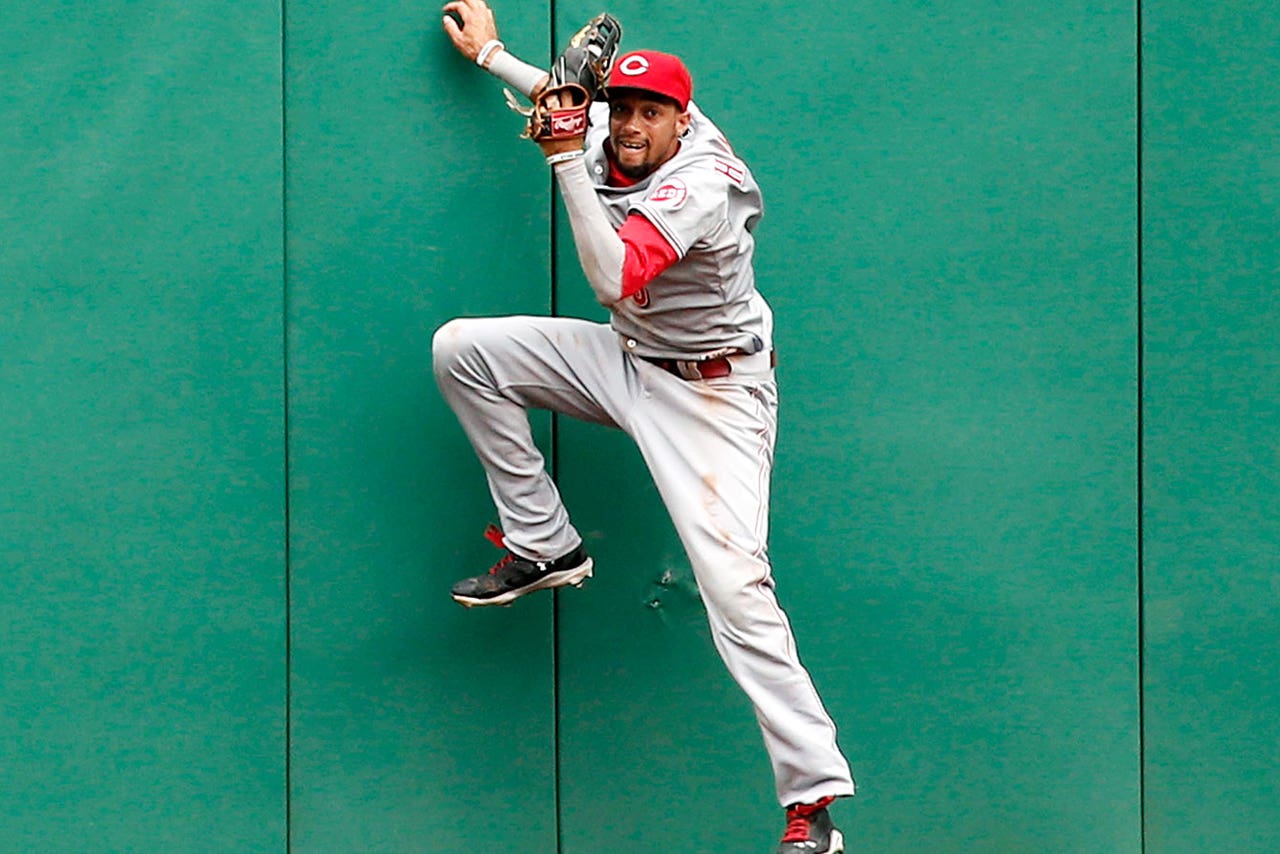 CINCINNATI -- When fans talk about Billy Hamilton, the conversation almost always is about his flashing feet on the basepaths -- his stolen bases and his warp speed as he races from first to home in world class time.
But how about his flashing leather? How about those diving catches and those leaps against the wall to snag potential home run balls?
Is it Gold Glove calibre? Can a rookie who has only played the outfield for a couple of years snag a Gold Glove?
You betcha. And that comes from his manager, Bryan Price, and from his Gold Glove second baseman, Brandon Phillips.
Hamilton admits he has thought about Rookie of the Year, but hadn't let a Gold Glove drift into his mind -- until a week ago when Phillips approached him.
"I was talking to Brandon just a couple of days ago and out of the blue he said, 'I've seen a bunch of outfielders but you could get Gold Glove this year,'" said Hamilton. "I wasn't even thinking about that. I'm just out there playing the outfield. Coming from a guy who has Gold Gloves, well, he knows what it takes. It would be a great honor."
It is to the point where sensational grabs on diving plays are the norm, the expected. Hamilton laughed and said, "The other day I made a diving catch to end the inning and when I got to the dugout Price said, 'You scared me on that one.' And I said, 'Well, I guess I've scared you a lot this year.'"
If there is fright when Hamilton dives then there usually is delight when he scrambled to his feet with the ball securely lodged in his glove.
"I've really been focused on my defense, and my offense, too," said the 23-year-old Mississippian who was drafted in the second round of the 2009 draft as a shortstop.
"If I don't get any hits, I don't want anybody else to get any hits," he said. "That's my motto out there. I want to take away as many hits as I can because that's what they are trying to do to you, too."
The absurdity of it all is that Hamilton was a shortstop throughout his high school and minor-league career. Suddenly, two years ago, the Reds said, "Learn center field. And learn it fast." And he did.
""I didn't care," he said. "Whatever gets me to the majors the fastest," he said. "Hey, center field is a tough position. When I played the infield I'd tell the outfielders, 'Ah, outfield looks easy. That's easy.' Once you get out there it is harder than it looks."
Hamilton just makes it look easy.
He plays an extremely shallow center field, too. With his speed, he can outrun balls over his head so the manager and coaches want him in close to take away hits in front of him. "They tell me if a ball goes over my head, then that's their fault." Very few find their way over Hamilton's head without landing in his glove.
Based on what he has seen, Price doesn't hesitate a nano-second to put his Gold Glove stamp on Hamitlon's forehead.
"It is for me," said Price. "I haven't seen anybody better. And I'm throwing the bias out. I can't imagine there being a better center fielder.'
"It's instinctive play," said Price. "He has played the position for such a short time that you have to look at instincts. There hasn't been that much time in spring training or in pre-games to elevate the quality of a guys' defense.
"And he works hard at it," said Price. "Before he takes batting practice he is out on the field working on his defense every day. He runs gap to gap. He is up against the wall. He plays balls off the bat in batting practice every single day.
"He has the obvious speed elements, but his routes and instincts, being able to run without seeing the ball to run to spots is exceptional," said Price. He is comfortable around other outfielders and infielders where there is a potential collision. He doesn't shy away from that. And he has a willingness to run into the wall and go over the wall. He isn't gun shy when he feels the warning track under his feet."
Price paused to catch his breath and said, "Those are special gifts.
Hamilton's base-stealing antics grab attention and make him a legitimate candidate for Rookie of the Year. To win a Gold Glove, he must get the votes of managers and coaches from other teams. Price said that works in his favor.
"He makes plays every series that you think managers and coaches would take note of," said Price. "They see the amount of area he covers and the accuracy of his arm. And when he lays out for a ball, he catches it. He is very efficient at completing the play."
There was one play early this year in San Diego when Hamilton laid out and didn't make the play. Pitcher Johnny Cueto hasn't let him forget it and says all the time, "You hurt my earned run average by not making that play."
He is kidding, of course, and when Cueto says that, Hamilton reminds Cueto that has had made at least 10 plays for him this season, but he would be glad to quit diving for ball when Cueto pitches.
"If you do," said Cueto, "We'll be fighting."
---