Growing pains apparent for young USC OL in loss to UCLA
BY foxsports • November 24, 2014
Youth was served a tough lesson along the offensive line on Saturday for USC.
Five different UCLA players contributed to six sacks of quarterback Cody Kessler -led by Owa Odighizuwa who had a team-high two sacks in the Bruins 38-20 win. 
Kessler was under extreme duress for the majority of the game and USC's offense was affected in both the running and passing game. 
Despite the struggles of his young offensive line head coach Steve Sarkisian didn't say anything was imminent in terms of changes within the unit this week ahead of the regular season finale against Notre Dame. 
"We know we're young up front," Sarkisian said. "We understand that we have youth there. We understood going into the game that UCLA had a veteran front and that they were very good. We knew that that would be a challenge. 
"When the game goes in the direction that it went in. When you fall behind and you essentially become a one dimensional team where you have to throw to try to get back in the game it really puts a spotlight on (offensive line struggles). They've got good pass rushers, they took advantage of it, and they made the plays."
Kessler finished the game 22-of-34 for 214 yards with a touchdown and an interception. As a team, the Trojans ran for a net of 62 yards in the loss -just 1.9 yards per carry. 
Tailbacks Buck Allen and Justin Davis averaged 4.3 and 4.1 yards per carry, respectively, in the game with Allen rushing for a team high 60 yards. Establishing the running game was a tall order and it has been a theme going back to the team's win at Washington State. 
"For a variety of reasons we're not great at the point of attack right now," Sarkisian said. "We're getting beat in some one-on-one scenarios and giving up some penetration.
"We just couldn't get past the threshold of the three and four yard gains. That's a credit to (UCLA linebackers Eric) Kendricks and (Myles) Jack and those guys on UCLA. I thought they tackled us really well (Saturday) night, got our backs on the ground, and didn't allow us to really get to the safeties to create some big runs and some big plays."
It was an especially frustrating night for Kessler, who fell to 0-2 in his career as a starter against UCLA. Kessler accumulated -40 rushing yards while being sacked six times which was a major contribution to the Trojans low rushing total.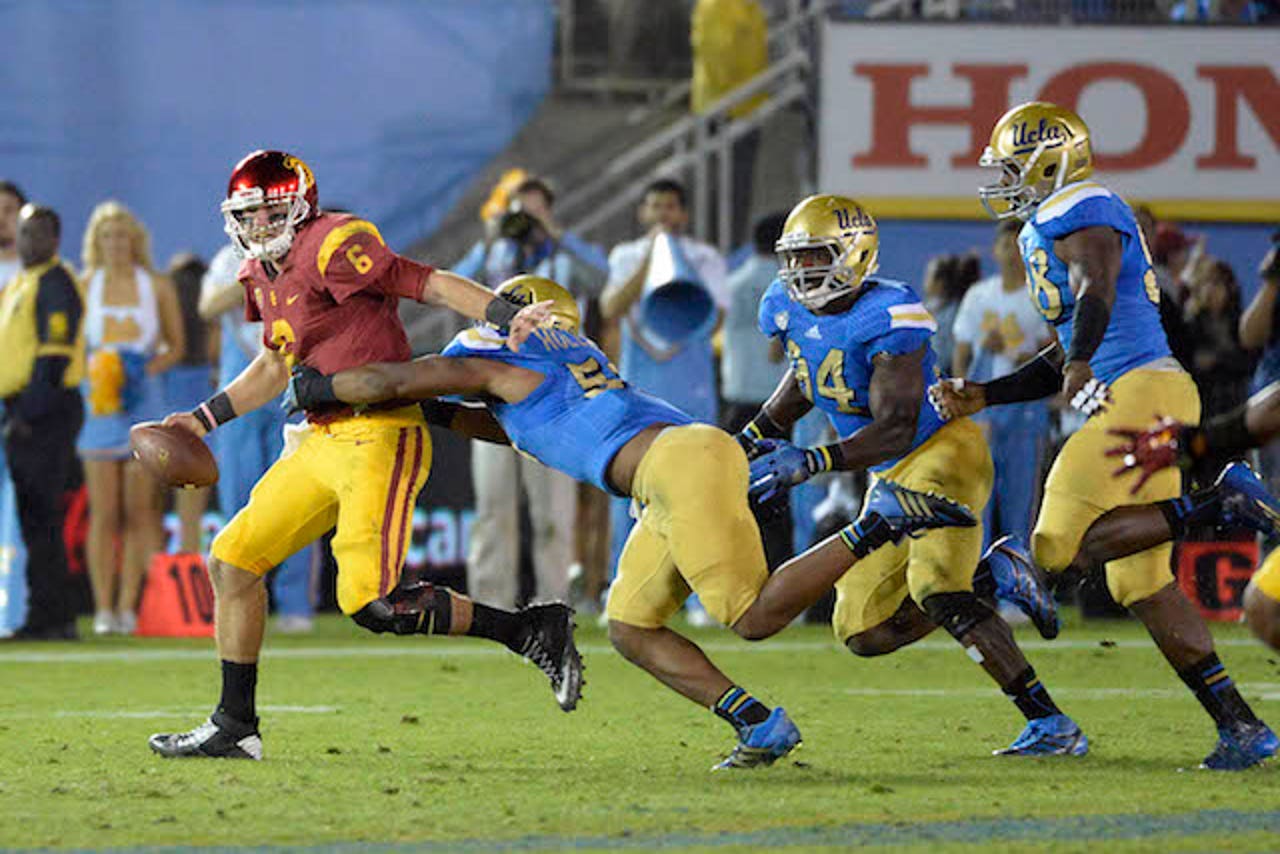 USC's coach Sark: UCLA game 'not our night'
"For me it's hard to get through progressions when guys are getting in the backfield," Kessler said. "I tried to make some plays on the run or make some stuff happen but they did a good job all around."
Sarkisian acknowledges it was a rough night for his young offensive line but similar to what he's preached earlier this season he puts some of the onus on his redshirt junior quarterback for holding onto the ball too long at times. 
"Cody can help (the offensive line) by getting rid of the football sooner than he did," Sarkisian said. 
---