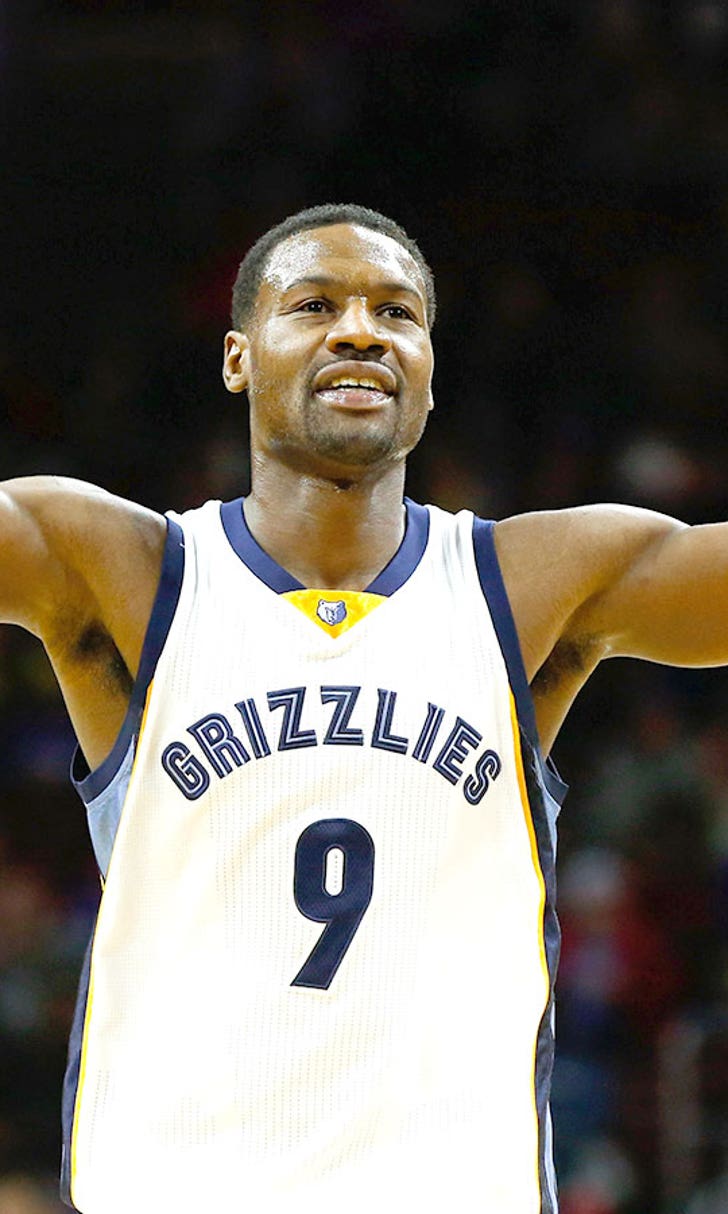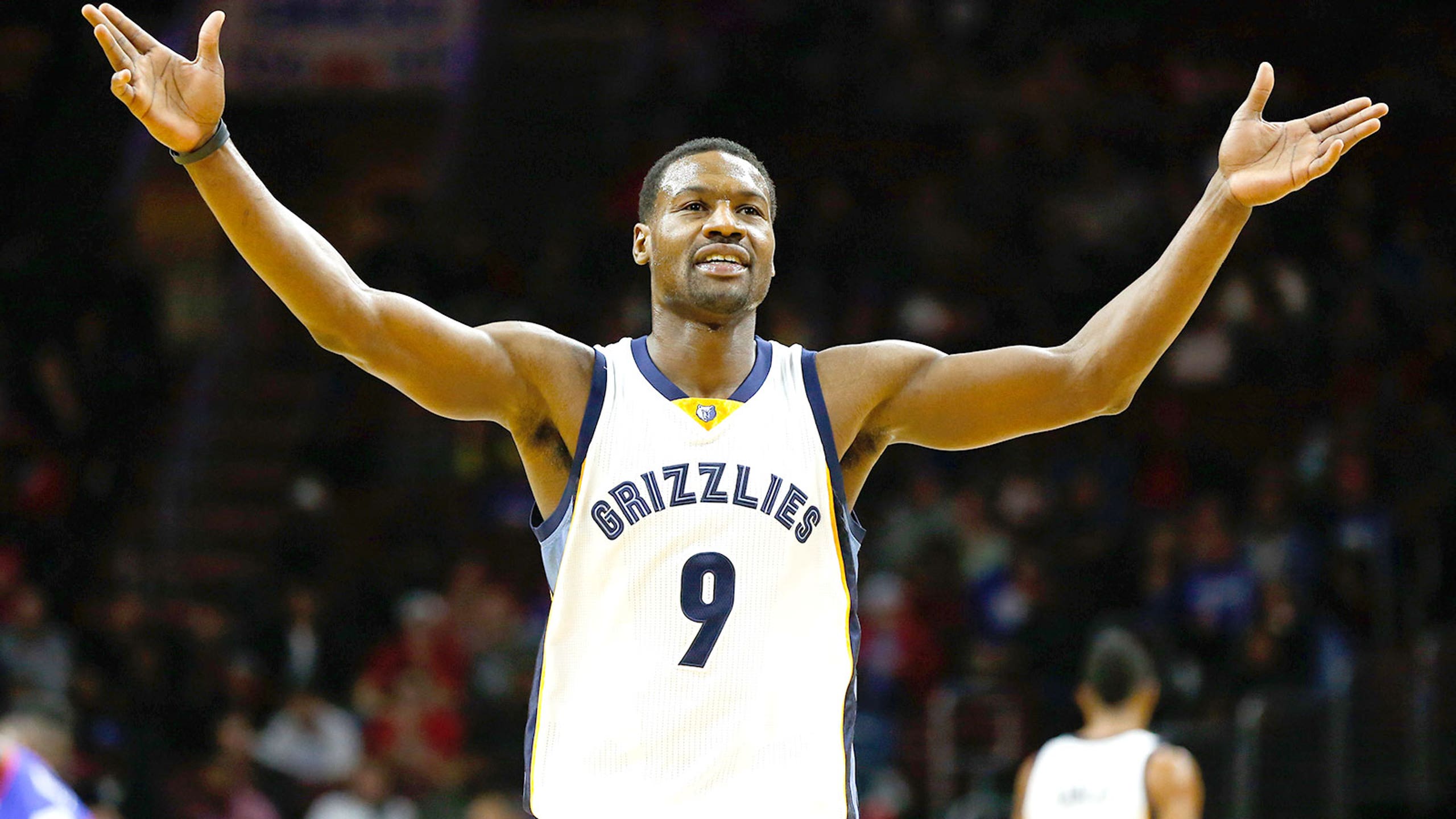 Grizzlies' uniquely talented Allen merits MVP consideration
BY foxsports • January 16, 2015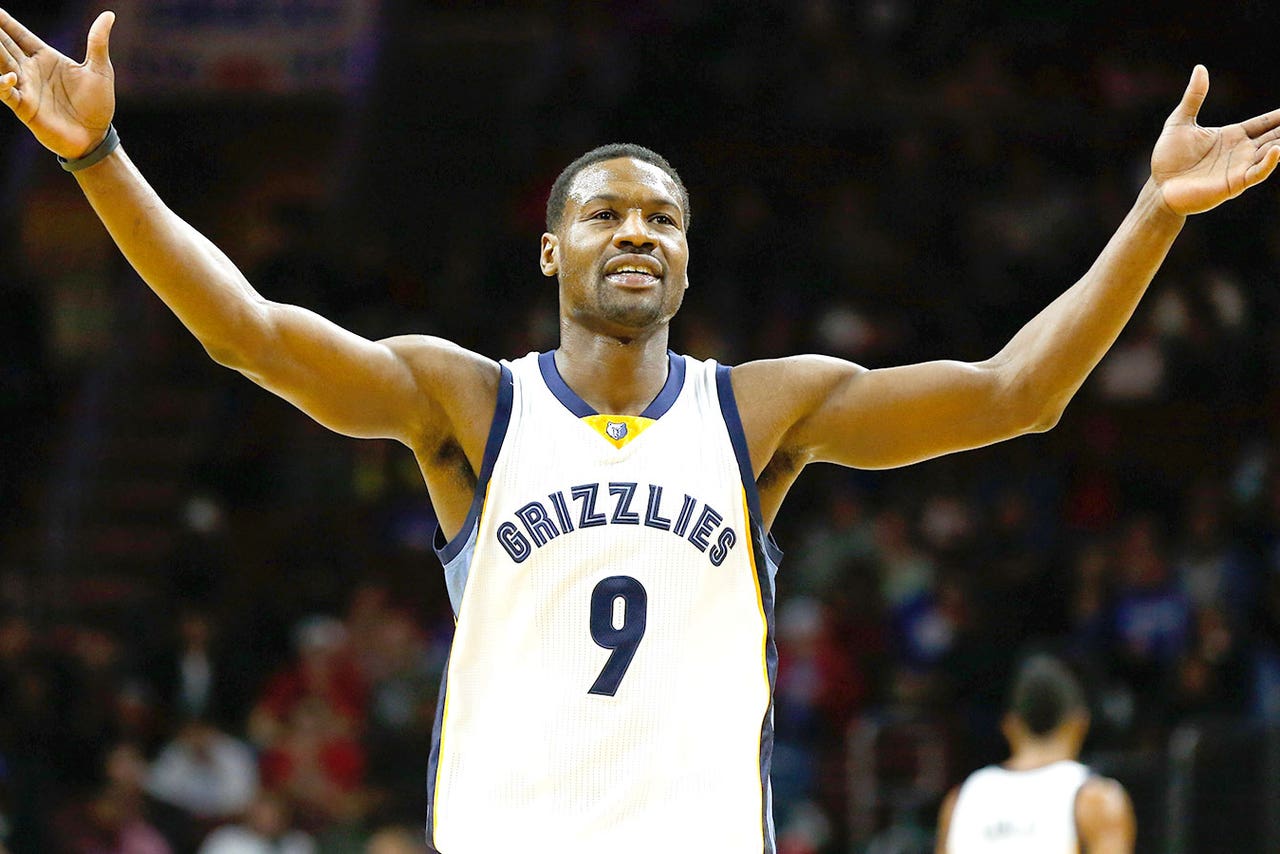 MEMPHIS, Tenn. -- This year's NBA MVP may be playing in Memphis.
Let that soak in for a minute.
Think about where the Grizzlies were just eight years ago. That was the start of three straight losing campaigns, totaling just 68 wins.
Prior to that, the franchise established a benchmark of success by reaching the postseason three consecutive seasons (2004-06). However, during that span, Memphis incurred three straight first-round sweeps (0-12 overall).
Fast forward to the present: Amid the highly competitive Western Conference, the Grizzlies (27-11 as of Jan. 15, 3rd in the West) are being talked about as serious contenders for the NBA championship.
Plus, Memphis has an MVP candidate -- Tony Allen.
I'll pause while you wipe the Dr Pepper off your laptop or mobile device.
Getting napkins and bag of rice to dry phone.
It isn't as insane as you think. And self-deflector Marc Gasol would be happy to talk about someone besides himself getting the M-V-P chants at FedEx Forum.
Here's when the Grizzlies' fortunes started to reverse for the good. It was 2010-11, when Allen came over from Boston, better known now as the Grizzlies' D-League affiliate, since Allen was followed by ex-Celtics Courtney Lee and Jeff Green.
With the Core Four set -- pairing Allen with Mike Conley, Marc Gasol and Zach Randolph -- the Grizzlies produced the first of four straight winning seasons (working of a fifth).
For that 2011 spring, the Grizzlies won their first playoff game and series in franchise history, finished fourth in the Western Conference in 2012 and then made it to the Western Conference finals in 2013.
Sure, Conley's development and Randolph's rebirth fueled the Grizzlies' sustained run of high-level play. But there's no coincidence between the franchise's ascension and Allen's low-key arrival from Boston.
Allen is Grit 'N Grind. When he uttered the words after a 27-point game off the bench against the Thunder four seasons ago, it stuck and the city of Memphis's love affair with the charismatic Allen began.
It's also when the club's identity began to take shape.
But MVP isn't a lifetime achievement award. It's yearly, so let's look at Allen's present-day stats:
Allen has averaged nearly nine points per game, well more like 8.3, with nearly two assists and four rebounds. His player efficiency rating is a glowing 14.56 -- only 16.85 points behind Pelicans big man Anthony Davis, an MVP frontrunner.
None of that screams MVP -- not even Allen's career-high 2.2 steals per game (leading the NBA).
Allen (4.07) remains fractionally ahead of Stephen Curry (4.02) -- another MVP candidate -- in steals per 48 minutes. (Corey Brewer currently ranks second overall.) To wit, the Grizzlies star has multiple steals in nine of his last 10 games.
Allen had a league-high seven thefts against the Knicks and stands as the only player this season to post dueling six-game streaks of multiple steals.
Still, none of it really whispers "MVP." It's a sexy award full of points and crossovers, dunks and dimes.
Grit, grind, hard hats? Not as shiny.
Forget the stats. Forget the PER. Heck, forget the steals. Allen doesn't fit stats.
The Phoenix-Memphis game from last Sunday may have perfectly summed up the Allen Effect: With the Grizzlies down two in overtime, Allen and Conley hassled Isaiah Thomas and forced the Suns point guard to erroneously toss it to Courtney Lee, who tied the game on two free throws.
Seconds later, Allen absolutely hounded Eric Bledsoe, who had to shoot a 17-foot desperation jumper seemingly through Allen's body. Bledsoe missed and Marc Gasol blew up the second overtime of a 122-110 win -- thanks to Allen.
In his now-trademark bathrobe after the game, Allen beamed like a kid with a new toy when asked about the defense on Bledsoe.
"You know, I live for that moment," Allen said. "I love that moment."
Words can't do the two plays justice, but it was textbook defense. And it's all the time.
Allen gives and he also takes away, with Grizzlies fans learning to live with a bonehead play once in a while -- the occasional clanked layup or errant pass and maybe an air-balled 3-pointer ... since Allen (27 percent from beyond the arc) likes to attempt one every other game.
But Allen's "good" contributions far outweigh the occasional offensive lapse.
He often looks like he's attempting to portray a WWE superstar, pleading with the scorer's table to agree with him on a replay or pounding his chest to the crowd. It doesn't stop in the locker room, as he talks to reporters with a stat sheet floating in his ice bucket.
Against the Suns, Allen stole a pass, paused to the crowd and all but took a bow -- not an arrogant one, but a crowd-pleaser. In December, he celebrated a Mavericks turnover with a funk-tacular first-down dance that's fun to watch.
Amidst all that fun, no other NBA player leaves more on the court. No one player empties his soul as much as Allen. No one means more to their team, or their city, than Tony Allen.
Isn't that what MVP means?
Of the four games Allen recently missed with an eye injury, the Grizzlies lost three times. The club, in turn, claimed three of four victories upon Allen's return -- including wins over the Heat (road) and Spurs (home). That's also when Allen started the multiple steals streak.
Sunday's supreme effort against Phoenix wasn't a new thing. Allen does it night after night, against the high-profile likes of Eric Bledsoe, Kobe Bryant, Kevin Durant.
"That's what they pay me for," says Allen. "To come in, get stops, make it difficult for the best players on the opposite team. I try to just make it difficult."
And when the day comes that he doesn't get that call, Allen will hang up the hard hat, on the shelf where his MVP trophy deserved to sit.
---
---