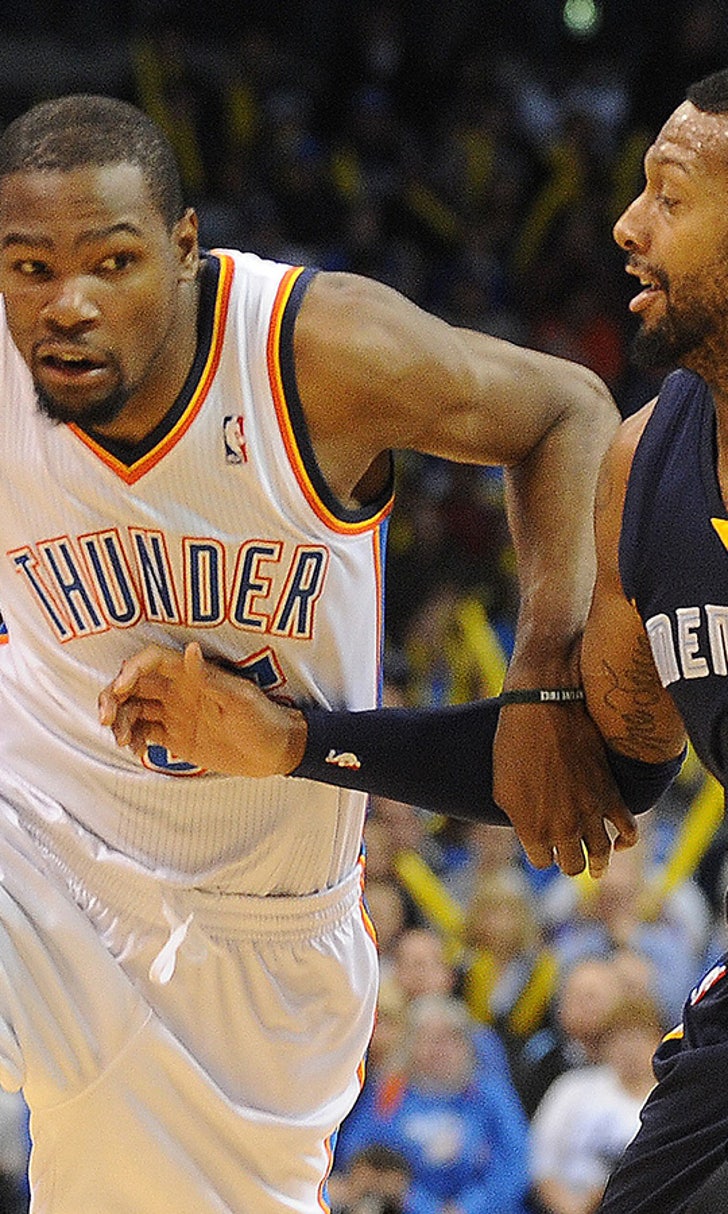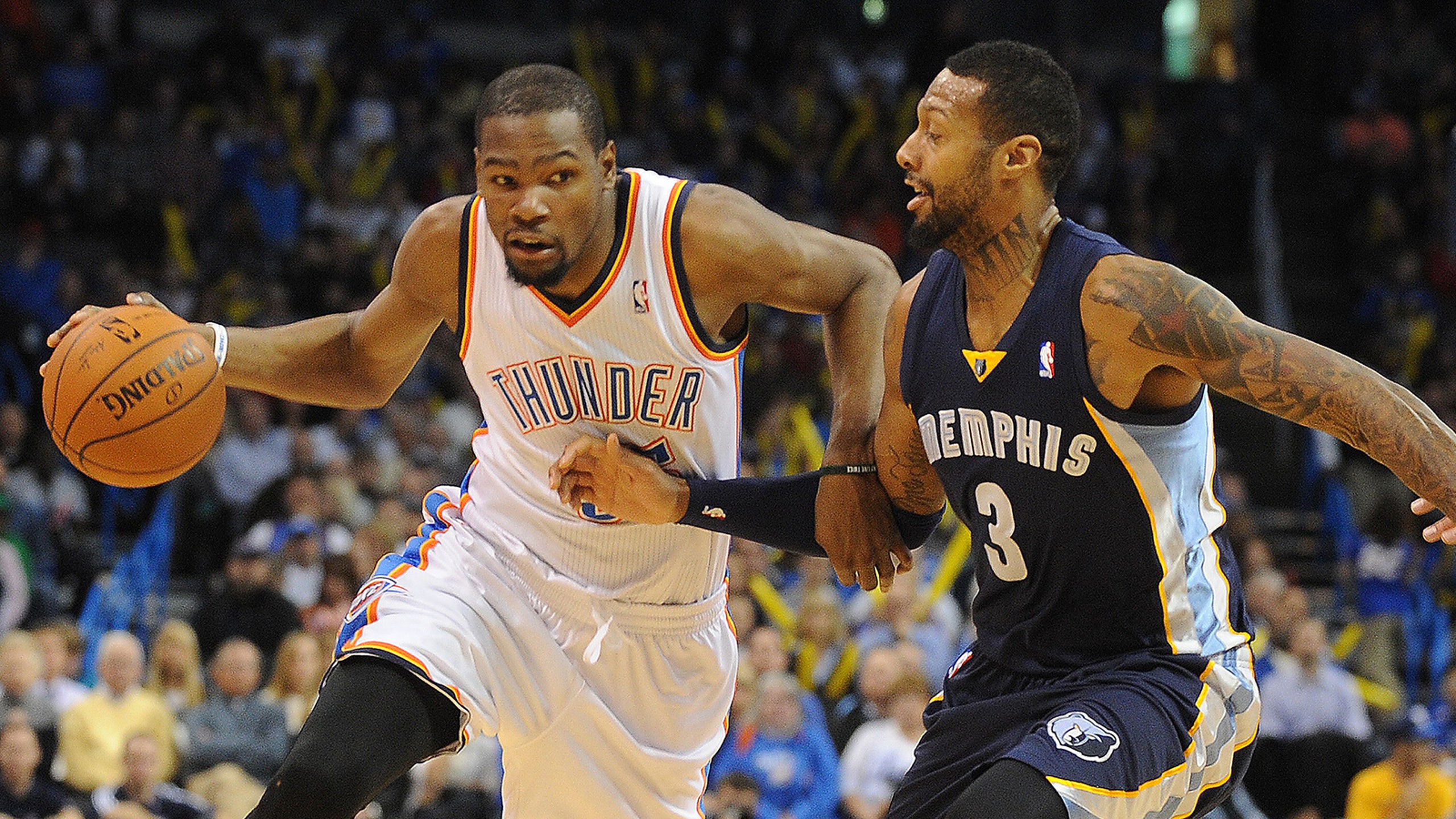 Grizzlies fall to Durant, Thunder in low-scoring affair
BY foxsports • February 3, 2014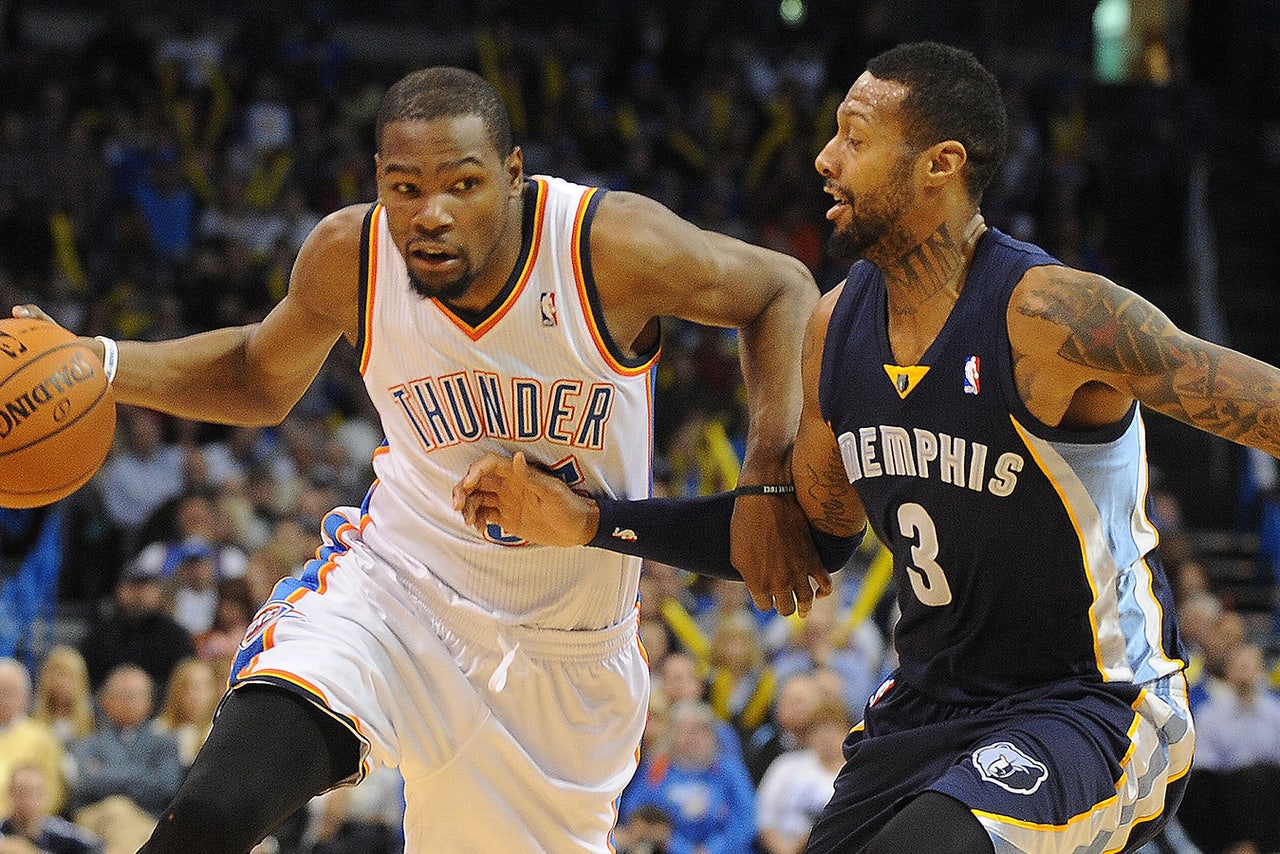 OKLAHOMA CITY -- Kevin Durant had 31 points, eight rebounds and eight assists, Serge Ibaka had 21 points and 12 rebounds and the Oklahoma City Thunder continued their home dominance, beating the Memphis Grizzlies 86-77 on Monday night.
Oklahoma City (39-11) had a 10-game winning streak snapped Saturday at Washington, but the Thunder moved to 21-3 at home while winning their seventh straight game at Chesapeake Energy Arena.
Zach Randolph had 13 points and 13 rebounds and Marc Gasol added 13 points for Memphis (26-21), which lost for the second time in 13 games. The Grizzlies had won six straight games, the NBA's longest winning streak entering Monday.
Coming off a remarkable January during which he averaged 35.9 points per game on 54.9-percent shooting, Durant finished 11 of 21 from the field.
Ibaka posted his 19th double-double of the season, going 10 of 17 from the field. He also teamed with Kendrick Perkins and Steven Adams (who had four blocked shots) to slow Memphis' potent frontcourt of Randolph and Gasol. Memphis couldn't counter with outside shooting. The Grizzlies went 2 of 16 from 3-point range.
Memphis, which trailed by 17 points late in the first half, pulled within three points three times in the final 6:45, the last time at 78-75 after Courtney Lee's driving 5-foot jumper with 4:54 left.
Durant answered with a 14-foot jumper, then after an exchange of empty possessions, Thabo Sefolosha swished a 3-pointer and Durant followed with a steal and layup to give Oklahoma City an 85-75 cushion with 2:54 left.
The Thunder managed only one point after that, but the Grizzlies couldn't take advantage, scoring only on a follow shot by Randolph with 1:12 left.
The Thunder used an 18-2 run near the end of the first half to take a 51-36 halftime lead. By halftime, Ibaka already had a double-double with 12 points and 10 rebounds. Durant scored 10 of his 16 first-half points during the final 5:35 of the half.
Fueled by six points by Gasol, Memphis opened the second half on a 15-5 run to pull within 56-51 midway through the third quarter, but Durant hit a 3-pointer with 52 seconds left in the quarter to help rebuild Oklahoma City's lead to nine points at 68-59.
With a lineup of reserves, Oklahoma City didn't score for almost three minutes to start the fourth quarter, causing coach Scott Brooks to reinsert Durant with 9:41 left. Durant promptly drew a foul on James Johnson and hit 1-of-2 free throws, then swished a 14-foot jumper from the left wing to put the Thunder up 72-63.
Reggie Jackson started the game with two airballs but eventually finished with 12 points for Oklahoma City. Lee and Mike Miller had 11 points each for Memphis.
Notes: With Conley out, Memphis signed G Darius Morris to a 10-day contract on Monday. Morris averaged 4.2 points and 1.6 assists in 22 games this season with the Philadelphia 76ers and Los Angeles Clippers. He was waived by Philadelphia on Nov. 20 before signing a pair of 10-day contracts with the Clippers . Memphis had a six-game road winning streak snapped. Before Monday, the Grizzlies' last road loss was on Jan. 3 at Denver . The Thunder recorded its 113th straight regular-season sellout, although there were some empty seats visible in the lower sections of Chesapeake Energy Arena . Memphis coach Dave Joerger was named as the Western Conference coach of the month for January, beating out Oklahoma City's Brooks for that honor. Memphis went 12-3 in January, compared Oklahoma City's 13-5 mark . At least twice, Joerger complained about the volume level in the arena
---