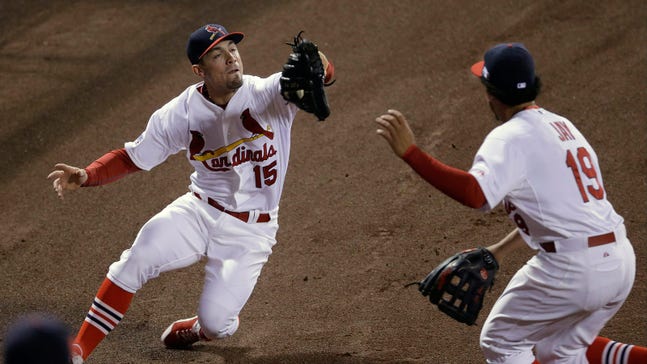 Grichuk could cut into Jay's playing time for Cardinals
Published
May. 29, 2015 10:05 a.m. ET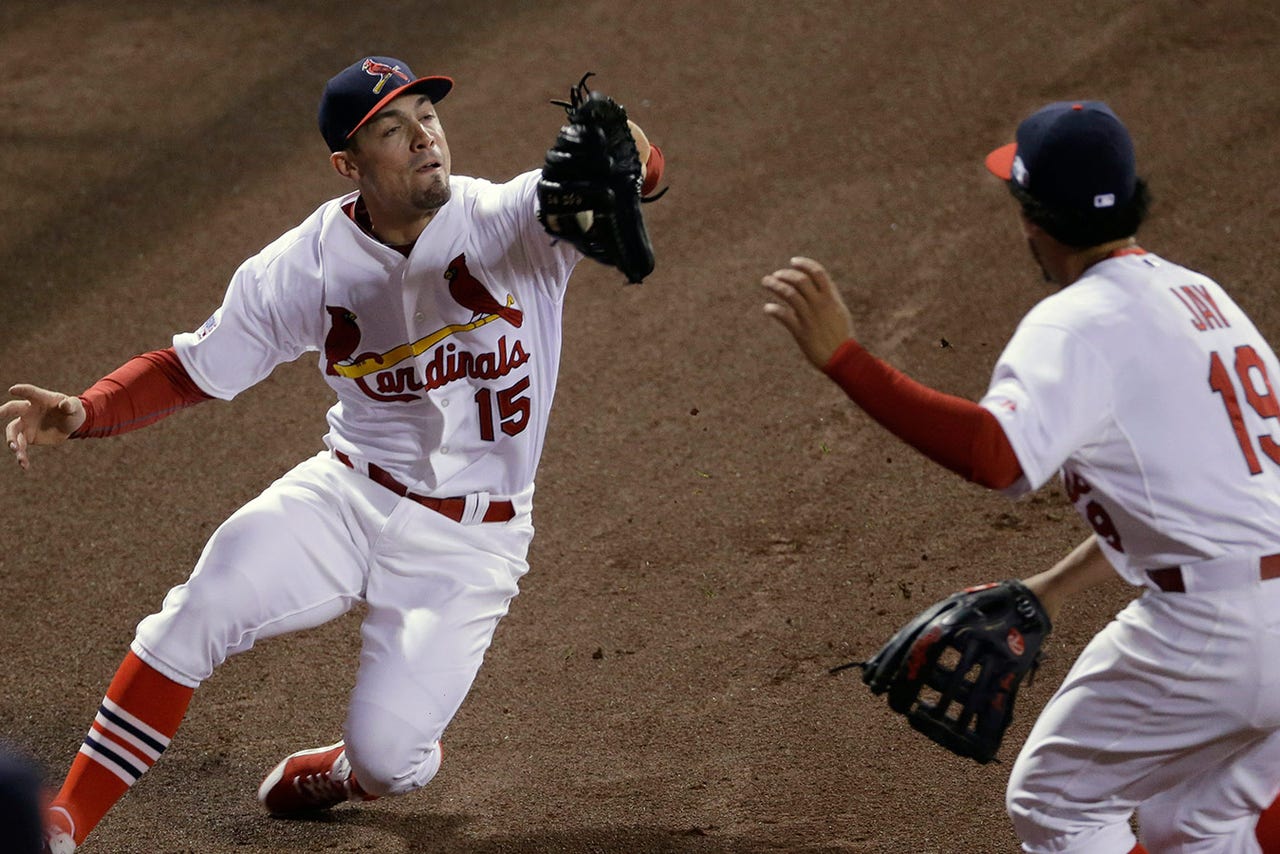 ST. LOUIS -- Jon Jay was the St. Louis Cardinals' center fielder and primary leadoff man when he went on the 15-day disabled list with a wrist injury.
When he returns, likely Friday, it might be more of a job share due to the emergence of Randal Grichuk.
The 23-year-old Grichuk, acquired from the Los Angeles Angels after the 2013 season, is batting .308 in limited duty and been a defender able to play all three spots. He has displayed plenty of pop, too, with 10 of his 16 hits going for extra bases.
Last fall, Grichuk homered off Clayton Kershaw in his first career postseason at-bat.
"I think you're seeing him evolve into the type of player we thought we were acquiring," general manager John Mozeliak said. "He can play all three outfield spots and from an offensive standpoint he's in rarified air in terms of how hard he hits the ball."
Speedy Peter Bourjos has had his moments, too. Besides upending Arizona catcher Jordan Pacheco with the game-deciding slide in the ninth inning of Wednesday's 4-3 victory over Arizona, he's batting .272 with three doubles, three triples and a homer.
Both are right-handed hitters who could figure in a platoon of sorts with the left-handed-hitting Jay.
Left fielder Matt Holliday broke Albert Pujols' franchise record by reaching safely in his 43rd straight game to start the season and is among five Cardinals with more than 20 RBIs, hitting .320 with three homers and 24 RBIs. Right fielder Jason Heyward has been inconsistent at the plate but atoned for a critical error with a game-tying homer Wednesday that could serve to jump-start his season.
Mozeliak spoke of "finding a balance for all these guys," seeking advantageous matchups and going with the hot hand. When Jay plays, the Cardinals will have four left-handed bats, down one with first baseman Matt Adams scheduled for right quadriceps surgery Friday that could sideline him the rest of the year.
Jay had appeared in two rehab games earlier this week, coming off left wrist and thumb injuries that prevented him from driving the ball and landed him on the DL on May 11.
The Cardinals decided to leave Jay in the minors Wednesday to work on timing rather than activate him to replace Adams, calling up hot-hitting minor leaguer Ed Easley instead.
Jay is a solid defender but was off to a slow start at the plate following offseason wrist surgery, batting .248 with six RBIs. Unlike Holliday, Grichuk and Heyward, there's not much of a power profile.
The Cardinals have the best record in the major leagues at 31-16 despite also losing ace Adam Wainwright for the season with a torn left Achilles. They've persevered through a tough stretch of 36 games in 37 days before finally getting a day off Thursday, going 23-13, and enter a weekend series against the NL West-leading Dodgers on a four-game winning streak.
"This has been one of the toughest ones I can remember, without question," manager Mike Matheny said. "The guys have all responded well.
Watch the Cardinals Live pregame and postgame shows before and after every St. Louis Cardinals game on FOX Sports Midwest.
"I haven't heard a lot of griping, moaning and complaining, but you can tell it's taken a toll. It's been a great trial for us."
By necessity, there's been a lot of juggling. Matheny has used 34 lineups in 47 games, including six players at leadoff and the fifth spot.
Heyward, the big offseason acquisition after the death of Oscar Taveras, has hit second mostly but also has combined for 23 starts in the 6-7-8 slots.
Even without Adams, the infield has a healthy power profile. Third baseman Matt Carpenter has already matched his career best with eight homers, shortstop Jhonny Peralta's seventh was a game-winner on Monday over Arizona, and second baseman Kolten Wong, who took over at leadoff recently, has six homers.
"That's a rarity to have a shortstop with that kind of power, and I think Kolten kind of falls into that as well," Matheny said.
---