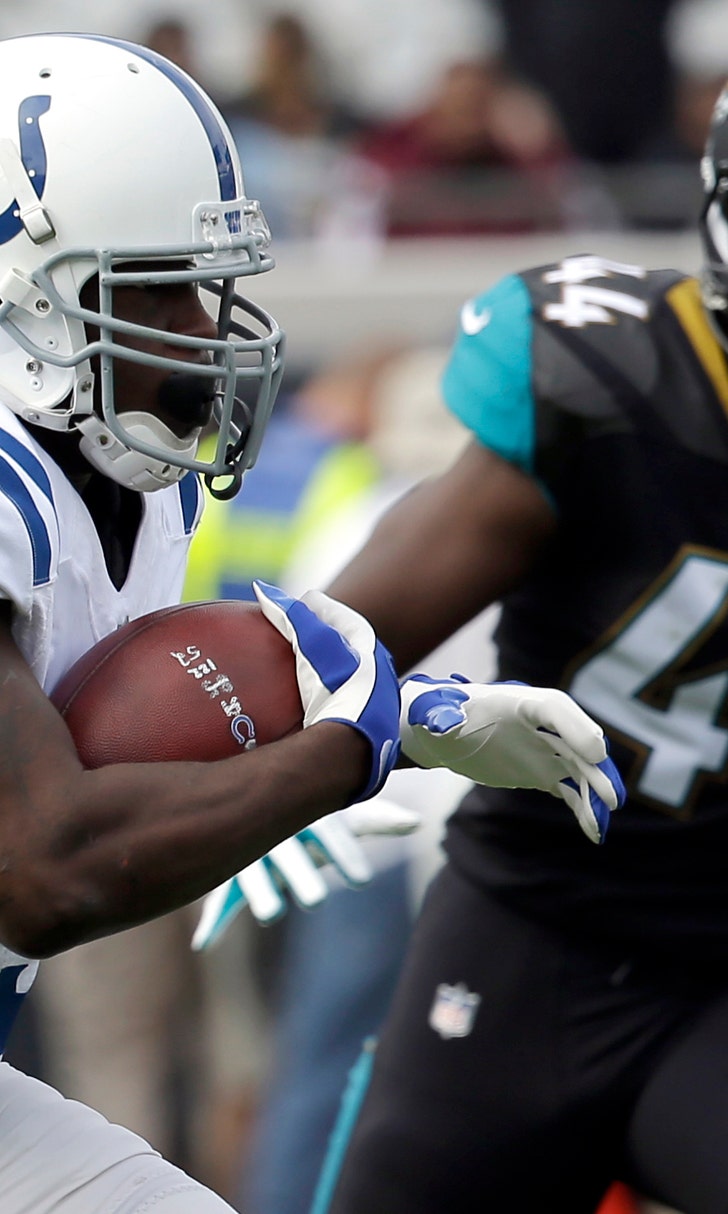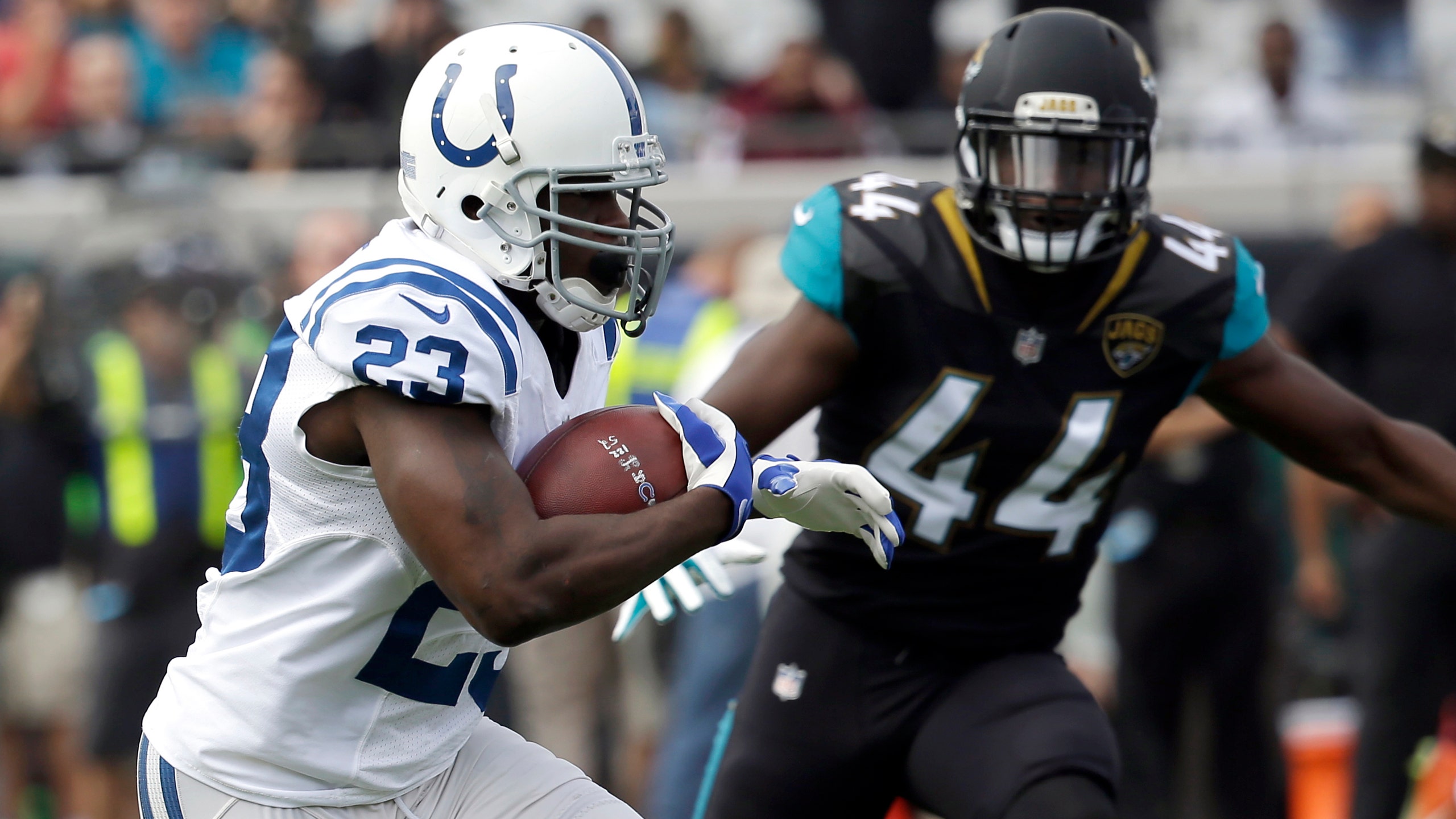 Gore rushes for 61 yards in Colts' loss, moves to fifth on NFL's career rushing list
December 3, 2017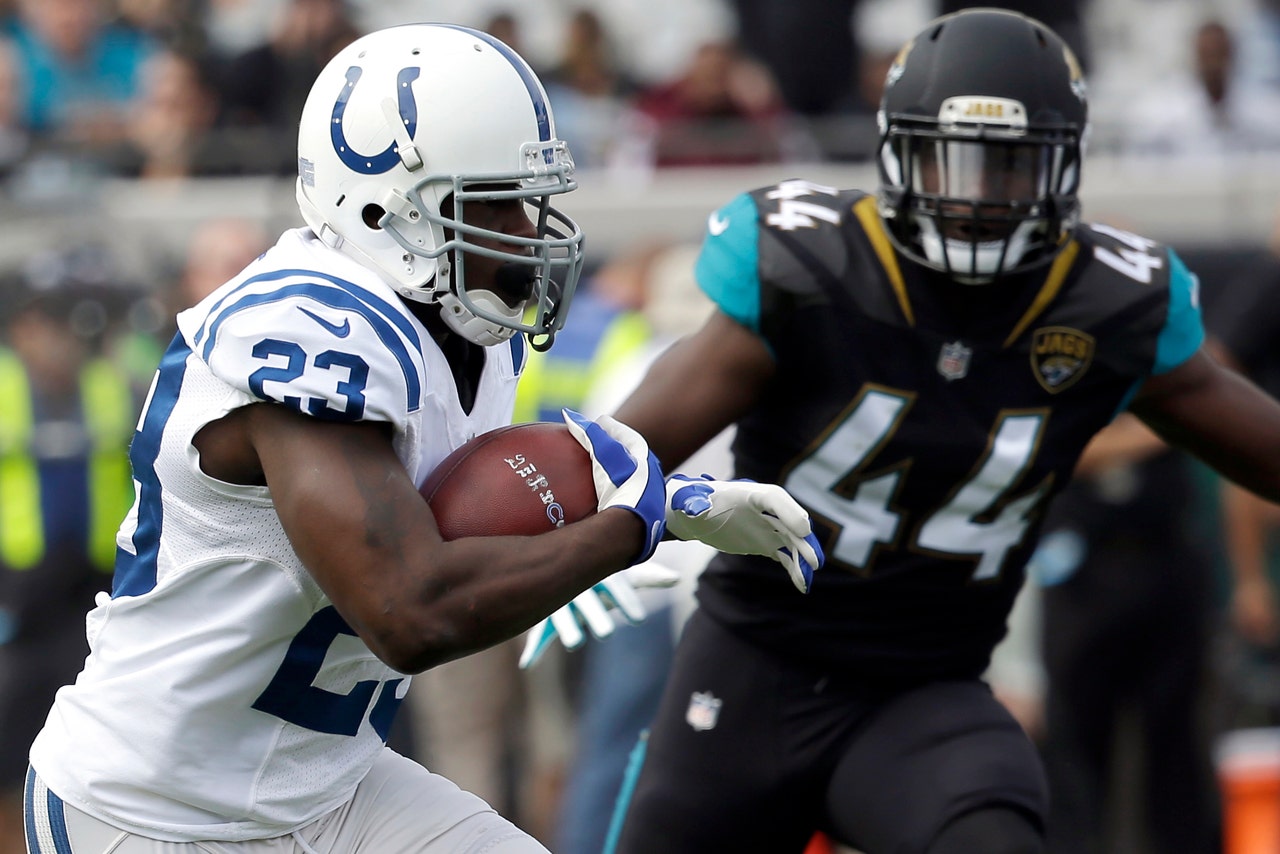 JACKSONVILLE, Fla. -- Frank Gore started left, cut back right, stepped through an arm tackle and lowered his pads to gain an extra yard.

It was vintage Gore on his longest run of the day.

It was his most significant one, too.

Gore's 16-yard scamper in the third quarter against Jacksonville moved the Indianapolis Colts running back into fifth place on the NFL's all-time rushing list Sunday. The 34-year-old Gore moved up two spots on the day, passing Jerome Bettis (13,662 yards) early and LaDainian Tomlinson (13,684) late.

"It's a blessing," Gore said. "When I look back at my career coming out of college, all the ups and downs I had in college, I got here and there were a lot of doubters (who thought) I wouldn't be here long. But I'm still here, still competing. My name is getting mentioned with a lot of great guys, so it's a blessing."

Gore wound up with 61 yards on 13 carries in Indy's 30-10 loss to the Jaguars. He now has 13,697 yards rushing in 13 seasons, the first 10 with San Francisco.

"I respect all those guys who I've passed, especially the (last) one today, LT," Gore said. "I remember when I came into the league, I was with San Fran and we played against him in a preseason game. I was like a little kid when I met him. I respect the way he played the game. He was one of my top five who I liked as a player."

Gore is averaging a career-worst 3.6 yards a carry this season, and his longest run is 21 yards. He's a long shot to top 1,000 yards for the 10th time, and there are no guarantees he will be back in 2018. Gore is in the final year of a three-year contract, and the Colts (3-9) drafted Marlon Mack in the fourth round in April.

The bigger question, and one that's gotten more attention lately, is whether he's worthy of the Hall of Fame. It was a no-brainer in both locker rooms Sunday.

"He's a warrior," Colts coach Chuck Pagano said. "He runs as hard as anybody. He did a heck of a job. They don't come any tougher. There's not a better competitor around. He's a Hall of Famer. He's a future, first-ballot Hall of Famer. Yet he could give a blank to whatever about that. He just wants to win."




Added receiver T.Y. Hilton: "He's good just because of his character. He's a great guy. He's humble. The things he's done speak for themselves. He works every day. He works like a rookie. He just doesn't seem to age."

The losing has taken its toll on Gore, though.

The Colts are 19-25 with Gore and haven't made the playoffs. They were eliminated from contention in the AFC South on Sunday.

"It's tough, man. It's tough," Gore said. "When you play this game, you want to win, especially when you get up in age and you don't know how much time you have left. When I came here, this team was one game away from going to the Super Bowl. Things didn't work out. Things have been going wrong. It's been tough with one of our leaders (quarterback Andew Luck) not here.

"That's one of the reasons I came here: to play with a great quarterback. Not having him has hurt the team. I'm not knocking Jacoby (Brissett) because he's doing a great job, but us having Andrew Luck, we're a different team. That put a big hole in our team. But it happened, what can you do? All we can do is keep moving forward."

And for Gore, maybe moving up the all-time list.

Next up in is Curtis Martin, who holds the fourth spot with 14,101 yards on the ground. Gore trails Martin by 404 yards with four games remaining. Considering he hasn't reached 100 yards in any game this season, he likely will need games in 2018 to catch Martin. He has little, if any, chance of getting close to Barry Sanders (15,269), let alone Walter Payton (16,726) or Emmitt Smith (18,355).

But fourth is possible, and no one would bet against him.

"I've got a lot of respect for him," said Jaguars defensive end Calais Campbell, who played one season with Gore in college (Miami) and against him plenty in the NFC West. "One of my favorite people to just watch. He loves the game. He plays it right.

"He's a Hall of Famer. He's finally getting some of that love. For a long time, I've been saying it because I see it and I've been playing against him. He's better than most, the way he falls forward and gets those hard yards. I respect him a lot. I love competing against him. He brings out the best in me."


---
---