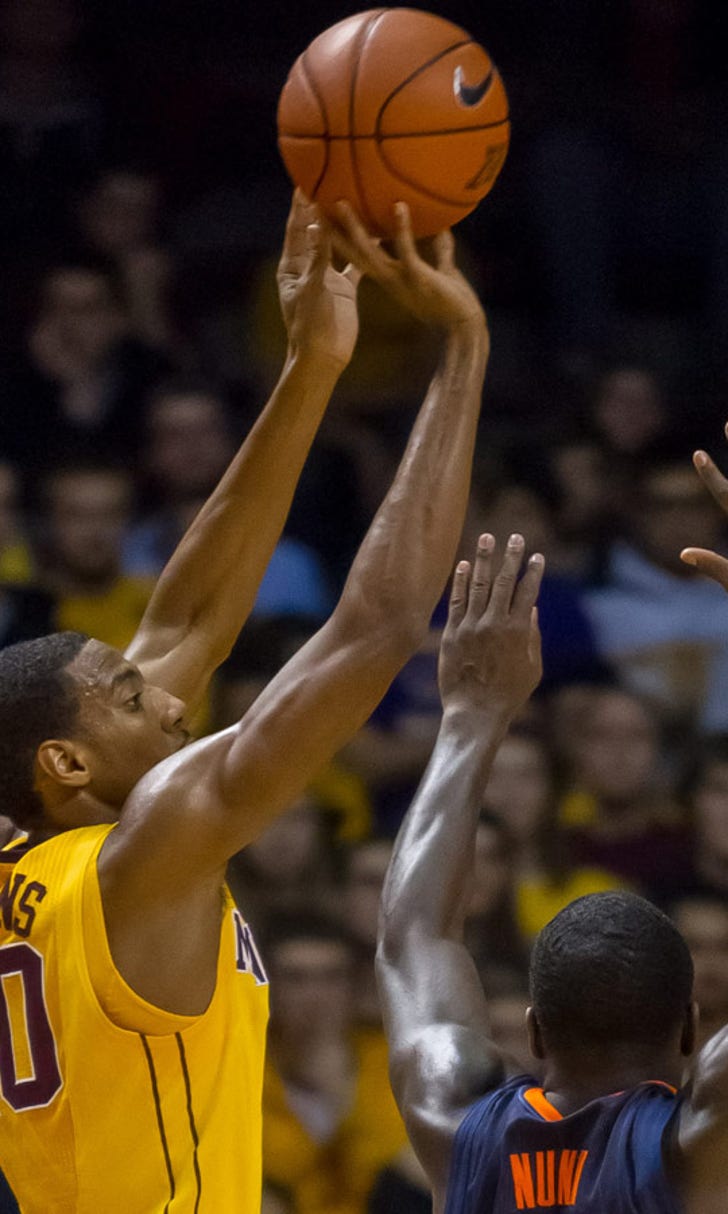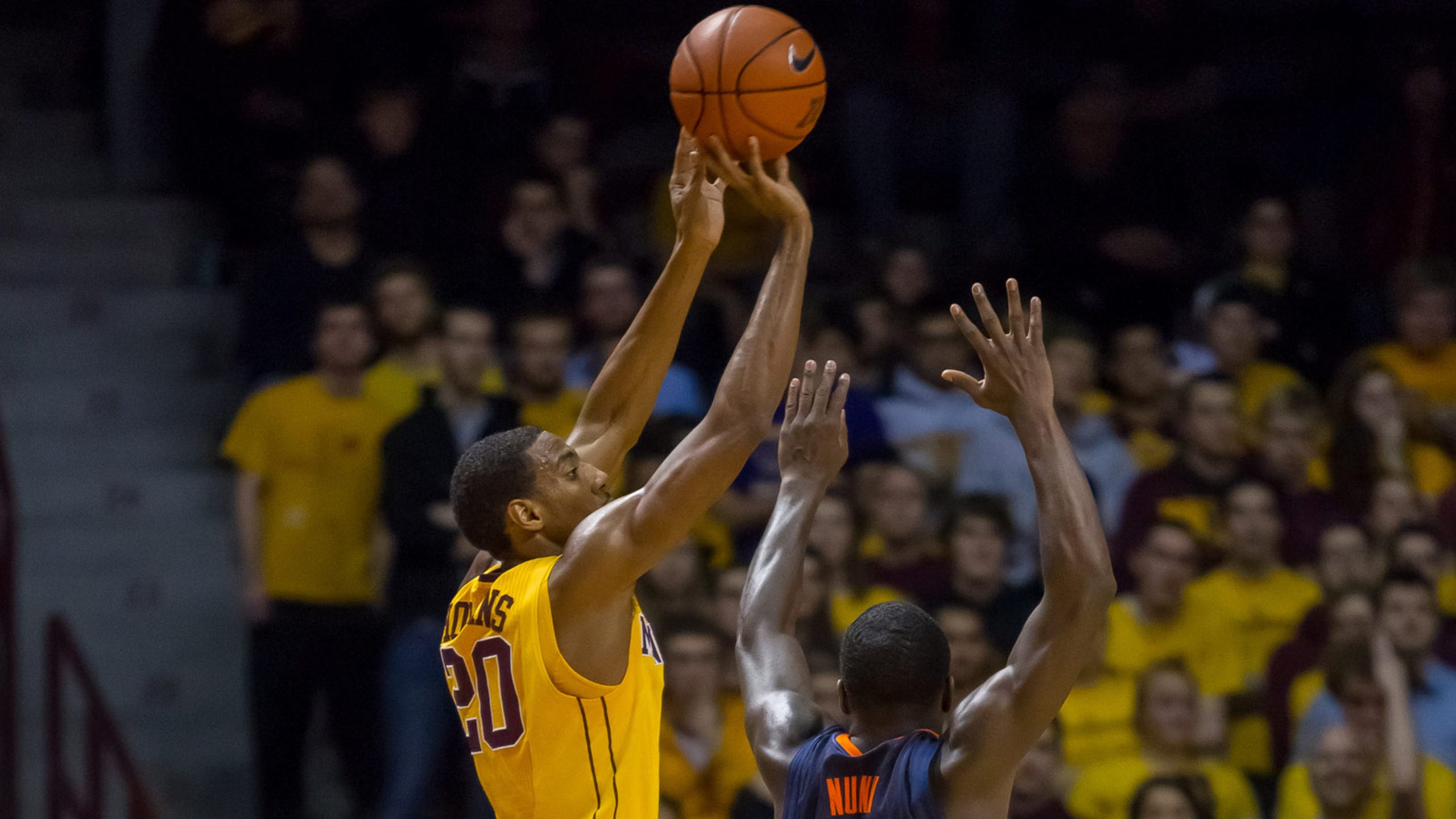 Gophers shoot themselves in feet from 3-point range in loss to Illini
BY foxsports • February 20, 2014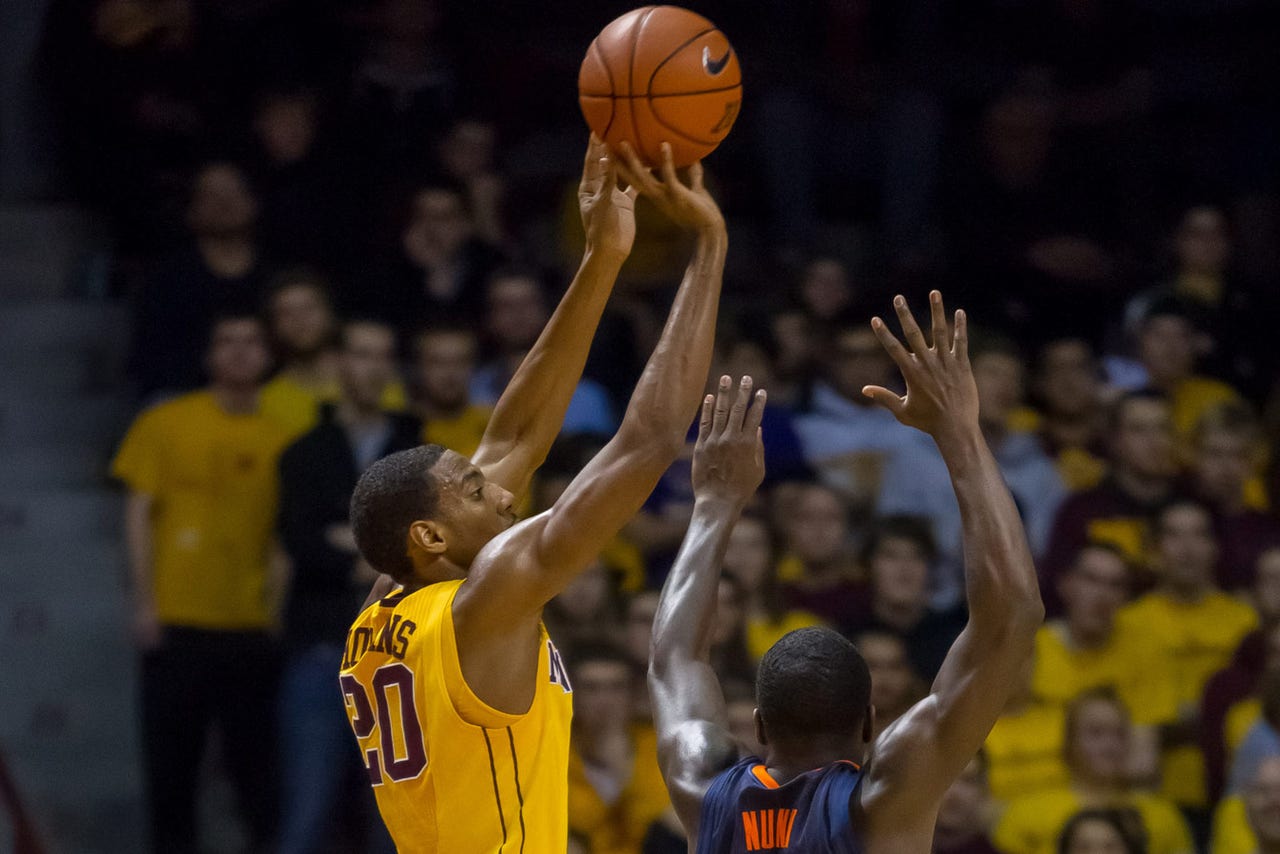 MINNEAPOLIS -- The 3-pointers just weren't falling Wednesday night, yet the Gophers kept launching them anyway.
Miss after miss resulted in Minnesota falling behind visiting Illinois in the second half, and the Gophers' struggles ultimately played a big role in their 62-49 loss to the last-place Fighting Illini. Minnesota converted on just 4 of 25 shots from downtown for a season-low 14 percent from beyond the arc.
The Gophers football team uses the phrase "brick by brick" to describe the rebuilding of its program. On Wednesday, Minnesota's basketball team gave that slogan a new meaning.
"We kept saying, 'Stop shooting 3s. Drive it. Go inside,'" said Gophers head coach Richard Pitino. "But we just kept settling. We've got to learn from that."
Minnesota hasn't been a bad 3-point shooting team all year. In fact, even after Wednesday's poor performance, the Gophers are still fifth in the Big Ten in 3-point field goal percentage (34.5 percent). But the 25 shots from downtown did help continue a trend for Minnesota, which is now 1-4 in the Big Ten when attempting 20 or more 3-pointers in a game. In non-conference play, the Gophers shot at least 20 3-pointers in all but one game.
Several players were guilty of struggling from deep in Wednesday's loss. Junior guard Andre Hollins -- Minnesota's leading scorer this year -- was just 3-for-11 from downtown. Senior Malik Smith, who earlier in the year appeared to be a sharpshooter the Gophers sorely needed, was 0-for-6. Fellow senior Austin Hollins missed all four of his 3-point attempts. Only one of Minnesota's makes from downtown came after halftime.
"They started hitting 3s, and we were missing 3s," said Andre Hollins. "That's what got them back in the game."
For as much as Minnesota struggled to shoot from downtown against Illinois, the Gophers also had a tough time guarding the Illini from deep. Illinois entered the game as the second-worst 3-point-shooting team in the Big Ten. That didn't seem to matter against Minnesota.
Illinois' Kendrick Nunn converted on 5-of-7 shots from 3-point range, while three other Illini players helped their team finish 8-of-13 (61.5 percent) from deep. The disparity in the number of Gophers misses from beyond the arc and the number of Illini makes was a big difference in the game.
"We know they're not a great 3-point shooting team, but if you give any team wide-open looks, they're going to knock them down," said Austin Hollins. "They're not a poor 3-point shooting team. They just haven't been shooting it that great."
Minnesota settled for 3-point shots in part because of what Illinois' defense did to the Gophers in the interior. Point guard DeAndre Mathieu wasn't able to penetrate the lane like he has in previous games, and Minnesota's post game was a non-factor in the second half. Instead, the Gophers put up 15 3-pointers in the first half and another 10 after halftime as they tried to cut into Illinois' second-half lead. Minnesota wound up taking just one more 2-point field goal (26) than it did 3-pointers.
Minnesota's next three games are all against Top 25 opponents as they prepare to face Ohio State, Iowa and Michigan in the next two weeks. The Gophers will need to regain their touch from 3-point range in order to have success during this three-game stretch. That may be easier said than done, especially against the Buckeyes and Hawkeyes, who rank first and second, respectively, in 3-point defense among Big Ten teams. Ohio State allows opponents to hit just 27.1 percent from downtown, while Iowa is nearly as stingy at 29.2 percent.
The Gophers don't have a ton of pure 3-point shooters on their roster; Smith is the closest thing they have to a sharpshooter. As a junior at Florida International last year, he was among the leaders in all of Division I in terms of 3-point shots taken. He's currently 13th in the Big Ten in 3-point percentage (37.3). For Minnesota to have a chance at stealing a win in the next three games, the Gophers will need Smith to snap out of his shooting slump.
"He's had a lot of open looks, and I know he's getting frustrated," Pitino said. "He's just got to continue to stay the course, stay positive, and hopefully they'll turn the other way."
The Gophers hope their fortunes from downtown also turn the other way. They can't afford another shooting night like the one Wednesday that may have cost them a shot at the NCAA tournament.
Follow Tyler Mason on Twitter
---