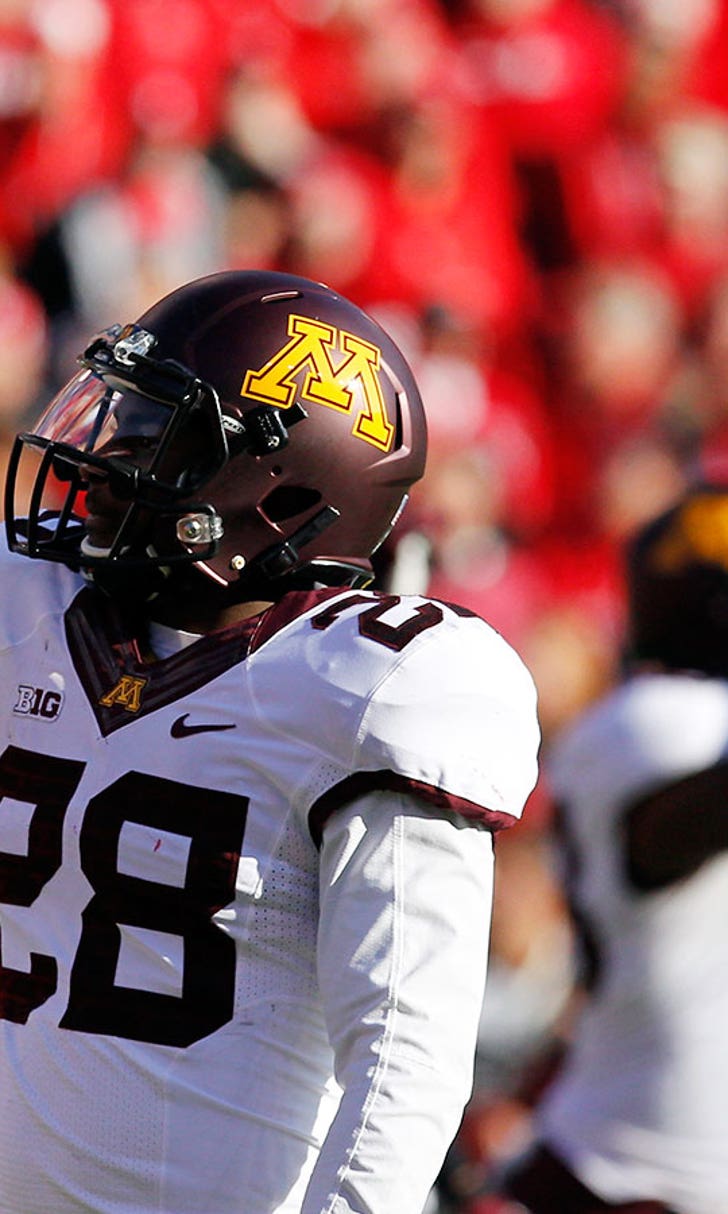 Gophers season report card: Defense and coaches
BY foxsports • January 8, 2015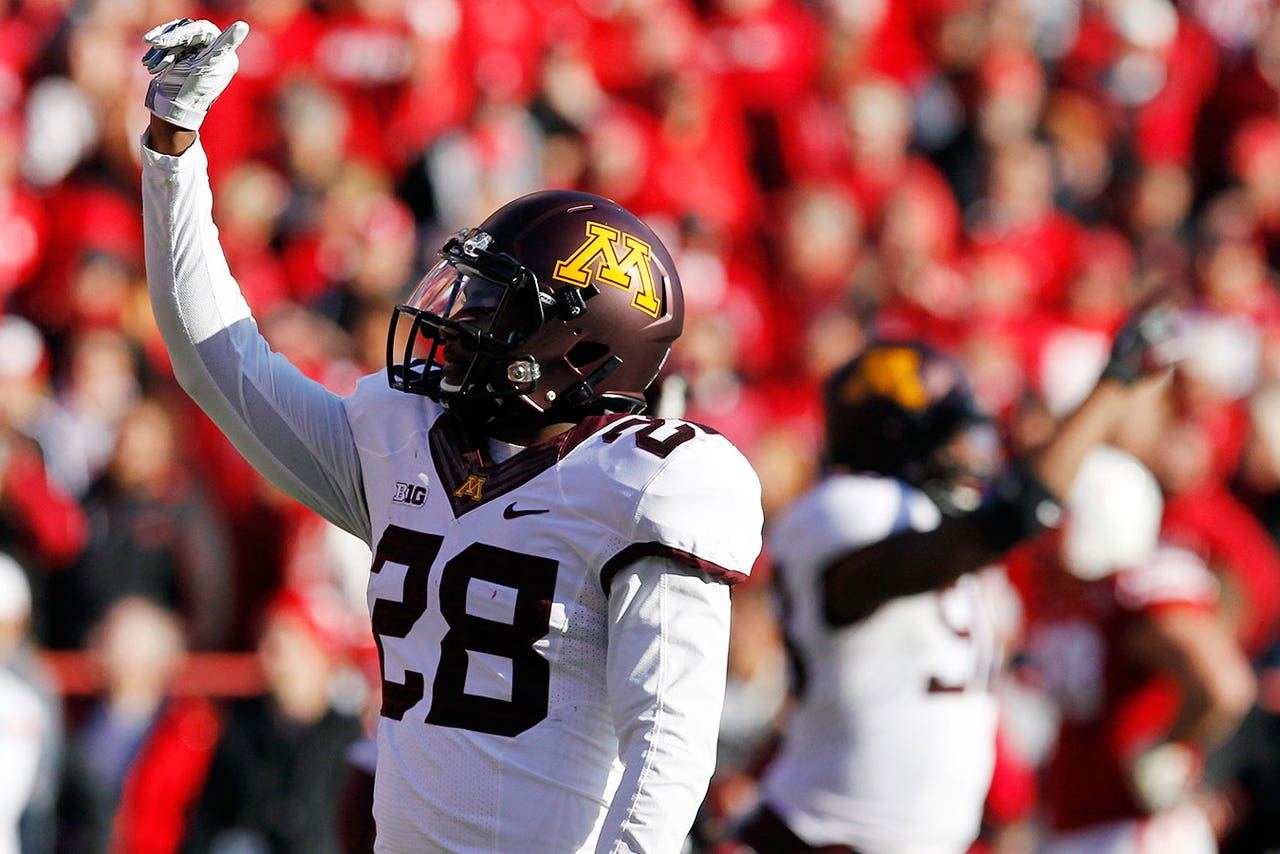 MINNEAPOLIS -- In a year in which the the Gophers' offense struggled at times, the defense was consistent from start to finish. Minnesota's calling card under head coach Jerry Kill has been a solid offense, and this unit delivered that again in 2014. Led by a strong secondary and a group of linebackers who played above expectations, the Gophers' defense finished as one of the best in the Big Ten. Here are the grades for each position on the defense, as well as Minnesota's coaching staff, following the Gophers' 8-5 season.
Defensive line: B-
After losing Ra'Shede Hageman to the NFL following last season, the Gophers knew they had a big hole to replace on the defensive line. Minnesota did so more by a group approach than any one player filling the void. Senior defensive tackle Cameron Botticelli was a steadying presence on the line, finishing the year with three sacks and nine tackles for loss as he started all 13 games. The Gophers also saw the emergence of freshman tackle Steven Richardson, who played in all 13 games (including 12 starts next to Botticelli at the other tackle spot) and had a pair of sacks and six tackles for loss, as well as a forced fumble. Though he might not be the same player as Hageman, seeing the 6-foot, 291-pound Richardson play so well as a true freshman was a bright spot for the Gophers' defensive line.
The defensive ends, senior Michael Amaefula and redshirt junior Theiren Cockran, both had plenty of playing experience before the 2014 season as each had played since their respective freshmen years. After leading the Gophers in sacks a year ago with seven, Cockran's numbers saw a bit of a dip this year. He wound up with four sacks in 13 games in 2014 and added seven tackles for loss, third-most on the team. Amaefula chipped in 3.5 sacks after not registering any in 13 starts last season.
Minnesota was just mediocre against the run this year, finishing eight in the Big Ten in that category by allowing 174.7 rushing yards per game, nearly 20 yards per game more than the defense allowed last year. Part of that fell on the offensive line, which didn't exactly take a big step forward as a unit this year. The Gophers also finished tied for ninth in the conference in total sacks with 27 -- nine more than a year ago.
Linebackers: B+
This was one area of the defense that was a big of an unknown heading into the season, but the linebacking corps was rather impressive for much of 2014. It starts with middle linebacker Damien Wilson, who was named All-Big Ten First Team by the media and All-Big Ten Second Team by the coaches. Wilson finished the season as the Gophers' leading tackling, amassing 119 tackles -- third-most in the Big Ten. Wilson also finished tied for the team lead with four sacks and 10.5 tackles for loss and had one interception, two fumble recoveries and a forced fumble as he proved he could do a bit of everything at linebacker.
De'Vondre Campbell was also very productive at outside linebacker, finishing third on the team with 75 tackles. One of his biggest plays of the year was a 30-yard interception returned for a touchdown in the Gophers' win against Michigan. Campbell's three fumble recoveries were a team high, and he was the only linebacker to start all 13 games this year.
The third linebacker spot was held down by Jack Lynn, a redshirt sophomore who barely played as a freshman last season. Like Wilson and Campbell, Lynn also played in all 13 games as the Gophers' linebacker trio remained healthy all season. Lynn was sixth on the Gophers with 57 tackles and also had seven tackles for loss.
Minnesota also used true freshmen Jonathan Celestin and Everett Williams a bit at linebacker this year, so they'll both have some experience heading into next season. Losing Wilson to graduation certainly hurts the Gophers at this position, but they should be in pretty good shape with many of the linebackers returning in 2015.
Safeties: B
Senior Cedric Thompson assumed the role as a team leader this year, taking over for Brock Vereen after Vereen was drafted by the Chicago Bears. Thompson's 83 tackles were second on the team behind only linebacker Damien Wilson's 119. Thompson finished the season with just two interceptions, and they happened to come in the same game against Purdue. The second of the two that day proved to be huge, as Thompson intercepted Boilermakers quarterback Austin Appleby on a diving play at midfield with 2:28 remaining in the game to preserve Minnesota's 39-38 win. His leadership will be missed in the secondary next year.
Damarius Travis and Antonio Johnson split time at the other safety spot alongside Thompson. Travis, a junior, played in all 13 games and had a knack for big plays. He picked off a pair of passes, forced a fumble and also had a fumble recovery. Travis' seven pass breakups ranked third on the team. Johnson, also a junior, missed just one game.
Cornerbacks: A
With all eyes on cornerback Eric Murray, it was fellow cornerback Briean Boddy-Calhoun who emerged as a playmaker on defense this year for the Gophers secondary. While Murray was often tasked with trying to shut down opposing teams' top receivers, Boddy-Calhoun thrived on the other side of Murray. Boddy-Calhoun finished the year with a team-high five interceptions; no other player had more than two. He was also the only Gopher with double-digit passes defended as he tallied 14 (included nine pass breakups). On top of all of that, he recovered a pair of fumbles -- including one he forced late in the game against Nebraska when he stripped the ball from a Huskers receiver to help the Gophers escape Lincoln with a win. He went on to win All-Big Ten First Team as voted on by the media, and All-Big Ten Second Team honors from the coaches. A season-ending knee injury early last season was almost a blessing in disguise for the Gophers as Boddy-Calhoun will be back for one more year following his big redshirt junior campaign.
Though his numbers don't compare to those of Boddy-Calhoun, Murray quietly had a nice season at the other starting cornerback spot. Murray only had one interception this year but added seven pass break-ups. Big Ten coaches clearly took notice of the work Murray did, as they named him All-Big Ten Second Team. Murray also did some nice work on special teams, including two blocked punts -- one of which was returned for a touchdown by the Gophers.
Senior Derrick Wells also saw plenty of time at cornerback, as did sophomore Jalen Myrick. Wells made seven starts and did have one interception. Myrick also had a pick that he returned 31 yards for a touchdown against Middle Tennessee early in the season. True freshman Craig James got some snaps at cornerback, too. Overall, Minnesota's secondary was once again one of the best in the Big Ten. The Gophers finished the year with 15 interceptions, led by five from Boddy-Calhoun. Wells is the only loss next year at cornerback, a position where Minnesota should only continue to improve.
COACHING
Kill: B
Kill had the Gophers take another step forward in 2014 despite finishing with the same record as they did one year earlier. Minnesota's eight-win season was impressive for several reasons, including wins over rivals Michigan and Iowa, and a road win at Nebraska. Kill led the Gophers to their first January bowl game since 1962, a bit stepping stone for the program. However, after losing to Missouri in the Citrus Bowl, the fact of the matter is that Kill is now 0-3 in bowl games in his four years at Minnesota.
Kill's final game of the 2014 season left some fans questioning his time management. The Gophers had the ball at their own 25-yard line with a few timeouts left and 1:04 to play before halftime. Instead of taking a few shots downfield to try to tie the game or take the lead, Minnesota played it safe. Kill said after the game that he knew his team was getting the ball to start the second half and didn't want to risk a turnover. As it turned out, Missouri converted a successful onside kick to open the third quarter. That sequence stung for Gophers fans after the 33-17 loss as they wanted Kill and Co. to be more aggressive in that moment.
Overall, though, Kill and his staff continue to build the program "brick by brick," as they like to say. Players have continued to buy into Kill's system, and Minnesota fans have embraced him more each year. After yet another bowl game loss, though, the pressure will be on Kill and the Gophers to finally win a bowl game.
Offensive coaching: B-
Part of it was due to the personnel the Gophers' coaches had to work with, but Minnesota's offense sputtered too often this year. There's no doubt the running game was a strong point, led by senior running back David Cobb (credit to running backs coach Pat Poore and former running backs coach turned wide receivers coach Brian Anderson for Cobb's emergence). But for much of the year the Gophers had no passing threat to speak of. Some of that blame has to fall on the coaching staff.
Offensive coordinator Matt Limegrover stayed pretty consistent for most of the year. The Gophers stuck to the rushing attack when it was working well, but almost to a fault -- they beat San Jose State despite just one pass completion. The wide receivers didn't really progress much from a year ago, and quarterback Mitch Leidner's accuracy was still an issue.
The tight end group was solid, led of course by Maxx Williams' All-American season. Rob Reeves coached that group and helped Williams evolve into one of the best tight ends in college football.
Overall, though, some of the play calling on offense remained a bit suspect. There were times when the Gophers perhaps should have been more aggressive on offense but took a more conservative approach. Minnesota finished ninth in the Big Ten in total offense (357.3 yards per game). That needs to change for the Gophers to assert themselves as one of the conference's top teams.
Defensive coaching: A-
Defensive coordinator Tracy Claeys has continued to do a solid job building Minnesota's defense to a level where the Gophers can compete against some of the best offenses in the Big Ten. However, Minnesota is still much better against the pass (fifth in the conference) than it is against the run (eighth). In a conference like the Big Ten where good running backs are everywhere, that aspect of the Gophers' defense needs to improve.
After filling in as the acting head coach last year when Kill was away from the team for health reasons, Claeys' name was mentioned in possible coaching rumors. He admitted he had some teams interested in him but opted to stay at Minnesota. The Gophers' defense never truly had a brutal game, as the most points they allowed in any given game this year was 38 in a win against Purdue. In fact, there were a few games that Minnesota's defense won late with big plays (see: Nebraska, Purdue). Defensive backs coach Jay Sawvel has continued to build a solid group of cornerbacks and safeties, while linebackers coach Mike Sherels got that group to play above most people's expectations.
Follow Tyler Mason on Twitter
---