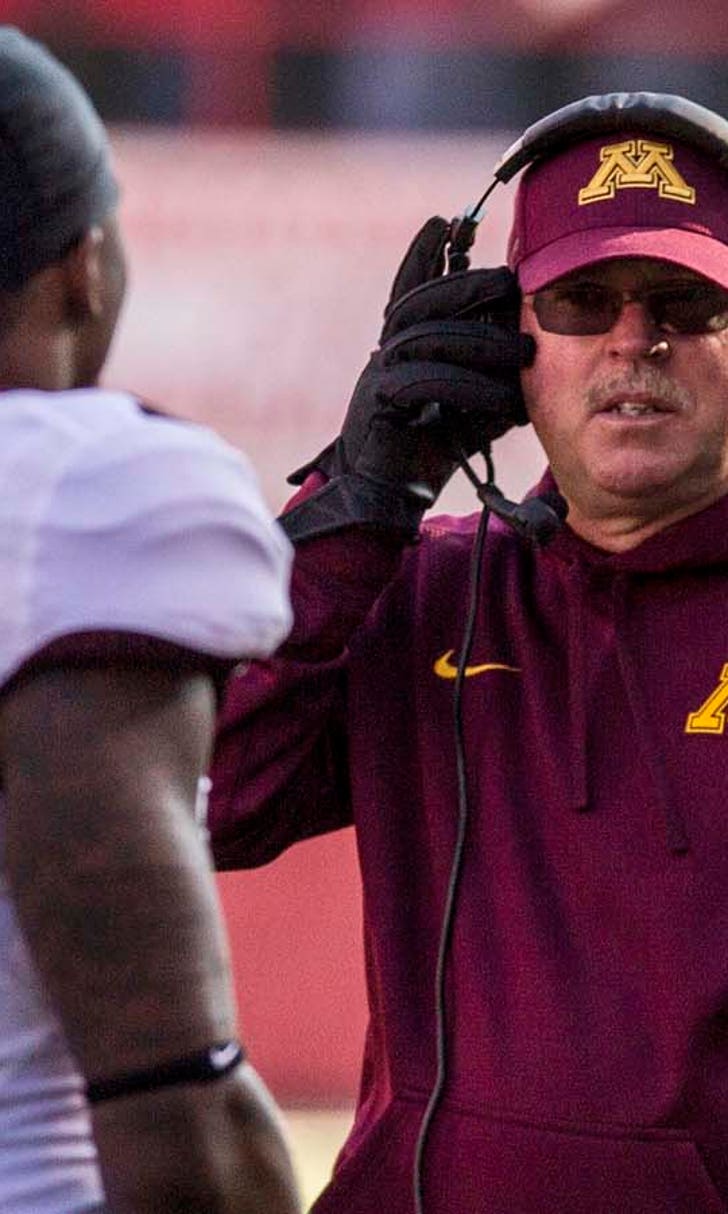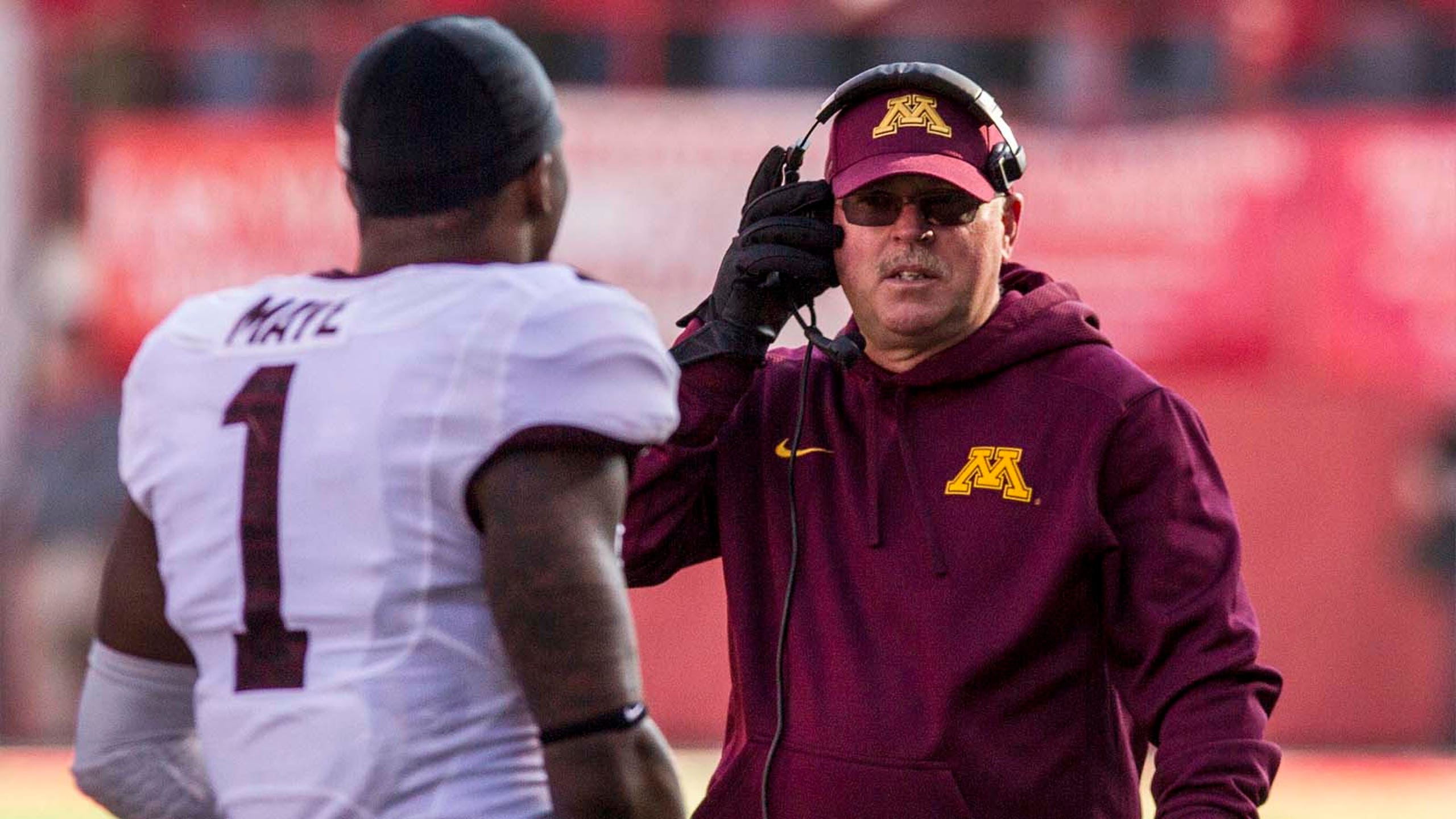 Gophers report card: Kill era reaches new milestone
BY foxsports • November 23, 2014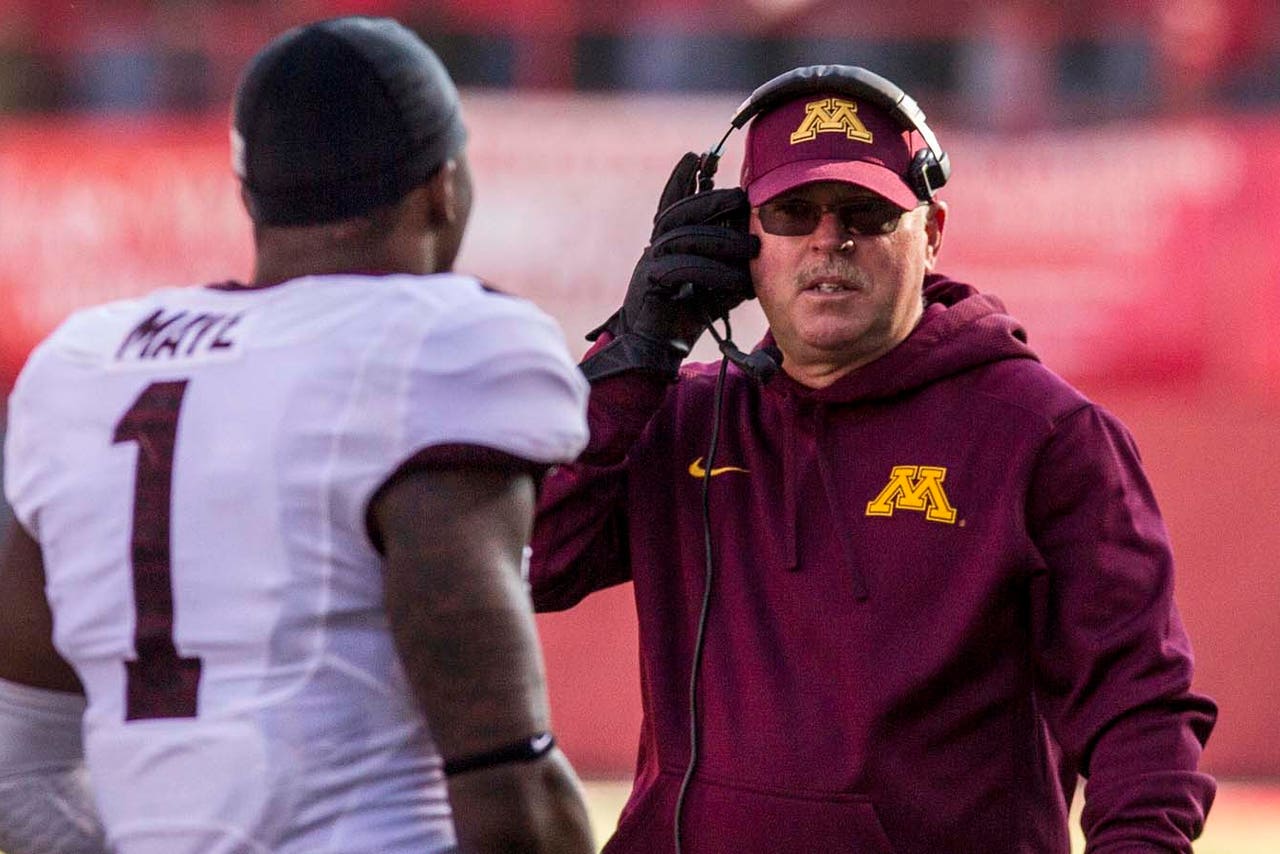 LINCOLN, Neb. -- Jerry Kill went for an early-morning walk on the streets of Lincoln on Saturday, mulling the latest opportunity before his team.
When the Golden Gophers coach got back to the hotel, he told his wife Rebecca he had a good feeling. Minnesota hadn't won here since 1960, nor had it defeated an Associated Press Top-25 team on the road since 2000.
But Kill hasn't led this program from the depths of the Big Ten to a win away from playing in its championship game by regarding past trends. Instead, the Gophers have burned them to the ground.
"From our standpoint, coming in here four years ago, I was telling the administration that it's going to take seven or eight years," Kill said Saturday after his squad threw another flame on the fire. "We still have a lot of work to do and a lot of areas to get where we want to be. But I think it's gone a lot faster than I certainly would think."
Minnesota (8-3, 5-2 Big Ten) is a win at Wisconsin away from playing for its first conference title since 1967 after a 28-24 win Saturday at Nebraska's memorial stadium. The Gophers weren't perfect, but they weren't far from it in the second half as they outscored the Huskers 21-3 after the break.
And Kill, who tends to downplay the significance of singular moments and focus on the process, proved prophetic.
"I'm the most blessed guy in the world," Kill said. "I've been married for 31 years, and right now I'm living the dream. I grew up in Southern Kansas, and I've been here when things didn't go so good. I'm glad to have an opportunity to be here; it's unbelievable. I don't want to tell you (this win) doesn't rank up there.
"To win here in Lincoln, it's very, very, very difficult. Not many people have been able to do that."
Here's how Minnesota did it.
Quarterback Mitch Leidner wasn't necessarily planning to be a focal point of the Gophers' ground game Saturday. But with the Huskers defense keyed in on Minnesota's running backs and getting sucked into the middle of the field, all Leidner had to do was make the right option reads and plow through the gaping holes opened by the offensive line. The 6-foot-4, 233-pound signal caller rushed 22 times for 111 yards -- both season highs -- and a pair of touchdowns, including the go-ahead score with 3:25 to go.
And the Gophers needed it. Because their No. 1 ground threat was on the sidelines with his left leg wrapped up for most of the second half.
Senior David Cobb appeared to strain his left hamstring at the end of his 17-yard touchdown romp with 11:14 left in the third quarter. He didn't return, finishing with 80 yards on 15 carries -- 34 short of Laurence Maroney's single-season record of 1,464. Berkley Edwards went down in the first half, too, leaving only bruisers Donnell Kirkwood and Rodrick Williams Jr. to line up behind Leidner. The pair combined for 54 yards on 10 carries, and Williams' 19-yard touchdown run brought Minnesota within 24-21 late in the third.
The Gophers ran for 281 yards on 53 rushes (5.3 yards per attempt) against a defense that gave up an FBS-record 408 yards to Wisconsin's Melvin Gordon last Saturday.
Leidner continues to be wildly inconsistent. Luckily for Minnesota on Saturday, that means he's just as capable of brilliance as he is missing wide-open throws.
A prime example: Leidner's 38-yard strike to receiver K.J. Maye that set up the quarterback's game-winning score in the fourth quarter. Maye made a double move and took off down the left sideline, and Leidner delivered a perfect ball only his target could catch. He made a similar throw to Isaac Fruechte in double coverage which the wideout couldn't haul in.
Yet Leidner only completed 8 of 17 passes -- right on par with his 51.1-percent season average -- for 135 yards. He under-threw Maye on an open out route and couldn't deliver a corner fade to tight end Maxx Williams in the first half, leading to a field-goal attempt that was blocked and returned for a touchdown.
Most importantly, though, Leidner took care of the football. Minnesota improved to 11-0 under Kill when it doesn't commit a turnover.
Leidner remains an average-at-best passer. But thanks to the Gophers' ground attack and shutdown second-half defense, average was more than enough Saturday.
Bouncing back from a tough day against high-octane Ohio State, Minnesota held the Big Ten's No. 3 rushing team (15th nationally) to 174 yards. The only other defenses to shut down Nebraska on the ground so effectively were Michigan State (47 yards) and Wisconsin last week (118). Highly-touted running back Ameer Abdullah looked healthier than he did a week ago, but the Gophers' linebackers and secondary closed on him quickly and tackled surely, limiting him to 98 yards on 20 carries -- relatively pedestrian numbers for a guy who came in averaging 128.8 yards per game.
Minnesota's biggest struggles came against fleet-footed quarterback Tommy Armstrong Jr., who carried 12 times for 68 yards and frequently eluded the Gophers' containment. But they began blitzing more in the second half, getting to Armstrong before he could exit the pocket.
Linebacker De'Vondre Campbell was especially instrumental in plugging the gaps. His 11 total tackles led the team.
Minnesota struggled in this department before halftime but came out after the break and used it to turn the game for good. Armstrong finished with 223 yards on 12-of-19 passing, largely thanks to his elusiveness. But defensive coordinator Tracy Claeys sent more pressure the sophomore's way after the break. The Gophers came up with four sacks -- two by blitzing linebacker Damien Wilson.
But one of the best turnover-producing teams in the country came up with two huge takeaways that ensured the completeness of their comeback. Safety Damarius Travis recovered a De-Mornay Pierson-El fumble just before halftime, and cornerback Briean Boddy-Calhoun stripped the same Huskers wideout on Nebraska's final offensive play.
With two more takeaways, Minnesota now ranks 13th nationally in turnovers forced per game with 2.4.
It helped that the Huskers' top receiving threat left with a head injury on their third play from scrimmage. Kenny Bell slammed his head against the turf after a 73-yard reception that set up Nebraska's first touchdown and didn't return.
Without him to stretch the field, the Gophers were able to cheat up closer toward the box and keep Abdullah and Armstrong in check. And when the Huskers did decide to go to the air, Minnesota was ready.
The Gophers never broke a big return but, perhaps more importantly, they didn't yield one, either. Pierson-El is one of the Big Ten's most dangerous returners, but Peter Mortell and Minnesota's punt coverage team kept him from tallying a punt return all day. The one kickoff Pierson-El was able to try and run back went for 16 yards.
Mortell was a valuable asset as always, putting three of his four punts inside the Nebraska 20.
But one Gophers gaffe could've cost them the game. Defensive end Randy Gregory blocked Ryan Santoso's second-quarter field goal attempt, and Nate Gerry scooped it up and ran it back for an 85-yard touchdown that gave Nebraska a 21-7 lead with 5 minutes, 18 seconds left before halftime.
As has been the case with the Gophers in their first back-to-back eight-win seasons since 2002 and 2003 -- just the second time they've done it since 1960-61 -- the overall output was greater than the sum of their parts. It's an uncanny approach Kill and his team have taken, even after a potentially season-derailing loss at Illinois and falling behind in a hostile environment Saturday.
They'll get ready this week for another one in Madison. The Battle for the Axe winner will also secure a spot in the Big Ten title game against Ohio State. And while the Gophers will not be favored, they won't be lacking on confidence after a historical win in the Cornhusker state.
Follow Phil Ervin on Twitter
---