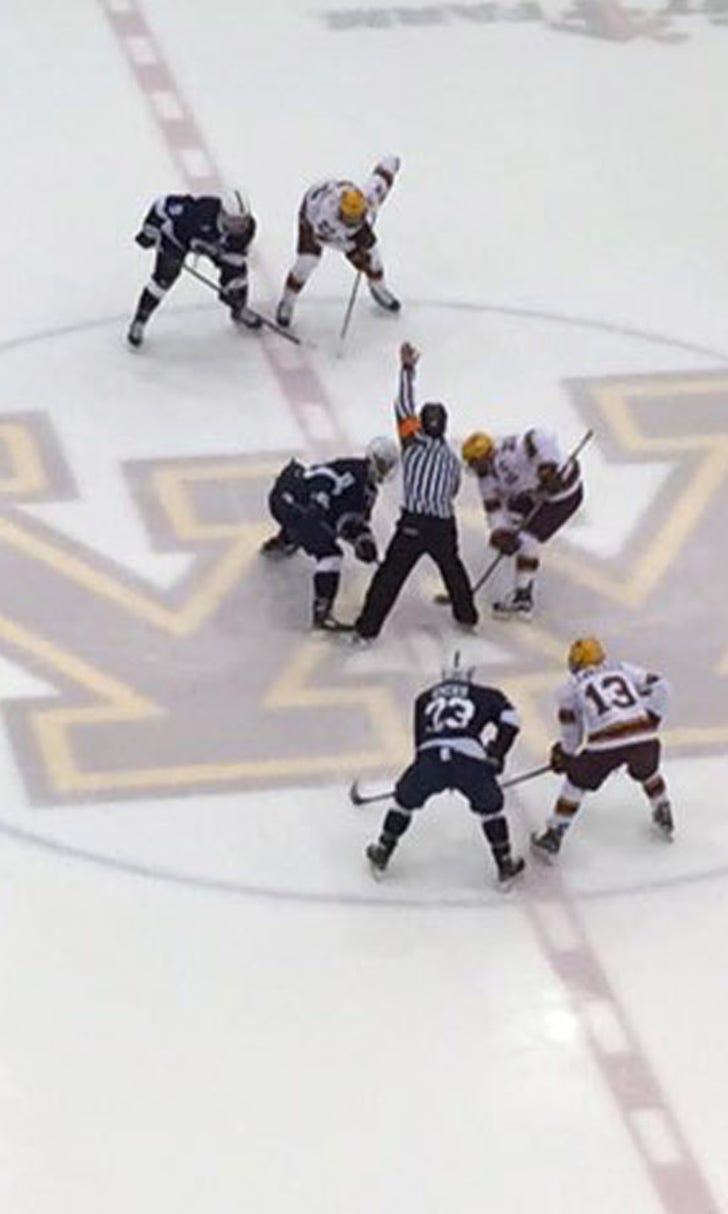 Gophers hand Nittany Lions a fourth straight loss
BY foxsports • February 5, 2016
The Minnesota Golden Gophers men's hockey team dominated after an early scare against the Penn State Nittany Lions in Friday's series opener at Mariucci Arena in Minneapolis. Minnesota (14-12-0, 9-2-0-0 Big Ten) is now 9-2-0 all-time against Penn State (16-8-3, 6-5-0-0 Big Ten) and remains unbeaten at home in the series.
Coming off losses to Bemidji State and Minnesota State en route to a fourth-place finish in last weekend's third annual North Star College Cub, Minnesota picked up right where they left off in their return to Big Ten action. The Gophers scored first and battled back after the Nittany Lions tied up the game in the first period. The Maroon and Gold is 11-2-0 when scoring first this season, 3-10-0 when opponents score first.
The Gophers came out with guns blazing, with leading scorer Hudson Fasching getting a one-timer past Penn State goalie Matthew Skoff just 1:14 into the game with assists from Connor Reilly and Tommy Novak. Fasching has a team-leading 15 points and seven goals against PSU. Reilly, a redshirt junior, extended his career-best point streak to seven games. He has a career-high 17 points this season (five goals, 12 assists) in 26 games.
PSU's Chase Berger replied quickly on a rebound from Derian Hamilton. Soon after, Tommy Olczyk nearly claimed the lead on a goal that was nullified on review due to goalie interference.
Minnesota never looked back after pulling ahead with a high shot by Taylor Cammarata as the first penalty expired late in the first period. Jake Bischoff and Leon Bristedt assisted. Midway through the second period, Tyler Sheehy padded the Gophers lead on a three-way passing play from Taylor Cammarata and Kloos. And nearly halfway through the third, Bristedt picked up his second point of the game with a goal assisted by Vinni Lettieri. Lettieri was skating in his 100th game as a Gopher, joining Kloos, Fasching and Cammarata in the 100-game club. Lettieri has a career high 16 points (four goals, 12 assists) in 26 games this season.
The Gophers were just the third team all season to outshoot the Nittany Lions. PSU has at least 40 shots in 17-of-27 games and 50-plus in seven games this season. Gophers freshman netminder Eric Schierhorn made 31 saves in his 26th straight start.
The teams conclude this weekend's clash with their first-ever Hockey Day Minnesota matchup, which will be broadcast live on FOX Sports North at 4 p.m. Saturday. The Gophers are undefeated over their last five years of Hockey Day Minnesota games.
Notes: PSU's Vince Pedrie (Rochester) and Eric Scheid (Blaine) are both Minnesotans. Pedrie, a freshman, holds the Penn State school record for goals by a defenseman with six this season. Scheid, a senior, is tied with Curtis Loik for the team lead with 19 points, despite missing the first two weeks of the season. He has eight goals, 11 assists and three short-handed goals in 23 games. He is one point shy of his third 20-point season.
---