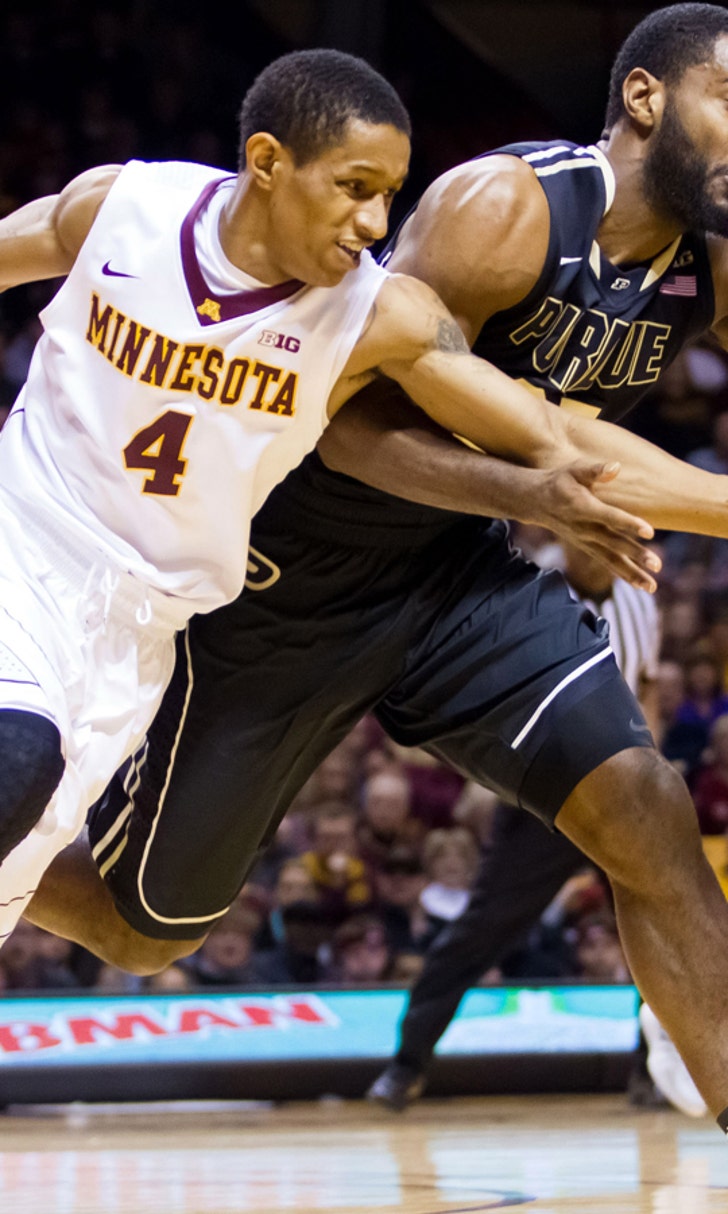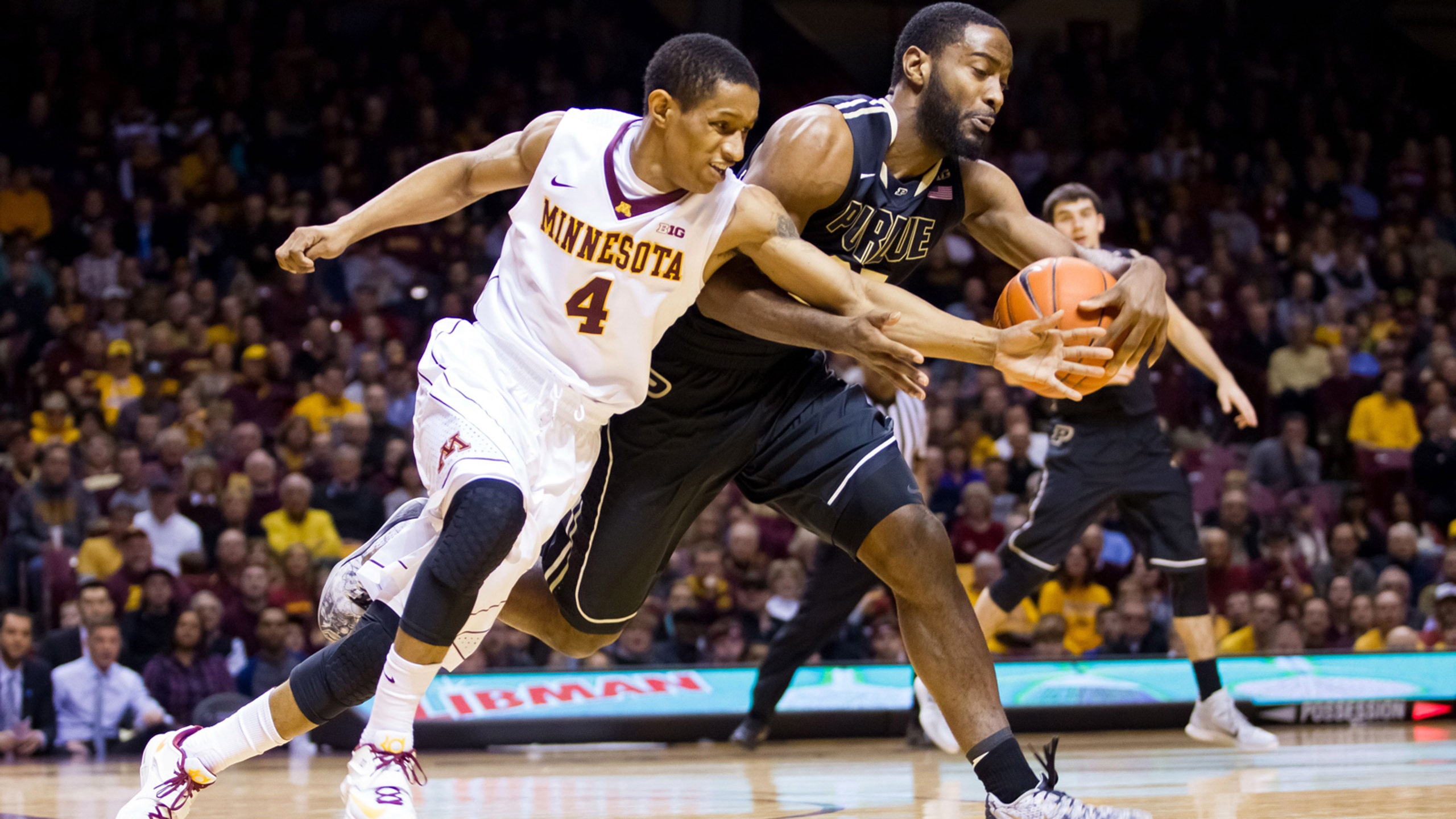 Gophers' grand larceny leads to narrow win
BY foxsports • February 7, 2015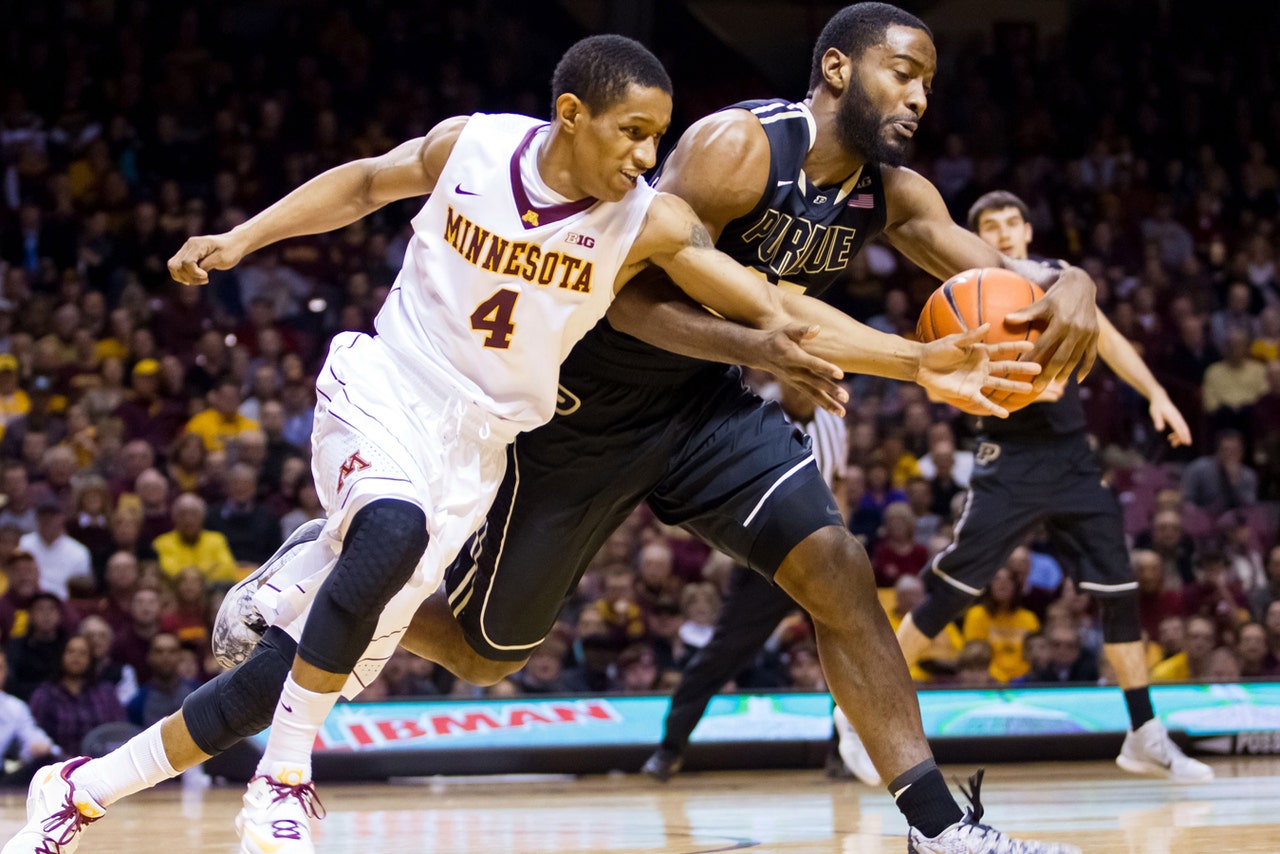 MINNEAPOLIS -- In Minnesota's 62-58 win over Purdue on Saturday, Williams Arena reached a decibel level perhaps unlike anything Gophers second-year coach Richard Pitino has heard during his brief tenure.
Despite their team entering the game with a 3-7 record in the Big Ten, Gophers fans couldn't help but nearly blow the roof off the 87-year-old building. The biggest reason for the celebratory uproar in Dinkytown had plenty to do with Minnesota's defense. Thanks in large part to 17 steals -- including 10 in the second half -- the Gophers erased a four-point halftime deficit with a 21-2 run to start the second half.
Pitino has tried to make defense one of his team's calling cards. Minnesota's best stretch defensively in two seasons arguably took place in the first 10 minutes of the second half, and the end result was a four-point victory.
"I thought the beginning of the second half was about as good of pressure as we've ever had here in my year and a half," Pitino said. "That set the tone more than anything."
Purdue led Minnesota 31-27 at the half, although the Boilermakers felt they could have been up by more. That four-point lead was partially due to the Gophers' struggles from the field; Minnesota shot just 32 percent in the first half, but managed to stay in the game.
The Gophers team that came out to start the second half was almost unrecognizable. Junior Carlos Morris helped spark a run with several free throws early and a few key steals. Minnesota senior guard Andre Hollins challenged Purdue big man A.J. Hammons -- and won -- with a layup early in the second half. Mo Walker did the same thing, winning the battle against Hammons numerous times after halftime.
Hollins scored seven early points in the second half, and Morris added seven points and four of his five steals during Minnesota's 21-2 run. That impressive stretch of pressure defense turned a four-point Gophers deficit into a 48-33 lead -- and an explosive Williams Arena.
"The intensity felt like one of those nonconference games where we were getting after guys and getting steals," said Mathieu, who had three steals Saturday. "We really turned up the intensity. When we do that, we're a really good team."
Minnesota's 17 steals were more than the Gophers had in their previous two games combined, and it matched a season high. Pitino's team also had 17 steals back on Nov. 18 against Western Kentucky.
In Big Ten play, though, Minnesota hadn't tallied more than 11 steals in a game. And in the Gophers' first meeting with Purdue they stole the ball just six times. That's perhaps why Saturday's game -- particularly that early run in the second half -- was so surprising. Even though Minnesota has been good at times defensively, it had never been quite this good.
Most of Purdue's season-high 23 turnovers were thanks in part to Minnesota's smothering defense in the second half. A few, though, were self-inflicted.
"It was just one of those things, it just kind of snowballed the wrong direction," said Purdue head coach Matt Painter. "We didn't take care of the basketball, and that's the difference in the game."
Despite that impressive defensive stretch by the Gophers, Purdue shot its way back into the game. Jon Octeus hit four 3-pointers in the second half, including two bank shots. The Boilermakers eventually pulled to within two points in the final minute on the fourth of Oteus' 3-pointers.
With Saturday's victory, Minnesota is now 4-7 in the Big Ten this year as the Gophers continue to dig themselves out of an early hole. They began conference play with five straight losses before getting in the win column. Now Minnesota has won two in a row and four of its last six.
Many of those seven losses were narrow defeats. In fact, six of the seven were by five points or less. The only outlier was Minnesota's 12-point loss to Maryland on the road.
After being on the losing end of so many close ones, the Gophers were more than relieved to steal a narrow victory -- but it didn't come easy. With a 60-58 lead, Mathieu missed the front end of a 1-and-1 with 23 seconds to play, giving Purdue a chance to tie or win it in the closing seconds. But a block by senior center Mo Walker halted the Boilermakers' last-second threat, and Hollins sank two free throws to preserve the victory.
If Minnesota had let another lead slip away, that 21-2 run would have been all for naught. Instead, that stretch proved to be pivotal as the Gophers finally won a close one.
"They couldn't take this one from us after we've been on the wrong side of a lot of those calls at the end of the game," Mathieu said. "That would have hurt."
Follow Tyler Mason on Twitter
---