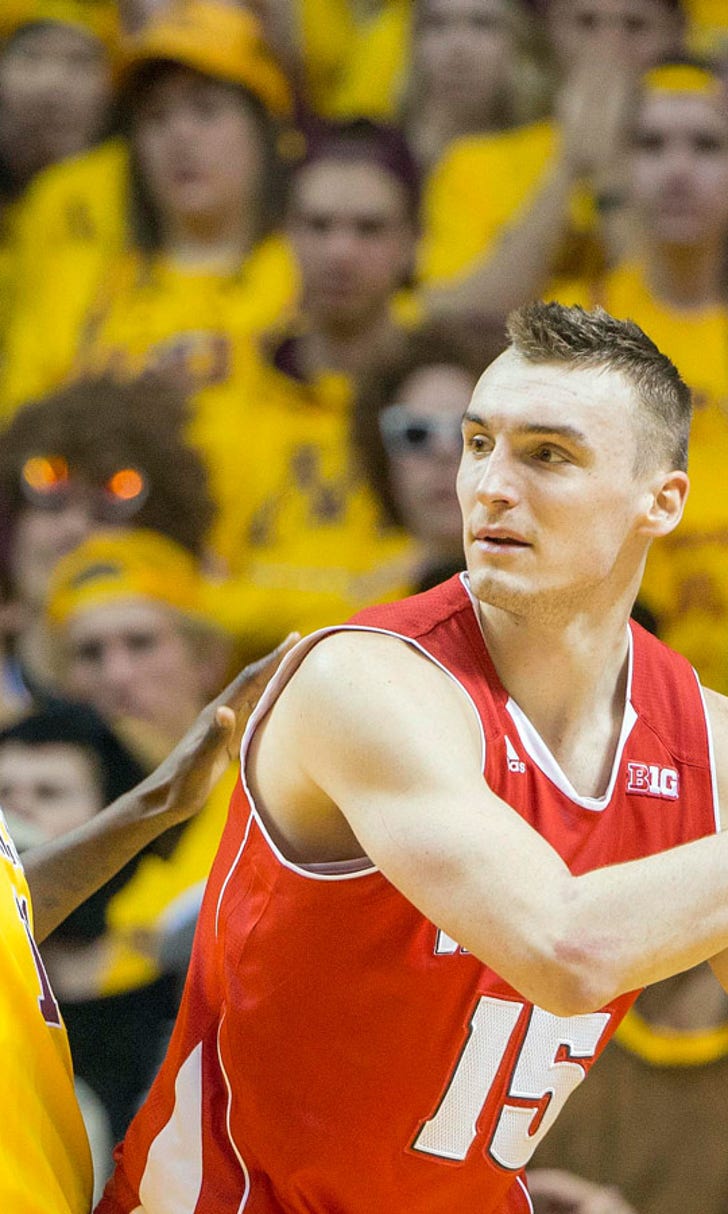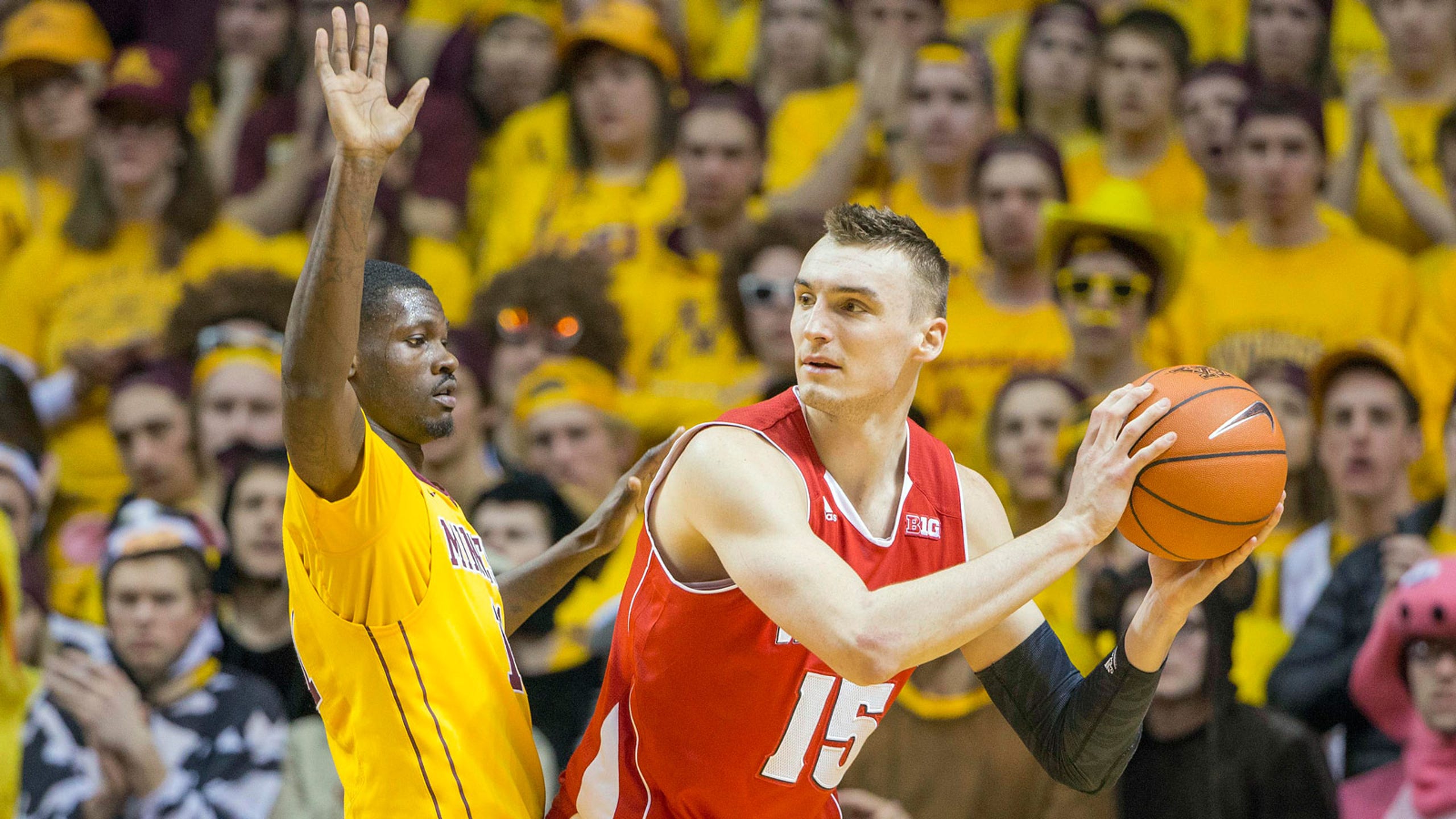 Gophers fall behind early, can't recover in loss to rival Badgers
BY foxsports • March 5, 2015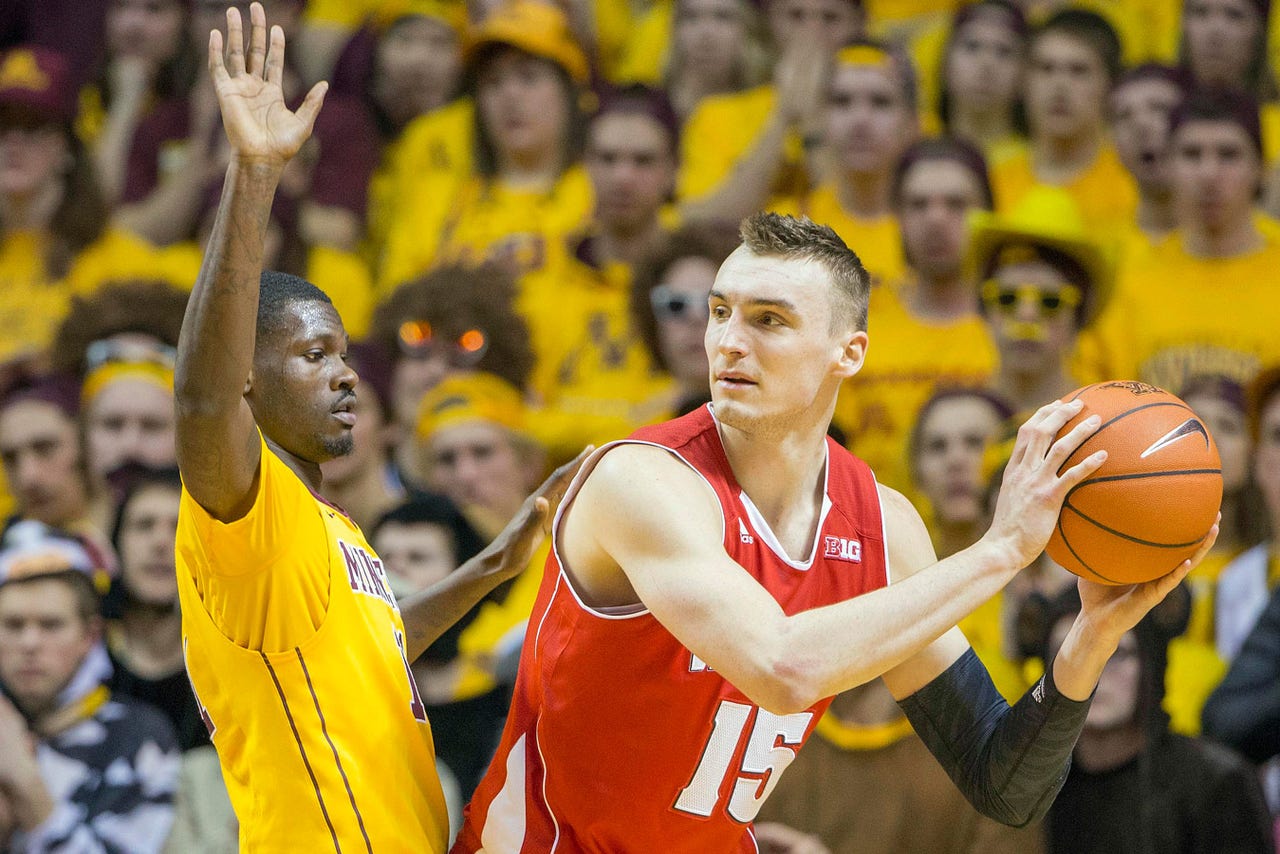 MINNEAPOLIS (AP) -- Wisconsin wasn't about to let up after clinching at least a tie for the Big Ten title last weekend.
The Badgers had plenty of red-clad support with them on the road for inspiration. There was a certain 7-footer with all kinds of skills who helped a lot, too.
Frank Kaminsky had 25 points on 10-for-15 shooting plus seven assists, Sam Dekker added 20 points and No. 6 Wisconsin became regular season conference champions with a 76-63 victory over Minnesota on Thursday night.
"It's been a crazy ride. It's been fun. To win it in a rivalry game on Minnesota's court with so many of our own fans here is something pretty special," Kaminsky said. "We could hear them the whole game. They were loud."
Nigel Hayes had 12 points and nine rebounds for the Badgers (27-3, 15-2), who have their fourth title under coach Bo Ryan and the first in seven years.
"It's not like they trash-talked. It was a goal they had," Ryan said.
The Badgers made seven of their first 10 attempts from 3-point range and finished with 18 assists against just nine turnovers.
"That's about as impressive a team as I've seen," Minnesota coach Richard Pitino said.
Nate Mason had 15 points and Carlos Morris added 11 for the Gophers (17-13, 6-11), who fell behind by 20 points in the first half and couldn't fully recover.
"When you get stops against them, that's when you can make some runs and come back," said Joey King, who had seven points and five rebounds for Minnesota. "But when they're scoring the ball at will, it's tough to stop."
With the Big Ten not as strong as it was the last few years and the Gophers stuck in the bottom half of the conference standings all winter, this was the first buzzworthy game at the old barn this season. Ohio State, which was No. 22 in The Associated Press poll at the time, was the only other ranked team to visit. The Gophers furiously rallied that night to force overtime but fell 74-72.
Two months later, with seven losses in Big Ten play by six points or less still stinging, the Gophers brought some momentum into the final week of the schedule coming off a rare win on the road over Michigan State. But even an upset of the Badgers wasn't going to be enough to put them in the NCAA Tournament conversation.
Perhaps reminded of their 81-68 loss here last year, their fourth defeat in the last five trips to Minnesota, the Badgers took immediate control. The Gophers were at a disadvantage in most of the one-on-one matchups, and the Badgers confidently and patiently built a lead as big as 36-16 behind their sharp outside shooting. This was supplemented by some smooth, deliberate drives to the basket by Kaminsky and a couple of super-quick backdoor cuts for easy points by Dekker.
"They were doing what Wisconsin does: making shots and not turning the ball over, just controlling the pace of the game," said Minnesota reserve DeAndre Mathieu, who had nine points without a turnover.
Josh Gasser added eight points, five assists and four rebounds for the Badgers.
"Josh was making shots. Sam was getting stuff going off the cuts and everything. It just felt like everything was clicking tonight," Kaminsky said.
The Gophers had a 13-2 run late in the first half and were within 46-40 on Mason's 3-pointer a few minutes into the second half, but the Badgers tacked on a few more timely 3-pointers. Kaminsky threw down a dunk to spoil an otherwise-stiff defensive effort by the Gophers on one possession near the midpoint of the second half.
"He's grown up so much, and that confidence is at an all-time high right now," Dekker said of Kaminsky, who leads the Badgers in points, rebounds, blocks, assists and steals. "I think he's even going to step it up more down the stretch here."
---