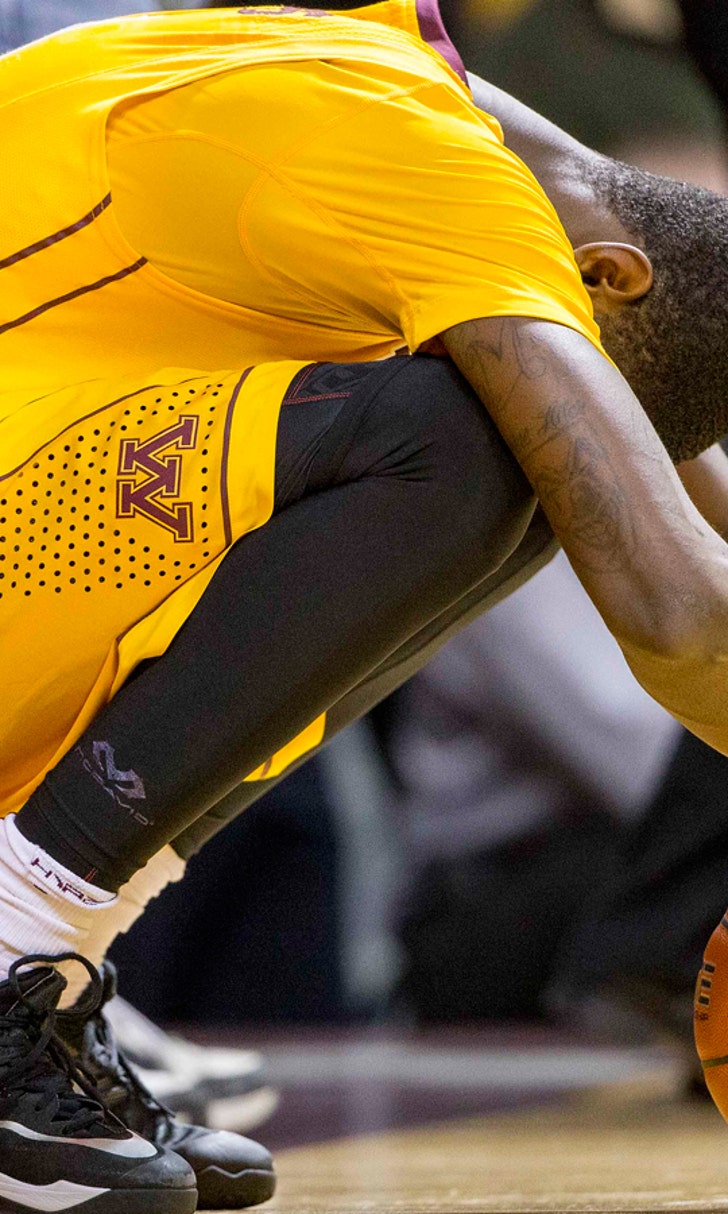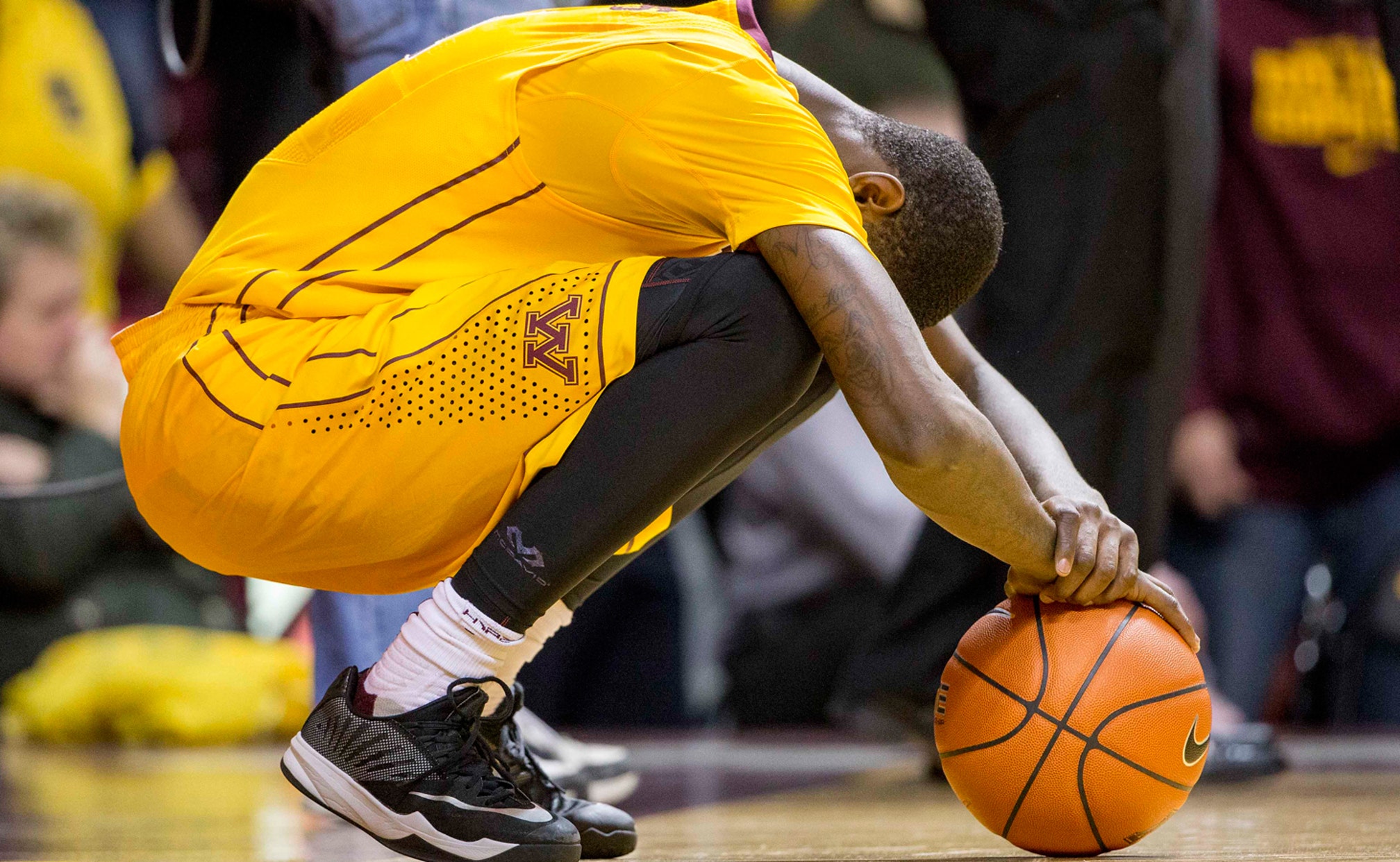 Gophers dealt heartbreaking loss from Hawkeyes
BY foxsports • January 14, 2015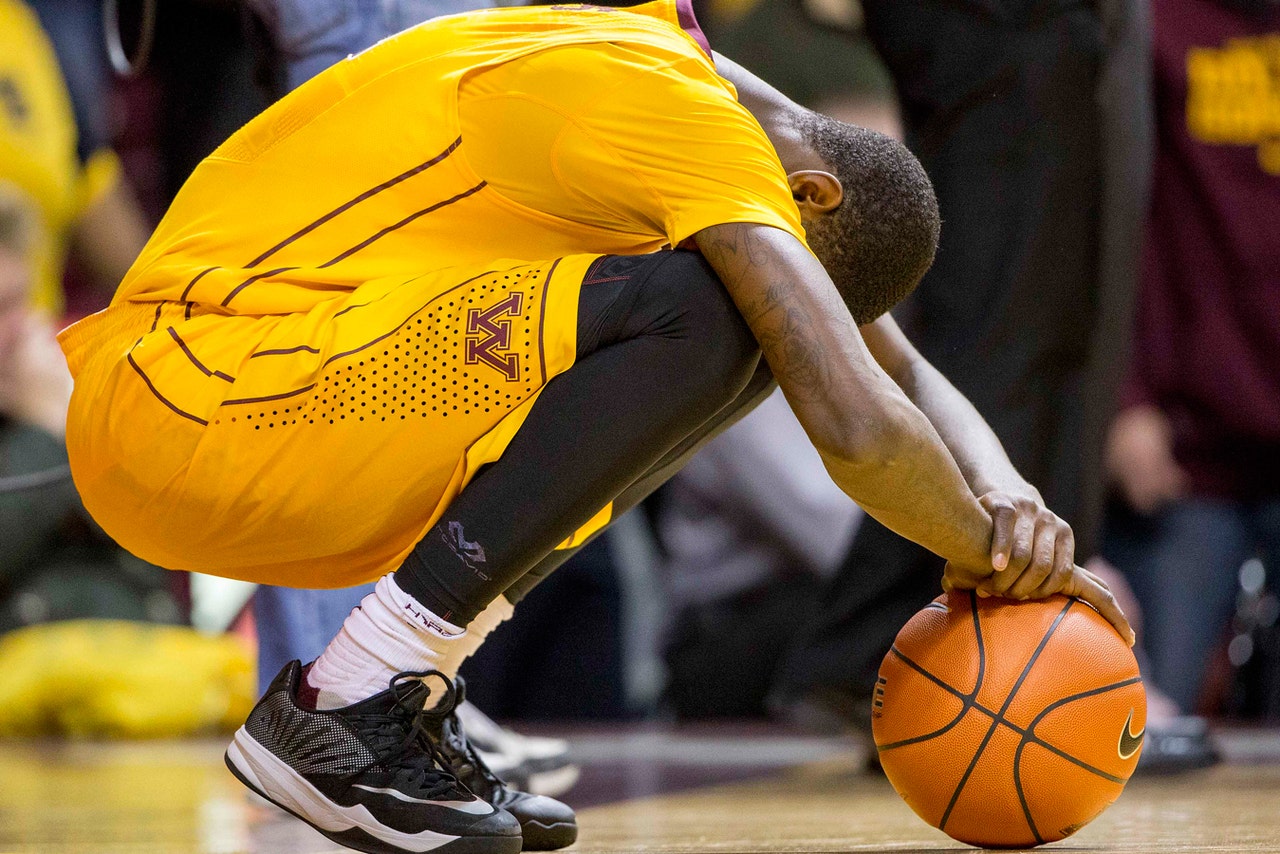 MINNEAPOLIS -- There have been some tough losses already for the Gophers this season. None stung worse than Tuesday night's loss to Iowa.
After fighting back from a 17-point deficit to take a four-point lead, Minnesota put itself in position to finally break through for its first Big Ten win. But a tough shot late by Iowa's Jarrod Uthoff and a potential game-tying layup that came one-tenth of a second too late amounted to a 77-75 Hawkeyes win.
The loss -- Minnesota's fifth straight to open the Big Ten -- brought some players to tears in the locker room afterward. That's how tough things have gotten for the Gophers.
"I didn't think we could find a more heartbreaking way to lose than what we've done," Gophers coach Richard Pitino said after Tuesday's game. "They showed great heart. There's guys in that locker room who were bawling and crying, and it's January. We've got to stay positive. That was a difficult one, but we've got to keep moving along."
Inside the locker room 20 minutes after the loss, players were still quiet, many with blank expressions on their faces as they tried to figure out what just happened. Just when they thought they had finally broken through to win a Big Ten game, victory was taken away from them in crushing fashion.
It's the second Big Ten home game the Gophers have had this season, and both ended on last-second shots. Minnesota lost by two to Ohio State in overtime after overcoming a double-digit deficit in the second half, much like it did Tuesday.
But this one was different. The Gophers were in control late, only to watch the game slip away as Iowa knocked down big shots in the final minutes. None was bigger than Uthoff's as his jumper with just a few seconds left put the Hawkeyes up by two.
After that basket, the officials adjusted the time on the clock after the play clock paused momentarily during the action. That left the Gophers with 3.5 seconds for one final shot. Mathieu drove the length of the court and put up a layup as the buzzer sounded. The shot was initially waved off, and a video review showed that Mathieu still had the ball on his fingertips as the clock hit 0:00.
Mathieu and the rest of the Gophers were in disbelief.
"I feel like nothing's going our way," Mathieu said. "This one definitely hurts, though. I thought I got it off. I definitely thought I got it off."
Minnesota overcame a sluggish first half, during which Pitino said he felt his players worried too much about their recent struggles and played with a weight on their shoulders as they looked to snap their four-game skid. Iowa took a 38-27 lead into the locker room at halftime and was seemingly in control as the visitors at Williams Arena.
The Gophers stepped up the intensity on defense in the second half and were able to get big stops. That, coupled with big scoring efforts from Carlos Morris and Nate Mason, helped Minnesota erase a 17-point deficit. A 3-pointer by Joey King gave the Gophers their first lead of the night, 67-65. Yet another shot by King from long distance made it a 73-69 Minnesota lead, its biggest of the game.
Uthoff responded later with a 3-pointer to give Iowa the lead back, and his jumper over Andre Hollins with just seconds remaining was the dagger.
"We've got to learn how to win," Hollins said. "It's tough going into conference play not winning a game."
The Gophers are now in last place in the Big Ten with an 0-5 mark in conference play; Penn State (0-4) is the only other winless Big Ten team as of Tuesday. Minnesota returns to the court Saturday with a home game against Rutgers before going back on the road to face Nebraska next week.
It will likely take a few days for the sting of Tuesday's loss to wear off. But as the Gophers continue to search for their first Big Ten victory, they'll have to overcome the emotional letdown they experienced at the hands of the Iowa Hawkeyes.
"This game, we really, really fought," Pitino said. "Down 17 with 16 minutes to go, we took the lead. It takes a lot out of you. These guys are really good kids. I think they're working hard. I don't think they're not giving great effort. I think it's all about continuing to build."
Follow Tyler Mason on Twitter
---