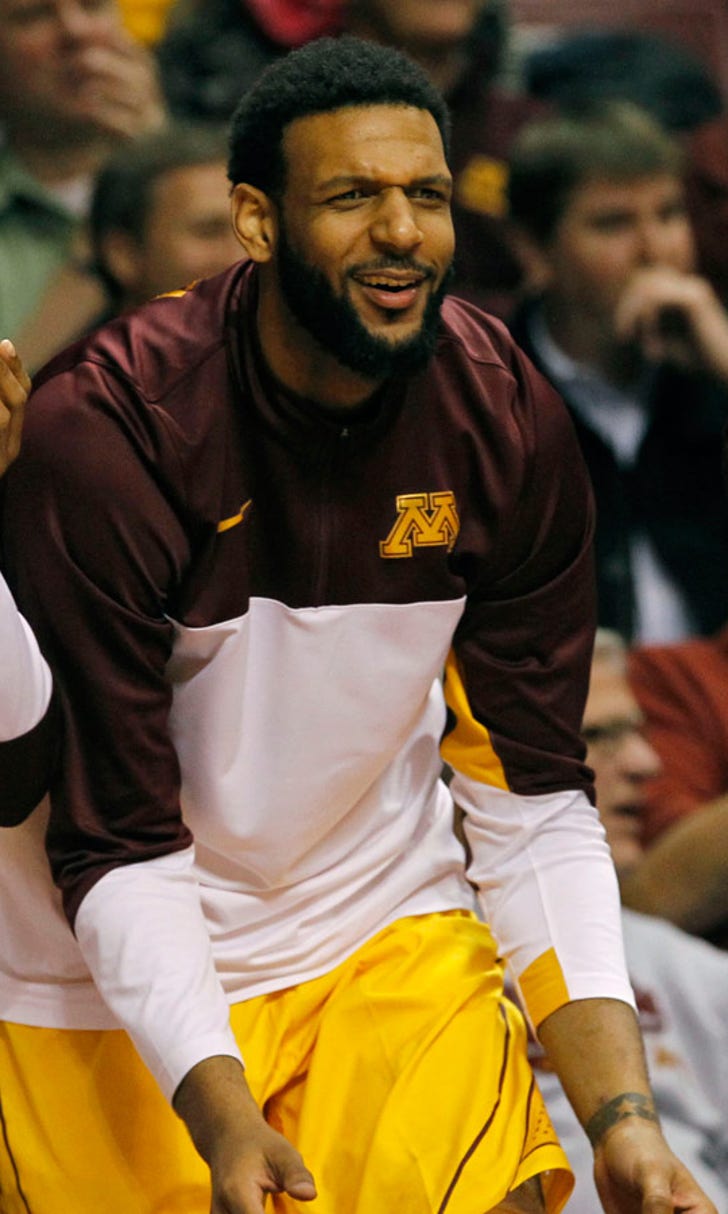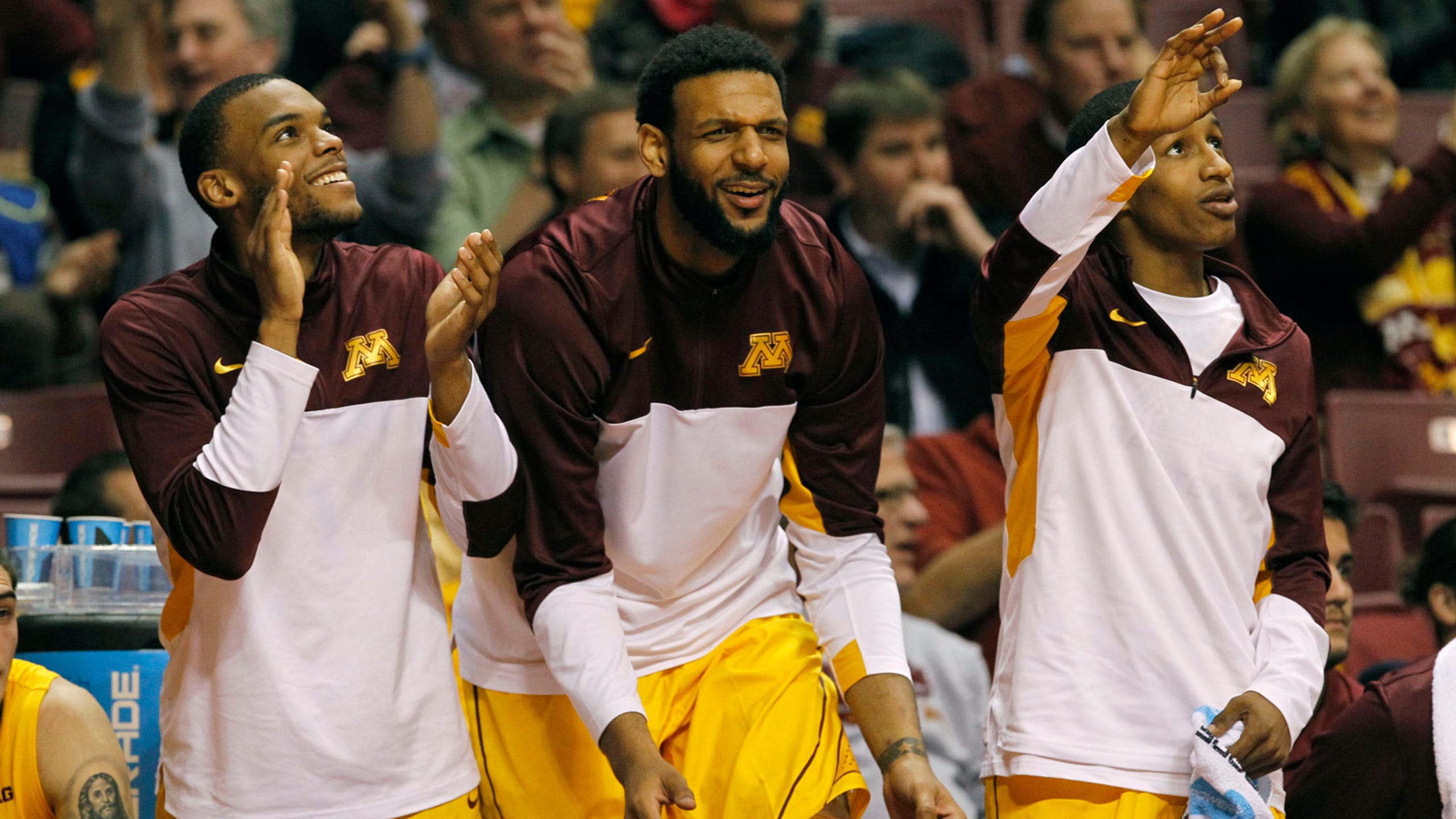 Gophers bench gets extended playing time in blowout win
BY foxsports • November 20, 2014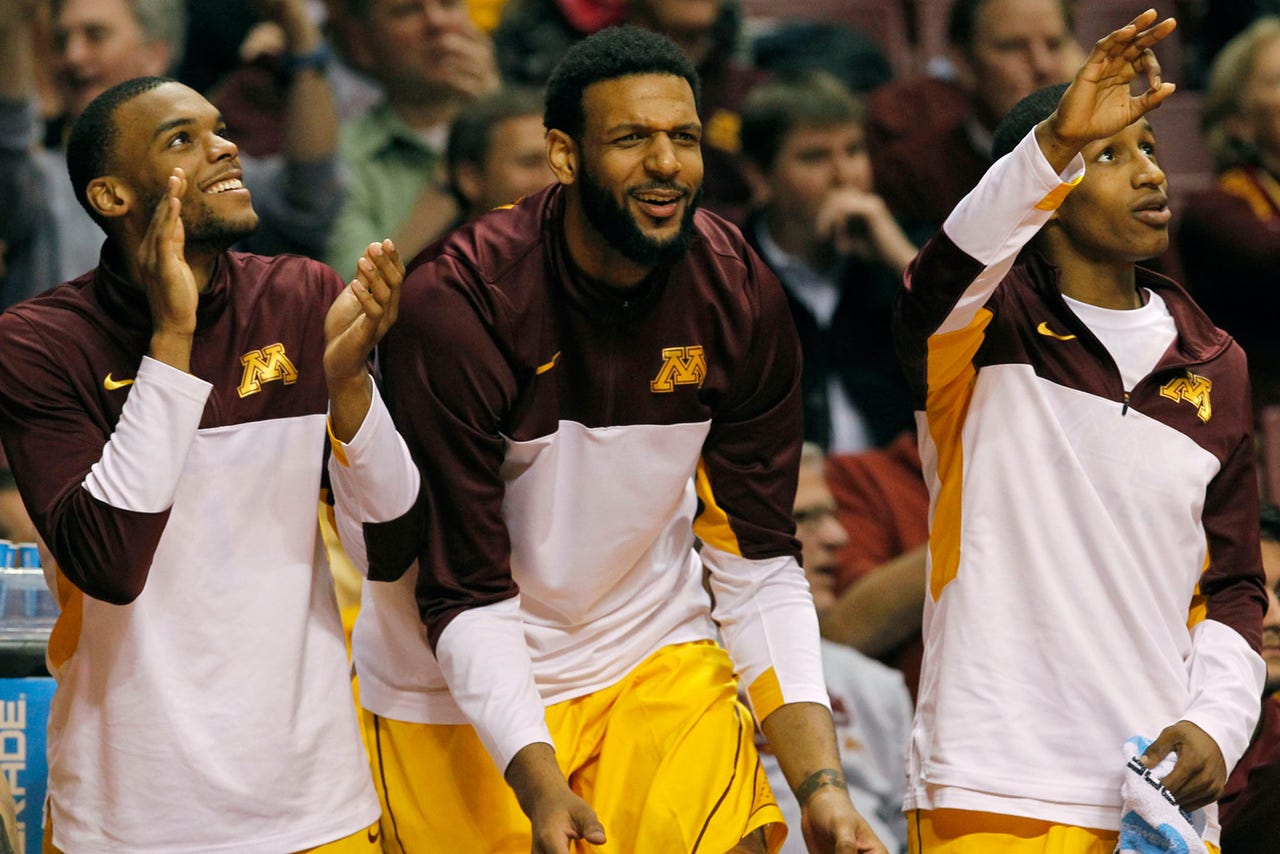 MINNEAPOLIS -- As the stands at Williams Arena emptied in the second half of the Gophers' lopsided 109-57 win over Franklin Pierce, so too did Minnesota's bench.
The Gophers' starters earned some well-deserved rest in Thursday's game, giving second-year coach Richard Pitino a chance to play his backups for extended minutes. The end result: 54 points off the bench, nearly half of Minnesota's final tally.
It might be a long time before the Gophers' backups score that many combined points in a game. Then again, the 109 points Minnesota totaled Thursday were the most for the Gophers since they dropped 116 on Rider in 1990.
"I wasn't even born," quipped Minnesota senior point guard DeAndre Mathieu when informed of that statistical nugget.
As Minnesota built a comfortable 55-31 halftime lead, Pitino turned to his bench frequently to give the subs more playing time. By the end of the game, backup point guard Nate Mason was tied for the second-most minutes on the team with 23 off the bench. He also was second in scoring with 15 points on 6-of-12 shooting.
Mason wasn't the only one who benefited from the sizable margin and the resulting playing time. Freshman center Bakary Konate played 22 minutes -- he had played 12 total minutes in Minnesota's first two games -- and guard Daquein McNeil led all players with 25 minutes.
"It built confidence," Mason said of the extra minutes. "It got our swagger right. When big games come, we'll be ready."
Aside from the season opener against Louisville last week, Minnesota's non-conference schedule early isn't particularly tough. The Gophers dispensed of Western Kentucky by 22 points on Tuesday and came away with a 52-point victory against Division II Franklin Pierce. Minnesota finishes its stretch of three games in five days by hosting UMBC on Saturday night at Williams Arena.
After that, the schedule gets a bit more challenging as the Gophers head to New York City to face St. John's and either Gonzaga or Georgia in the NIT Season Tip-Off, and then play a road game at Wake Forest for the ACC/Big Ten Challenge. There's a good chance Minnesota will need its reserves to step up at some point during that stretch. Thursday's effort gave the bench an added boost of confidence heading into that portion of the schedule.
"A game like tonight is great for Bakary. It's great for (Charles) Buggs. It's great for Josh (Martin). It's great for Nate," Pitino said. "That's important for those guys, because we're going to need them."
Buggs, who played a combined 15 minutes through the first two games, topped that Thursday with 16 productive minutes. The 6-foot-9 redshirt sophomore scored eight points, had four rebounds and added two blocks and two assists. As Minnesota looks to build depth at power forward, games like Thursday are important for the development of players like Buggs.
Two of Buggs' eight points came on a thunderous transition dunk that put the Gophers up 31-5 and capped a 25-0 run by Minnesota in the first half. Though he had time to add some spice to his dunk, Buggs kept it simple.
"I just kind of wanted to make sure it was in the goal," Buggs said. "I had to slow down and just do something light. Next time I'll come up with something crazy."
Buggs' teammates were hoping for a bit more.
"I thought he was going to windmill it," Mathieu said. "He's super bouncy. I thought he was going to do something crazier than that. ... That was impressive."
Even Kendal Shell, the seldom-used former walk-on guard, got into the action against Franklin Pierce. In a career-high six minutes, Shell was 3-for-4 and connected on his lone 3-pointer to finish with eight points, his highest total in his four years at Minnesota.
"Every single day, that kid has a great attitude, works his butt off," Pitino said of Shell. "He is a guy that I would hire in a heartbeat in whatever profession if I was in a different job. That kid's going to get a great job and he's going to make a lot of money because he's got character, he works his butt off, and he's extremely smart."
Pitino admitted that it was tough to glean too much from a 52-point rout of a Division II opponent. One common phrase uttered in the Gophers' locker room postgame: Minnesota imposed its will on its opponent for a second straight game.
Even the bench did so Thursday.
"Respect them, but just impose your will all the time," Mason said. "Be the best team we can be."
Follow Tyler Mason on Twitter
---