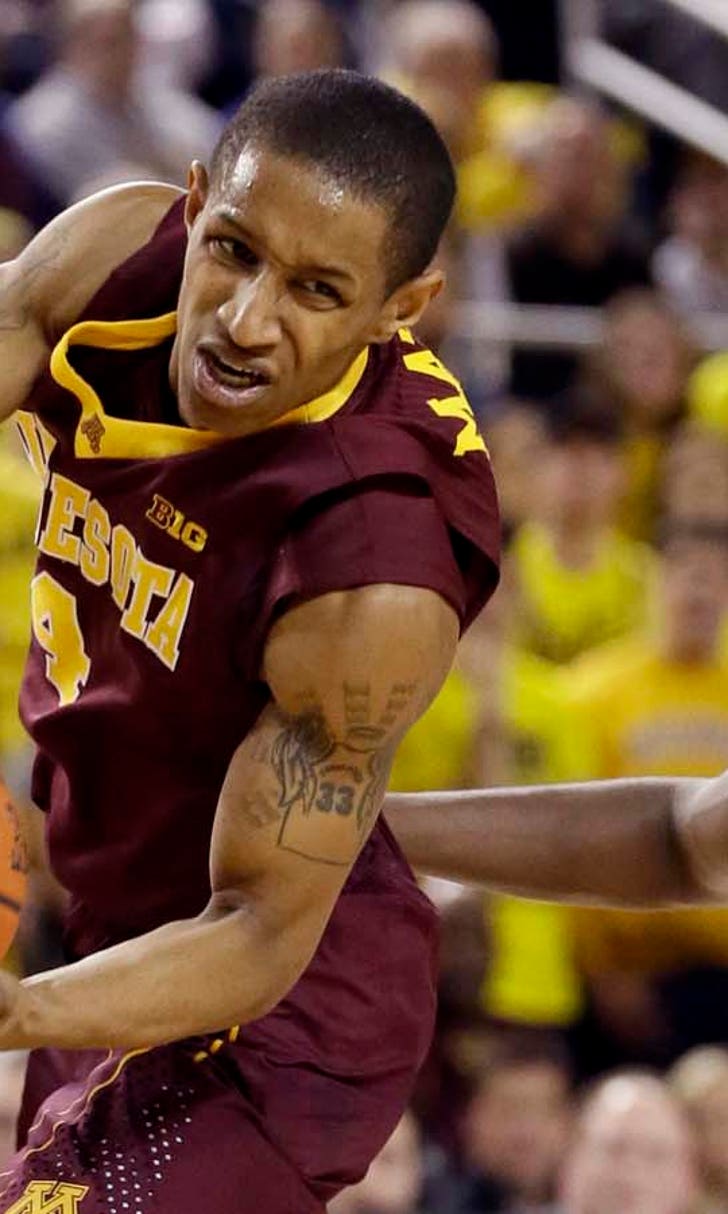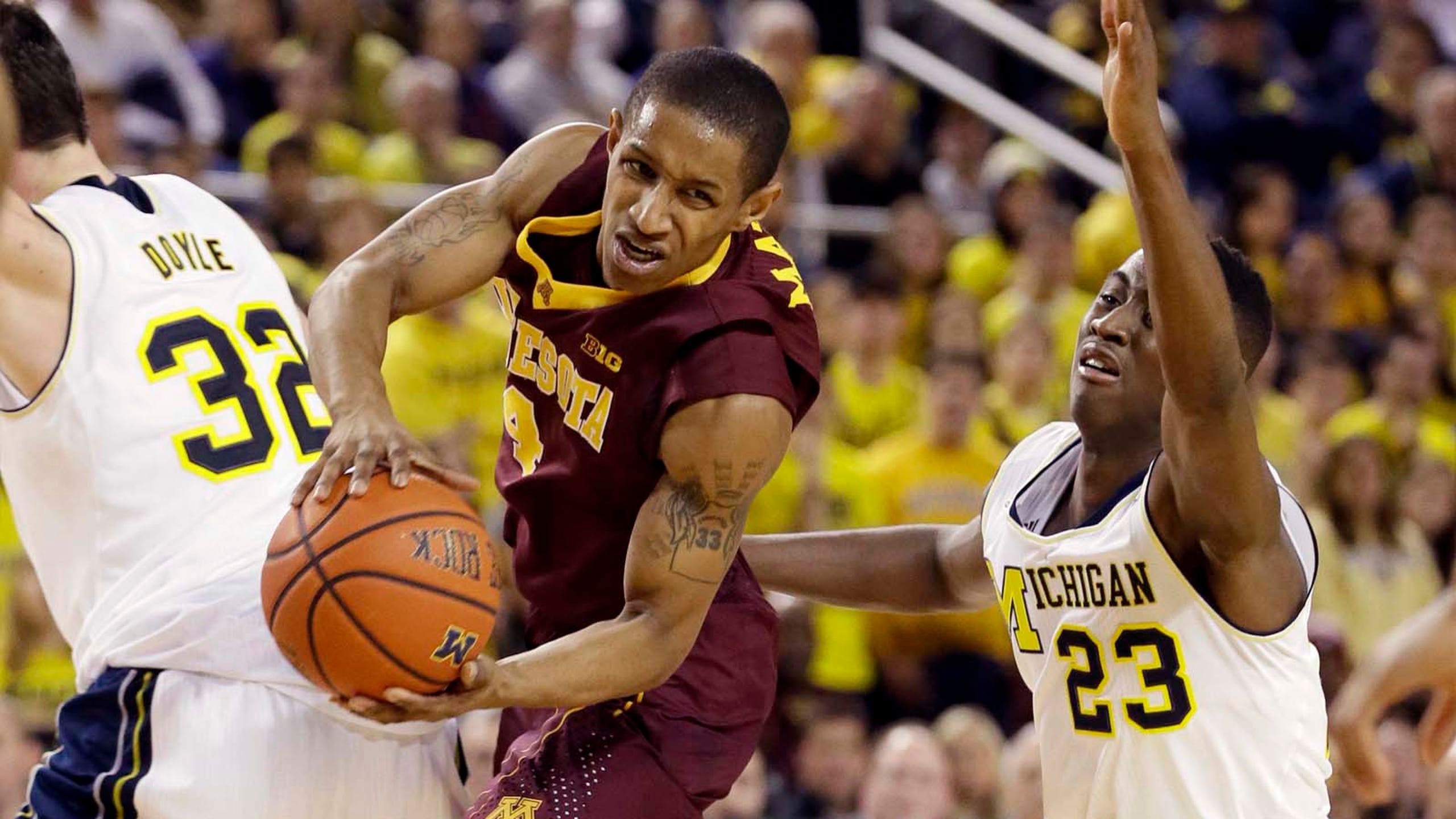 Gophers allow Wolverines rally, lose in Michigan
BY foxsports • January 10, 2015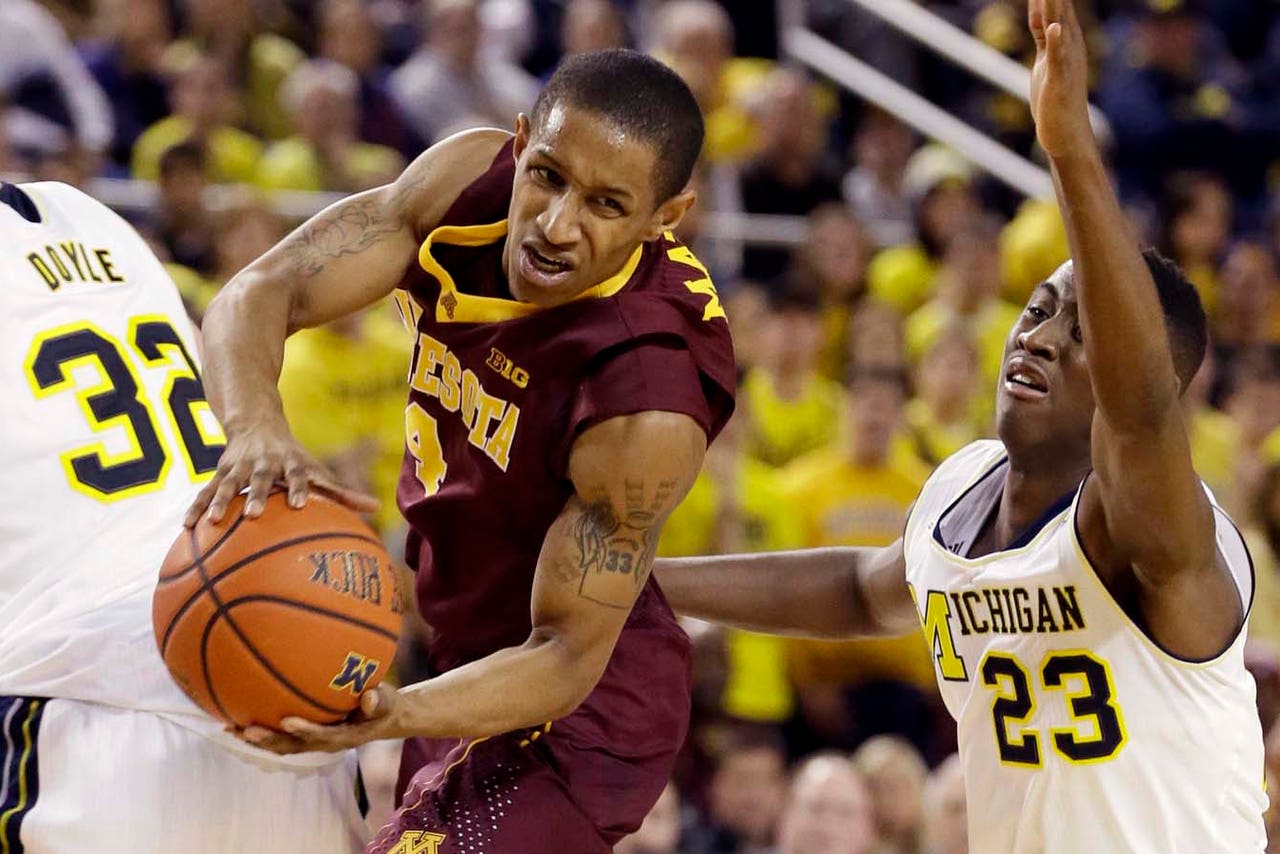 ANN ARBOR, Mich. (AP) -- John Beilein was pretty blunt when explaining why Michigan used a 1-3-1 defense with the game on the line against Minnesota.
"Two things -- desperation and foul trouble," the Wolverines' coach said. "They are a pretty good passing team, but that 1-3-1 zone, it can spook people sometimes."
The Golden Gophers certainly looked rattled when they went nearly seven minutes without a field goal in the second half Saturday, allowing Michigan to rally from a nine-point deficit and win 62-57. The Wolverines shot only 4 of 18 from 3-point range, but Minnesota struggled offensively as well and turned the ball over 17 times.
"We don't do that too often," Gophers coach Richard Pitino said. "We will not beat anybody -- home, road, neutral -- if you do that."
Derrick Walton and Caris LeVert scored 15 points apiece for Michigan. The Wolverines (10-6, 3-1 Big Ten) trailed 49-40 after Minnesota's Nate Mason made 3-pointer with 8:56 remaining, but the Gophers (11-6, 0-4) managed only three free throws during a 17-3 run by Michigan.
The 1-3-1 was a major factor. The Gophers weren't able to attack it with dribble penetration, and they couldn't convert enough open shots from the perimeter.
"The 1-3-1 is not something that we go up against every day in this league," Minnesota big man Maurice Walker said. "They're pretty much the only team that plays it, I think, so it kind of staggered us a little bit."
Walton gave Michigan a 54-52 lead on a 3-pointer with 3:24 remaining, and he made a nice alley-oop pass to Ricky Doyle for a dunk with 26 seconds left to put the Wolverines up 59-55.
Andre Hollins led Minnesota with 18 points.
Michigan, the defending Big Ten champion, has work to do if it wants to make the NCAA tournament after nonconference losses to the New Jersey Institute of Technology and Eastern Michigan. The Wolverines no longer resemble the stellar offensive team that went to the Final Four two seasons ago and the Elite Eight last year, but they grinded out this win at the defensive end.
Minnesota ran out of timeouts with 4:48 remaining, and the Gophers couldn't steady themselves at the end. They shot only 39 percent from the field.
Doyle and Zak Irvin had 12 points each for Michigan. The Wolverines led 57-55 when they took a timeout with less than a minute remaining. Walton then found Doyle with a lob for the dunk that made it a two-possession game.
"Right before, we were going out on the court, D-Walt says, 'Rick, look for the lob,'" Doyle said. "So I was expecting it as soon as he threw it up."
Carlos Morris scored 16 points for Minnesota, but the Gophers remained winless in conference play.
Michigan trailed 27-25 at halftime after shooting 0 for 8 from 3-point range, and the Wolverines never really found a comfort zone offensively, but their defense -- and Minnesota's carelessness with the ball -- turned the game around down the stretch.
Michigan observed a moment of silence before the game to remember Roy Tarpley, who died Friday. Tarpley was a star for the Wolverines during the mid-1980s.
---