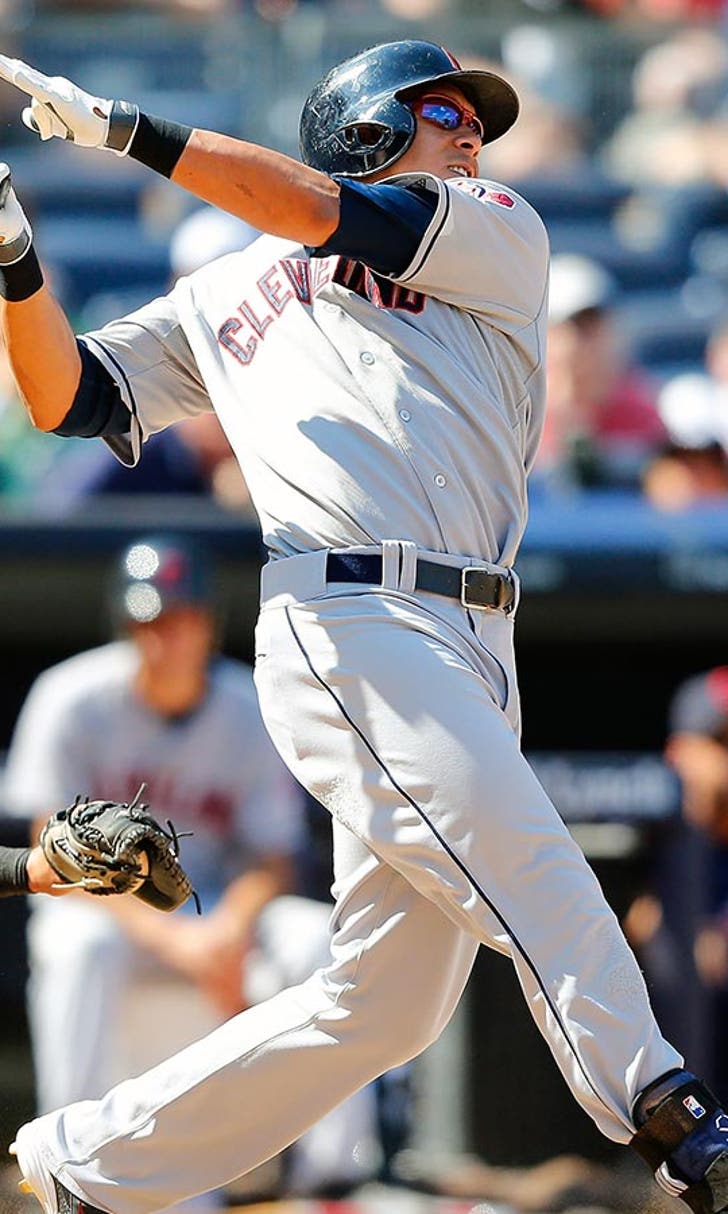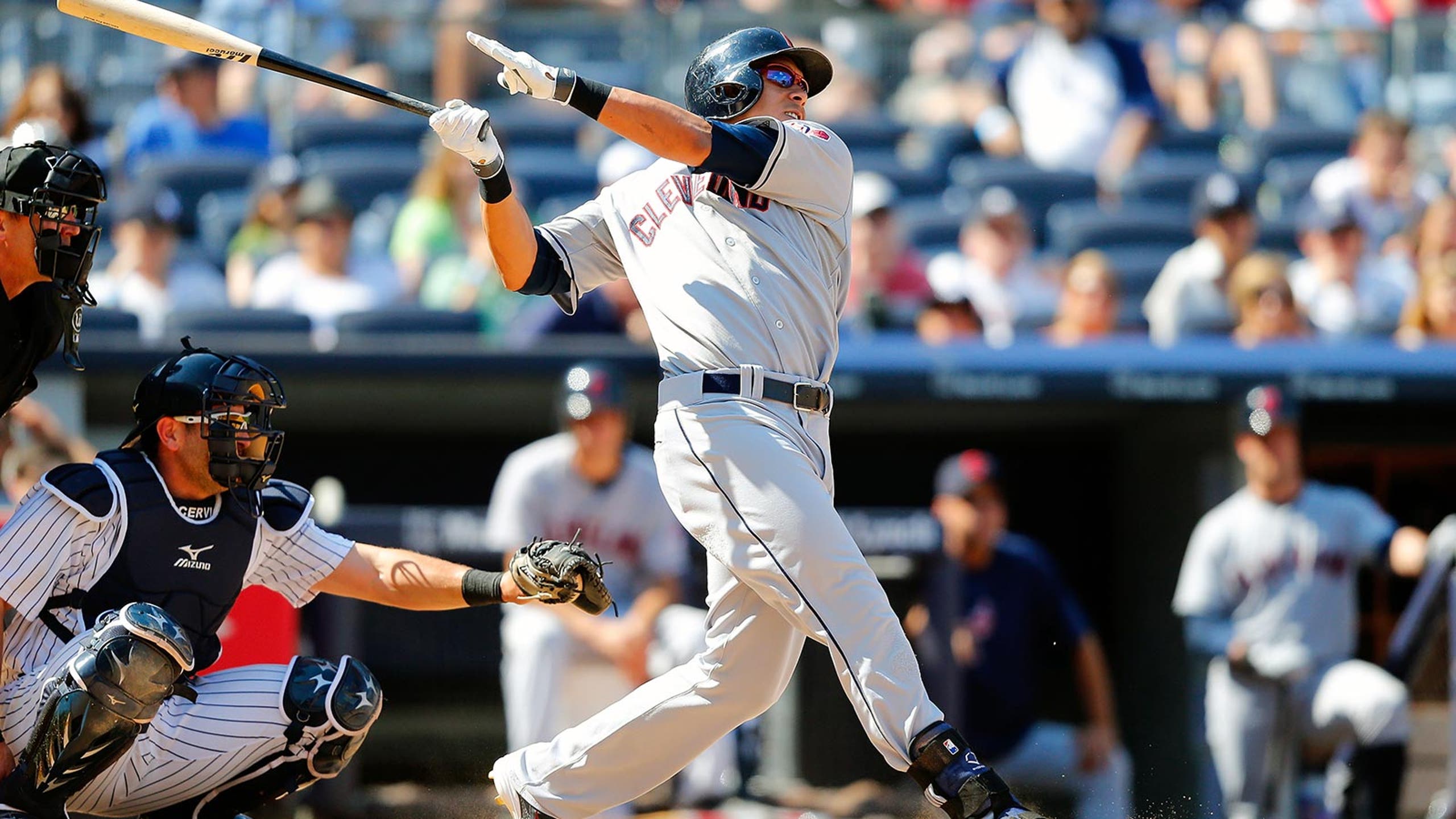 Going inside Michael Brantley's dramatic, MVP-like improvement
BY foxsports • August 15, 2014
Last February, Michael Brantley and the Indians agreed to a four-year contract extension worth $25 million. The Indians figured it was a safe bet for an average player with upside. Some of the Indians' players, meanwhile, had a different take. For example, let's consider the words of Nick Swisher:
"We all said when that deal came out that that was a bargain for us."
Point: Swisher. Not that the Indians mind. Used to be, in terms of performance, Brantley was consistently, exactly average. Now, take a trip through the Wins Above Replacement leaderboard. You see Mike Trout at the top, naturally. Then there's Alex Gordon, and Josh Donaldson, a previous breakthrough. Hanging out with the likes of Giancarlo Stanton is Brantley, who this year has become a fringe MVP candidate. Not that Brantley really stands any chance of winning, but at least statistically, there's an argument, which tells you most of what you need to know.
Brantley's offensive game is driving all this, and while he's been developing for a while, his results have changed overnight. We have a measure of offensive performance called wRC+, which compares a player's productivity to the league average. A figure of 100 is exactly average; a figure north of that is better than average. Between last year and this year, Devin Mesoraco leads baseball with an 87-point wRC+ improvement. That currently stands as one of the very biggest season-to-season improvements ever. Brantley's in second place, with an improvement of 52 points. If it weren't for Mesoraco being an anomalous freak, Brantley's improvement would look more absurd.
Part of this is that Brantley has reduced his strikeouts. Not that he was ever particularly strikeout-prone, but now he's whiffing just once per 12 trips to the plate. A year ago, he whiffed once per nine. A bigger deal, though, is that Brantley's hitting for power. It's power people always suspected would come from his frame, and right now Brantley has more home runs in 2014 than he had the two previous years combined. Isolated power is simply slugging percentage minus batting average, and Brantley used to hang out around .110. This season he's pushing .200. He's kept most of everything the same while adding power and cutting down strikeouts, and that's a pretty effective recipe for achieving a breakout.
Brantley swears he hasn't made any dramatic changes. Terry Francona thinks he's just developed a stronger base, and that he's finding a little extra power as he enters his prime. Michael Bourn, for what it's worth, thinks he sees something:
"I had to convince him a little bit," Bourn said. "It's all about believing that you can do it. When you come up here first, you might just want to stick with what you've been doing the whole time. You might not want to take a chance of swinging the bat with a little authority. He's done that now."
Let's stick with that "authority" idea. The evidence suggests Brantley is looking for more opportunities to drive the ball. Below, a chart from Brooks Baseball. This is showing the average angle of Brantley's balls in play, where more negative means more to right field, which is Brantley's pull area. I'll explain more after the image.
Here's what to focus on specifically: the black line. That's Brantley's performance against hard pitches, capturing fastballs and cutters. This season, far more than in past seasons, Brantley is willing and able to pull heat more toward right field. As is intuitive, pulling the ball suggests more power, and indeed, Brantley's power is almost exclusively to the pull side. Seldom will he hit a home run anywhere else.
We see that Brantley is pulling the ball more, especially against fastballs. Let's look at some other data, and I apologize for making this sort of complicated. Next up are run values against pitch types. Think of these as measures of a hitter's success against different pitch types, where 0 is average. I'm putting everything over a common denominator, to allow for easy comparison.
Brantley vs. non-fastballs
Pre-2014: +0.8 runs per 100 pitches
2014: +1.2 Brantley vs. fastballs
Pre-2014: -0.4 runs per 100 pitches
2014: +2.1
By and large, against non-fastballs, Brantley hasn't been that different. He's been better, but only slightly. The big difference is in the second set of numbers, where Brantley has improved by 2.5 runs per 100 hard pitches seen. That is a hugely significant difference, and this is where Brantley's done most of his damage. This is where Brantley has really stepped up his game. More often, he's looking for a fastball to drive, and he's willing to swing at the fastball hard. He's more often willing to swing with authority, as Bourn put it. Brantley isn't suddenly hitting moonshots; he's just looking for more opportunities to hit Michael Brantley-style home runs.
Opposing pitchers, unsurprisingly, are picking up on Brantley's pattern. Some data, showing his rates of hard pitches seen, and his rates of pitches thrown in the strike zone:
| Year | Fast% | Zone% |
| --- | --- | --- |
| 2009 | 73% | 57% |
| 2010 | 73% | 54% |
| 2011 | 69% | 53% |
| 2012 | 69% | 52% |
| 2013 | 68% | 51% |
| 2014 | 64% | 49% |
Brantley's seeing fewer fastballs than ever, and he's seeing fewer strikes than ever, because now he's more often punishing fastballs and punishing strikes. This is what happens when players adjust in the major leagues -- the major leagues adjust back, in response. Brantley's been excellent in the second half, so he's still coming out ahead.
Now, you might be tempted to think this is all about things changing between 2013 and 2014. But you can see some Brantley progression year-to-year dating back to his debut. One last table, showing his rates of swings at balls, his rates of swings at strikes, and his overall rates of making contact:
| Year | O-Swing% | Z-Swing% | Contact% |
| --- | --- | --- | --- |
| 2009 | 18% | 46% | 92% |
| 2010 | 23% | 48% | 92% |
| 2011 | 24% | 50% | 90% |
| 2012 | 23% | 57% | 92% |
| 2013 | 23% | 60% | 91% |
| 2014 | 24% | 62% | 91% |
Gradually, Brantley has gotten more and more aggressive within the strike zone, but he hasn't lost any of his discipline. He's not swinging at more pitches out of the zone than he did in 2010. He's making the same amount of contact. Brantley, for years, has been honing his approach and refining his swing. He's become increasingly comfortable going after hittable pitches. This year, he's really starting to punish those hittable pitches, as his game is coming together. Brantley has the best idea he's ever had, and he has his best understanding of when to swing with authority and when to do something else.
Between last year and this year, Michael Brantley has taken a mammoth step forward. But he'd already been making progress for a number of seasons, and now he's reaping the benefits of discipline and controlled aggression. Brantley is still able to drop a single or a double into left or left-center. He's also more able than ever to turn on a fastball and yank it into the right-field seats. There's nothing dramatic here. There's no swing overhaul. There's no adjusted stance. Brantley always had the skills. Now he's just figured out how to put them all together in the right way. The result's been a guy who's out-hitting Miguel Cabrera.
Here's what hitting is: putting the right swings on the right pitches. That makes it sound almost obnoxiously simple. It's not simple, which is why this took Brantley years, but now he's not the one who has to figure things out. Things now have to figure out Michael Brantley.
---