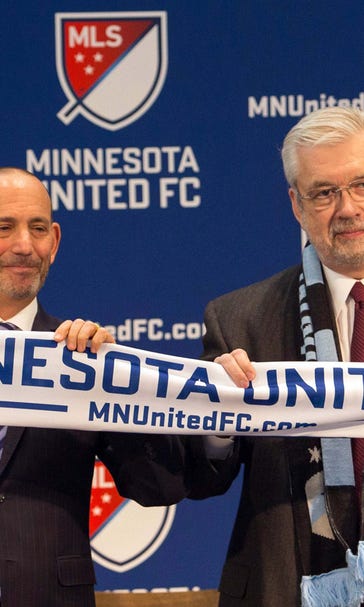 Goal achieved: Minnesota United FC scores MLS franchise
BY foxsports • March 25, 2015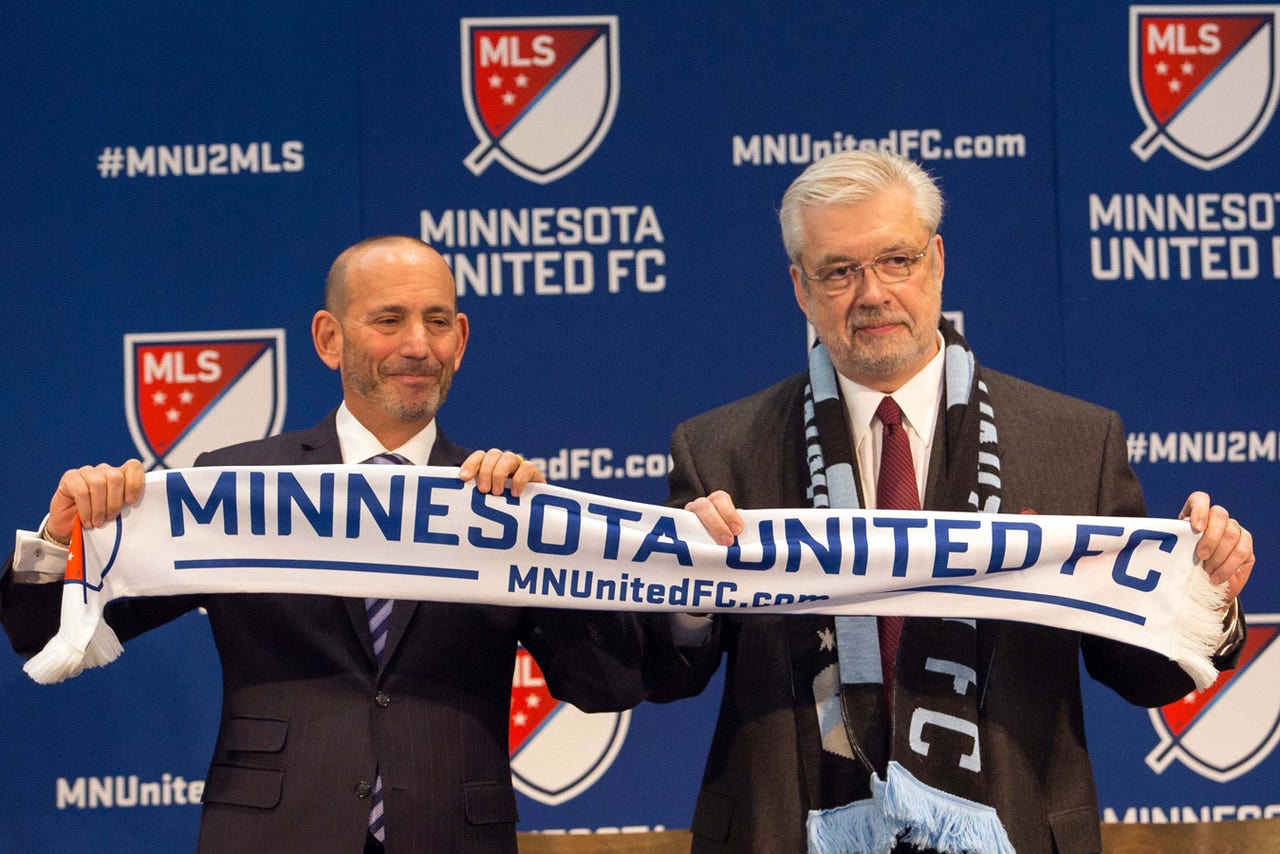 MINNEAPOLIS -- Local soccer diehards best grab their favorite scarf and a vuvuzela. Casual fan, be sure to bring some earplugs. And for anyone who once scoffed at the idea of major, modern-day professional soccer in the Twin Cities, well, Mr. Don Garber and Dr. Bill McGuire have a message for you.
It's coming.
After more than a year of behind-the-scenes discussion and public speculation, Major League Soccer and local pro franchise Minnesota United FC made their accord official at a news conference Wednesday morning at Target Field. The McGuire-owned club becomes the league's 23rd confirmed franchise -- part of commissioner Garber's master plan to have at least 24 teams by the year 2020.
Minnesota will begin play in 2018.
"As a group of Minnesotans who love this state and have made a commitment to bring this vision to life, this is a momentous day that we've all been waiting for, " McGuire said."It's hard to be anything but humbled, I think."
McGuire -- the former chairman and CEO of UnitedHealth Group -- and a cohort that includes Twins owners Jim and Robert Pohlad, Timberwolves owner Glen Taylor and Carlson Companies board member Wendy Carlson Nelson plan to build an open-air, soccer-specific stadium to the west of Target Field and adjacent to the Minneapolis Farmers Market. The group beat out the Minnesota Vikings, who like United submitted a formal MLS expansion proposal late last year and met with league officials in New York to present it.
A tug-of-war between United and Vikings ownership in the past year revolved around where an MLS team would play. New Vikings stadium legislation gave the NFL team five years to house an MLS club in its 65,400-seat, multipurpose venue, and owners Zygi and Mark Wilf were very public about their bid to do so, unveiling drawings of a soccer-friendly configuration the $1 billion stadium could use.
But as the process went on, it became clear the McGuire group's soccer-only digs are much more congruent with MLS' vision. The Vikings confirmed last week the league had turned down its proposal.
"The ownership group's commitment to soccer and the community, the area's growing millennial population and the region's rich tradition of supporting soccer at all levels in Minnesota were key indicators that this was the right market," Garber said of McGuire's contingent.  "The passionate soccer fans in Minnesota will soon have a world-class, downtown soccer stadium that will serve as the home for the new MLS team and become a destination for marquee international sports events."
The plan for that stadium -- which may or may not include public funding -- is still being developed, with a deadline of July 1. If McGuire's group doesn't have a suitable plan in place by then, Garber said, the league could look to other markets.
"No league can play if they don't have a stadium that they believe in," Garber said. "We would, then, as an ownership group, take a step back and decide whether we wanted to come to Minnesota. We have other options around the country, some … with very detailed soccer stadium plans."
Garber also praised the following United has built in five years of North American Soccer League play. Last season, United averaged 6,100 fans for games at the National Sports Center in Blaine and won the NASL regular-season title.
McGuire bought the club -- then going by the name Minnesota Stars FC -- in 2012 and rebranded it Minnesota United FC. Local professional soccer here dates back to the 1970s, when the Minnesota Kicks routinely drew 20,000-30,000 fans who rocked Metropolitan Stadium.
Today, United and MLS hope to recreate a similar atmosphere.
The rapidly-growing league recently began its 20th season, with 20 active organizations. Teams in Atlanta and Los Angeles will both begin play in 2017, with Miami and Sacramento vying for the 24th spot after Minnesota.
Garber has said the league is considering growth beyond two dozen teams, too.
Now one of just 10 American markets with five major professional sports teams (NFL, NBA, NHL, MLB and MLS), the Twin Cities are assured a place on the big-time soccer pitch no matter what.
United will take part in an expansion draft before its inaugural season. Fans with 2015 United season tickets will have priority for 2018 MLS season tickets.
"Soccer's broad appeal and youthful orientation is so strong that to bring the game, at its highest level, to our community is a tremendous opportunity," Robert Pohlad said.  "Our family believes soccer in this part of downtown Minneapolis can also be a catalyst for development.  We look forward to being part of the MLS family."
Follow Phil Ervin on Twitter
---