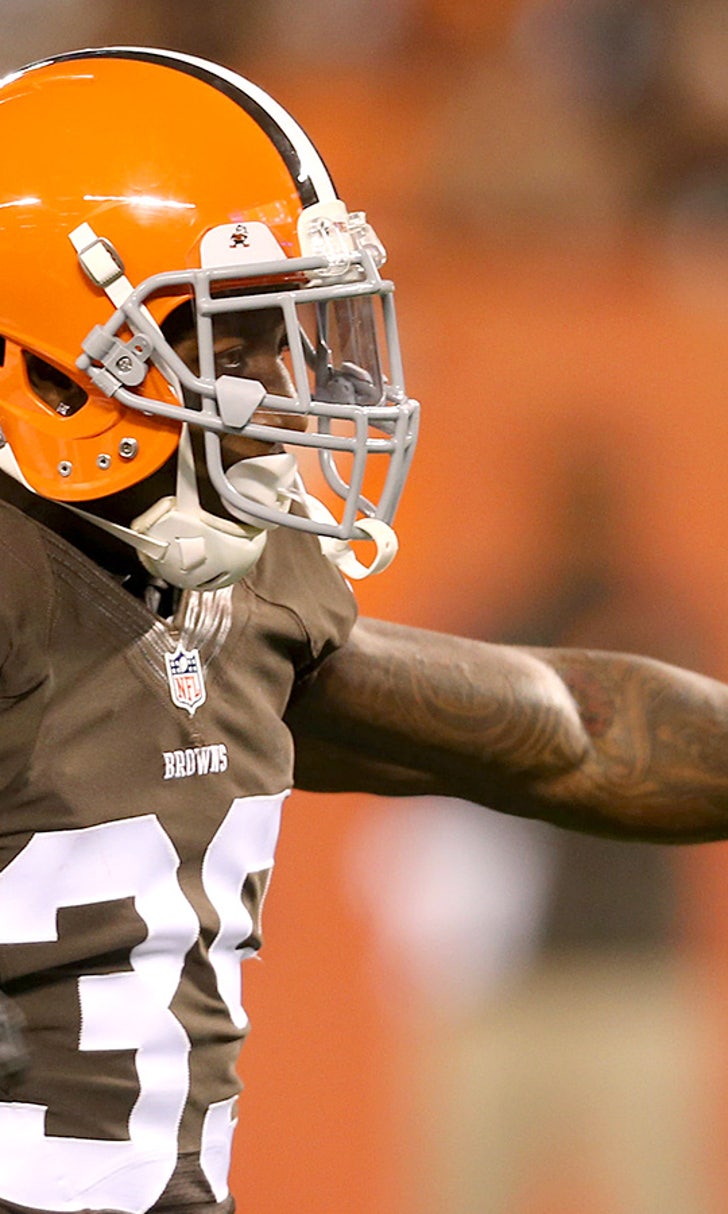 Gipson not bitter with Browns over contract
BY foxsports • June 16, 2015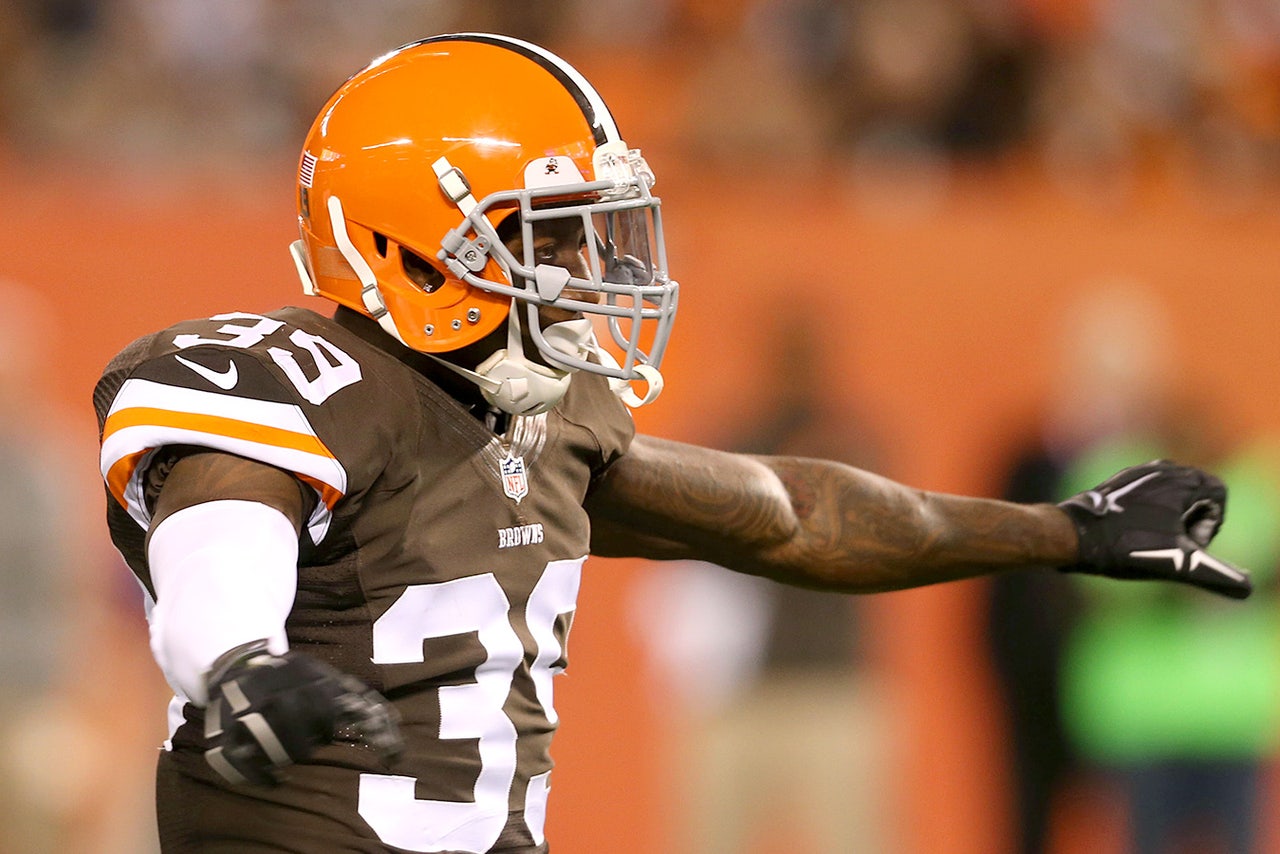 Tashaun Gipson signed his one-year franchise tender with the Browns last week and returned to Berea to participate in the mandatory minicamp on Tuesday.
Gipson said he's not bitter with the Browns.
"As for right now, I can't be bitter," Gipson said. "I'm blessed I'm in good health, good spirits and I understand the Browns have to conduct themselves to make the right moves for the team and I have to do what's best for me.
"I'm back and excited to be with my guys who I have a relationship with," Gipson said. "Just to be back in the football atmosphere you just miss being around the fellas and the camaraderie. Its good to be back in the city of Cleveland."
The Browns have to decide whether to sign Gipson to a long-term extension or place the franchise tag on him at the end of this season to prevent him from leaving via free agency, a la Buster Skrine.
"I understand at this point the Browns have to tend to their business," Gipson said after the first day of mandatory minicamp practice. "I can't be bitter about the situation because at the end of the day this game is football. I'm just being positive about it, hopefully, eventually sooner than later we can get something worked out and this will be in the past."
Gipson sat out Tuesday's practice with a hamstring injury, but declared his knee 100 percent recovered from last season's injury that caused him to miss the final five games.
"I was training and wanted to be in tip-top shape," he said about the hamstring injury. "Things happen when you're grinding. If we had to play today I'd be out there with my guys. The knee is 100 percent and the hamstring was just a little tight."
Gipson admitted that he skipped the voluntary OTAs due in part to the contract situation. He signed the one year second-round tender for a restricted free agent for $2.356 million last Friday. Gipson re-iterated that he isn't upset with the Browns.
Gipson said he's learned the hard way the business side of football as he's seen former teammates D'Qwell Jackson and T.J. Ward end up leaving the Browns.
However, he also saw how free agency paid up big time for Buster Skrine who hit the jackpot with the Jets as an unrestricted free agent.
"I'm pretty sure Buster was in the same situation last year and he got paid," Gipson said. "You see the safety market shaping up and it's exciting and you can see light at the end of the tunnel."
Gipson has had a meteoric rise in the NFL with the Browns after being signed as an undrafted rookie free agent in 2012 from Wyoming. Gipson become a starter for the final three games of the 2012 season. In 2013, Gipson started 15 games and totaled 105 tackles with five interceptions.
Last season, Gipson had 52 tackles and six interceptions in the first 11 games before suffering a season-ending knee injury against the Falcons. Gipson was leading the NFL in picks when he was injured and still finished second and earned his first Pro Bowl berth.
Since 2013, Gipson's 11 interceptions rank second in the NFL, behind only Seattle's Richard Sherman, who has 12.
"I feel I've reached a place that I deserve (contract extension), but if not, I'm going to be the same guy," Gipson said.
Gipson wouldn't say if he received any other contract offers during free agency, but he did say he was frustrated the Browns didn't give him the first-round tender, which would've paid him approximately one million more this season.
"I would say the most frustrating thing to me was I could've been playing somewhere else (this year)," Gipson said "The second-round tender showed me this was a business and I can't be that wide-eyed undrafted rookie. Would I like to have had a first-round tender? Absolutely, it wouldn't take a rocket scientist to figure out that I wasn't happy."
Gipson posted a sad face on his Twitter account at the time he was given a second-round tender.
At the beginning of the year, Gipson said he thought he was close to signing a long-term contract with the Browns and said he's still hopeful the contract can be worked out, but is willing to play the season on the one-year contract and enter free agency.
"I am surprised something wasn't done (earlier), but these things take time I didn't see it spilling into training camp," he said. "The deal didn't get done as much as I'd have liked it to.
"It was close but there are things in contracts that I had no idea about. Hopefully, they feel the same way I do about (me) being here.
"Things are ongoing," he said. "Me believing in myself, I'm not afraid to play under the tender. I hope to be here, I hope they want me to be here. I've seen guys like T.J. Ward, Buster Skrine, D'Qwell Jackson. That's neither here or there, but I'm here this year."
Gipson said he will continue to perform for the Browns to the best of his ability.
"I'm here and that's why I want to get something worked out."
Gipson said he's hoping to continue his career beyond 2015 with the Browns as he feels they have one of the top secondaries in the NFL.
"I would even go further, we're one of the top two secondaries," he said (the Seahawks) have the stats but besides them I think we're second to none. (Seattle) had three Pro Bowlers and we had three Pro Bowlers in the same game. I would love to be around these guys for years to come. But sometimes, all good things come to an end."
Extra Points
Shelton Returns: Top draft choice, DL Danny Shelton was back after earning his diploma from Washington.
Shelton was excited to get back on the Cleveland.
"It's an awesome feeling (to finish college) and get back here to Cleveland."
Pettine said he's not worried about Shelton being behind missing the OTAs.
"He was able to get some team work in," Pettine said. "He's a little behind in conditioning, because there's no way to simulate that in school. We'll be cautious with him.
"He's a bright kid," he said. "I don't anticipate any issues."
Johnson unsigned: Rookie RB Duke Johnson participated in minicamp despite being the only rookie unsigned. Pettine said players can participate in minicamp without a contract, just not training camp.
Mack returns: C Alex Mack took part in team offense for the first time since breaking his leg last season. He had not been in the team drills during OTAs.
"We wanted to make sure he got some reps," Pettine said. "He's been anxious (to get out there), but we want to be smart about it."
On the side: Several players were on the side on stationary bikes and the riders for the first part of practice were: Gipson, DB Tramon Williams, DL Phil Taylor, DL Tory Slater and WR Josh Lenz.
However, Pettine said he didn't envision any of the injuries carrying over to training camp.
Third-round draft pick, DL Xavier Cooper was held out due to sickness according to Pettine.
---