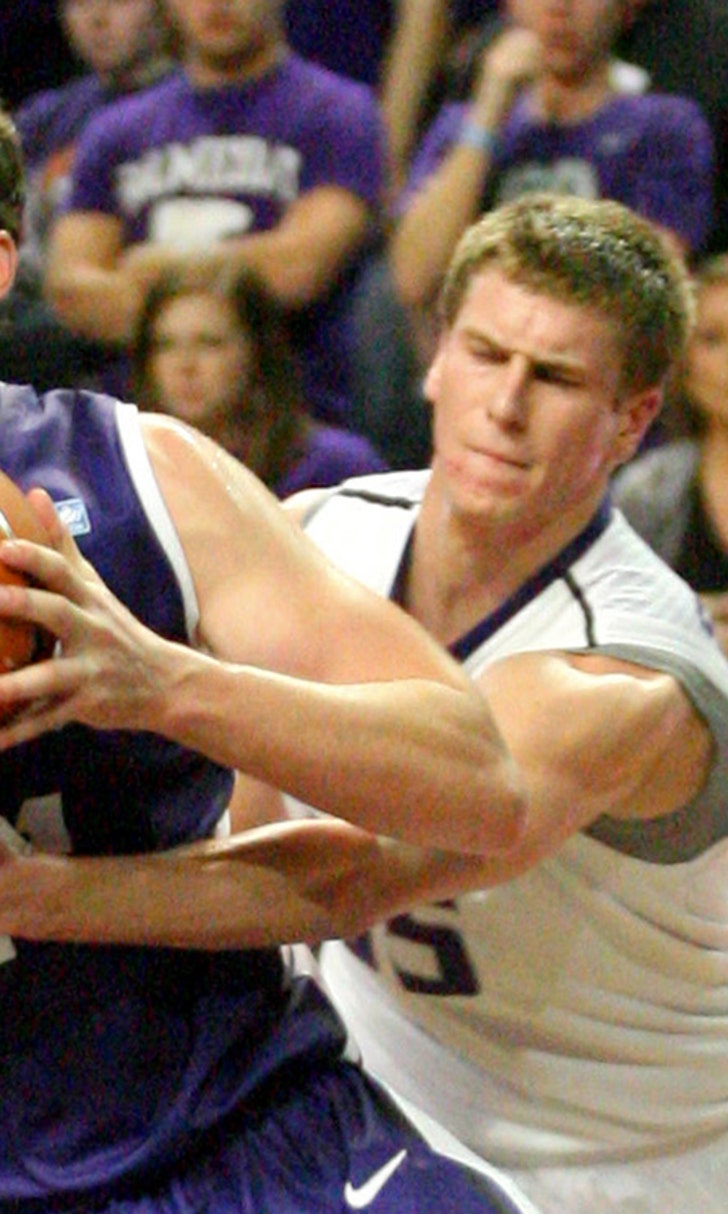 Gipson leads K-State to 65-53 win over TCU
BY foxsports • February 20, 2014
MANHATTAN, Kan. (AP) - Thomas Gipson had 16 points and 11 rebounds, Marcus Foster added 13 points and Kansas State used a big second-half run to put away TCU 65-53 on Wednesday night.
Nino Williams added 11 points and Will Spradling had 10 for the Wildcats (18-8, 8-5 Big 12), who bounced back from a double-overtime loss at Baylor over the weekend to match a school record with their 14th consecutive win at Bramlage Coliseum.
The Horned Frogs (9-16, 0-13) actually pulled even with Kansas State midway through the second half, but the Wildcats answered with a 15-2 run to seize control. Most of the damage came in the paint, where Gipson and D.J. Johnson were able to use their size to their advantage.
Kyan Anderson led TCU with 23 points, his fourth straight game of at least 20. Karviar Shepherd added 12 points, but otherwise the junior guard got precious little help.
The Horned Frogs fell to 2-29 in conference play since joining the Big 12.
Early on, it looked as though things were headed for a rout. Kansas State hit six of its first eight shots while the Horned Frogs made just two of their first nine, and the result was a 13-4 lead that had a sparse crowd settling in for a comfy evening.
Back-to-back turnovers left them feeling restless again.
The Wildcats wound up turning it over 13 times in the first half -- balls were passed into the first row of seats, dribbled off feet, deflected off noggins. The cacophony of mistakes, combined with mounting foul trouble, prevented Kansas State from ever stretching the lead.
Meanwhile, Anderson was slashing to the rim just about every time down floor, either getting a layup or getting to the foul line. He had 17 points at the break, including a basket with just five seconds remaining that sent the Horned Frogs to the locker room down by a point.
The game remained close in the early stages of the second half, neither team able to get into any sort of offensive rhythm. Part of that was fouls but part of it was sloppy play.
It wasn't until Spradling drained a 3-pointer with 12 minutes left to break a 42-all tie that Kansas State finally had some life again. Williams followed up with a basket, Johnson got to the foul line and the Wildcats were off on their game-changing run.
At one point, TCU coach Trent Johnson called timeout and spent the majority of it arguing with referee Tom Eades. When the game resumed, Williams kept the momentum going for Kansas State, and by the time Gipson made a couple of free throws the lead had grown to 57-44.
The Wildcats coaxed the last few minutes off the clock to give coach Bruce Weber his 45th win since taking over the program. That moves Weber into a tie with current Oklahoma coach Lon Kruger for the most victories by any coach in his first two years at Kansas State.


---