Gilmer makes incredible comeback in emotional state title game win
BY foxsports • December 19, 2014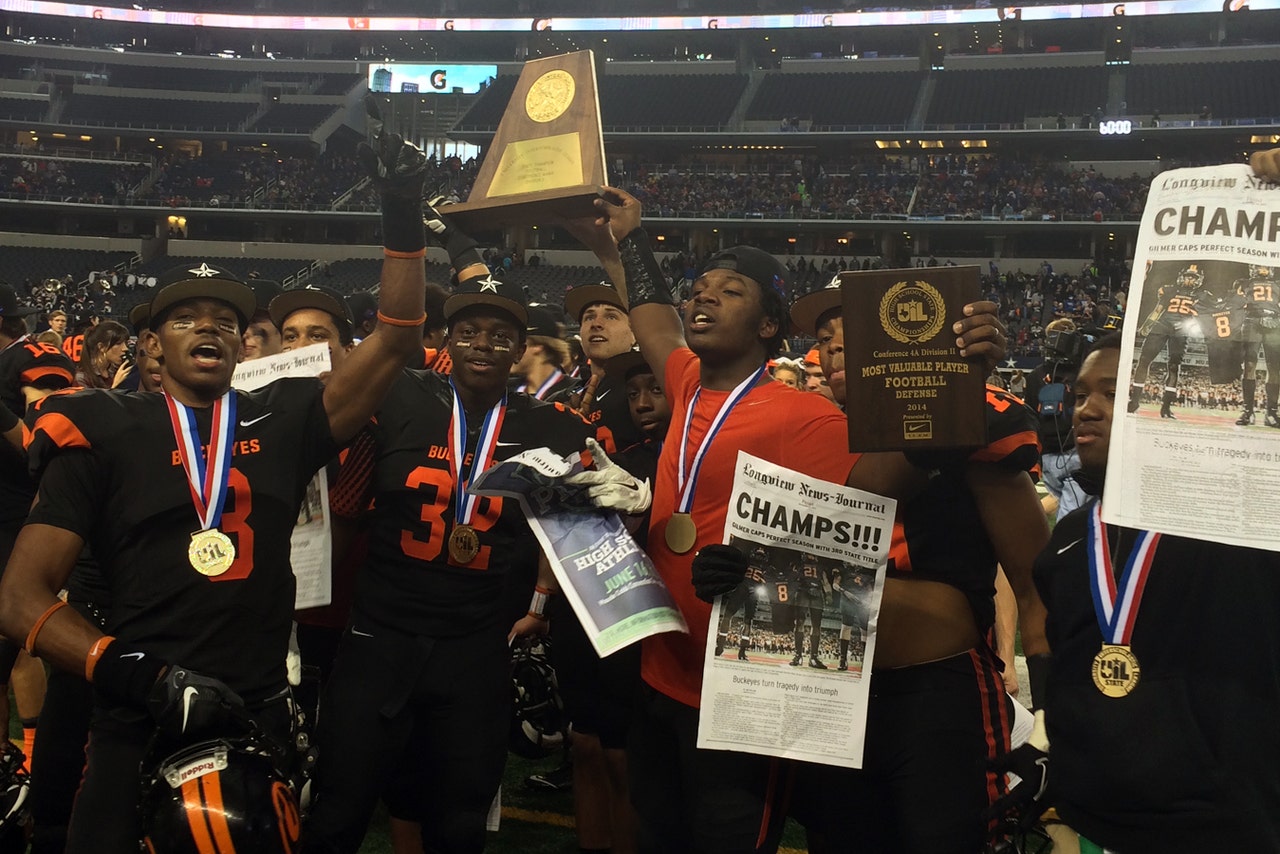 ARLINGTON, Texas -- Hope was never lost for Gilmer.
After a disastrous first half, the Buckeyes stormed back from an 18-point deficit to beat West Orange-Stark 35-25 in the 4A Division II Texas State Championship game on Friday at AT&T Stadium. 
But the comeback wasn't the biggest test of the season. The team played with heavy hearts after the tragic loss of wide receiver Desmond Pollard last March. 
Winning a championship the way they did was just a testament of the fight they've shown all year. And Pollard has been with them in spirit through the entire journey. 
"It's straight out of Hollywood," coach Jeff Traylor said. "You couldn't have scripted it better. 
"I think [Pollard] was the best player on the team and if he had been here today, he would have put on a show for you guys."
But it was the Mustangs stealing the show in the first half and putting Gilmer's perfect season in jeopardy. The Buckeyes scored more than 40 points in all 15 of their wins this season, but nothing had gone right when they went to the locker room at the half down 25-7.
"We were getting handled up front," Traylor said. "We knew offensively we had a good thing going, we just had to execute it."
And they did throughout the second half in shutting out West Orange-Stark the rest of the way. 
"Our defense was the difference,"  Traylor said. "[WOS] did not punt the ball in the first half. In the second half, we got them off the field. Our offense never got a chance to get in rhythm, so our defense is what flipped it." 
After the Gilmer defense recovered a fumble for a touchdown and got a momentum-changing interception early in the second half, the offense put the game out of reach with two fourth quarter touchdowns. 
"I knew my team wasn't going to quit," said senior quarterback McLane Carter, who passed for 239 yards and one touchdown. 
The execution may not have been perfect, but that's not what mattered most. 
"We had perfect effort today," Traylor said. 
Follow me on Twitter @LouisOjedaJr. 
---