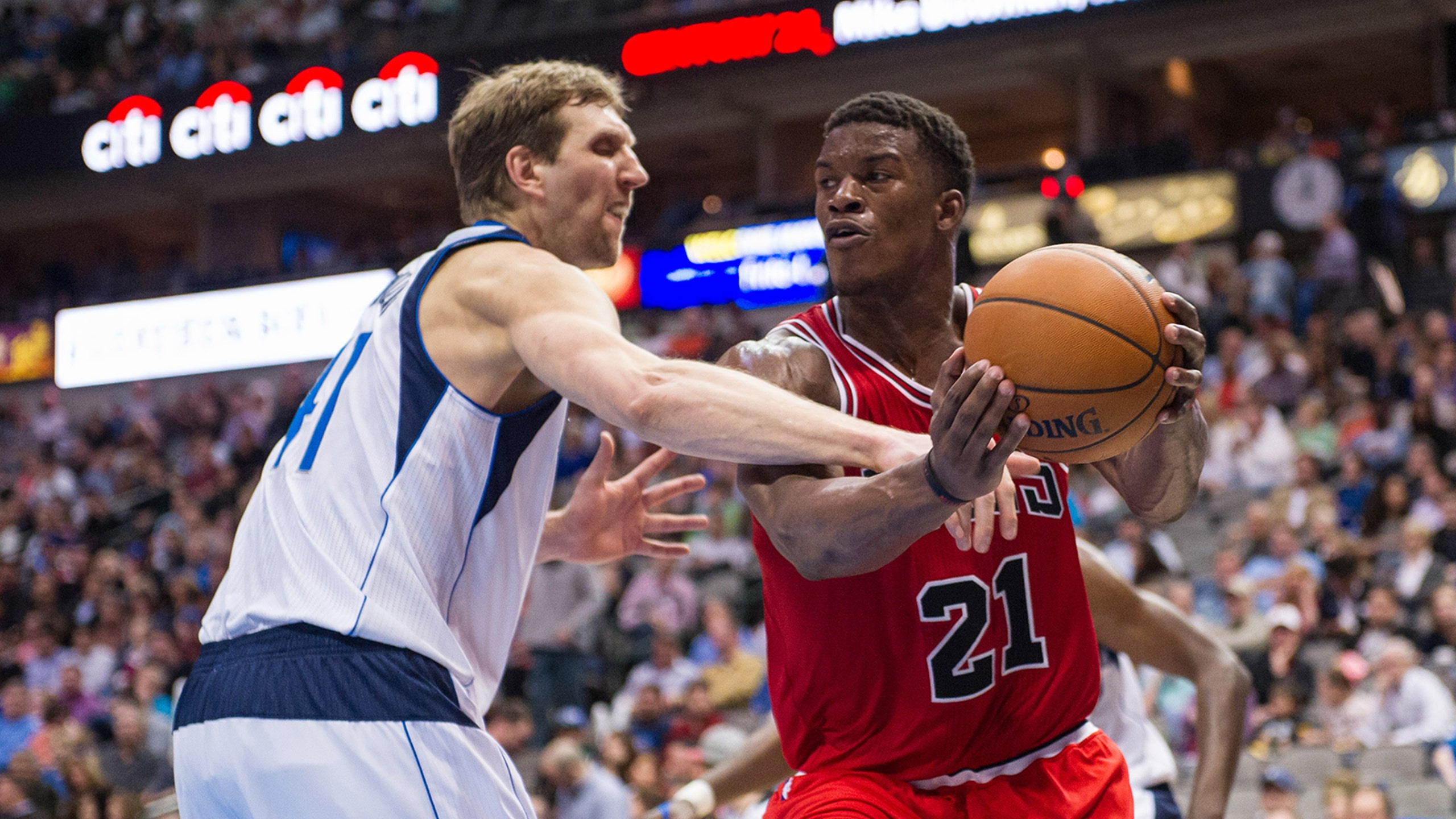 Gibson, Bulls overtake Mavs in 4th for 100-91 win
BY foxsports • March 1, 2014
DALLAS (AP) -- Taj Gibson had 20 points and 15 rebounds, Mike Dunleavy hit a go-ahead 3-pointer and the Chicago Bulls overtook the Dallas Mavericks in the fourth quarter of a 100-91 victory Friday night.



The Mavericks led by 16 in the first half and had erased a six-point Chicago edge when Dunleavy put the Bulls back in front and started a 10-0 run with a 3-pointer for an 87-85 lead.



Jimmy Butler had 19 points, seven rebounds and a big block during the decisive spurt, and Kirk Hinrich scored 17. Dunleavy finished with 17 points and eight rebounds, shooting 4 of 7 from long range.



Monta Ellis scored 20 to the lead the Mavericks, who were trying to match their season high with a fifth straight win. Dirk Nowitzki had 15.



The Bulls won for the eighth time in nine games and answered a 22-point home loss to Dallas in December.



Gibson followed Dunleavy's go-ahead 3 with a dunk on an assist from Joakim Noah, who then blocked a shot by Sam Dalembert on the other end right after committing his fifth foul.



Butler scored inside after Ellis fell down, and after two more Dallas possessions ended in misses, Hinrich hit a pull-up jumper for a 93-85 lead. Butler then blocked a layup try by Jose Calderon and made a free throw at the other end to complete the run as the Bulls outscored the Mavericks 27-15 in the fourth.



After the Bulls went up 84-78 on back-to-back 3-pointers from D.J. Augustin and Hinrich, the Mavericks went back in front with a 7-0 run started when Nowitzki hit a one-legged fadeaway over Noah after Noah had stolen the ball from him two straight times.



Noah didn't have a point or rebound in the first half but finished with 10 points and nine boards. The team's assist leader had four more of those.



The Bulls took their first lead on a reverse layup by Carlos Boozer with 2:48 left in the third quarter, but didn't score the rest of the period. Shawn Marion quickly answered with a layup, and DeJuan Blair ended a 2-minute scoreless stretch with a bucket to put Dallas up 76-73 going into the fourth.



The Mavericks made five of their first seven from long range and ran out to a 32-17 late in the first quarter, punctuated by a sprinting layup from Wayne Ellington when he was led perfectly on a long pass from Devin Harris.



The Bulls got within six in the second quarter before Dallas pushed the lead back to 51-38 on a dunk by Ellis after the 1,000th steal of his career.



Chicago rallied again to get within two on a 13-2 run that included 3-pointers from Dunleavy, Hinrich and Butler.



The leading scorers at halftime both came off the bench. Gibson had 16 points and eight rebounds at the break for Chicago, and Vince Carter had 14 for Dallas highlighted by 4-of-5 shooting from 3-point range. Carter finished with 15.



NOTES: The Mavericks recalled F Jae Crowder, G Shane Larkin and C Bernard James after a one-game stint with their NBA Development League team. Crowder had a triple-double for the Texas Legends in suburban Frisco with 23 points, 18 rebounds and 10 assists. James had 38 points and 10 rebounds. Larkin had nine points and nine assists. G Ricky Ledo was sent back down to the Legends. ... In addition to the steals milestone, Ellis hit the 500th 3-pointer of his career in the first quarter. ... The Bulls entered the game outscoring opponents by an average of 27-20 in the first but were down 32-20 after one quarter.




---