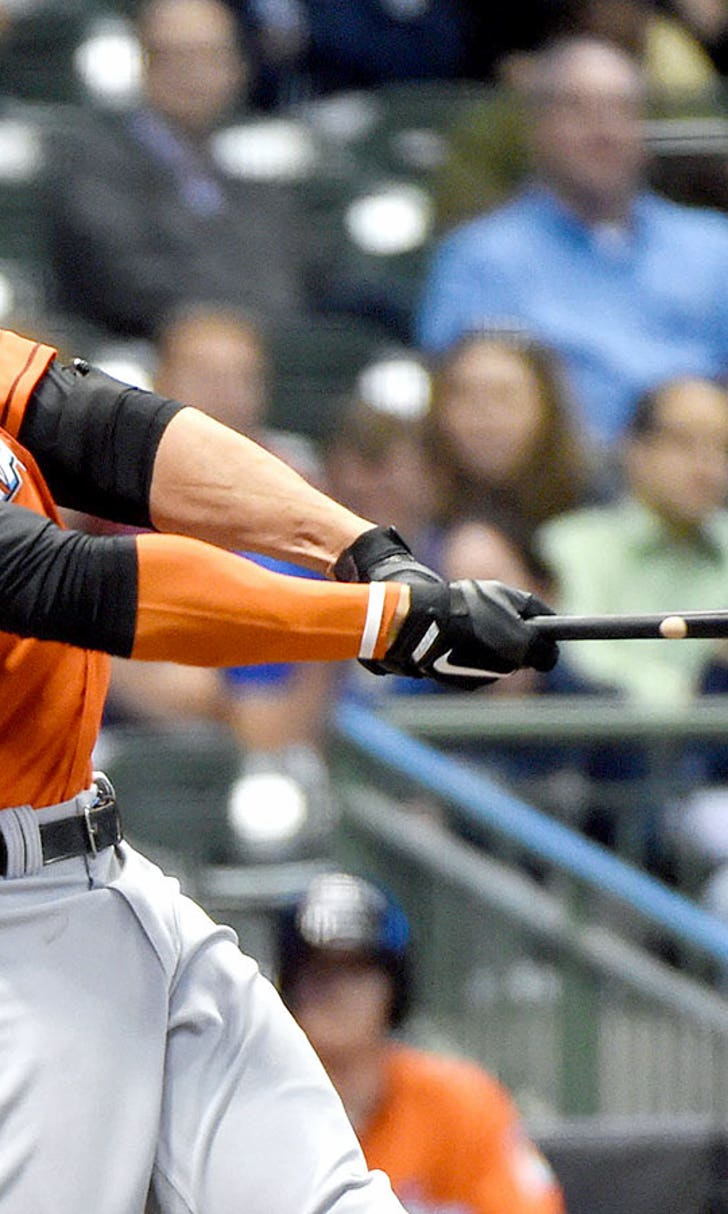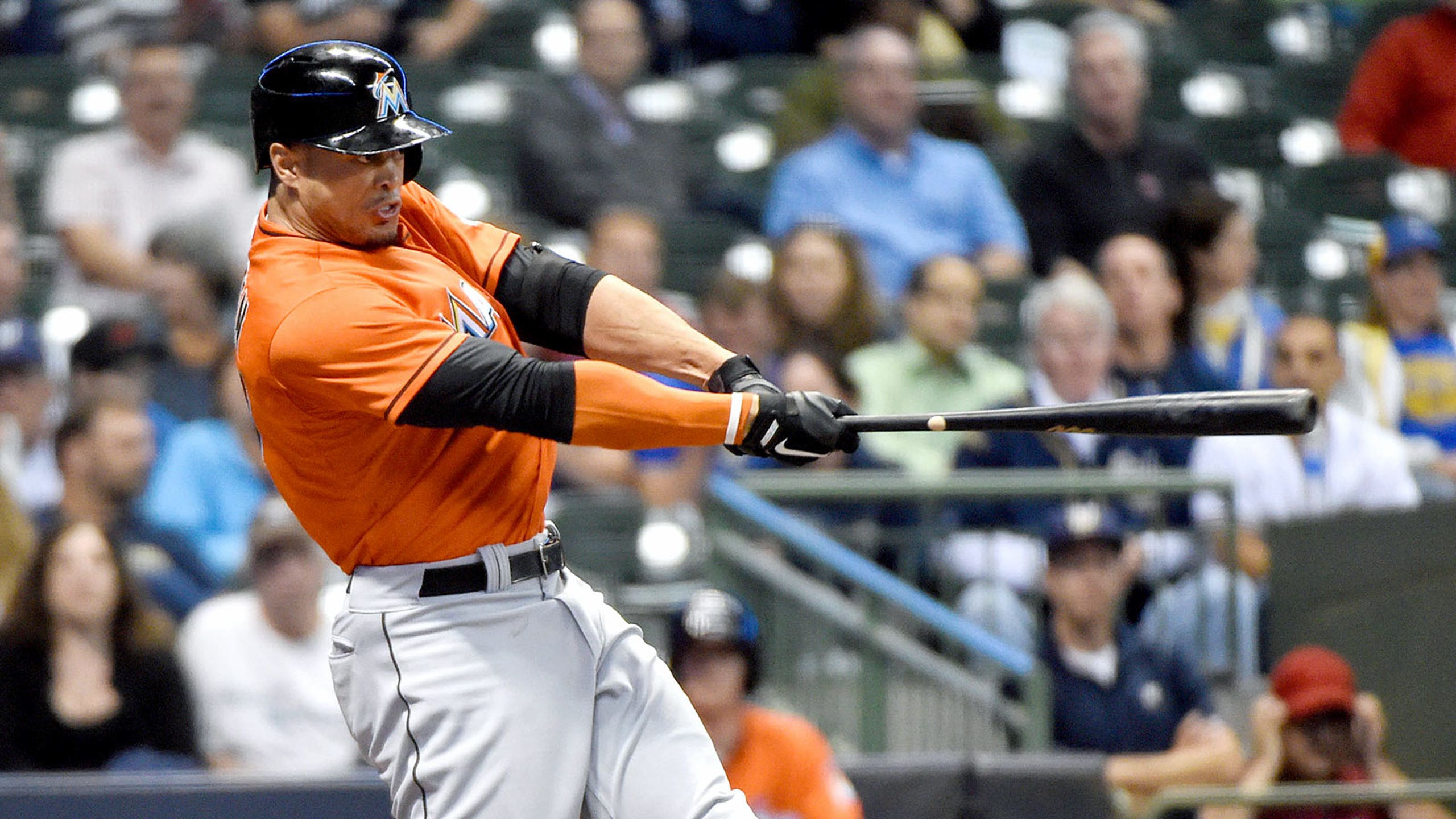 Giancarlo Stanton's most memorable homers
BY foxsports • November 20, 2014
As Marlins right fielder Giancarlo Stanton celebrated his $325 million payday, members of the Baseball Prospectus staff picked their favorite blasts from the slugger:
1. The 494-footer at Coors Field
Beyond the sheer magnitude of this one, the 494 feet and the visually spectacular number of rows that it progressed into the seats, two things come to mind with my favorite Stanton home run.
1. The reaction of not only pitcher Josh Roenicke, whose melancholy Ben Lindbergh noted in his article devoted solely to this home run, but also of catcher Wilin Rosario, who is immediately dejected in sync with his pitcher.
2. The disappointment that with this new contract, the dream of seeing him play 81 games a year at Coors Field is (probably) all but dead. His up-to-date slash line in 65 plate appearances over 14 career games at Coors: .358/.477/.868. -- Zachary Levine
2. May 7, 2012, at Minute Maid Park
This isn't nearly his most impressive home run -- €"the sound and his reaction suggested he broke his bat, for instance. It was the fifth-slowest home run off his bat that season, and the second shortest. Just a boring home run from this angle:
But it has stuck with me because of this angle:
Terrifying. Imagine putting your bare hands in front of that rock. Ever since that home run, whenever I see Stanton hit one into the bleachers, I see it from the eyes of the man or woman on the other end, helplessly watching it pistol toward them, and all they've got to defend themselves are two flimsy shields made up of 27 bones apiece. --Sam Miller
3. Aug. 17, 2014, at Marlins Park
If I were an uncreative, unmotivated person who felt like losing the privilege of writing for Baseball Prospectus, any Stanton homer description I wrote could be a blatant rip-off of a bit of hyperbolated faff I wrote about Joey Gallo back in the summer. However, I am fairly motivated and sometimes pretend to be creative, so you lucky folks get an all-new helping of hyperbole, this time about the home run Stanton hit on August 17, 2014, his slowest homer of the 2014 season (see GIF linked in title).
Leaving Marlins Park at a leisurely velocity of 97.6 mph, this homer is an ode to the elegance of parabolas, offering a more visible math lesson than those home runs that leave "€œon a line,"€ as it were. Of course, the exit velocity, abnormally slow for Stanton, is around the median for all MLB home run hitters, as 2014'€™s league-range was between 90.8 and 119.9 mph (the latter recorded by -- who else? -- €"Stanton). It makes sense that the homer in question comes off a slow pitch, a Josh Collmenter changeup that floated in around 78 mph, according to Brooks Baseball. The gentle arc of the incoming pitch is repeated exponentially in the outgoing arch, a majestic shot whose velocity gives one the ability to appreciate exactly what it is Stanton has now been paid very large amounts of money to keep doing. -- Kate Morrison
4. The opposite-field line drive on June 16, 2014
Ben Lindbergh already covered this one in detail. It would be an impressive shot for a left-handed hitter.
"According to Home Run Tracker, the home run with the lowest apex -- €"38 feet -- €"during the years for which we have video (2010-€") was this Jorge Posada liner off Pesky'€™s Pole in April 2010, followed by three 39-foot blows: one by Travis Snider in May 2010, and a pair by Carlos Peguero in May 2011 and June 2011, respectively.
Those low homers had something in common: They were pulled. Stanton'€™s was hit to the opposite field, directly down the line. That'€™s why it looked so strange: It'€™s much harder to hit a line-drive homer where Stanton hit his than it is to hit one on the same trajectory to the pull side, where the hitter can get the full force of his weight transfer behind the ball. This wasn'€™t something we'€™re used to seeing, because it'€™s not something that many hitters have the strength to do."
Yup. -- €"Harry Pavlidis
5. Sept. 11, 2013, off of Mike Minor
This homer embodies the potential craziness of any Stanton at-bat. The pitcher gets ahead in the count and spins a pretty decent breaking ball. It catches some of the white of the plate, but it'€™s still low in the zone. Giancarlo doesn'€™t need a hitter's count. He doesn'€™t need a hanger or a pipe-shot fastball. Even if a pitcher does his job, there is still the chance of Giancarlo hitting a 450-foot missile.
There were 10 line-drive home runs hit to center field off of breaking balls in 2013. On eight of those 10 the pitcher either elevated the pitch or caught the middle of the plate. The two remaining homers were hit on pitches that essentially went to their intended spot. Guess who hit them? Giancarlo Stanton does things that no other hitter on the planet can do. And man is it fun when he does. -- Ryan Parker
6. June 18, 2010: First career home run
Four years ago, during his lesser-known "Mike" era, Stanton was our No. 5 prospect. He made his debut on the same day as Stephen Strasburg, in which he went 3 for 5 with two doubles and possibly . . . nah, likely got a mention on the local sports television show.
Ten days later, Mike did this thing.
The pitcher was Matt Garza, who a month later threw a no-hitter. So much about it is beautiful for a first home run. The ball was up in the zone. It looked great off the bat. The camera work and announcing tried to add several feet to the home run (perhaps since it was a grand slam), but it just barely cleared the wall. Then again, back then he was just a rookie named Mike, batting seventh. Practically a baby, and possibly related to the pitcher of the same name.
But the home run was definitely a harbinger for Stanton, whose first name is actually Giancarlo (weird!) and who years later could possibly become either a franchise cornerstone, or just another centerpiece in a trade. Marlins fans would have to wait and find this out for themselves. -- €"Matt Sussman
7. The opposite-field upper-decker on Aug. 30, 2011
In any Stanton home run compilation, there are three dominant breeds of dinger: Lasers, upper tankers, and oppo bombs. As far as I'm aware, his blast in New York on Aug. 30, 2011, is the only hybrid of the three. See it here.
Poor D.J. Carrasco. The right-hander had a solid eight-year major-league career. He won 24 games. He was a 26th-rounder and a Rule 5 Draft pick, but still, he battled his way to the major leagues. He got hurt, went to Japan, and battled his way back again. He was a delightful oddball: drafted as a pitcher, he wanted to hit. Once, he reclaimed a previously overlooked 25-cent signing bonus and was so proud that he framed the check. He wore stirrups and donned the No. 77. He lived a full baseball life but, to me and perhaps you, he'll always be known as the guy who served up an opposite-field, upper-deck home run to a legend named Mike Stanton. -- €"Brendan Gawlowski
---
---