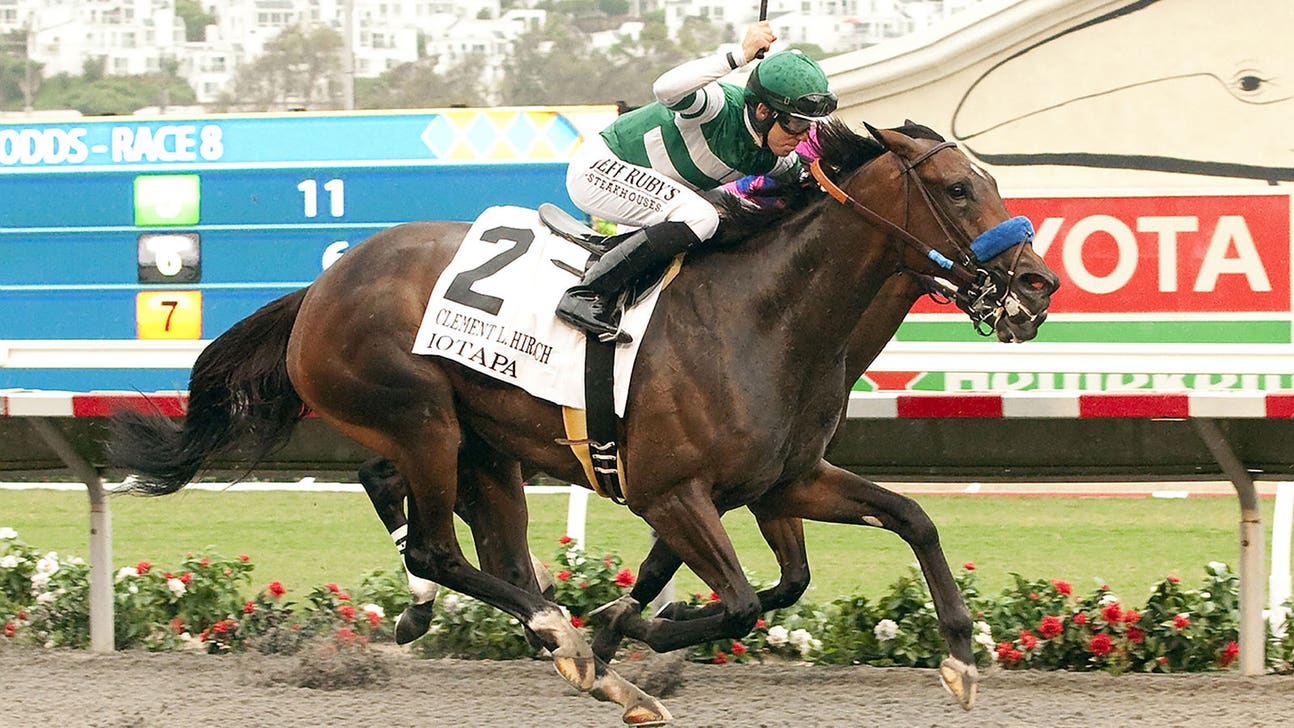 Getting to know Iotapa, winner of the Clement L. Hirsch Handicap
Published
Aug. 13, 2014 10:20 a.m. ET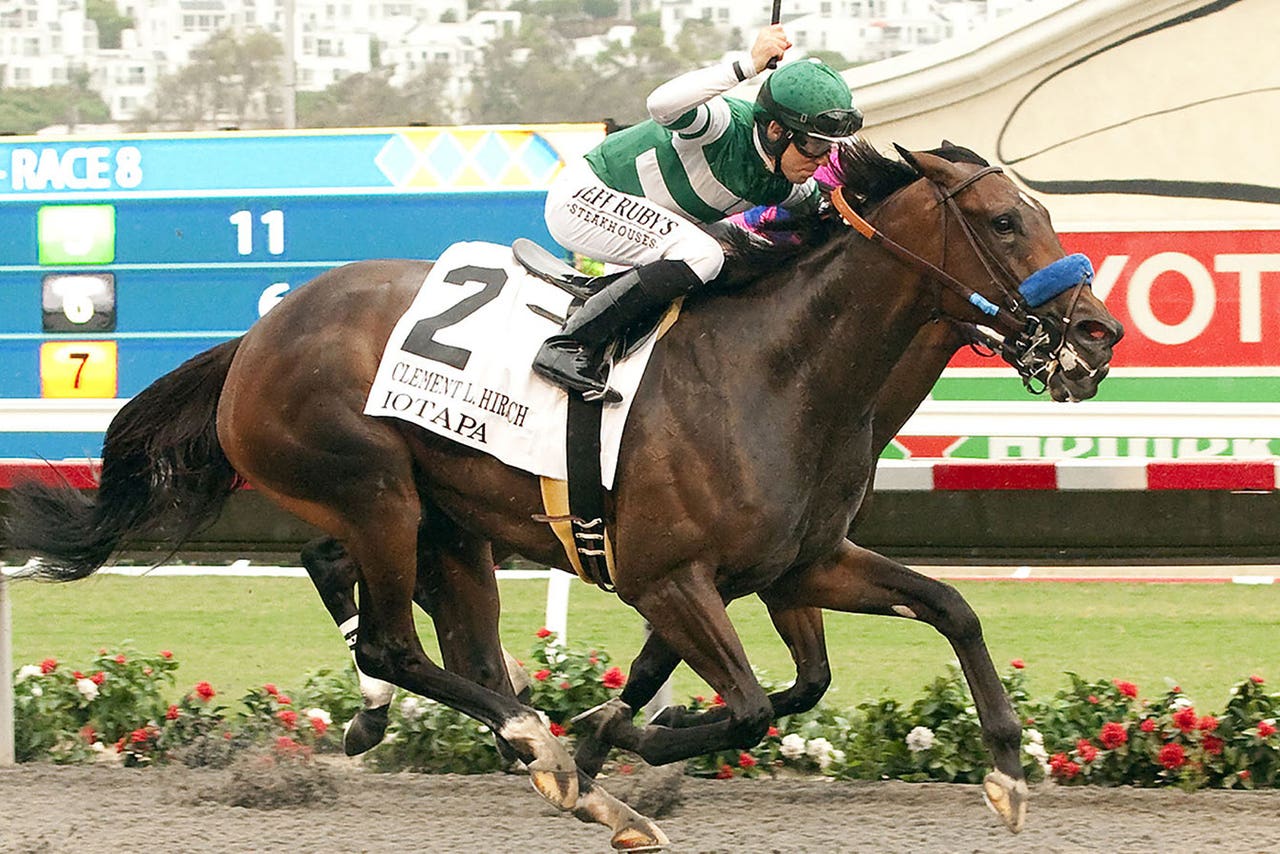 When one looks at Iotapa's career, her early record showed that she had talent. But it wasn't until this summer that the filly turned into a superstar.
In her past two starts, Iotapa has won two Grade 1 races, including a 10¼-length demolition of the Vanity Stakes field. But her win in the Aug. 2 Clement L. Hirsch Handicap may have been the more important of the two as it was a Breeders' Cup "Win and You're In" race.
Let's take a look Iotapa, who is the second U.S.-based female to earn a spot in the Breeders' Cup Distaff.
Résumé
Iotapa started her career in a $50,000 maiden claiming race in June of her 2-year-old year. She won the race by 1¼ lengths for her owners-breeders GEM Inc., Bajer, and O'Hara but at a cost as she was claimed by Hronis Racing.
Iotapa wasn't seen again until the following February when she again won, this time at the allowance level. Her victory was a sign to her connections that they needed to throw her into the graded stakes pond for her next start. While she faced reigning 2-year-old champion Beholder in the race, she didn't disgrace herself -- finishing second to the filly in the Grade 1 Santa Anita Oaks in only her third start.
Iotapa made three more starts as a 3-year-old, winning the Railbird Stakes and finishing on-the-board in the other two, both graded stakes, but 2014 has seen the filly's talent shine. Winning the Grade 2 Santa Maria Stakes in her second start on the year, she earned what was then her best Equibase Speed Figure with a 103, five points above her previous best.
A trip to Churchill Downs proved to be Iotapa's undoing as she finished off the board for the first time in her career in that track's Humana Distaff. However, it seems as though that loss lit a fire under her as her two Grade 1 victories came immediately after that.
Her 10¼-length victory in the Vanity saw her lead from start to finish for a speed figure of 111 (besting her previous high figure by eight points) with the Clement L. Hirsch showing perhaps a bit of a regression with a half-length victory and a figure of 100.
One thing to look at when analyzing Iotapa's Clement L. Hirsch is that she drifted in the stretch. While that isn't a big issue when she is facing a field like that one, she can't lose ground like that when facing better horses.
A good thing about Iotapa is that she is flexible enough to either sit off the early leader or control the pace and still win. That is an advantage when facing other Distaff "Win and You're In" competitor Close Hatches, who prefers to be on the lead if at all possible. In addition, it gives her a better chance against a filly like Beholder, who nearly always needs the lead to win.
A few other positives for Iotapa is that she seems to like Santa Anita, where this year's Breeders' Cup will be held. In her six races at the track, she has won three times and never finished worse than second. In addition, her romp in the Vanity came at 1 1/8 miles on the Santa Anita track, the same distance she will race in the Breeders' Cup Distaff.
Pedigree
Iotapa is by 2005 champion 3-year-old colt Afleet Alex and out of the El Corredor mare Concinnous.
Afleet Alex has proven that he throws both speed and stamina with his runners winning both at sprint and marathon distances. Iotapa's own record shows wins from 4½ furlongs to 1 1/8 miles, while Afleet Alex has also produced a Breeders' Cup Marathon winner and a Travers Stakes winner.
However, it is hard to deny that Afleet Alex's success as a sire comes more in routes and his average winning distance reflects that, showing that his foals win at an average distance of 7½ furlongs, even with his average-distance raced sitting at 7.39 furlongs.
On her dam's side, Iotapa is the first foal out of the winning mare Concinnous. Concinnous is already proving to be quite the producer with only three foals to race so far. This year, her daughter Saintly Joan, who is by Afleet Alex's sire, Northern Afleet, was the winner of an ungraded stakes race and was second in last weekend's Monmouth Oaks. While Concinnous' 2-year-old daughter, C'Mon Sister, hasn't yet won, she was second in her second start back in June.
Concinnous' dam, Wild Jewel, was stakes-placed in France and also is the grandam of graded stakes-placed Cougar Ridge, but you need to go back to Iotapa's third dam to find any more stakes winners. But even with those winners, the only one in Iotapa's pedigree that holds a candle to her successes is her fourth dam, Alma North, who won the Grade 1 Matchmaker Stakes in 1973 .
It is fair to say that Iotapa hasn't beaten the best females in her division this year with Beholder laid up and the best females all racing in the east. However, if one is looking for a good price on a horse in the Breeders' Cup Distaff, she may be one to put a few dollars on in November.
---