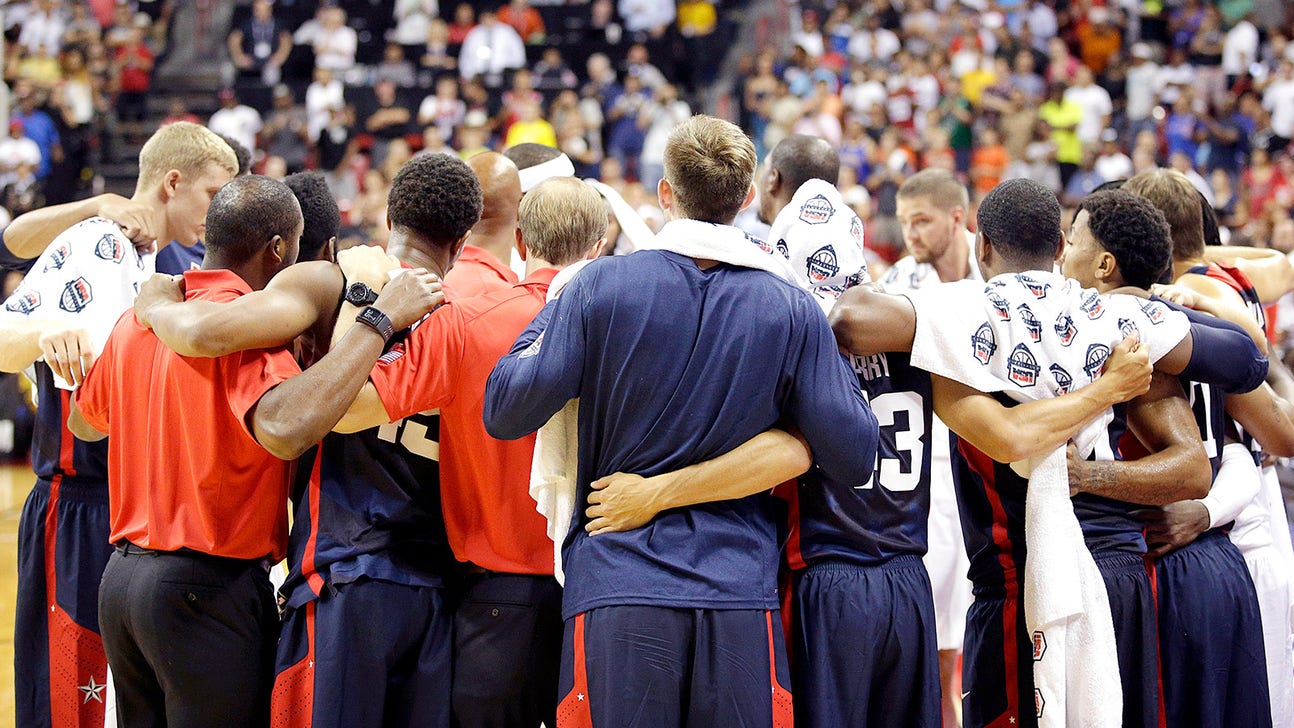 George's injury shouldn't scare NBA away from international play
Published
Aug. 2, 2014 8:13 p.m. ET

It's true that playing basketball when you're not officially on the clock can cause injury -- sometimes serious.
It's true that NBA players who compete in international competitions increase their risk of getting hurt.
But it's also true that in order to improve as a basketball player, you need to practice and play basketball. It's that simple. You need to practice and play against equal or superior competition, you need to practice and play the right way.
Every coach dating back to Dr. James Naismith would tell you those things. You want to get better? Stop talking about it, get on the court and go give it your all.
That's exactly what Pacers star Paul George was doing when he suffered a horrific leg injury during the Team USA intrasquad scrimmage Friday in Las Vegas. George was doing his part to help the U.S. prepare for the 2014 World Cup in Spain at the end of the month. He was doing what he always does. He was giving his all.
George is among the top swingmen in the NBA, a fast-rising star who has learned quickly how to win at basketball's highest level. Anyone wanting to give real effort on defense would do what George did when his injury occurred. You chase down opponents who look like they have an easy layup. You run, you leap, you extend yourself to try to block the shot.
The problem for George, as you've certainly seen, was in the landing. Now there's talk that the "stanchion" that holds up the basket is a lot closer to the court in international play than in the NBA (and that is indeed true). Now there's talk that the Pacers, once considered a true contender for the Eastern Conference, will have to mail in the season.
And now there's talk that NBA stars shouldn't play in a game like this -- that they should no longer take part in practices or games or represent their country for international play.
Routine play
Now, this isn't intended to downplay George's broken leg. It's an awful situation for George, the Pacers and anyone who associated the NBA.
But this is the reality of sports. You can play and try to get better (and risk injury) during the offseason, or you can sit around and eat cheeseburgers and not improve.
I also understand George is more than just a basketball player. Intentional or not, he's a major part of big business. If George plays, the Pacers' odds of winning increase. If the Pacers win, they sell more tickets, more merchandise, more food at the concessions. An increase in popularity almost always means an increase in revenue -- for both the athlete and the organization. 
But in order for George and other basketball stars to stay sharp, to stay at the top of their games, again, actually playing basketball is how they must go about it.
As Pacers guard C.J. Miles told SiriusXM NBA Radio on Saturday, George was simply making a "routine play you do every day, in practice, in pickup games, in a regular game." The injury could've happened in any of those scenarios.
Basically, if you practice and play, there are certain risks, cruel risks, that every athlete at every level has to face. Their options are a) Take those risks while continuing to practice and play; b) Lessen the time on the field of play; c) Quit. For most everyone in sports, the first option is the only logical approach.
Bird knows
Perhaps Pacers president, NBA legend and Olympic gold medalist Larry Bird said it best.
Bird stands to lose the most after George's devastating injury. The Pacers went from a possible No. 1 seed in the East to a possible lottery team. That's not manufactured drama. That's reality.
"This is an extremely unfortunate injury that occurred on a highly visible stage, but also could have occurred anytime, anywhere," Bird said in a statement released by the team.
He added: "We still support USA Basketball and believe in the NBA's goals of exposing our game, our teams and our players worldwide."
As a Celtics star and three-time league MVP in the 1980s, Bird spent part of his summers working out on the outdoor basketball court located on his property. He put himself at risk of injury even then, no doubt. He even  permanently damaged the index finger on his shooting hand in a (get this) offseason charity softball game.
Prior to the 1988-89 season, Bird arrived in camp in arguably the best shape of his career. He spent extra time in the weight room, paid closer attention to his diet and continued to run mile after mile. He looked chiseled.
But his season lasted just six games, as he needed surgery to remove bone spurs from both heels. Should Bird have sat around and done nothing that particular summer? Should he have avoided the weight room? Would his heels have been fine if he had just propped them up in a chair instead?
If you're an athlete or a coach, those are silly questions.
So here's the bottom line: Keeping NBA players away from international competition won't eliminate their risk of injury. It will only eliminate their risk of injury in international competition.
And keeping them off the floor for international competition is a no-win situation for the players, for the countries they represent and, quite honestly, for basketball.
---