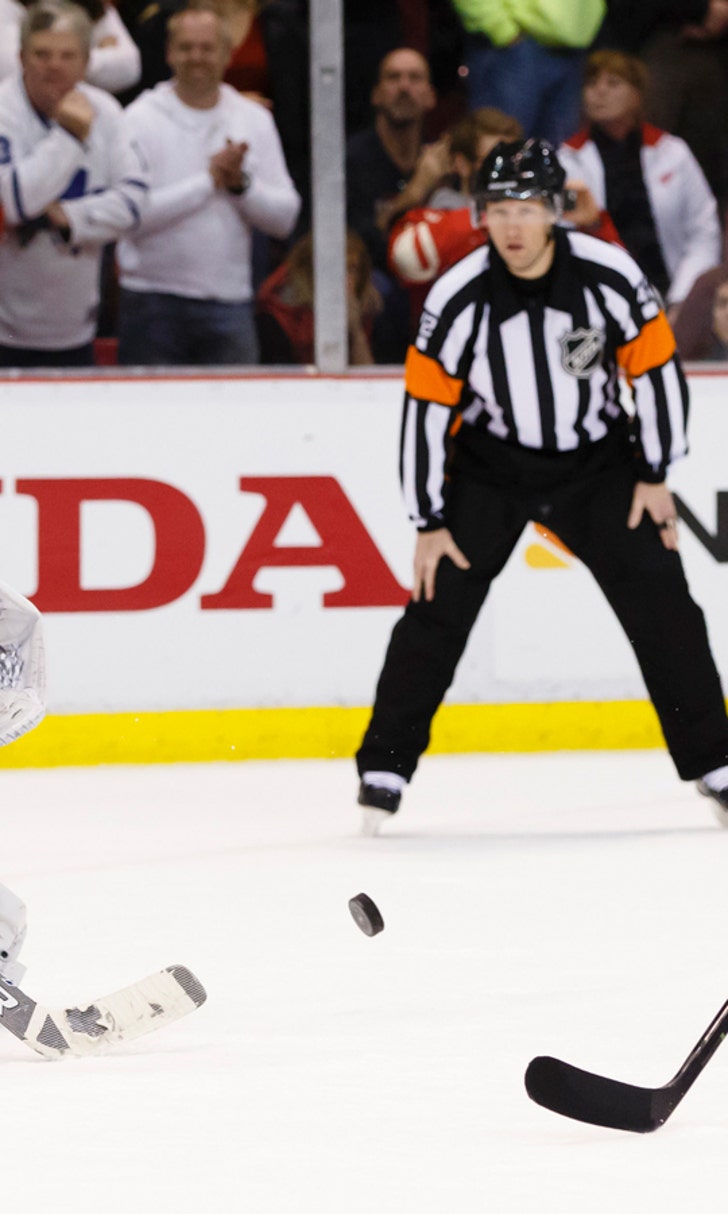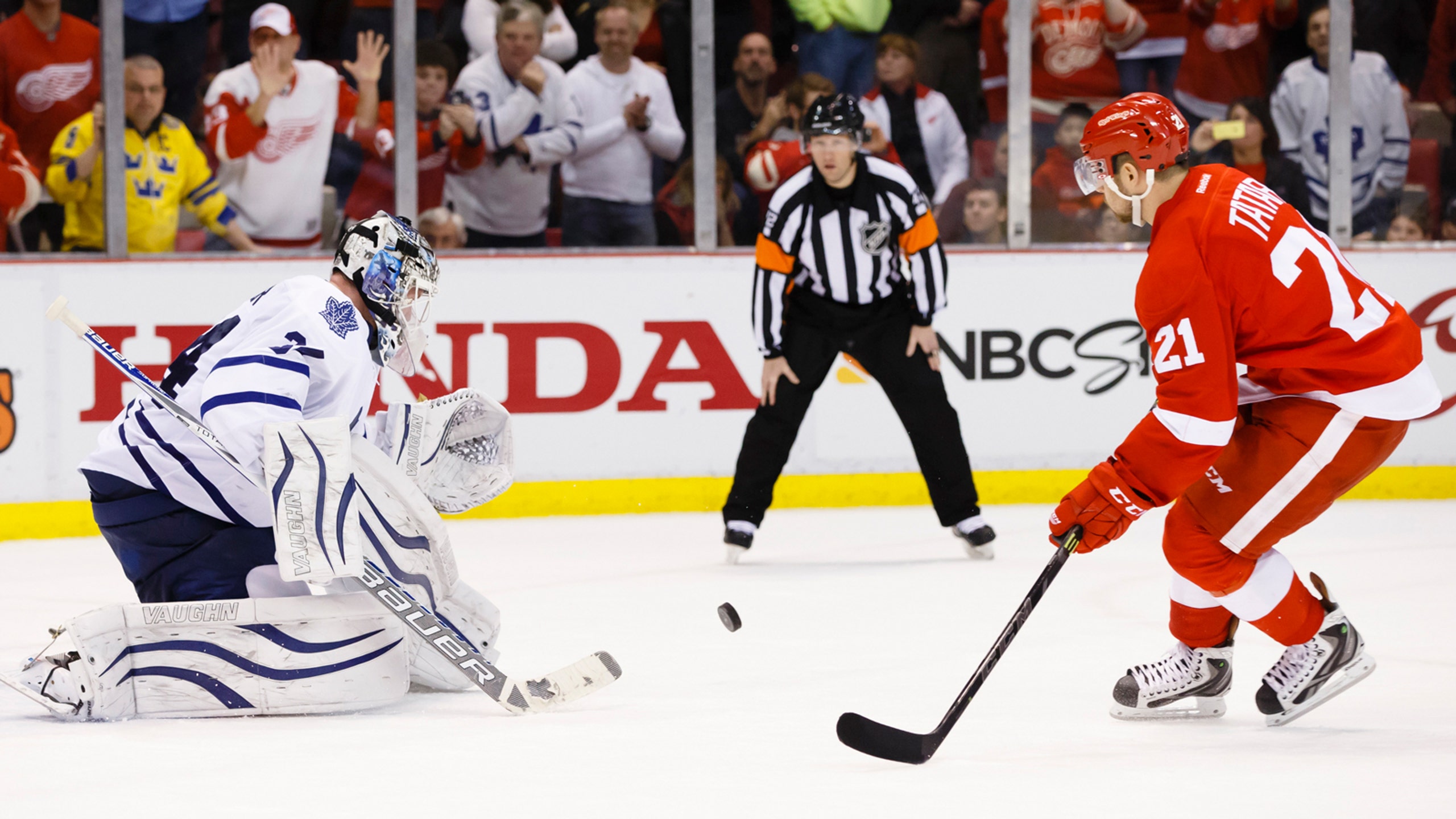 Gave: NHL needs 'Holland Rule' to limit shootouts
BY foxsports • December 12, 2014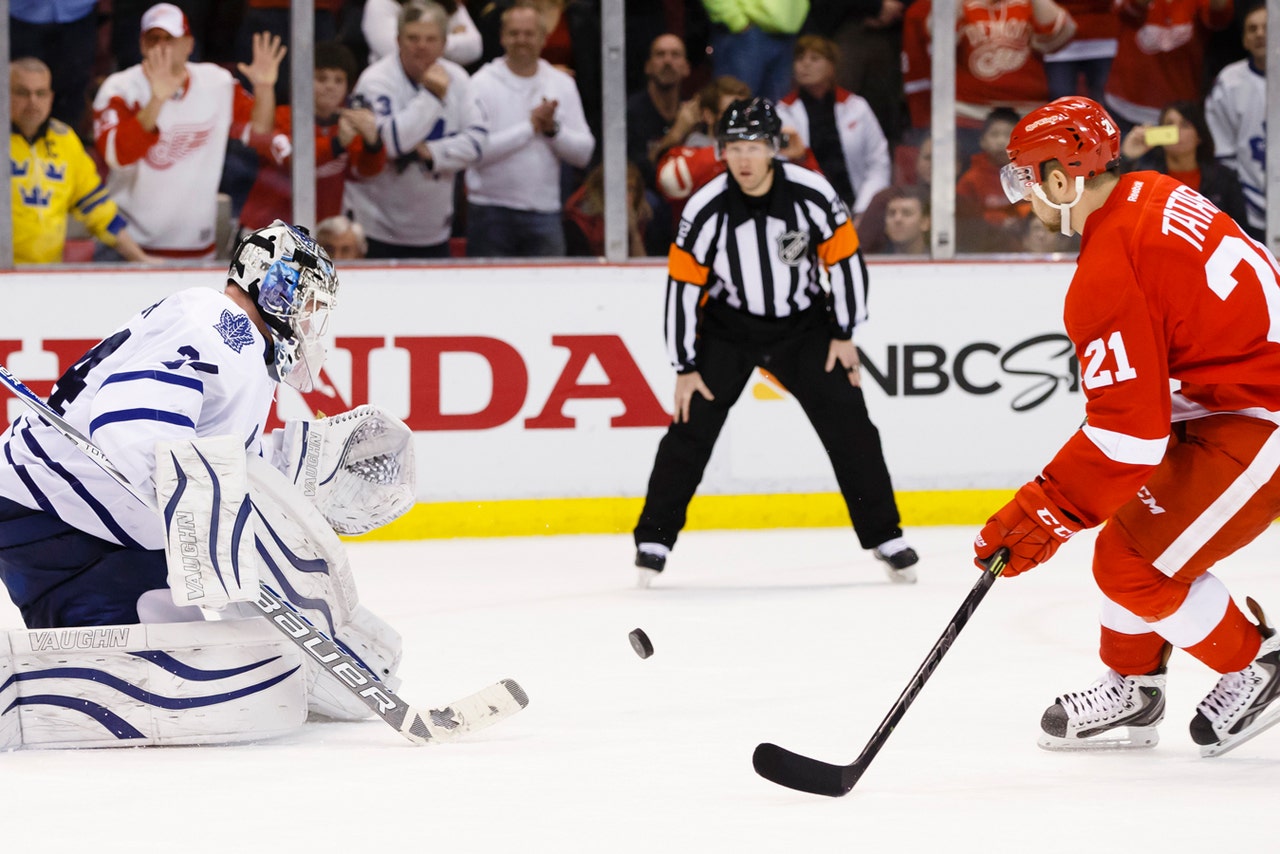 When the governors representing the 30 NHL teams gathered in New York on July 22, 2005, they voted 28-2 in favor of introducing the penalty-shot shootout in order to end every game with a winner.
The two votes against: Chicago's Bill Wirtz and Detroit's Mike Ilitch. And ever since Red Wings General Manger Ken Holland has been working to fix that horrendous mistake.
He might be getting closer.
This isn't about Detroit's woeful record in shootouts in recent years. But it surfaces from time to time, as it did after the Wings subjugated Toronto all night long Wednesday before losing that second, valuable point to the Leafs in a shootout after the five-minute four-on-four overtime failed to produce a winner.
The Wings' continuing struggles in overtime shootouts was written all over goaltender Jimmy Howard's face.
Moments earlier, Toronto's Mike Santorelli came at him with speed from center ice and fired a shot that eluded Howard through his pads. That gave the Leafs two goals in three tries in the shootout to Detroit's one, by Pavel Datsyuk, and turned a game the Wings had dominated all night into a 2-1 Toronto victory.
"It's really frustrating," Howard said, crushed by the question he knew was coming. "Especially when you work at it. You guys watch practice. You see it. It's just frustrating. It really, really is."
They were at it again in the morning skate Friday prior to the game against Florida, shooters skating in from center ice trying to score -- and trying to have a little fun, keeping score for bragging rights in the dressing room later.
They're not happy either, that an otherwise great team game was resolved by a silly skills competition -- the kind of play that is an extraordinary occurrence in hockey games, the penalty shot. A skater takes the puck at center ice and skates in alone on the goaltender. Best man wins.
Rarely has it been the Detroit goaltender this year, with the lone exception of backup Petr Mrazek's win over New Jersey.
The Wings are 1-4 in shootouts this season. Four of Howard's six losses in an otherwise outstanding season have come by the shootout. He has stopped three of 10 shots in game-deciding shootouts.
But this isn't all on Howard. With several dazzling playmakers and offensive threats like Datsyuk, Henrik Zetterberg, Gustav Nyquist, Tomas Tatar and others, the Wings should score more consistently in the shootout.
"We've got to get better at it," Wings coach Mike Babcock said. "We've got to score for Howie, and Howie has to stop the puck for us."
But Babcock offered up an even better solution. Never let games like that get to a shootout in the first place.
"Let's just win the game," he lamented.
Or let's just fix the problem.
That's what the hockey people are saying amid growing concerns about the number of games being decided by shootout, said Wings Senior Vice President Jim Devellano.
"And by hockey people I mean the general managers," he said. "They are addressing it with the league, trying to come up with some ways to eliminate a good portion of the shootouts."
Enter Holland, whose proposal to at least limit the number of shootouts is being tested this season in the American Hockey League -- with considerable success.
According to the "Holland Rule," any game that extends into OT is played 4-on-4 for the first three minutes. At the first whistle thereafter, teams switch to 3-3 for the final four minutes -- or until a goal is scored. Then it goes to a shootout.
The Wings first introduced the concept at their summer "prospects tournament" in Traverse City.
"It was fantastic," said Kris Draper, a special assistant to Holland, "the amount of ice that opens up for the greatest players this game has, giving high-end athletes a chance to do their thing.
"Especially with the longer changes (benches being farther from their offensive zones). Somebody gets a little tired, opens more ice and creates even more scoring chances."
The NHL says the shootout was created largely for fans, most of whom come to games wanting to see an outcome more satisfying than a tie. But if a trivial skills competition can create some excitement for fans, wait until they see 3-on-3 play, Draper said.
"In Traverse City, whichever rink you were at, Rink A or Rink B, when you heard there was an OT going on in the other one, everybody got up and moved over. It created a pretty good buzz. "
It's doing the same thing throughout the AHL and, more importantly, ending more games with teams playing against one another rather than top players trading penalty shots. Through nearly two months of the season, about four out of five overtime games were decided before going to the penalty shots, compared to just over a third the year before.
The Holland Rule works, and if the league can get its players union to go along with some version of 3-on-3 OT hockey -- and here's betting it can -- then we should see it next year.
Meantime, expect to hear the same things around the league from players and coaches who have to live with a rule most of them don't care for.
"Shootouts are prettying exciting. They're a lot of fun for the fans, I guess," said Florida coach Gerard Gallant, the ex-Wings star. "When you win them, you love them. I just wish we'd win more of them."
---