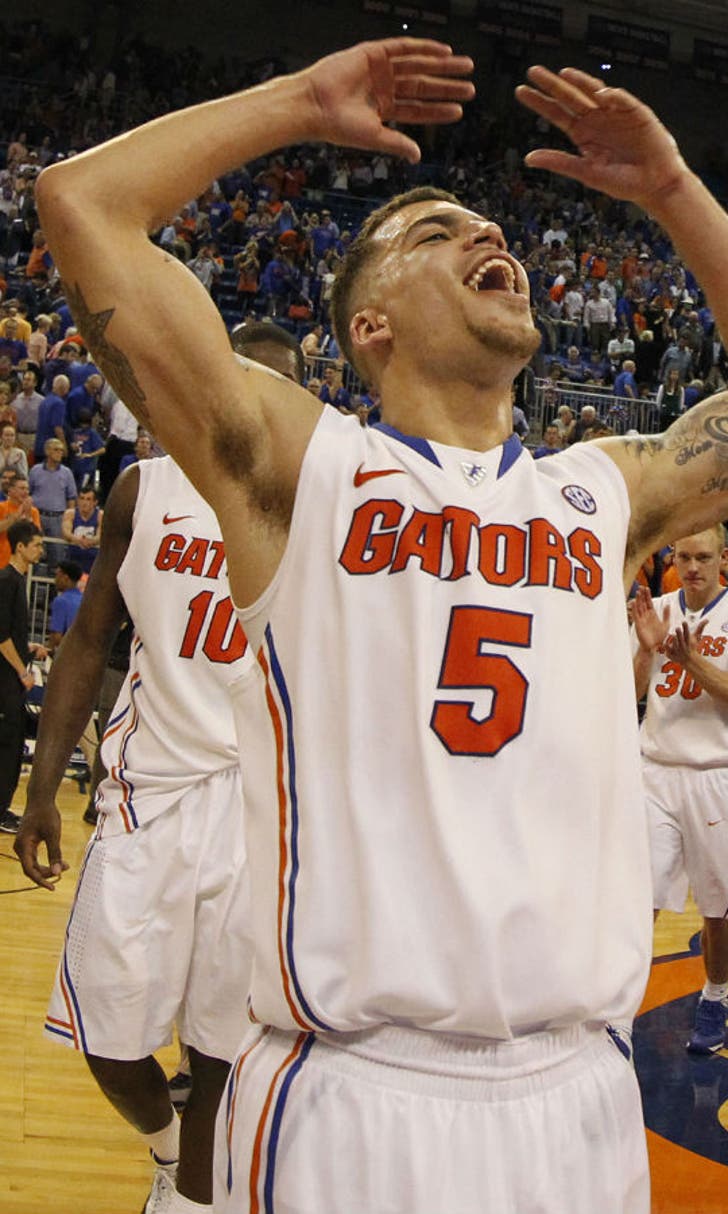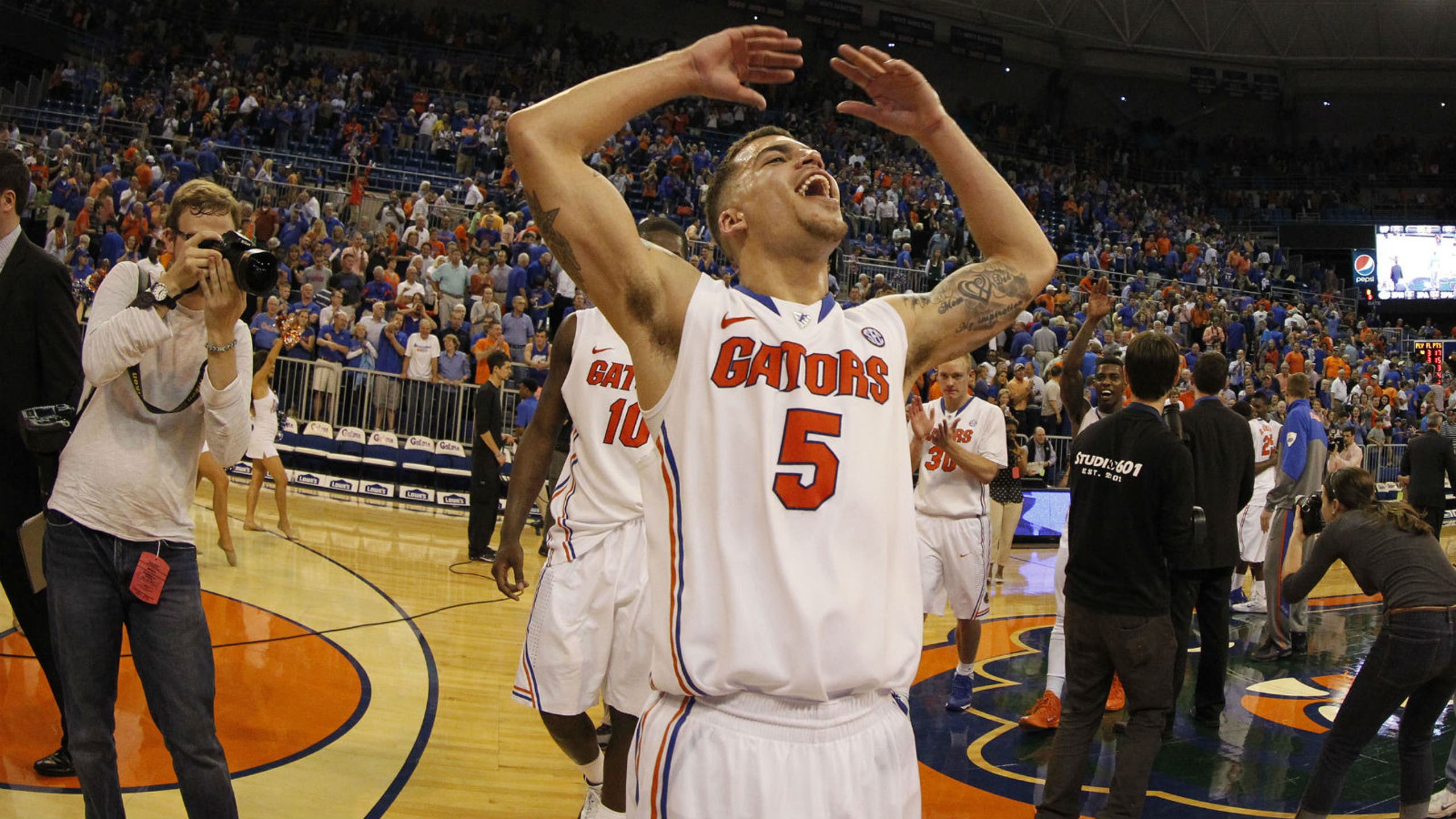 Gators make plays, get help to keep winning streak alive
BY foxsports • February 20, 2014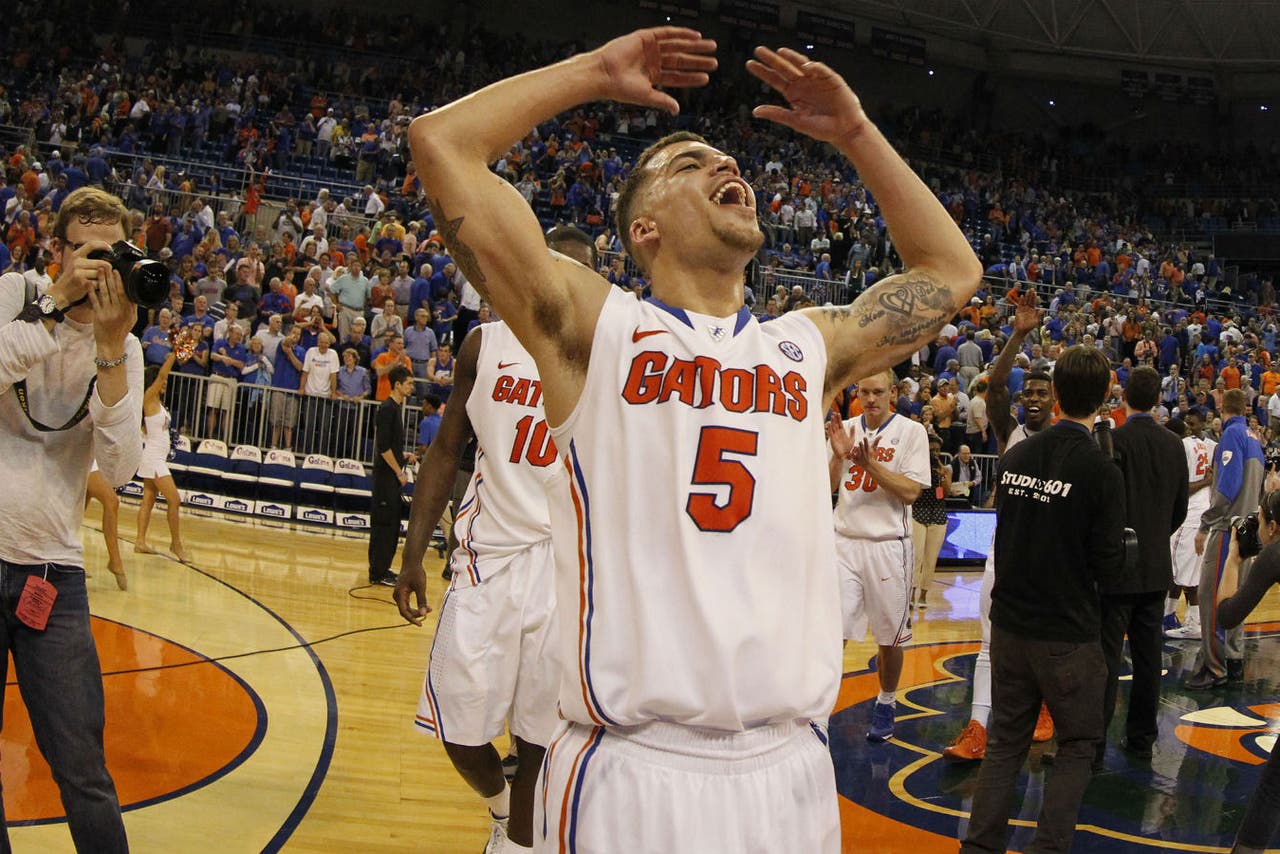 GAINESVILLE, Fla. -- Auburn led by two as 5-foot-10, 163-pound freshman guard Tahj Shamsid-Deen drove inside for a potential back-breaker with the clock nearing a minute left.
Florida's 29-game win streak at the O'Dome hung in the balance, as did the No. 2-ranked Gators' 17-game win streak overall, tied for the longest in school history.
Shamsid-Deen had been a thorn in Florida's side all night, dropping in five 3-pointers, including one early in the second half that prompted Gators coach Billy Donovan to call a timeout and threaten to pull Casey Prather, who was guarding Shamsid-Deen, from the game.
Shamsid-Deen's shot bounced around the rim, eventually falling off and into the hands of Patric Young with 56 seconds left.
Fifteen seconds later, Prather found Michael Frazier II open for a 3-pointer.
Swish.
"I knew as soon as I let it go it was good," Frazier said. "That's a great feeling. Sometimes I shoot it with confidence and when it comes out, I go, 'Oh, I did this wrong, I tweaked it to the left too much.' But that last shot -- that was the best-feeling shot I had in the game.
"It came at the right time."
Frazier is both master of the long ball and understatement.
Frazier's third 3-pointer of the game put the Gators up by one with 41 seconds left and provided hope that a loss to one of the SEC's bottom feeders could be averted. Playing one of their best games of the season, the Tigers countered with a free throw from Chris Denson to tie the game with 21 seconds left.
In those final 21 ticks off the clock Wednesday night, Patric Young made 3 of 4 free throws and Scottie Wilbekin hit a pair to seal Florida's 71-66 win before a raucous sellout crowd. After Young hit two free throws for a 68-66 Gators lead, Auburn's Allen Payne threw away an inbounds pass on the ensuing possession to set up Wilbekin's two free throws.
The Gators' school-record 18th consecutive win wasn't the way Donovan drew it up, but the Gators (24-2, 13-0) closed strong to keep their perfect record in the SEC intact.
"I think our guys showed some great resiliency,'' Donovan said. "We made some plays down the stretch, but I think anybody watching that game could clearly say other than that last three or four minutes, that they outplayed us.
"We got some help from Auburn down the stretch. The score is tied and they miss a free throw. I was getting ready to call a timeout as the ball crossed half court and [Asauhn Dixon-Tatum] fouls Patric Young. That doesn't have anything to do with us. Patric makes two free throws, they throw the ball out of bounds, then Scottie makes two free throws."
In Saturday's win at Kentucky, the Gators closed with a flourish with 29 points in the final 11 minutes. They scored on every offensive possession over that span to climb to No. 2 in the national polls.
Wednesday's finish wasn't nearly as spectacular, but just as effective.
Once again, the Gators got it done when they had to.
"When it came down to those last possessions, we just fought and got it done," said Young, who finished with a team-high 17 points, seven rebounds, three assists and two blocks.
Young was often at his best at the free-throw line. Young made 7 of 9 as the Gators made 23 of 28 as a team. A career 56.4 percent free-throw shooter, Young has made 20 of 28 (71.4 percent) over the last six games.
None were more important than his three in the final 19 seconds of Wednesday's game, including the two that broke the 66-66 tie.
"He has definitely put some work in,'' Wilbekin said. "I knew he was going to hit it. When he just went up there, I just knew he was going to hit it."
Despite a 38-30 halftime deficit and the inability to overcome the Tigers until the very end, Wilbekin maintained a belief the Gators would come through when it mattered most.
That's what senior-laden teams do.
"We had confidence we could pull through,'' said Wilbekin, who finished with 15 points and four assists. "A lot of the last couple of minutes we were down. We were just saying the things we've been saying all year, 'keep fighting, keep pushing, keep getting stops.' That's what we tried to hang out hat on the last couple of minutes, to turn up the defense."
Prather said the Gators finally did what Donovan told them at halftime: "To wake up."
They woke up at the perfect time.
Frazier, his left hand wrapped in a bag of ice after a hard fall in the second half, was all smiles afterward.
After all, he set off the alarm clock in the final minute.
"I would probably say that's one of the biggest shots of my career,'' he said.
Understated and undeniably true.
---