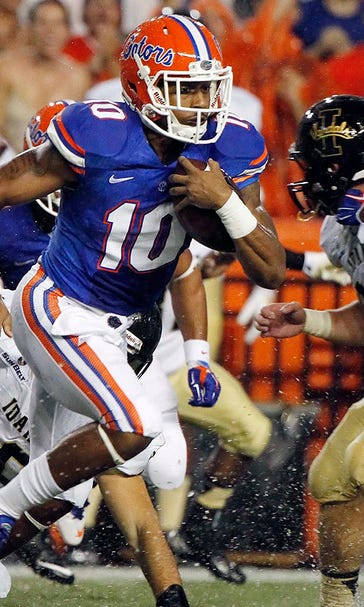 Gators exploring options with Idaho, turn focus to Eastern Michigan
September 2, 2014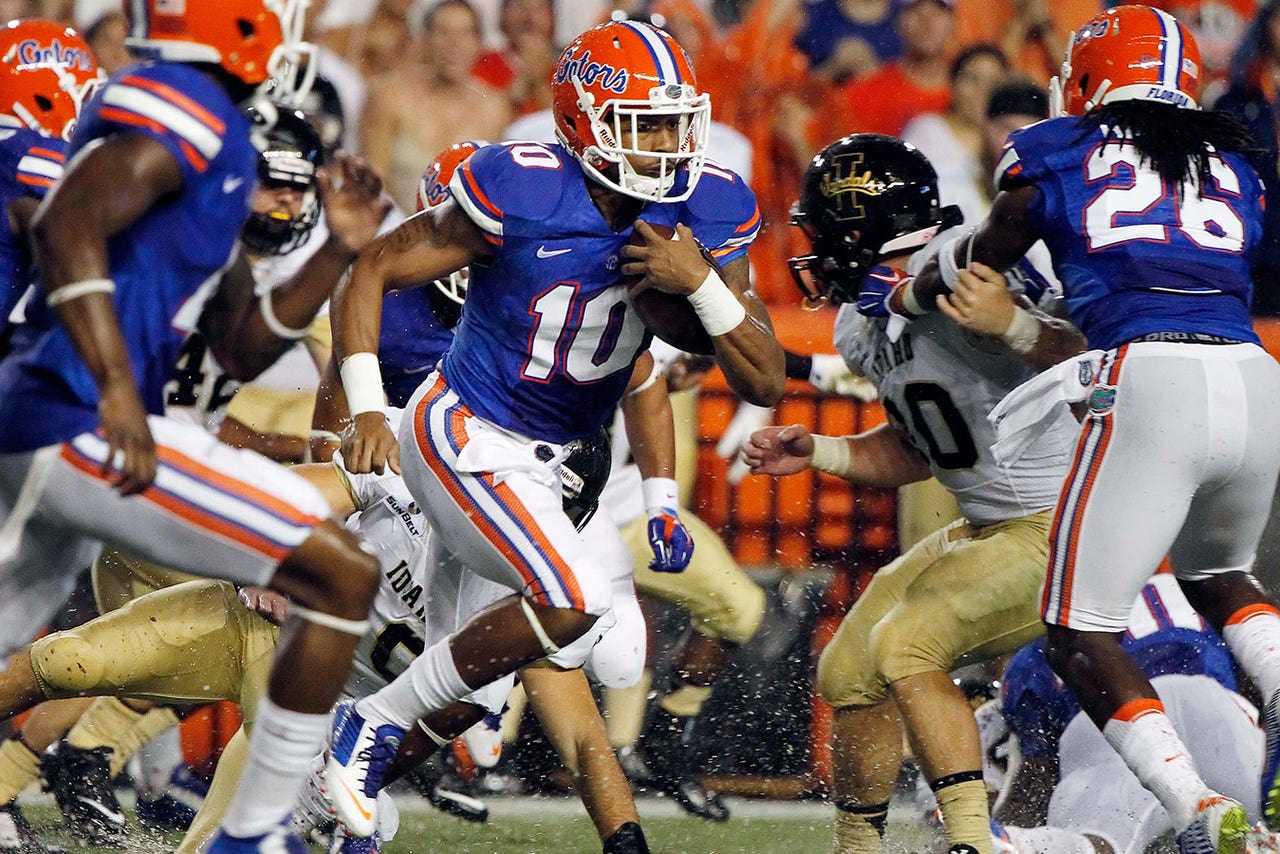 GAINESVILLE, Fla. -- Electric.
That's how Coach Will Muschamp described the atmosphere Saturday night in The Swamp for a game that never materialized, save for that one jolt of a kickoff return.
But even that was nothing like the more than 1,100 lightning strikes that cut through the Gainesville night over a six-hour period and both bracketed and spanned Florida's scheduled 2014 season opener against Idaho and forced the game to be suspended.
"It was going to be very difficult to be able to get the game in," Muschamp said Monday in his first media opportunity since exiting Florida Field following one of the most bizarre nights in UF football history. "At the end of the day, it comes down to the welfare of the student-athlete, and the playing condition issue was not what it needed to be and the lightning was everywhere. ... I've never been a part of anything like that. That's what happened and we're all disappointed."
UF Athletic Director Jeremy Foley took the podium Monday before Muschamp, but only to emphasize that no decision had been made regarding the fallout of the Florida-Idaho game being suspended. With the Labor Day holiday, Foley estimated some resolution and announcement no later than Wednesday.
"My staff and I met this morning and talked about possible scenarios. When we have answers we'll give them to you," he said. "There are just a lot of different moving parts there. ... We're not trying to be secretive. There's just a lot of different things we have to consider and we're working through those things as we speak."
Foley came to the interview room knowing Muschamp would be hit with questions the Gators coach could not answer.
Besides, the man has another season opener -- this one Saturday against Eastern Michigan (1-0) at 4 p.m. -- to prepare for. 
"They say you make the most improvement from Game 1 to Game 2. We're still in Game 1," Muschamp said. "We're ready to go as far as that's concerned."
They were ready to go against Idaho, too. 
During the multitude of lightning delays, Muschamp said the protocol within the locker room was similar to how the team deals with inclement whether during preseason practice. Players remained with their position groups and coaches, trying to keep their mental focus and edge. 
Muschamp, meanwhile, did a lot of of radar watching of a storm that basically parked itself over Florida Field and did not move for four hours. 
When officials finally determined the game could go on -- at 9:50 p.m., some two hours and 48 minutes after the scheduled start -- junior receiver Valdez Showers took a short opening kickoff and returned it 64 yards to the Idaho 14, as the exuberant crowd of mostly students who waited out the storm roared its approval. 
"To be honest with you, we weren't thinking too much about the field or the conditions," Showers said Monday. "We we had been working hard all offseason, spring and summer. We were just ready for the first game."
UF quarterback Jeff Driskel brought his offense to the line for the Gators' first play from scrimmage of the 2014 season -- and first call by new offensive coordinator Kurt Roper. It was going to be a "power" run by Matt Jones to the tight end side. 
Then officials blew the whistle, huddled, and about two minutes later announced that more lightning had struck within eight miles of the stadium, forcing the game to go into delay mode again. 
About 35 minutes later, it was officially "suspended." 
"We're extremely disappointed we didn't get to play as a team, as a fan base," Muschamp said. "There's no question we're all frustrated with that. The anticipation of the game was huge for us from a standpoint of you go through Gator Walk and the fever pitch was high. And the stadium coming out for pre-game was electric." 
He hopes it will be again this weekend for Eastern Michigan, a Mid-American Conference program that opened its season with 31-28 win over Morgan State. 
Muschamp said three players who were suspended for the Idaho game -- senior defensive lineman Darious Cummings, sophomore wide receiver Demarcus Robinson and redshirt freshman defensive lineman Jay-nard Bostwick -- would be reinstated this week. 
The Gators used the off day of classes to get on the practice field in the morning. Junior safety Marcus Maye, who was questionable last week with a hamstring injury, took part in the workout and will be re-evaluated throughout the week regarding his availability against the Eagles. 
For what it's worth, forecasts call for a high of 90 degrees and a 50-percent chance of thunderstorms. 
"We're ready to get rolling," Muschamp said. 
Imagine how ready they'll be in another five days.
---