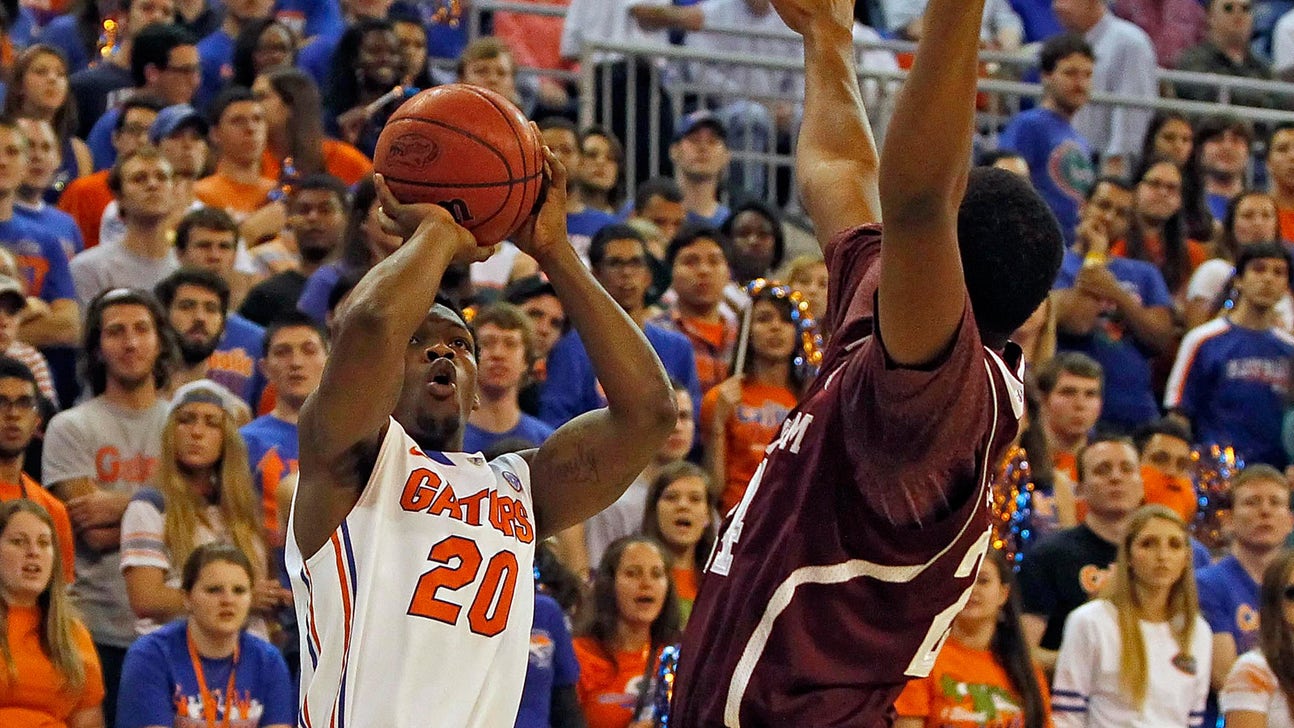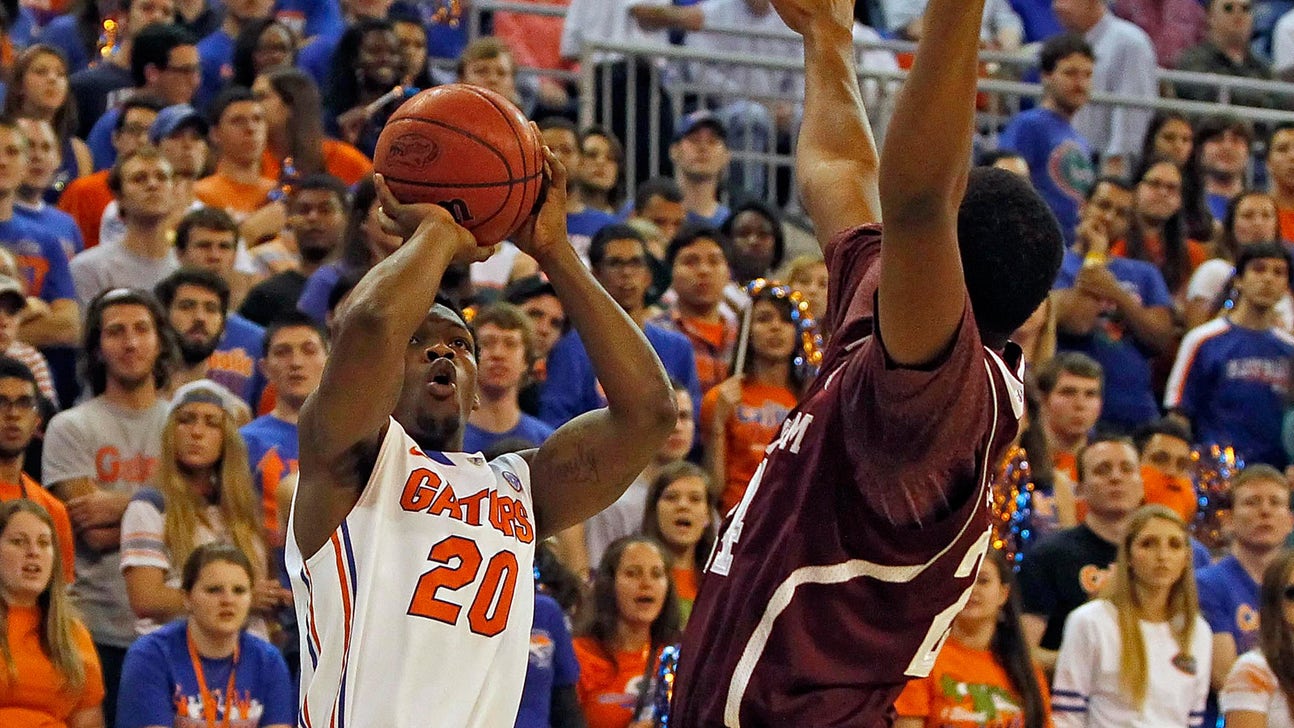 Gators dominate Aggies, 69-36
Published
Feb. 1, 2014 6:09 p.m. ET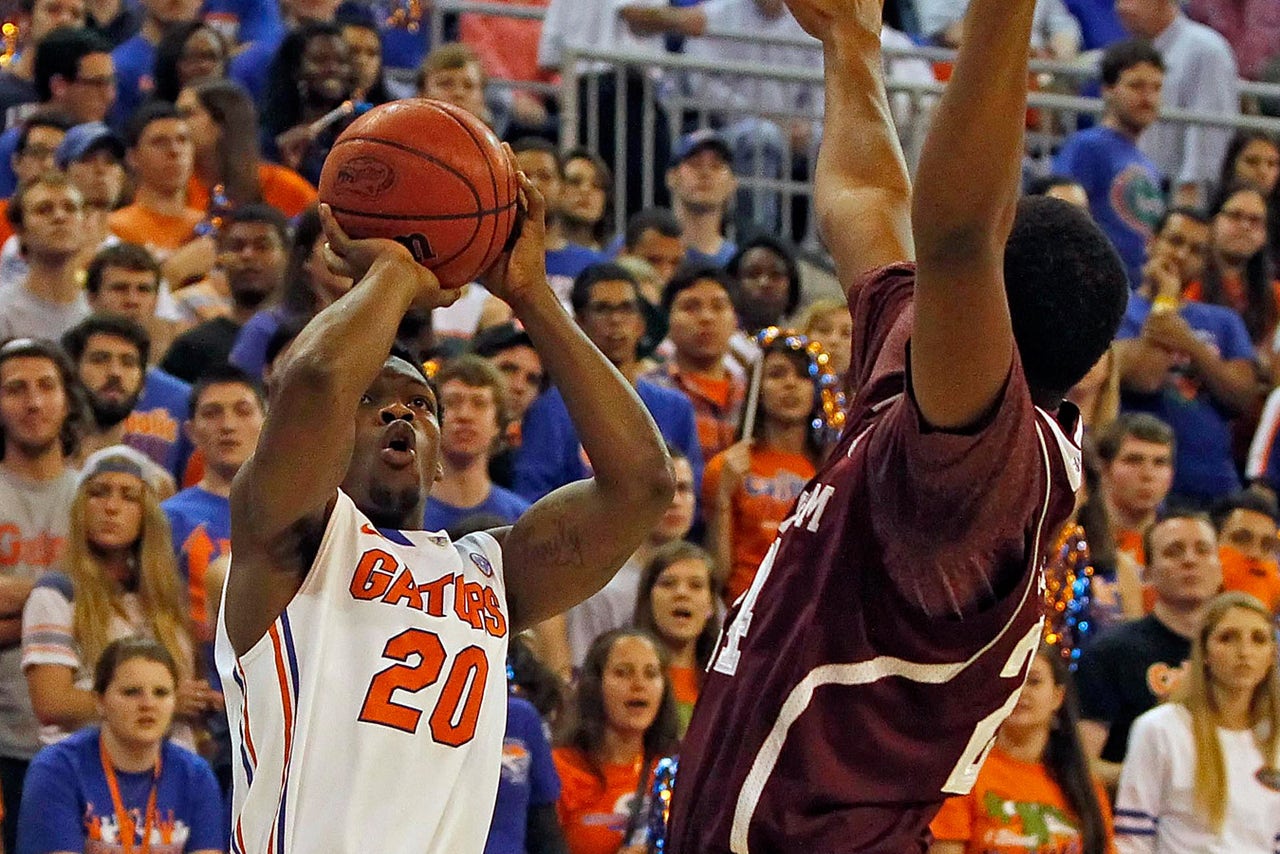 GAINESVILLE, Fla. -- Patric Young has a message for anyone who believes Florida's success this season has to do with playing in a two-team Southeastern Conference.
"We're not the No. 3 team in the country for no reason," Young said. "We can't control what other people say about our team. Look at the stats, look at what we're doing, look at the record."
Michael Frazier II scored 21 points, Dorian Finney-Smith added 11 and the third-ranked Gators overwhelmed Texas A&M 69-36 on Saturday.
Florida (19-2, 8-0) pushed its winning streak to 13 games and extended a school record for consecutive home wins to 27. It's the third time in program history the Gators have started 19-2, with the last two (2005-06, 2006-07) ending in national championships.
The latest victory one was another defensive gem, maybe the best of the season. It tied the fewest points Florida has allowed in SEC play since 1950, matching last year's defensive effort against South Carolina.
Florida held the Aggies (12-9, 3-5) to 26 percent shooting and 20 percent from 3-point range. The Gators also outrebounded Texas A&M 57-27.
"It's scary because we can get a lot better defensively," Frazier said. "It's something we work on every day in practice and it's something that we're going to have to continue to keep grinding at because we can always get better."
The Gators closed the first half with a 12-2 run that turned a seven-point lead into a double-digit advantage. They were up 34-17 at the break, and the lead would have been bigger had they hadn't missed 11 of 12 shots from behind the arc.
Coach Billy Donovan's team found its long-range rhythm early in the second half, with Frazier and Scottie Wilbekin each connecting on 3s, and Florida really started pulling away. Frazier's second trey made it 53-24 with 12:27 to play.
The Gators coasted from there, improving to 9-1 in Saturday games that followed Thursday night tilts.
Donovan used just seven players for most of the game -- guard DeVon Walker sat out with a hip pointer -- and Florida was even thinner as leading scorer Casey Prather was hobbled by a sprained ankle. Prather missed practice Friday and wasn't in the starting lineup. He finished with seven points, the first time he failed to reach double figures all season.
The Gators will get some much-needed help Tuesday with the debut of highly touted freshman Chris Walker. The NCAA cleared Walker on Wednesday after forcing him to sit out 12 games and repay about $300 for receiving impermissible benefits during his college recruitment.
Walker will give Florida more talent and depth -- and more rebounding.
Florida finished with 17 offensive rebounds against the Aggies, who lost their fifth straight.
"Florida's a great defensive team," Texas A&M coach Billy Kennedy said. "We had our opportunities early to score, but not many. When we had our opportunities to make free throws and layups, we couldn't score. But Florida had a lot to do with that."
Texas A&M benched leading scorer Jamal Jones for undisclosed reasons. Jones came off the bench about 3 minutes into the game, but didn't make a difference. He had seven points on 2-of-11 shooting. None of his teammates reached double figures.
The Aggies were down 38 points when Donovan emptied his bench.
"We didn't come ready to play mentally or physically," guard Alex Caruso said. "The best way we can improve is to just put this game behind us and move on to the next game. There's nothing we can do."
About the only thing worth watching down the stretch was whether Young would notch his first double-double of the season.
Young finished with nine points and 14 rebounds on his 22nd birthday. He had several chances to reach double figures in scoring, but missed his final three free throws. He missed the second of two with 9:33 to play -- someone yelled just as he started to shoot -- and then missed twice with 7:47 remaining. Donovan pulled him with 5:51 left and the game well in hand.
"I'm not going to lie, it's kind of disappointing because I had an opportunity to get it on the free-throw line," Young said.
---