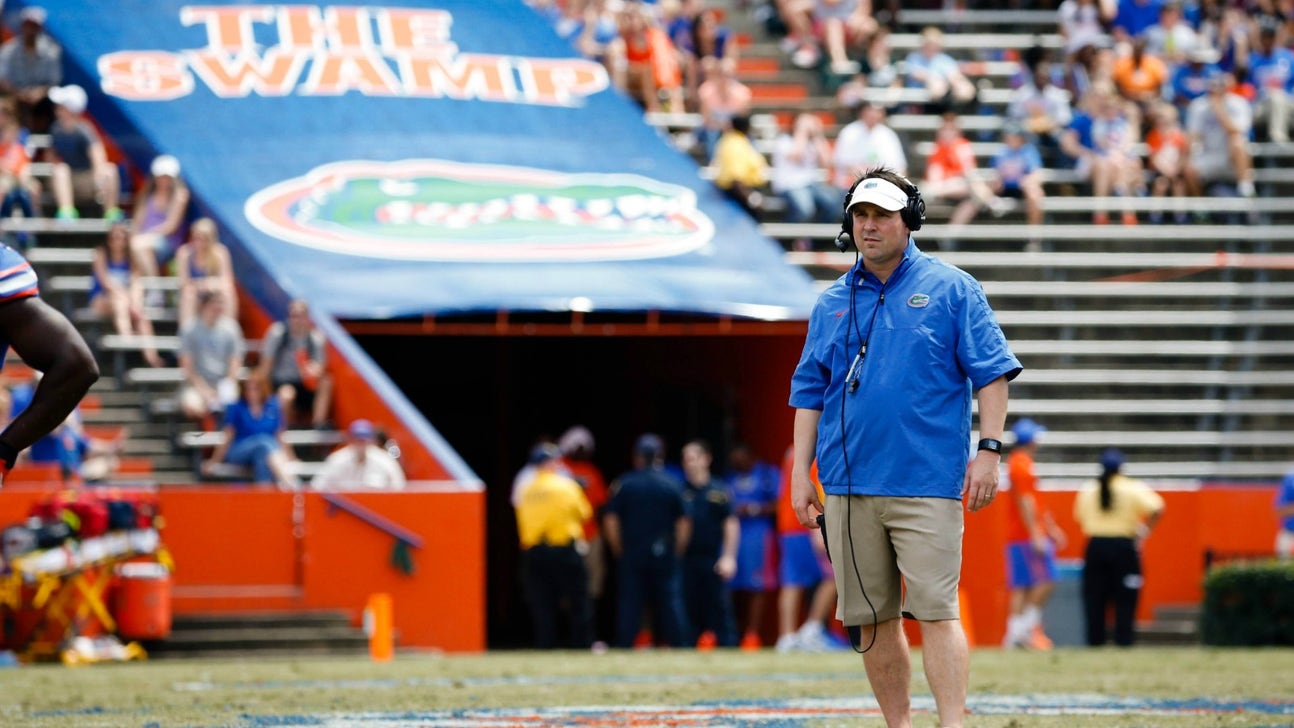 Gators coach Will Muschamp makes special delivery to Gainesville couple
Updated
Mar. 4, 2020 12:35 p.m. ET

GAINESVILLE, Fla. -- As Peggy and Douglas Zant chatted with a few visitors Friday afternoon about their passion for the Gators, someone came to the door.
The Zants were expecting their Florida football season tickets to arrive. And they did.
What they didn't expect was to see Gators head coach Will Muschamp at the door of their home located only minutes from Ben Hill Griffin Stadium.
"What in the world," Peggy wondered aloud when she recognized who the deliveryman was.
She quickly realized what was happening when Muschamp handed the couple their 2014 ticket booklet, marking the couple's 47th consecutive season of ordering season tickets.
In a goodwill gesture to honor one of the longest-tenured season-ticket holders in Gainesville, the UAA arranged for Muschamp to hand deliver the Zants their special package.
The Zants' daughter, Allyson, helped make it a surprise by working with UAA officials.
As her parents talked to Muschamp, Allyson watched the scene from nearby with a big grin across her face.
"I knew it was a possibility," she said of Muschamp stopping by. "I'm so happy for them. They are just regular people and longtime Gator fans. This is a good thing and I appreciate the University acknowledging longtime fans. They don't have any buildings named after them."
After Muschamp handed over the season tickets to the Zants, they invited him into their living room to have a seat, where he spent about 10 minutes talking to the couple.
The Zants have been season-ticket holders since 1968 and boosters since '71 after moving to Gainesville from Fort Pierce. Peggy Zant is a retired school teacher who spent much of her career at J.J. Finley Elementary, and Douglas Zant is a UF graduate who worked 38 years in the U.S. Department of Agriculture's Agricultural Conservation and Stabilization Service.
There is nowhere the Zants would rather be on fall Saturdays than in The Swamp.
"We start off early in the morning getting ready for the game," Peggy said. "We want to be prepared. We go over a couple of hours before the game. We sit through the entire game. Win or lose we sit there until the end. Sometimes we are the last ones on our row."
Muschamp took note of their passion for the Gators as he sat down behind a coffee table with dozens of various alligators enclosed in a glass case.
"My goodness, you guys have gators everywhere," Muschamp said.
"That's a lot of years right there, sir," replied Peggy.
While 77-year-old Peggy Zant did most of the talking with Muschamp, Douglas told him that when Muschamp was a kid growing up in Gainesville in the late '70s and early '80s that he served as a football official in the community.
"I probably officiated you and didn't know it," Douglas Zant said.
"You would have remembered it," Muschamp quipped.
When the Gators open Muschamp's fourth season Aug. 30 against Idaho, the Zants plan to be in their usual seats high on the west side of the stadium.
Down below, their season-ticket deliveryman will strap on his headset and get to work.
He told the Zants he'll try and look up their way.
"We appreciate you guys so much," Muschamp said. "We appreciate your loyalty to the University of Florida."
"We love it and I want you to make us love it even more," Peggy said. "I'm anxious for it to get started and we're going to win lots of games this year."
---