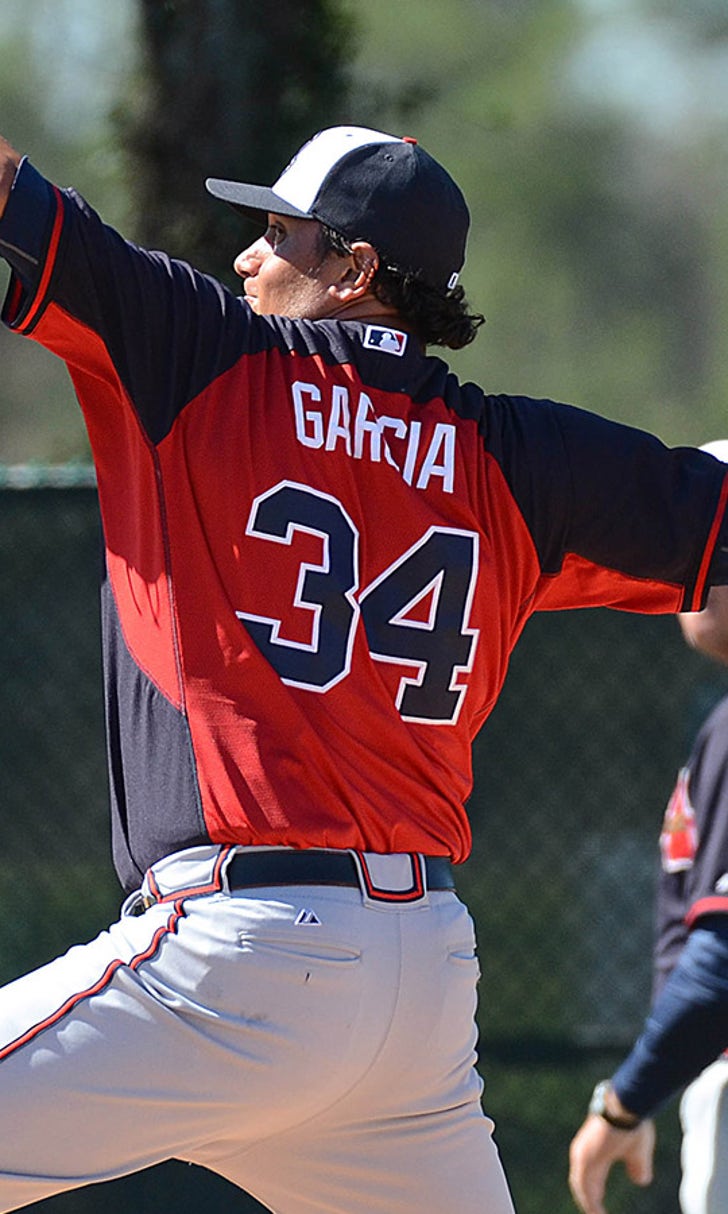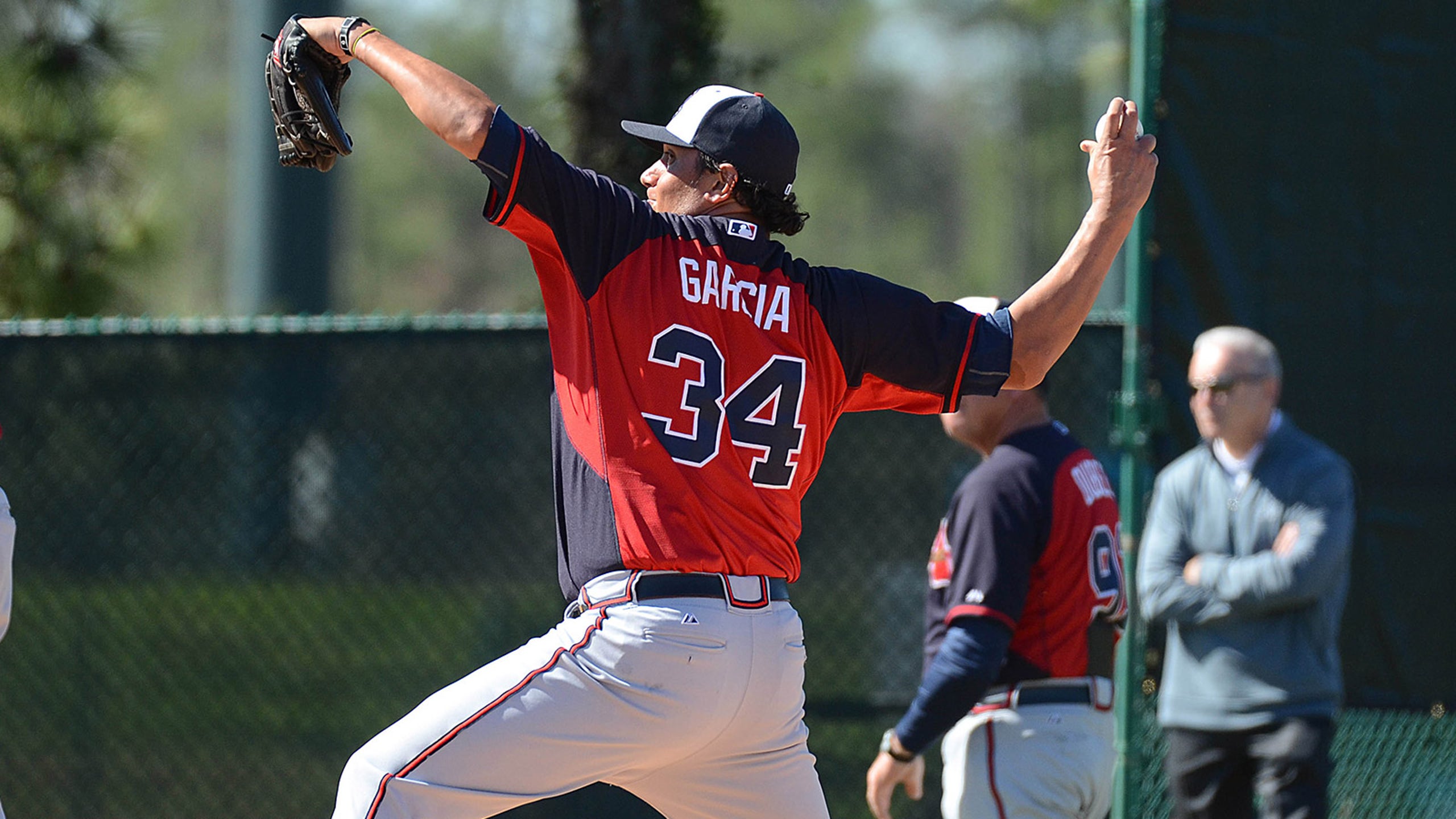 Garcia out to make Braves roster -- or walk away
BY Cory McCartney • February 18, 2014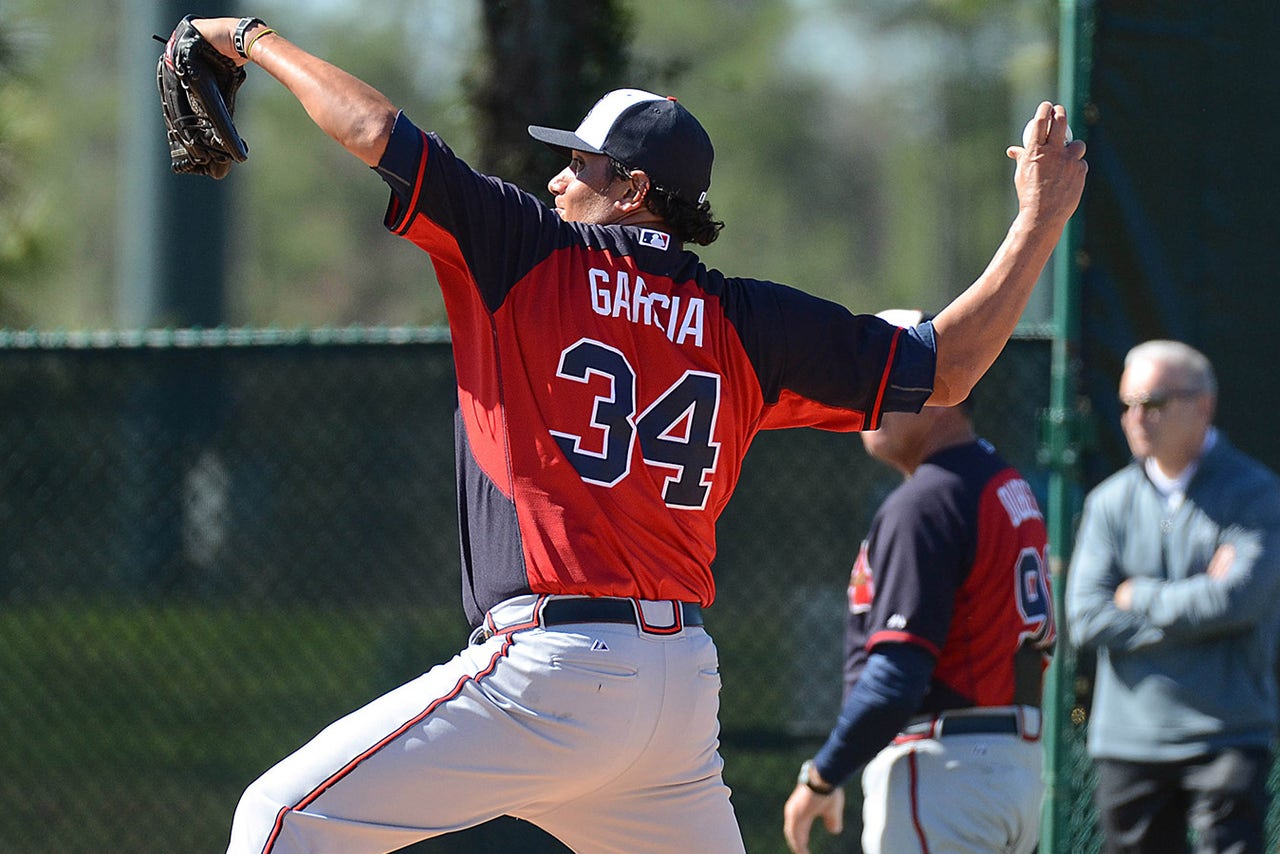 LAKE BUENA VISTA, Fla. -- He was once an All-Star and an American League ERA leader and started a World Series-clinching game. But that was more than a decade ago.
Freddy Garcia stood at his locker in the Braves clubhouse at Disney's Wide World of Sports complex, a veteran once again fighting for a spot on a roster. This is the new normal for the 37-year-old, a pursuit that he's made make-or-break with an edict that he won't accept an assignment to the minor leagues.
"I like it. I either make the team or I go home," said the Venezuelan, who in late January inked a minor-league deal worth $1.25 million. "I have to have a good spring and show them I can still get people out."
It's what Garcia showed Atlanta last season that's largely why he's in camp to begin with. Acquired by the Braves from the Orioles -- whose roster he made similarly off a minor-league contract -- for cash after he was designated for assignment. Called up from Triple-A Gwinnett, Garcia would go 1-2 with a 1.65 ERA, 1.02 WHIP and 20 strikeouts in 27 1/3 innings.
Most stunning was his start in Game 4 of the National League Division Series against the Dodgers, in which he went six innings and allowed two earned runs. He was in line for a series-extending win before the bullpen blew the lead.
He's not the same pitcher anymore, unable to consistently hit the mid-90s with his fastball. Once his crutch -- he threw it over 61.8 percent of the time over during his All-Star seasons -- it's dwindled to no more than 44.9 percent since 2010. He's now relying on splitters and a changeup that dips into the high 60s.
"I don't throw hard anymore," Garcia said. "I had to find a way to get people out."
The question is, where does a soft-tossing veteran fit in with this team, if at all? Garcia has said he will not accept an assignment to the minors if he fails to make the 25-man roster.
The rotation would appear to be solidified with Kris Medlen, Mike Minor, Julio Teheran, Brandon Beachy and Alex Wood. But there is the potential that Wood could open the season in the bullpen and Beachy has yet to show in-game that he's recovered from the complications surrounding his Tommy John surgery.
With offseason signee Gavin Floyd also coming back from elbow reconstructive surgery with a potential late-May-to-early-June return, Garcia could make a run at a spot as a veteran presence on a staff with no one over the age of 28. Given manager Fredi Gonzalez's penchant for players with long track records, that could help Garcia in a debate against rookie David Hale, who is 26.
More realistically, the Braves could put Garcia in the bullpen and move him into a starting spot either due to injury or to limit the 22-year-old Wood's innings -- as a long-reliever. It's a position he thrived in last season with a 1.04 ERA and 0.923 WHIP in 8 2/3 innings. The only hangup there is that the bullpen doesn't provide a lot of available options, either.
The Braves have strong long relief option in Anthony Varvaro (a team-high 73 1/3 innings in 2013) and Craig Kimbrel, Luis Avilan, David Carpenter, Cory Gearrin and Jordan Walden are all back. That could leave Garcia contending with the likes of Wirfin Obispo, Ryan Buchter -- or Wood, should he open as a reliever -- for one position if the Braves opt to go with a seven-man bullpen (it's worth noting that they spent much of last season with six relievers). And even that spot may be fleeting with Jonny Venters expected back by June after undergoing Tommy John surgery.
"There's five guys, a couple coming back from Tommy John and hopefully they can give me a shot or put me in the bullpen," Garcia said.
On a team that's locking up its young core, Garcia is the anthesis to the youth movement. His locker sits next to that of Julio Teheran, 23, who last Friday signed a six-year, $32.4 million extension, and is one away from that of Wood.
Still, the Braves have faith in Garcia. A start with the postseason on the line was proof enough of that and now he's looking to build off his resurgent time in an Atlanta uniform by making sure he stays in one. If not, it could mean the end of his 15-year career, though that's not a path he's ready to dwell on just yet.
"I'm feeling good, 100 percent and hopefully I can pitch like I did at the end of the year," he said.
---