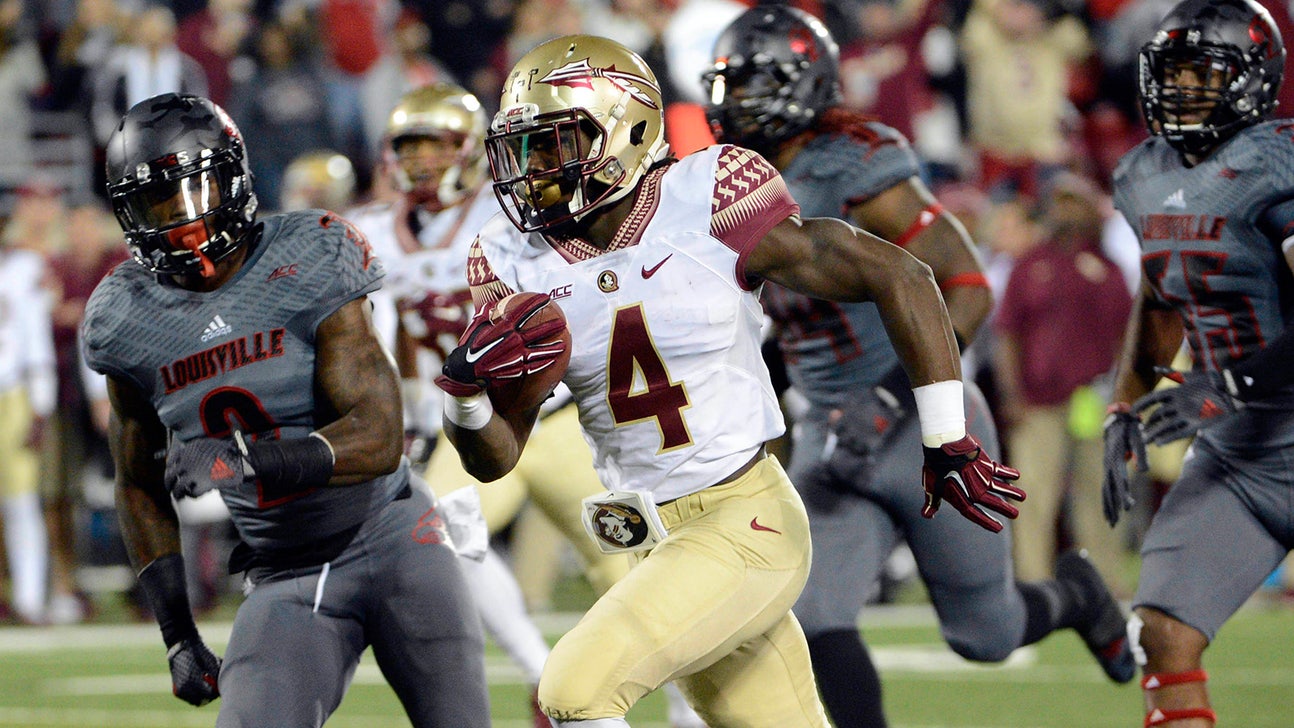 FSU mounts comeback win over Louisville to stay ahead in playoff race
Published
Oct. 30, 2014 11:54 p.m. ET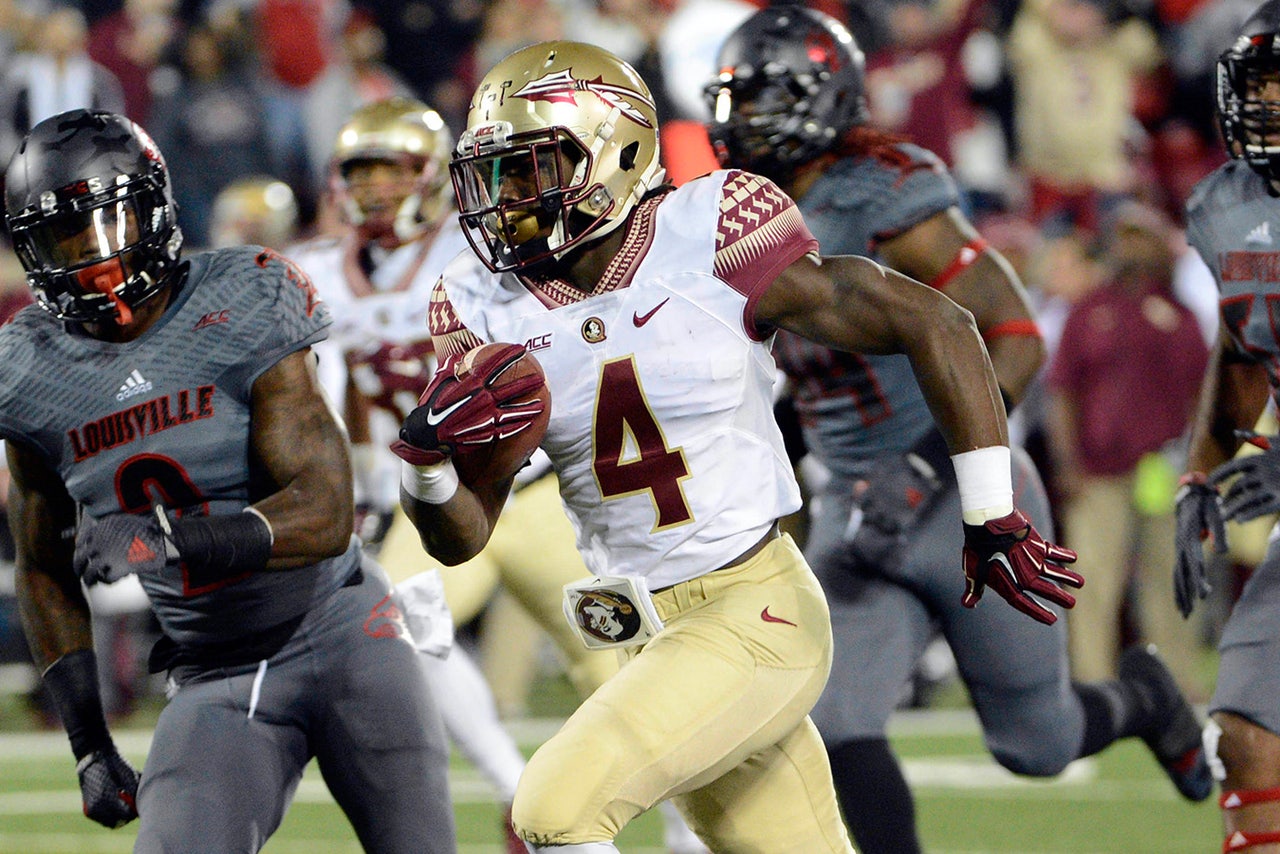 The defending national champions overcame a first half littered with mistakes to mount yet another come-from-behind win, beating the Louisville Cardinals 42-31 on the road on Thursday night. Reigning Heisman winner Jameis Winston set a career-high with three interceptions, but rebounded to piece together a resounding comeback, orchestrating five second-half touchdown drives that left Louisville stunned and Florida State in arguably the best position nationally to make the four-team playoff. Here are three thoughts on the Seminoles' pivotal win:
There is no great team, a la 2013 Florida State, in college football this season -- at least, one has not emerged and the regular season is past the halfway mark. Expectations for the Seminoles to recapture its dominance faded not long after its season opener against Oklahoma State, a hard-fought 37-31 result that would serve as a hint for what was to come. Entering the Louisville game, FSU was beating opponents by an average of 16.3 points per game -- this coming after running roughshod over its '13 schedule (39.5 points per game) like no other BCS-era champion ever had.
That's not necessarily a knock of this season's FSU team. It's not like any other national powers have avoided close calls and/or losses prior to this week. But it was worth pointing out heading into a game against a very good Louisville team, one featuring the best defense (at least statistically speaking) Jameis Winston & Co. had faced this season, in the most difficult environment they'd entered.
And they walked away with a win. Again. Somehow.
Aside from his three turnovers on a couple forced throws, Winston once again came up with enough big plays in the passing game to push his offense to the next level. He finished with 401 yards and three touchdowns, one coming on a miracle throw that went between three Louisville defenders before teammate Ermon Lane raced 47 yards to the endzone to give Florida State its first lead early in the fourth quarter.
The running game, led by talented freshman Dalvin Cook (nine carries, 110 yards, two TDs) provided an excellent complement as the offense rattled off explosive play after explosive play: each of FSU's final five touchdowns came on plays of 35 yards or more. The Seminoles finished with 574 yards of offense against the country's top-ranked defense.
This wasn't Florida State's first close call -- the Oklahoma State, Clemson and Notre Dame wins came by an average of 5.3 points at home or at a neutral site -- but it was their most unlikely win of the campaign. Facing its first true road test against a quality opponent (sorry, NC State and Syracuse), the balanced Seminoles erased a 21-point deficit to extend the team's winning streak to 24 games and remain College Football Playoff frontrunners.
The Seminoles (8-0, 5-0 ACC) defense drew comparisons to a M.A.S.H. unit entering Wednesday's game, for understandable reasons. Heading to a face a Bobby Petrino-coached offense down six linebackers -- count them, six -- is not a full-proof strategy by any means. And for the better part of the first half, the Cardinals took it to the champs in the running game.
Behind journeyman running back Michael Dyer, who put together arguably his best performance (134 yards, three TDs) since playing for Auburn in the BCS title game with Cam Newton, Louisville exposed FSU's lack of depth at the linebacker position on numerous occasions. The Cardinals walked into the tunnel at halftime with a 21-7 lead and 115 yards on the ground, averaging 6.8 yards per carry. They controlled the clock and the game up to that point.
That didn't quite carry over to the second half.
Florida State held Louisville to 48 yards rushing after the break, forcing redshirt freshman Will Gardner to try and beat them with his arm. He came up with some quality throws, but it simply wasn't enough to out-pace Winston.
It was just the fourth time in Petrino's head coaching career that his team rushed for 150-plus yards and still lost (42-4). Credit FSU's offense for the explosive comeback, but without the defensive adjustments to take the ball and the game out of Dyer's hands, there may not have been the opportunity. Louisville scored on just two of its eight possessions in the second half: Florida State's defense forced four punts and two turnovers over that stretch.
A road game at Papa Johns Stadium against the No. 25 team in the country was the toughest remaining game on Florida State's regular season slate.
Three of FSU's final four games come at home -- Virginia, Boston College and Florida -- while a decent Miami team (5-3, 2-2 ACC) awaits on the road. Even if/when Florida State advances to the ACC title game, the Coastal Division's best challenger at the moment looks like a one-loss Duke team, setting up a potential rematch of a game that the Seminoles won by 35 points a year ago. Florida State will be favored in every game from here on out for a reason.
Four of the top six teams in the nation still reside in the SEC West, meaning there's plenty of time for some self-cannibalism between the likes of Mississippi State, Auburn, Ole Miss and Alabama. Oregon still faces a so-so Stanford team that always gives it trouble, a road game against No. 17 Utah and a potential Pac-12 title game against likely No. 14 Arizona State, No. 12 Arizona (which already beat the Ducks) or Utah. TCU, Kansas State and Baylor each have at least two ranked teams on the docket right now. Notre Dame has yet to face Louisville, Arizona State or USC. Georgia has No. 3 Auburn and (probably) the SEC West champ in Atlanta. Michigan State still has a streaking Ohio State team and a potential Big 10 title game.
There's not a single top contender that wouldn't trade for Florida State's remaining schedule right now. It took awhile on Thursday night, but Jameis Winston and the defending national champs are still in excellent position for a title run.
---