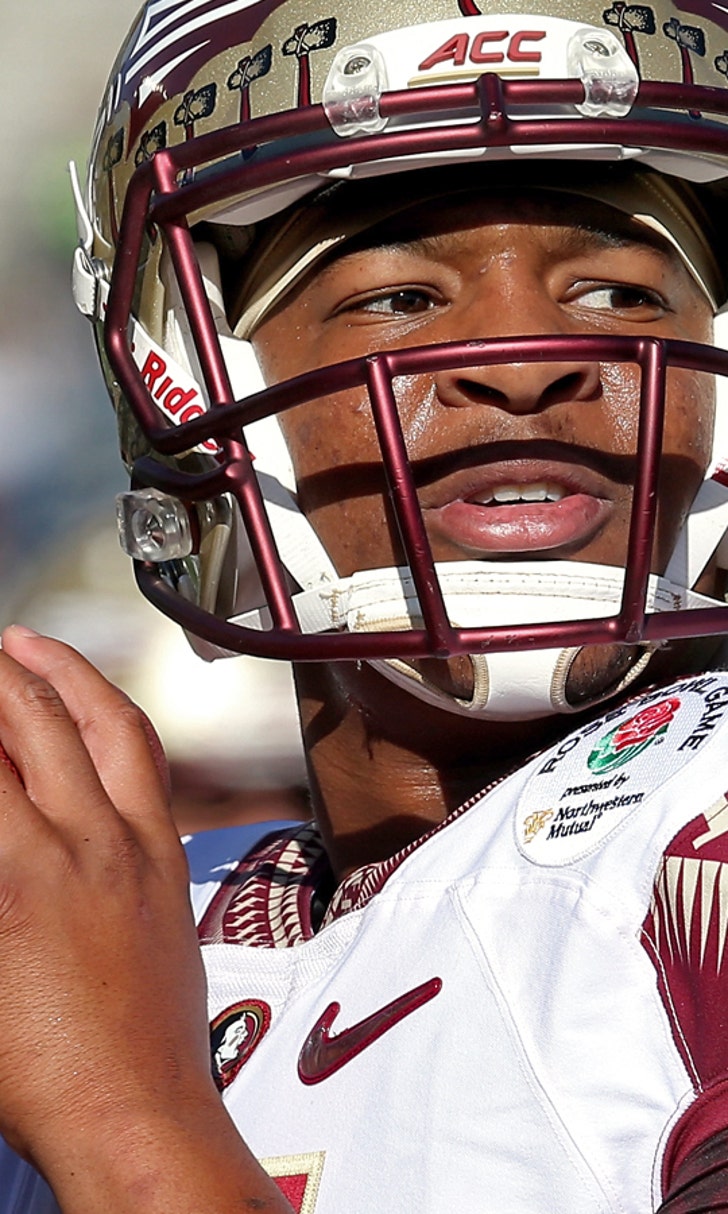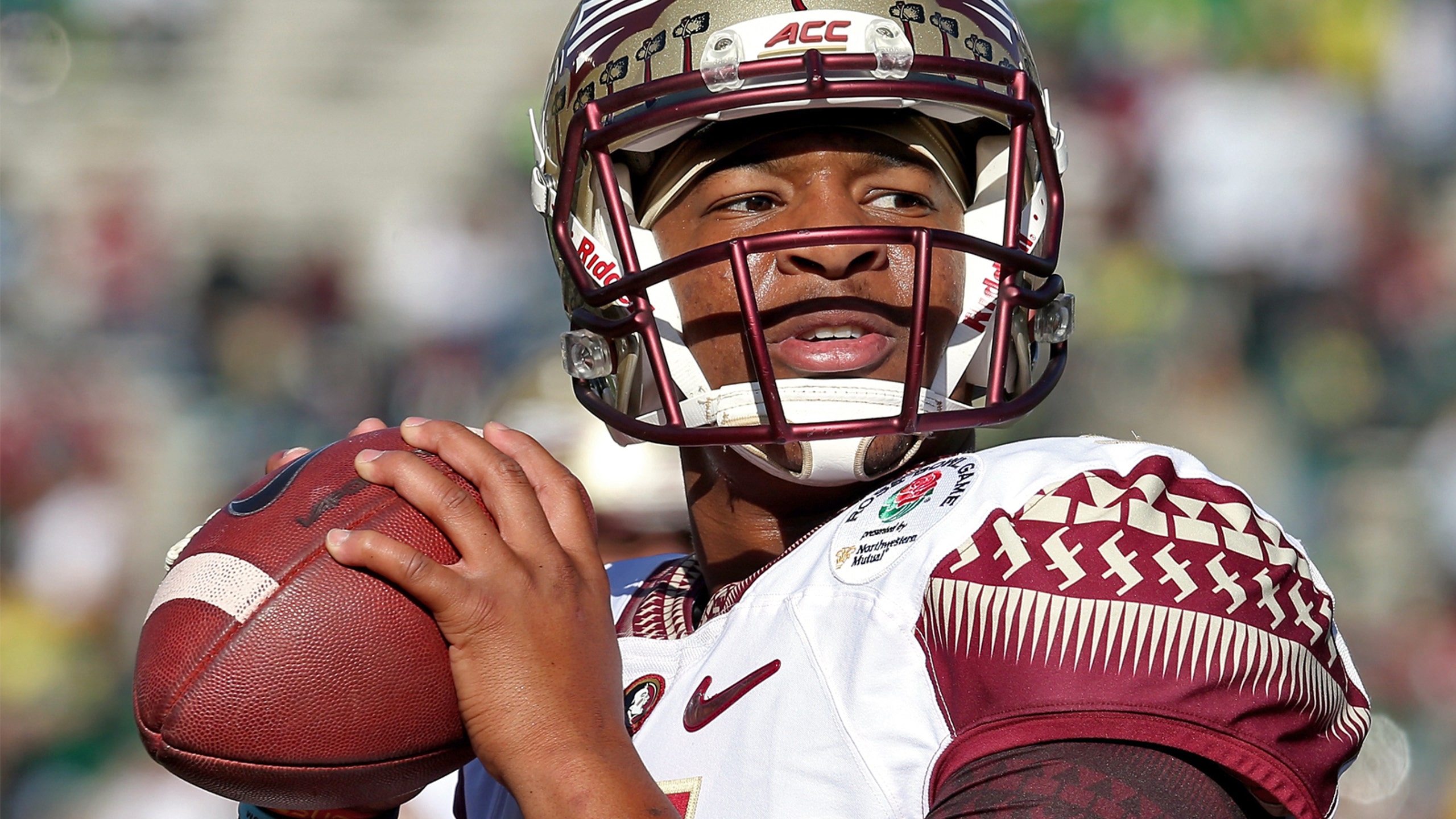 FSU has enjoyed solid production from 5-star recruits last 10 years
BY foxsports • February 2, 2015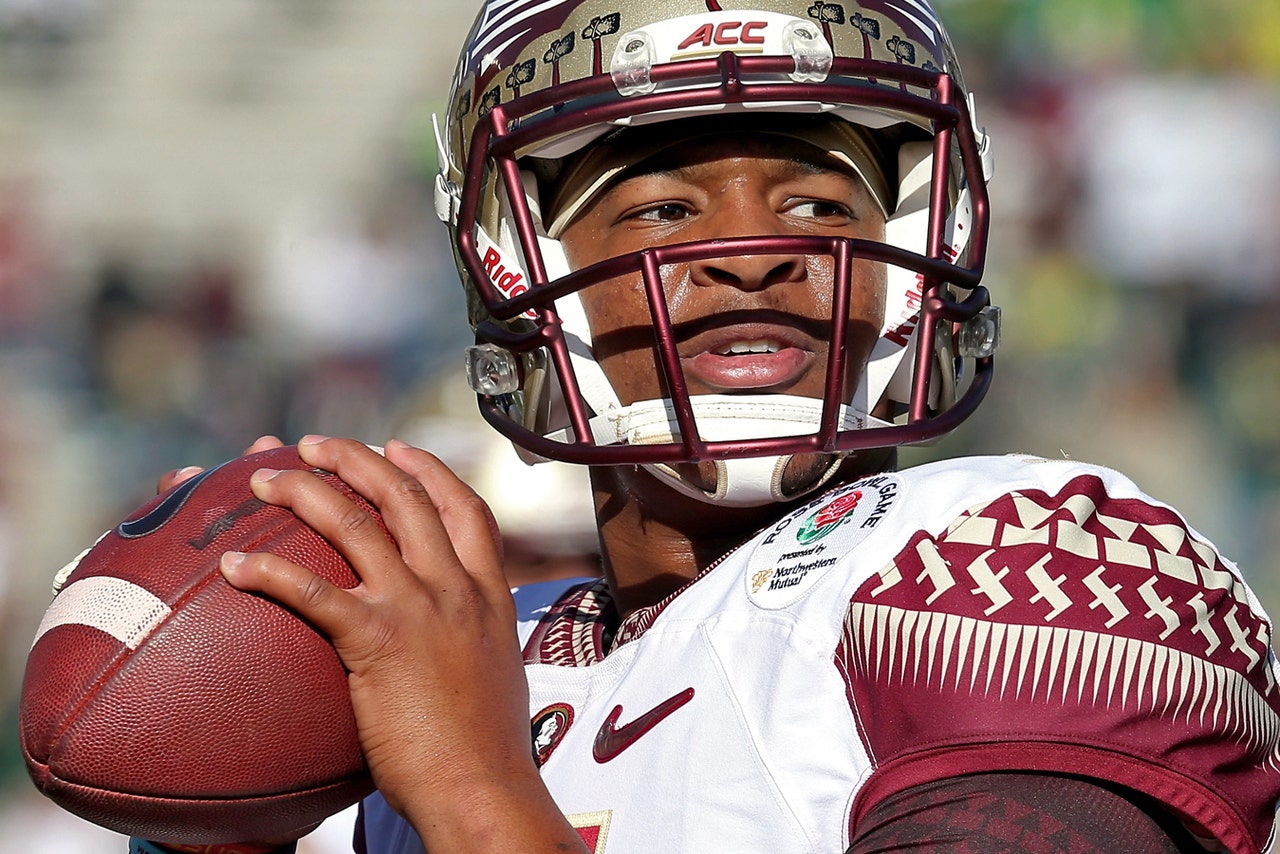 Florida State won 29 straight games, including a national title and three ACC championships, on the strength of strong relationships that coach Jimbo Fisher and his staff built with recruits.
The Seminoles made a habit of winning on Saturdays each fall but they also won in the living room as they convinced 21 Scout.com 5-star prospects to come to Tallahassee since Fisher was promoted to FSU's head coach in 2010.
Fisher signed Scout.com's No. 1 class in 2011 and followed that up with a 2012 group that included quarterback Jameis Winston, defensive end Mario Edwards Jr., defensive tackle Eddie Goldman and cornerback Ronald Darby. The 2013 class included a versatile playmaker in defensive back Jalen Ramsey, and last year's star was Dalvin Cook, who had a 1,000-yard rushing season as a freshman.
Florida State has already loaded up for 2015, landing three Scout.com 5-star prospects (defensive end Josh Sweat, safety Derwin James and wide receiver George Campbell) who have enrolled early. Another Scout.com 5-star, cornerback Tarvarus McFadden, is also an FSU verbal commitment.
Here's a look at the Seminoles' 5-star prospects since 2004:
2004
QB Xavier Lee: The state's all-time leader in career passing yards among prep QBs when he graduated, Lee was the named Mr. Football and came to Florida State with high hopes. Lee was mostly a backup in Tallahassee, completing just 51 percent of his passes for just 2,323 yards and 15 touchdowns. He was 2-4 in his six career starts.
2005
WR Fred Rouse: The nation's top recruit, Rouse caught six passes for 114 yards as a freshman. But he was dismissed by coaches for violating team rules, transferred to Texas-El Paso and then later landed at Concorida College in Selma, Ala.
RB Antone Smith: He was just 5-foot-9 and 190 pounds, but Smith ran hard. He ran for 819 yards as a junior in 2007 and 792 yards as a senior the following year. He has played for the Atlanta Falcons the past six seasons and had two touchdown runs in 2014 before a season-ending knee injury.
DT Callahan Bright: After signing with Florida State, he didn't qualify and went to a prep school and then junior college. He then played a season at Division II Shaw University, declared early for the draft but went undrafted and later played in the Arena Football League.
2006
S Myron Rolle: Considered the top defensive back in the class, Rolle was a freshman All-American after recording 77 tackles and a sack. He had 206 tackles from 2006-08, graduating early and studying at Oxford after being named a Rhodes Scholar. He played briefly in the NFL but is now in medical school.
2007
DE Brian Coulter: A junior-college star, Coulter signed with Florida State but never enrolled. He eventually landed at Missouri and had 73 tackles and five sacks in 2008 and '09.
2008
QB EJ Manuel: One of the top quarterback prospects in the nation, Manuel was first a fill-in starter for Christian Ponder and then a two-year starter in 2011 and 2012. He threw for 7,741 yards and 47 touchdowns in his career and also went 4-0 in bowl games. He was a first-round pick of the Buffalo Bills in 2013 and has thrown for 2,800 yards in his two NFL seasons but lost his starting job in the middle of the 2014 season.
LB Nigel Bradham: A hard-nosed player, Bradham started three seasons and finished with 306 tackles. He also had nine sacks, and Bradham was drafted in 2012 by the Buffalo Bills and had a career-high 104 tackles in 2014.
WR Corey Surrency: After playing two years at a junior college, Surrency caught 12 passes for 237 yards and four touchdowns in 2008. He was declared ineligible the following season because he had played for an amateur football team in Miami at the age of 21 before beginning his junior-college career (which by NCAA rule counted as a college season).
2009
DT Jacobbi McDaniel: After recovering from a broken ankle in October 2011 that sidelined him until 2013, McDaniel rehabilitated for the chance to play as a backup this season. He had 29 tackles last season and 94 in his career, and McDaniel landed with the Cleveland Browns as a reserve as a rookie in 2014.
2010
WR Christian Green: A high-school quarterback, Green at first struggled to make the adjustment to receiver. He had just 48 career catches.
CB Lamarcus Joyner: A star at both corner and safety, Joyner returned for his senior year and was a unanimous All-American. He had 69 tackles, 5.5 sacks and two interceptions in 2013, helping the Seminoles win the national title. Joyner was a second-round pick by the St. Louis Rams and had 40 tackles in 2014.
LB Jeff Luc: One of the nation's top prep linebackers, Luc was Jimbo Fisher's first big verbal commitment in December 2009. He had 23 tackles at Florida State in two seasons before transferring to Cincinnati. Luc had 43 tackles for the Bearcats in 2013 and then had a breakout senior year with 134 tackles and 6.5 sacks.
2011
DT Timmy Jernigan: A two-year starter, Jernigan improved with each season and developed into one of the nation's top interior linemen. He had 63 tackles and four sacks as a junior before declaring early for the NFL draft. A second-round pick by Baltimore, Jernigan had three starts as a rookie and had 23 tackles.
DE Tank Carradine: A junior-college transfer, Carradine was part of the nation's top pass rushing duo (along with Bjoern Werner) in 2012. Carradine had 80 tackles and 13 sacks as a senior and was drafted in the second round by San Francisco. After missing his rookie year to a knee injury, Carradine had 17 tackles for the 49ers in 2014.
TB James Wilder Jr.: Florida's Mr. Football, Wilder chose to play running back over linebacker at the college level. Wilder was a bruising runner who had 20 career rushing touchdowns before declaring early for the 2014 NFL draft. He didn't play in his rookie season.
S Karlos Williams: Considered the top safety prospect in the class, Williams saw most of his playing time in nickel and dime packages on defense and was a special-teams standout. His speed and size prompted Florida State to move him to tailback, where he ran for 1,419 yards and 22 touchdowns in two seasons.
OL Bobby Hart: Hart made 37 starts at FSU but graded out well late in the season (89 percent vs. Miami and 90 percent against Georgia Tech). A right tackle most of his career, he is now making the transition to guard for the NFL.
2012
QB Jameis Winston: The nation's top dual-threat quarterback, Winston won a Heisman Trophy and helped the Seminoles win a national title in 2013. The Alabama native threw for 4,057 yards and 40 touchdowns as a redshirt freshman, and he followed it up with 3,907 passing yards and 25 TDs in 2014. Winston was investigated on a sexual assault claim but never arrested or charged. He declared early for the NFL Draft in January.
DT Eddie Goldman: Considered the top interior defensive lineman in the class, the Washington, D.C., native chose Florida State on National Signing Day. He had just 19 tackles in 2013, but Goldman had 35 tackles and a team-high four sacks as a junior before declaring early for the draft.
CB Ronald Darby: The nation's top corner in the class of 2012, Darby was exceptional in man coverage and had 79 tackles in three seasons. He often played through injury and declared early for the NFL draft.
DE Mario Edwards: Scout.com's top defensive prospect in the class, Edwards had 28 tackles and 9.5 tackles for loss in 2013. He became an effective run-stopper, recording 44 tackles and a team-high 11 tackles for loss as a junior in 2014. He declared for the draft in January.
DE Chris Casher: After taking a redshirt in 2012, Casher has shown flashes of brilliance but not enough consistency. He has 53 tackles in two seasons at FSU.
TB Mario Pender: Considered one of the fastest players on Florida State's team, missed his first two seasons (sports hernia injury in 2012 and academically ineligible in 2013). Pender battled injuries in 2014 and ran just 41 times for 206 yards and four touchdowns.
2013
DB Jalen Ramsey: The Tennessee native made an impact from the first game of 2013, starting the season opener at Pittsburgh at corner before eventually moving to safety (49 tackles and a sack). In 2014, he moved to FSU's "star" position and made plays all over the field with 79 tackles, two interceptions, three sacks and 12 pass break-ups.
LB Matthew Thomas: After signing with Florida State in February, the Miami native wavered on the commitment and tried to back out and attend Southern Cal. But Thomas enrolled at FSU and played as a reserve before suffering a season-ending shoulder injury. He missed the first six games of 2014 due to suspension but had 26 tackles in the final eight games.
2014
RB Dalvin Cook: He enrolled early and became the first FSU freshman to surpass the 1,000-yard mark. Cook finished with 1,008 yards and eight touchdowns, averaging 5.9 yards per carry.
WR Ermon Lane: He earned some playing time in his first season, grabbing 13 passes for 267 yards and a 47-yard touchdown against Louisville.
LB Kain Daub: He enrolled early but instead took a redshirt in his first season in Tallahassee.
---