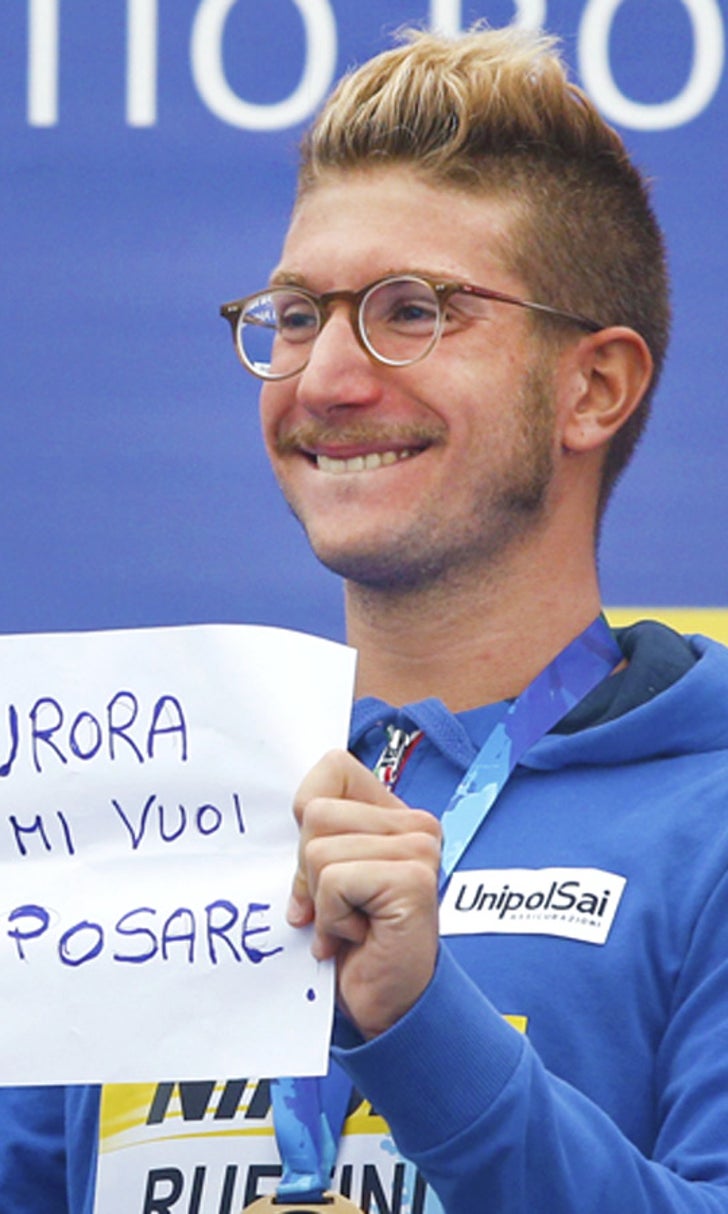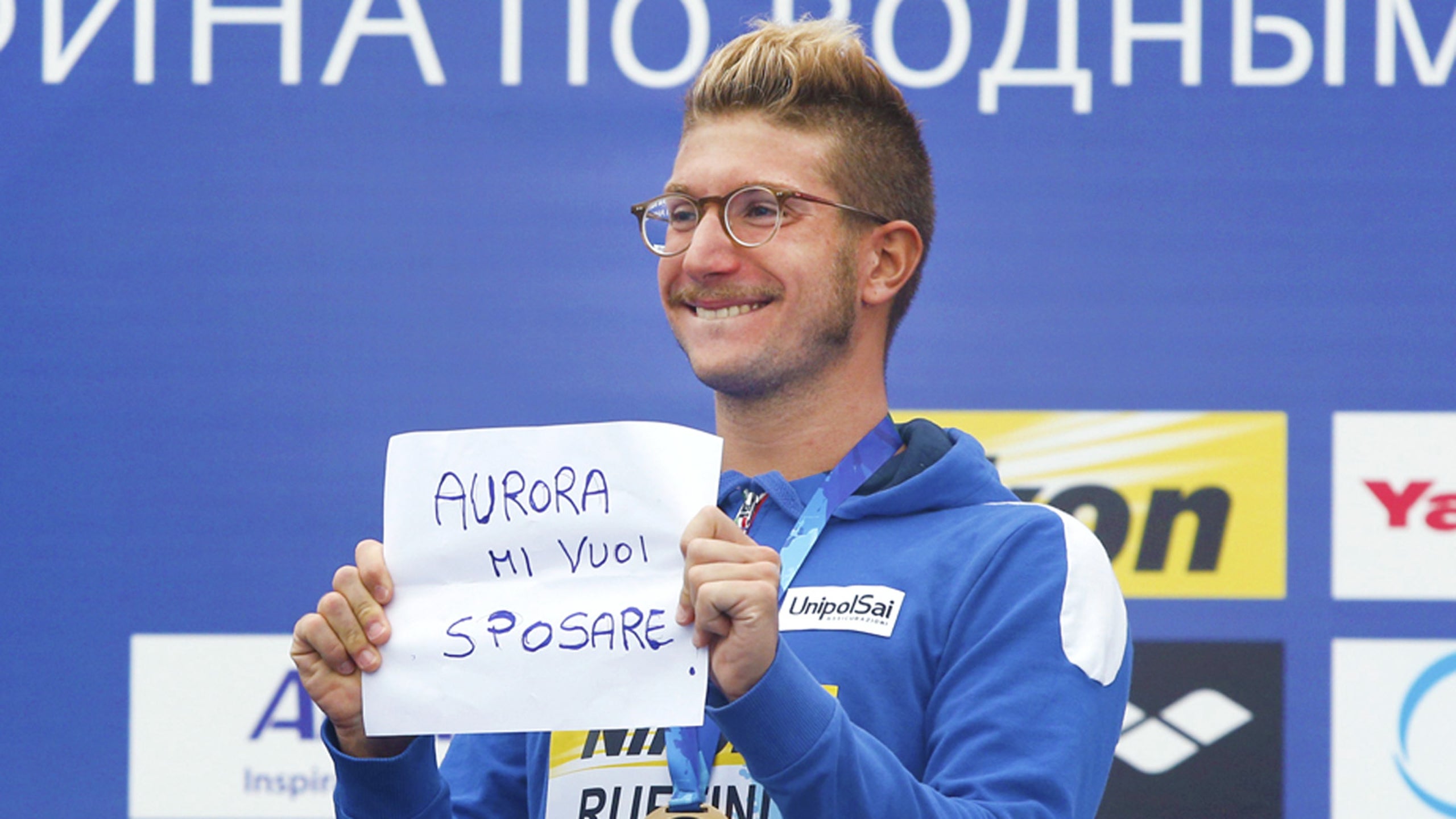 From Russia with love: Ruffini proposes marriage after win
BY foxsports • August 1, 2015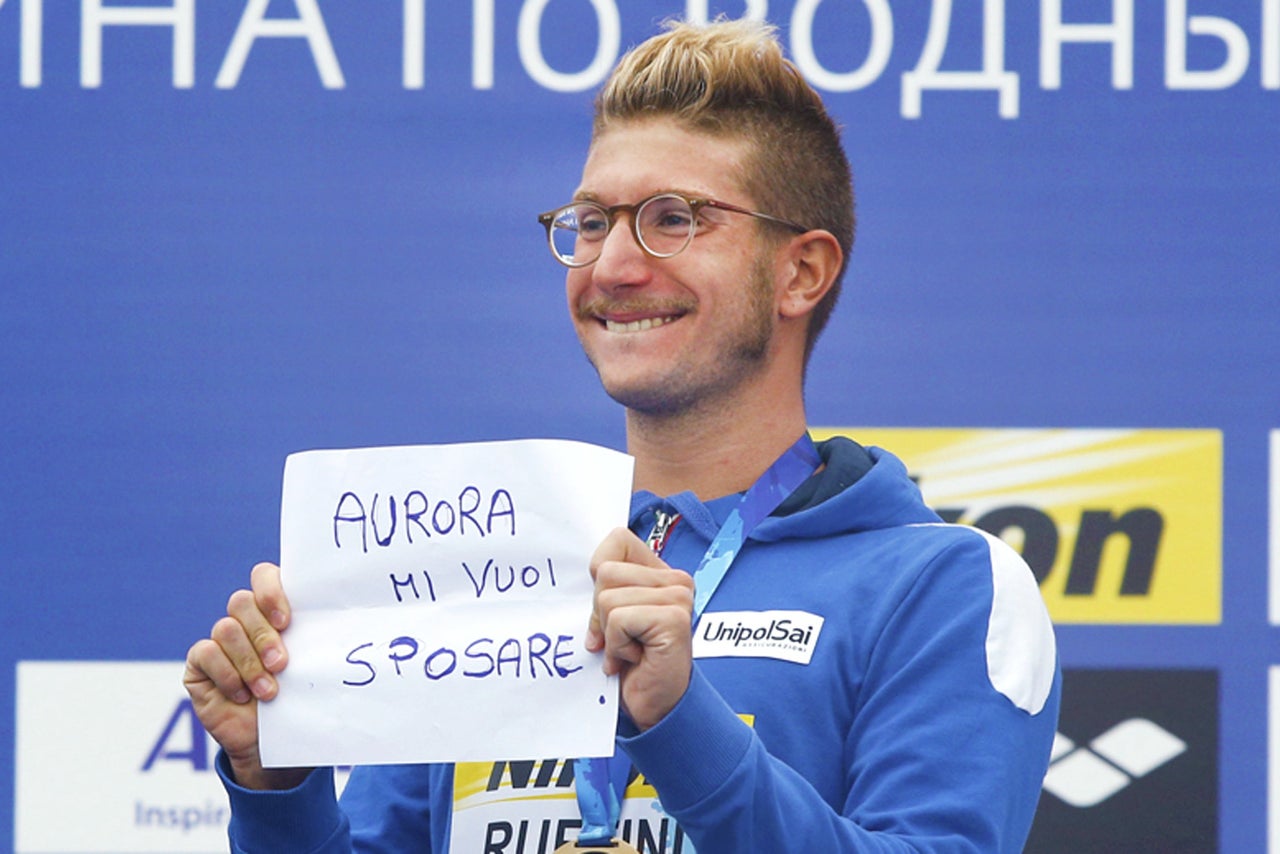 KAZAN, Russia
It started with nausea and vomiting. It ended with a winning strategy. And it was punctuated with a marriage proposal.
Simone Ruffini's victory in swimming's version of the marathon at the world championships involved a parade of emotions on Saturday.
Despite throwing up twice during the opening lap on the Kazanka River, the Italian eventually stood atop the podium under a light drizzle after the nearly five-hour 25-kilometer race, and held up a marriage proposal for girlfriend and teammate Aurora Ponsele.
She said yes.
"It was tough but it went well in the end," Ruffini said after completing 10 laps back-and-forth across the river in 4 hours, 53 minutes, 10.7 seconds.
It was a two-man race in the end with Alex Meyer but the American dropped behind on the final lap and took silver, 4.4 seconds behind. Bronze went to Ruffini's Italian teammate, Matteo Furlan, 1:27.3 back.
"Already at the second feeding station I told my coach I wasn't feeling well," Ruffini said. "I felt nauseous and I vomited twice. Once I calmed down, I just tried to continue in a nice routine and do one lap at a time.
"In the last lap the American and I agreed to attack together and I sent him ahead a meter in front of me. It's a risky tactic. I was worried he might betray me but when there were 400 meters to go he didn't have anything left."
After he got out of the water, Ruffini rushed over to embrace Ponsele. Then he surprised his girlfriend with his hastily scribbled proposal on paper. Ponsele put her fingers into the shape of a heart.
"That was quite a shock," Ponsele said, adding that the couple discussed marriage informally without making any concrete plans.
"We'll have the wedding after Rio," she added, referring to next year's Olympics in Brazil.
Meanwhile, Meyer was content with silver.
"Me and Simone Ruffini, we worked together as a team a little bit on that last lap and it pretty much guaranteed a top-two finish for both of us," he said. "Obviously, I would have liked to pass him on the last little bit, but I laid it all out and that's everything I had."
In the women's 25K, Ana Marcela Cunha won for Brazil with a dominating final lap.
With more than 5K remaining, Cunha and Hungary's Anna Olasz broke away from the pack before the Brazilian put in a final burst of speed to win in 5:13:47.3, with Olasz 26.1 behind.
It was Cunha's and Brazil's third medal of the championships after silver in the team event and bronze in the 10K.
Cunha celebrated by showing off her purple Mohawk, and said the victory will inspire her entering her home Olympics.
More than a minute behind in third was Germany's Angela Maurer, who turned 40 this week, and earned her eighth career worlds medal.
"I'll enjoy it of course because I don't know, maybe it's my last worlds," Maurer said.
As expected, Russia won the free combination in synchronized swimming, ending the competition with eight of the nine gold medals available. The other gold went to the U.S. duo of Christina Jones and Bill May in the mixed duet technical routine.
Russia was awarded 98.3 points. China took silver with 96.2, and Japan got bronze with 93.8.
"We did everything to the max. Everything that we thought of, we did," Russian swimmer Mikhaela Kalancha said, adding the team's main aim was to please longtime coach Tatyana Pokrovskaya, the mastermind behind more than a decade of Olympic dominance. "She said we didn't let her down, and that's the main thing."
Russia performed in front of judges who wore waterproof ponchos and were holding umbrellas to avoid being soaked by rain. The synchro events were at a soccer stadium with a temporary roof over the pool. Rainwater poured onto the poolside area through a gap between the temporary cover and the permanent roof over the stands.
Women's 3-meter springboard diving also went according to expectations with a Chinese sweep of the top two spots.
Shi Tingmao won with 383.55 points, He Zi took silver with 377.45, and Tania Cagnotto of Italy got bronze with 356.15.
---