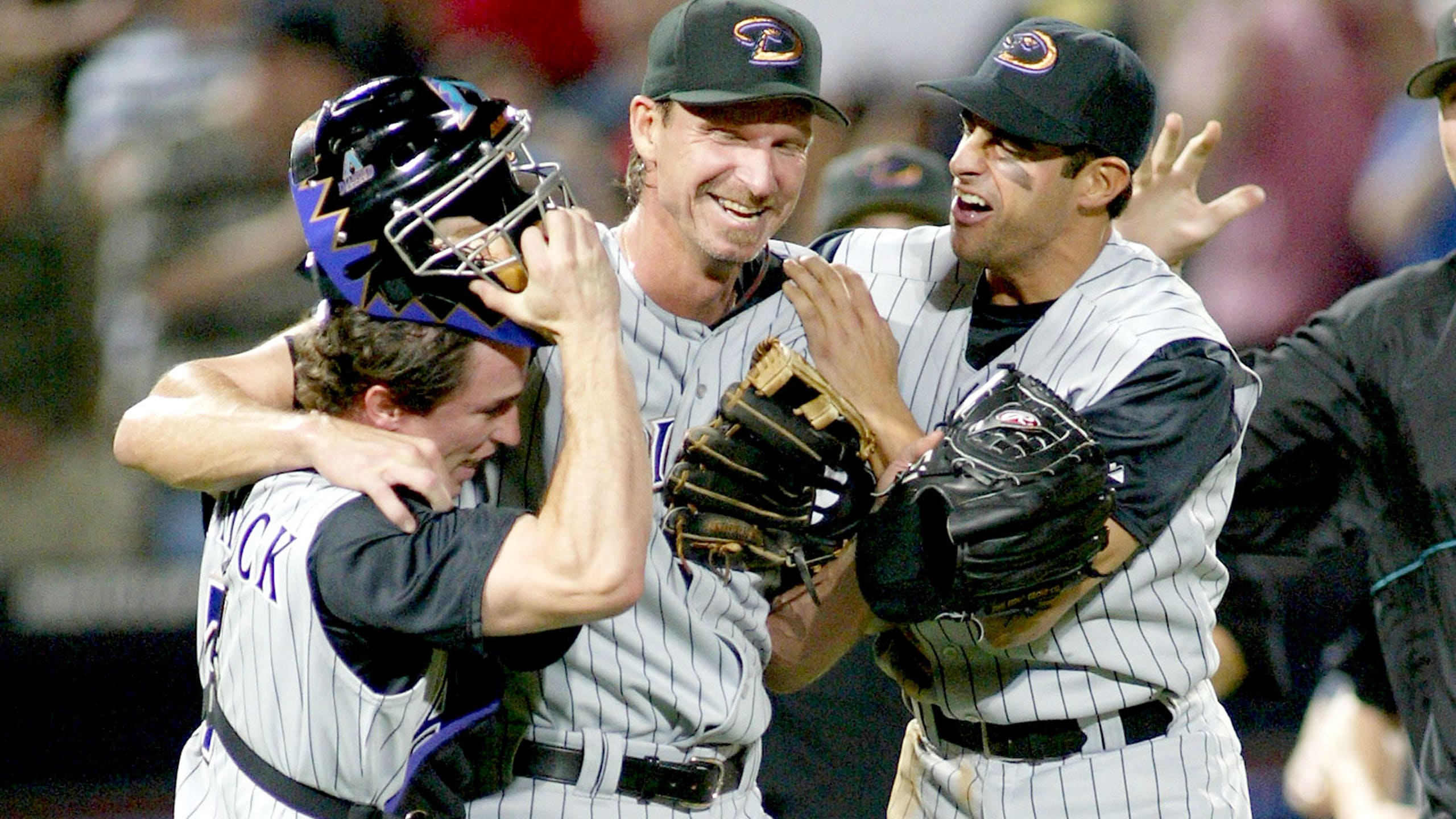 From Braves draftee to Hall of Fame, Johnson's dominance never guaranteed
BY Zach Dillard • July 26, 2015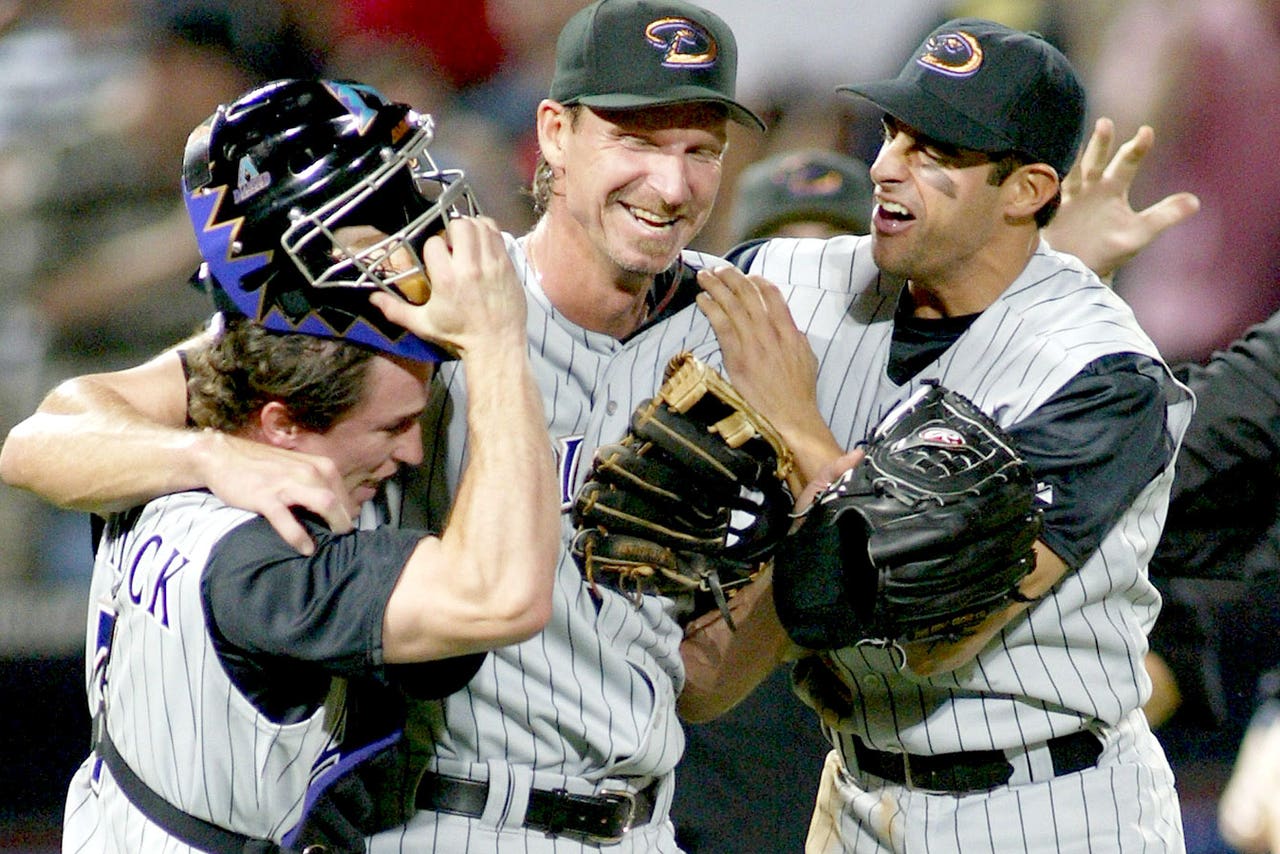 COOPERSTOWN, N.Y. -- Pitching has made its comeback in Cooperstown. Five former Cy Young winners have dominated the Hall of Fame storylines over the past two summers in Cooperstown -- a nod to a special collection of arm talent and the shadow the Steroid Era is casting over many of that generation's top hitters -- and, other than diminutive ace Pedro Martinez, each inductee has ties to the Atlanta Braves.
The Maddux-Glavine-Smoltz triumvirate accounts for the vast majority of Braves-related anecdotes, for good reason, but dominant left-hander Randy Johnson's ties to the organization conjure up hypothetical scenarios that border on the absurd. Johnson, once considered a talented prep project out of California, was taken by the Braves in the fourth round of the 1982 draft, but he declined Atlanta's $50,000 signing bonus offer, opting instead to play for the late legendary coach Rod Dedeaux at Southern Cal.
"It was a big decision. I got drafted, I believe, in the fourth round by the Atlanta Braves. I didn't have as many control issues in high school because I really hadn't hit my height spurt at that point," Johnson said. "Then I had a few colleges that were interested in giving me a scholarship, so when I eliminated going and playing for the Braves it was a matter of deciding where I wanted to go."
Johnson's early-career struggles with command are well-documented.
Reaching his 6-foot-10 frame while playing college ball, he developed an overpowering fastball that had scouts flocking to Los Angeles, but he was unable to control it. As Johnson noted in a 1985 LA Times article written during his junior season at USC, "I thought this was going to be my year. I thought I'd win 11 or 12. I was 5-0 as a freshman and 5-3 last year. I've never had a losing record. I'm throwing better this season. My mechanics are good. But I'm pitching in spurts. I'm not consistent like you have to be in pro ball. I'm giving up too many walks." That was The Big Unit at 21 years old.
Every MLB team passed on the USC junior in the first round of the 1985 draft. His drafting team, the Montreal Expos, took him in the second round but demoted then traded him two years into his major-league career.
There were never any guarantees with the imposing left-hander.
"High school was difficult for me to pitch at. College was extremely difficult for me to pitch at. I wasn't consistent in high school. I wasn't consistent in college," Johnson said of when he figured out how to pitch. "I wasn't consistent for four years in the minor leagues. It wasn't until about my third year in the major leagues."
Still, Johnson's decision makes for an interesting alternate reality for the Braves. If he signs that $50,000 bonus, would the Braves have afforded Johnson the same patient approach they needed at times for Glavine and Smoltz? Does Atlanta spend another high draft pick on a left-hander (Glavine) in the 1984 draft? Would the team have still acquired Smoltz via the Doyle Alexander trade with Detroit in 1987?
And perhaps the most interesting what-if scenario: If the Braves remained patient and featured that hypothetical young staff -- a group featuring three future first-ballot Hall of Famers already hitting their respective strides by the 1992 season -- does the franchise still see the need in spending money in free agency on a reigning NL Cy Young Award winner? Would that money have been spent elsewhere? Butterfly effect-type theorizing.
Things turned out well for all parties involved. The Braves, even without Johnson's terrifying fastball-slider combination, developed one of the greatest rotations baseball has ever seen. Johnson put his Expos troubles behind him when moving to Seattle, figuring things out on the fly for one of the '90s iconic teams, before frustrating opposing lineups while pitching for the Astros, Diamondbacks, Yankees and Giants.
Johnson went on to win five Cy Youngs -- one in the American League with the Mariners, then four straight in the National League on a ridiculous run with the Diamondbacks -- in overwhelming fashion. He posted the highest strikeout rate in MLB history among pitchers with at least 1,000 career innings. (The only full-time starter ahead of him is 28-year-old Rangers ace Yu Darvish.) He led the Diamondbacks to the 2001 World Series title. With his major-league career delayed by college baseball and command issues, he might have become the game's final 300-game winner by pitching until he was 46 years old.
(And yes, he plagued Atlanta along the way. An 88-win Braves team found Johnson to be almost unhittable in the 2001 NLCS: The Diamondbacks went on to capture the title and the Braves have yet to win a playoff series since. Johnson returned to Atlanta in 2004 and pitched his perfect game.)
In turn, he towered over opposing hitters in both stature and reputation.
"I can't say for kid TV," Hall of Famer Wade Boggs said when asked about facing Johnson. Boggs managed two hits in 19 career plate appearances against The Big Unit. "Probably the most intimidating guy that I ever faced -- well, probably Nolan was No. 1 and Randy was probably No. 2. I'm just glad everybody wasn't 6-foot-10 or else I wouldn't be here today. ... I think if you look back at the All-Star Game when he faced John Kruk, that's the part: You don't know when he's gonna throw one over your head.
"He was The Intimidator. That was his ace in the hole. You don't know when that ball's going to be over your head. And then next thing he does he paints you three on the outside corner and strikes you out."
In this pitching-centric atmosphere surrounding the Hall of Fame, these types of comments are common from all-time greats that faced the 6-foot-10 lefty. The oft-cited reference point from opposing left-handers hitters was that his pitches looked like they were coming from first base. He was, in short, a nightmare on the mound. Another left-handed Hall of Famer, George Brett, remembered his own Randy Johnson experience.
Playing in his final game at Seattle's Kingdome in 1992, Royals manager Hal Mcrae told his veteran third baseman, then in his second-to-last season, that he could take a breather against the Mariners with Johnson on the mound. "He said, 'Don't worry you'll never have to face him again,'" Brett recalled.
As the game headed into the ninth, though, the Mariners ace continued to deal. The Royals trailed 3-1 when Mcrae approached Brett for the second time, this time telling him that he should prepare to pinch-hit if the first two Kansas City hitters are retired. They were.
"I've been sitting there in the dugout in my sneakers the whole day so I have to go in (the clubhouse), put on my spikes. I'm loosening up, swinging a leaded bat and sure enough I come walking out of the dugout and (Johnson is) standing on the mound one out away from a win. He's huffing and puffing, and I get up there and he throws the first pitch about 98 miles an hour, outside corner on the knees," said Brett, who posted a career .091 average against Johnson. "Wally Joyner didn't play that day either. He's in the on-deck circle. And I turn around and I went, 'Wow.'"
Brett eventually made contact. He sent the ball toward the fence -- not home run distance, but enough for Mariners outfielder Jay Buhner to jump for the catch at the Kingdome's high right-field wall. Game over.
Johnson struck out 10 in a complete game effort. As Brett walked back toward the dugout, he learned that he was, in some small way, a hero.
"Wally Joyner came up to me afterwards," Brett added, "and says, 'You know what? When Jay Buhner jumped for that ball, I jumped with him. Because I didn't want to face him either.'"
Johnson took the stage on Sunday afternoon as an Arizona Diamondbacks legend, his Hall of Fame peers sitting behind him. It could have been a Braves hat on his plaque. Then again, it could have been an Expos or Mariners cap, or any other team that wanted to sign Johnson during the crucial 1998 free agency period. His career was bound for twists and turns.
A day prior to the ceremony, Johnson said that he did not grow up a baseball fanatic. Instead, he became a self-taught historian during his career, researching the former players he was then being compared to. Names like Warren Spahn kept popping up.
"I started understanding as I stuck around the game long enough and was lucky enough to do some of the things that I did and be compared to my peers that have played many years before me. It was fun to Google these people's names, because they played well before I was even born, and get knowledge of what they did," Johnson said. "It really put things into perspective."
---