Freeway Series Game 2 notebook: Santiago's breaking ball to Uribe
Published
Aug. 6, 2014 3:44 a.m. ET

LOS ANGELES -- Angels' right-hander Hector Santiago was the heavy underdog coming into Tuesday's game at Dodger Stadium, tasked with trying to out-duel the reigning National League Cy Young Award winner. 
Turns out, he didn't do so bad. He just made one mistake -- a pitch he hung up to Juan Uribe for a three-run homer. But those would be the only three earned runs he would give up, as he gave up one unearned run in the sixth. 
"Outside of the breaking ball that he hung up to Uribe early, Hector pitched well," said manager Mike Scioscia. "He made some good pitches against a tough lineup and really, I think, kept us in the game."
"For the most part, I've been getting away with them," Santiago said. "I've kind of had a mistake at least one time in a game and been getting away with it. Tonight, he just got me."
Santiago's outings have typically gone that way -- punctuated by one costly mistake and followed by a strong recovery. But that's just baseball, his manager said. Even Kershaw, who once was perfect, made his share of mistakes Tuesday night, and the Angels have been encouraged by Santiago's recent performances.
"Pitchers aren't perfect," Scioscia said. "Sometimes you're going to throw a breaking ball and maybe it's going to hang and it did to Uribe. That's the way it is."
What's encouraging to Santiago is that he will remain in the rotation for the time being. The guessing game of wondering whether or not he will go back into the bullpen or make his next start can sometimes effect a pitchers' preparation, both mental and physical. Santiago, like many long-relievers that double as starters at the back of the rotation, takes the approach to always be ready when called on but knowing he'll pitch every fifth day can alleviate some of that pressure.
"Tomorrow I can come in and do my workout and not worry about whether I'm doing too much because I don't know if the next day I'm going to be in the bullpen or not," he said. "I'm definitely looking forward to having that four-day rest and getting into a groove where everything is back to a normal starter's routine."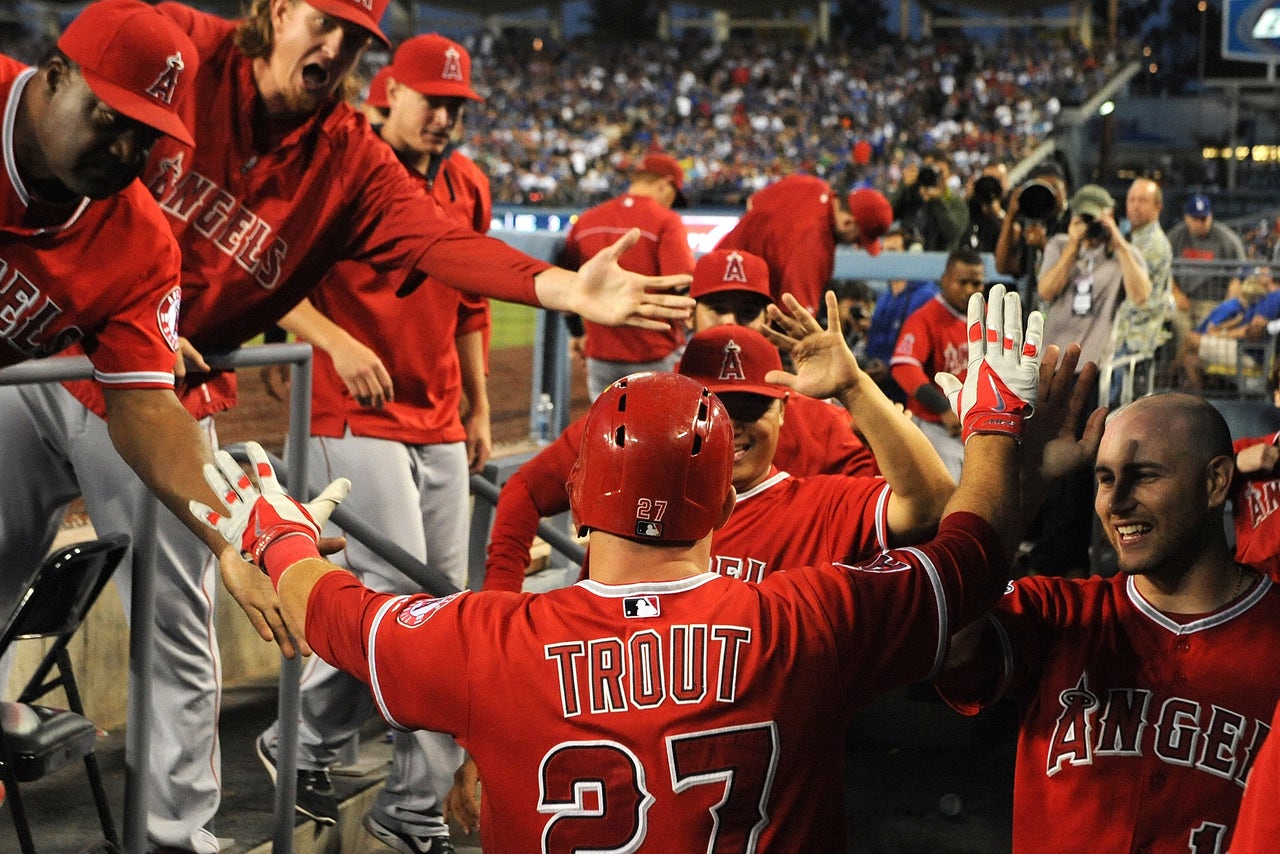 Mike Trout vs. Clayton Kershaw: Breakdown of Freeway Series matchup.
Yankees of the West
The Freeway Series has had a feeling and a buzz similar to that of the 1990s and early 2000s Subway Series between the New York Mets and the New York Yankees.
Except this time, there was Mutumbo Finger Wagging instead of shards of bat being thrown.
"This is very similar because we're so close. This is the best buzz out here, I think," said Dodgers' manager Don Mattingly, who played in a few of those himself. "The San Francisco (Bay Bridge Series) is good but I think this is the best out out there. This really has got kind of more of that inner city energy to it."
Funny, because since the Dodgers have come under new ownership they've been nicknamed the Yankees of the West as they've spent exorbitantly, much like Mattingly's former club. This year, Los Angeles opened the season with the highest payroll in the MLB, outspending the Pinstripes by just $31,482,713. 
"I think the Dodgers would be the Yankees," Mattingly said. "Honestly, because of the tradition and history of their club. I think we'd be the Yankees."
How Angels lost (8/5): Error by Freese scores winning run for Dodgers
Ethier gets his due
Outfielder Andre Ethier has been the odd man out as the Dodgers' outfield remains crowded and in his few at-bats, the two-time All Star hasn't made much of a case for himself to play in the outfield over some of the others (.241 average this season). 
But as a pinch-hitter Tuesday, he supplied the heroics driving in the winning run. The moment his teammates mobbed him was the moment everyone had been waiting for.
"He's been a really good teammate and handled this very well," Mattingly said. "I know I appreciate that, the way he's handled it professionally. I think we're at a point that we've, kind of, hopefully thrown all the egos out the door and just trying to win games in the pennant race. It was good to see him come through in that situation."
---
---