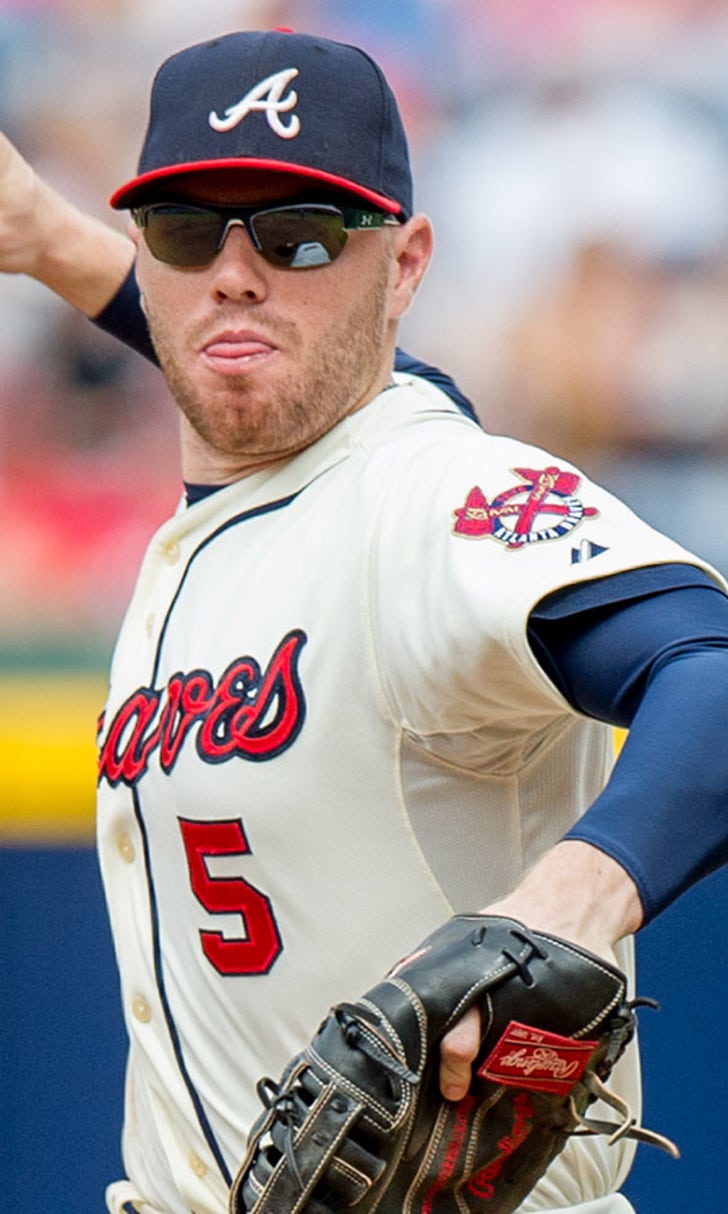 Freeman's underrated defense puts him among elite
BY Cory McCartney • February 22, 2014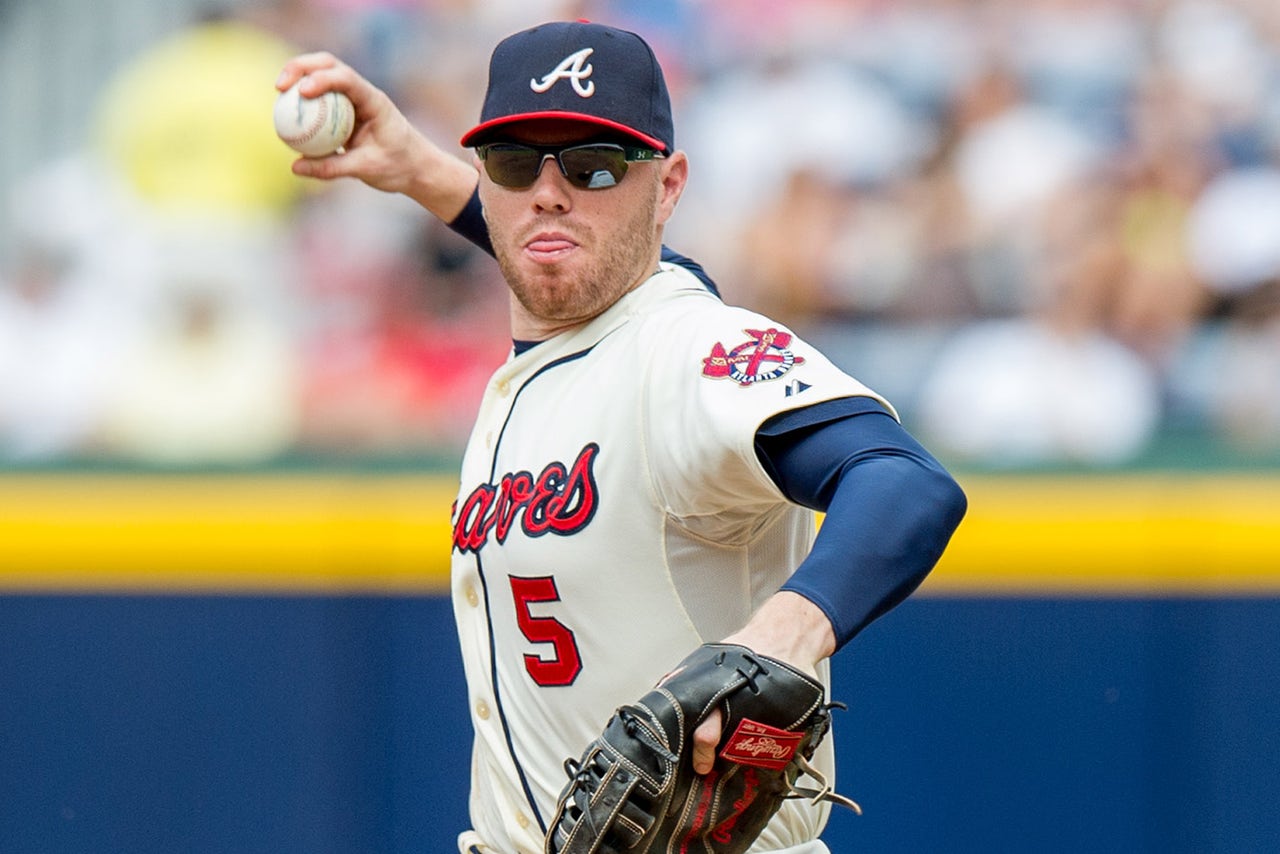 LAKE BUENA VISTA, Fla. — There's more to Freddie Freeman than hugs, just as there's more than an offense that helped propel the Braves to the National League East title last season.
There are the splits and an underrated level of defense that manager Fredi Gonzalez believes puts his 24-year-old first baseman in the same class as the likes of the Diamondbacks' Paul Goldschmidt and Reds' Joey Votto.
"He makes our infield better at first base because of the way he works the bag," Gonzalez said Saturday at Atlanta's spring training complex. "I always kid him about Votto winning a Gold Glove and Goldschmidt winning last year, 'Hey, I want Freeman to win it one year.'"  
Defensively, Freeman had the best season of his career in 2013, ranking second among all first basemen in scoops (55), third in plays made on balls hit outside of his zone (39) and fifth in defensive runs saved (seven). Freeman also, for the first time in his four seasons, finished in the positive end in UZR (2.4) and UZR/150 (2.6), figures that were 11th and 10th, respectively, at the position.
"It's always been a work in progress," Freeman said of his defense.
Still, it's hard to argue with the company he now keeps.
Last season's numbers place in line with the game's best all-around first basemen, with Goldschmidt and Votto joining Freeman as the only players in the top seven in scoops, OOZ plays and DRS.
"First basemen, especially guys like him that are so gifted offensively, people don't realize what he does over there," said third baseman Chris Johnson. "He's a great first baseman. That's one of the great things about being an infielder, having a first baseman who really wants to be the best defensive first baseman in the game."
Which brings us to those splits.
At 6-foot-5, 225 pounds, Freeman is astonishingly flexible, consistently stretching out so far to make a catch that he resembles a gymnast or the stuff of a late-1980s Jean-Claude Van Damme flick.
"You don't expect a big man like that to do the splits the way he does," said second baseman Dan Uggla. "There's balls that shouldn't be picked that he picks out of the dirt for us and it's really awesome to see."
Unfortunately, there's no offseason regimen or tumbling background that's the cause of Freeman's feat. As he puts it, "I've always been able to do that."
He never played first base before signing with Atlanta as a second-round draft pick in 2007 out of El Modena (Orange, Calif.) High School, playing shortstop and third base his entire life.
But Freeman's transition has been relatively swift. After posting minus-2 DRS, a minus-11.8 UZR and minus-13.4 UZR/150 in his first full season (2011), he climbed to three DRS, minus-2.0 UZR and minus-2.1 UZR/150 in '12, before it all clicked with last season's elite numbers.
"I just keep working hard and keep doing the same thing," Freeman said. "Obviously, you want to get better every year and hopefully that trend continues."
There is still room to improve, as he committed 10 errors last season — eight fielding and two throwing — his second consecutive year in double figures. But it's an all-around game that went a long way toward the Braves making him the face of the franchise as it awarded him with the longest and most lucrative contract in its history at eight years, $135 million.
As Freeman sees it, his job lies in simply making those around him look better, like last July when he showed off his surprising athleticism.
Cincinnati's Brandon Phillips hit a chopper to Andrelton Simmons and the shortstop whipped the ball to Uggla. Tagging second base, Uggla seemingly delivered the throw late as he tried to avoid a sliding Votto. But Freeman, reaching out and dropping into those aforementioned splits, made the play and ended the inning.
"They've got a lot of responsibilities: they have to catch it and throw it across the diamond," Freeman said. "All I've got to do is catch the ball, so the joy on their faces when I pick a ball when they make a tough play is definitely rewarding."
Or as Uggla puts it: "I'm very thankful that he's over there. He probably saves me three, four, five errors a year, if not more than that."
The Braves have claimed Gold Gloves by first-timers in each of the last two seasons, with right fielder Jason Heyward winning in 2011 and last year it was Simmons (who also took the Platinum Glove as the single best defender in the NL).
Could Freeman be next in line?
"I think he's got a lot of tough first basemen in front of him, but he plays a Gold Glove-caliber first base," Gonzalez said. "I always try to edge him to do that."
---
---