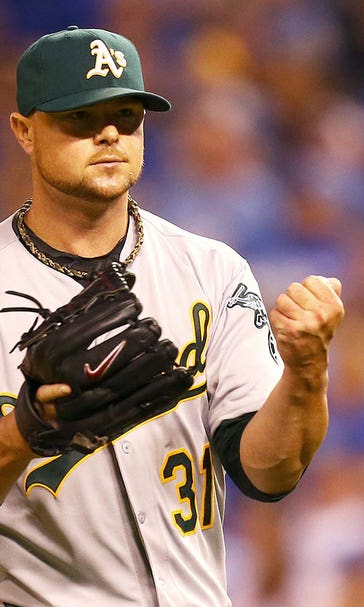 Free-agent market has been strong-- and pitchers stand to benefit
BY foxsports • November 23, 2014
If the early signings are any indication, the free-agent market is going to be rather robust.
Another example: The booming interest in left-hander Jon Lester.
Lester's agents, Seth and Sam Levinson of ACES, surely are pleased that the market is turning out to be everything they envisioned.
Teams continue to jump into the bidding, and at least six are interested, according to major-league sources.
The known suitors — the Red Sox, Cubs and Braves — all have met with Lester. The Cardinals, Royals and Blue Jays reportedly are in the mix. And while the Yankees deny interest, the entire sport is bracing for them to snap to attention, as they always do.
The ultimate outcome is anyone's guess, but the three biggest free-agent contracts thus far — Russell Martin (five years, $82 million); Victor Martinez (four years, $68 million) and Billy Butler (three years, $30 million) all have met or exceeded expectations.
So, the chances of Lester commanding at least an impressive six- or even seven-year deal seem increasingly good. And the strong interest also is a positive development for the other top two starters on the market, righties Max Scherzer and James Shields.
Scherzer turned down a six-year, $144 million offer from the Tigers last spring, the largest proposal ever rejected by any pitcher entering a walk year, according to his agent, Scott Boras.
"That took a serious set of stones," Boras told FOX Sports' Jon Paul Morosi. "No pitcher had done that before."
Lester, too, bet on himself, turning down a much lesser deal from the Red Sox — four years, $70 million.
He's going to win. Scherzer is going to win. And all of the pitchers rated below them are going to win, too.
The market looks strong.
---