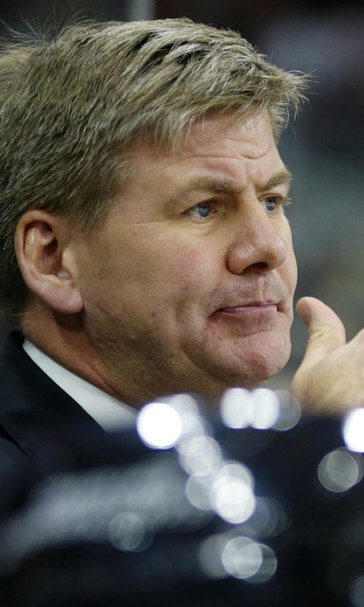 Francis, Peters assess first season in charge, talk Canes' future
April 16, 2015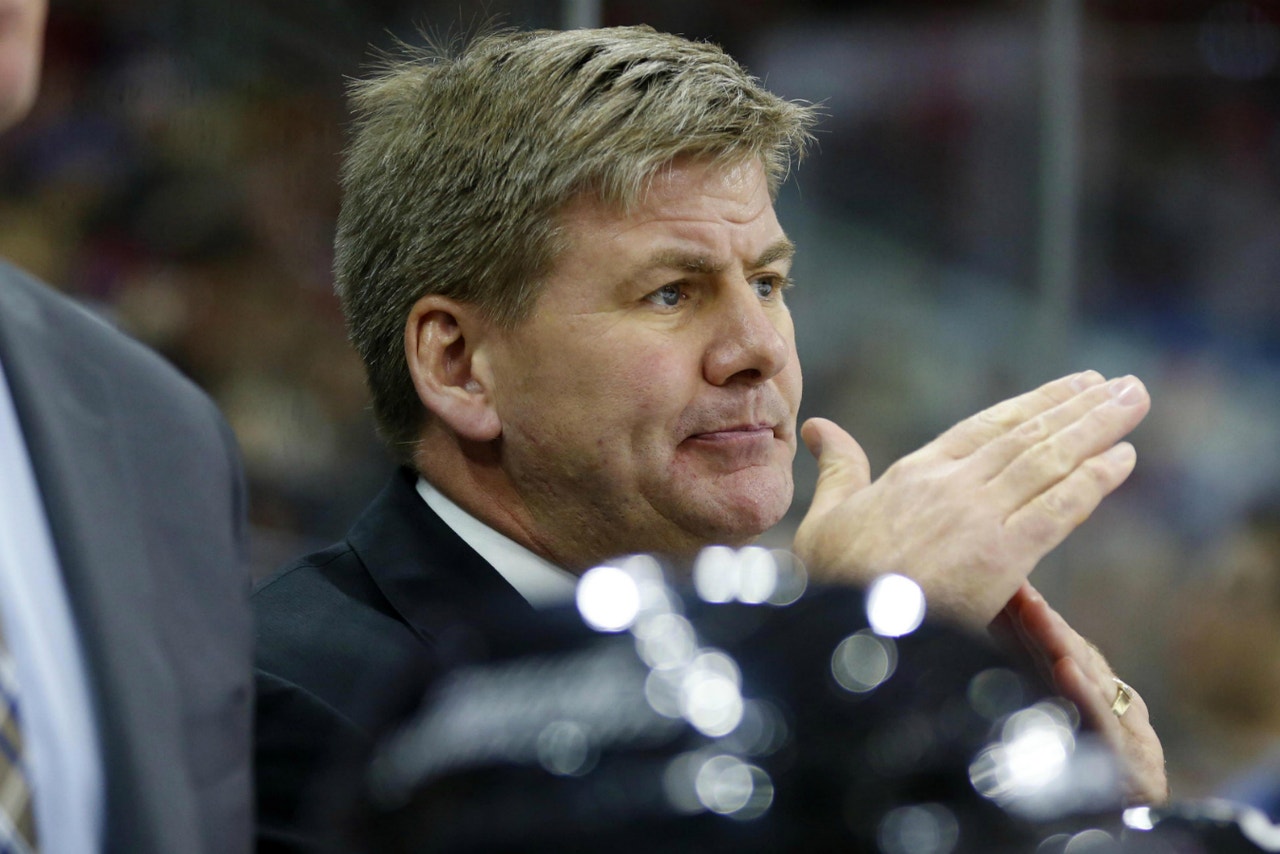 RALEIGH, N.C. -- Regime changes often require time and patience.
For the Carolina Hurricanes, though, first-year GM Ron Francis and first-year head coach Bill Peters have been quick to hamer home the following point.
There's no room or time for complacency.

The duo addressed the media on Wednesday, reflecting on the transition season.
In past years, the solution has been -- according to the higher-ups -- a tweak here, a tweak there, small changes to ensure a team that, in their eyes, was close to making the playoffs.
Bad luck was bemoaned, as with injuries and such, and close games.
After six years of not reaching the postseason, though, the excuses have begun to ring hollow with the fans. Both Francis and Peters understand that.
So now, they'll attempt to balance out excuse-making with legitimate assessments -- reasons why the team missed the playoffs ... and reasons why the Hurricanes may be primed for a turnaround.

To Francis, it boiled down to three things: Carolina's 0-6-2 start, early injuries (Jordan Staal was out until late December with a broken leg, while Jeff Skinner missed the first few games with a concussion) and the team learning a first-year head coach with a new system.
"I think part of it was we're building a staff and implementing a new system, and I'm not sure that we trusted it out of the gate and executed because of that lack of trust. Certainly we had injuries. That's not an excuse. Everybody has injuries. But I do think it was unique in the sense that we had high-end guys out, and all at the same time," Francis said.
"But I think really what it did was expose our lack of depth in the organization, and it's something we talked about last year. We need to build that foundation and that base so we can sustain those kinds of things."
One sign of progress: The Hurricanes realize the injuries -- from previous years -- exposed a problem with the franchise, rather than just being victims of bad luck.
Peters' challenge was especially steep, but he never complained publicly. New system. A rash of injuries. Playing in a rugged conference. In short, it was hard to get continuity with the 'Canes.  
When the team started 0-6-2, that certainly didn't help.
"When you're not getting results, not getting wins, that makes it harder to get the buy-in," Peters said. "All of a sudden when you're teaching, you go to training camp and you have your guys and the next thing you know, you've got guys in the minors and they're not with you for two weeks and then they're back in and they're playing good minutes, valuable minutes, and you're on the road, that was tough.
"I can't lie to you. That was very hard. It allowed us to get off to a poor start, unfortunately."
There were a lot of things that improved statistically -- power play, penalty kill, shots against -- but perhaps the biggest area of improvement was the team's so-called "compete" level, a popular term in hockey circles.

In the 2013-14 season, there were too often games where it appeared the team had given up after catching a few bad breaks early. The current club never wavered, though.

"The biggest complaint I heard was that the team wasn't competing on a night-in, night-out basis. I think if you watched our team play all season long, there was maybe a handful or less games where you felt your team wasn't working hard," Francis said.
"I think the compete was there. At the end of the day we're still not good enough and it's still 40 losses. We have to fix that...We have to look at everything, core included, and we have to make decisions. There's areas that we have to get better in. We talked about guys buying in to what we're doing and being committed to what we're doing, and if we feel there's somebody that's not in that program, we certainly have to look to move them to make our team better."
It remains to be seen whether this team can make big moves, moving forward. The defending champion Kings missed the playoffs, meaning the Hurricanes lost a first-round pick in this year's draft, after the acquisition of Andrej Sekera. (They'll get a first-round pick next year.)
But the organization has acquired 10 picks in the upcoming draft, and five of the top 95. There's a lot of youth in the organization already.
Francis's objective from here: Finding the best mix of youth (to build the foundation) and veteran guys (free agency or trades).
"When we talked last year about trying to build this thing right for the long-term and start from the foundation, obviously the picks are great, as long as we do our job and draft the right players and develop the players and give them the best opportunity to be NHL players," Francis said. "Will we consider moving some of that to get players? Will we consider moving some of that to move up or move back? Yeah. We'll look at all those options as we move forward. We have to."
There were two areas mentioned the most in the postmortem, and those were addressing holes on the back end (created, somewhat, through trading away Tim Gleason and Andrej Sekera) and figuring out a way to score 5-on-5.
"We've got to look at our back end. We've got to do some things there. Unfortunately when you get to the trade deadline and you've got (unrestricted free agents) and if you can't reach a deal, you can't lose them for nothing and that's what we did," said Francis.
"We've got to find the answer for why we couldn't score goals. Is that just because we just weren't good enough? Is that because we had off years? Is that because we weren't gritty enough to get to the tough areas? We'll spend time assessing that and trying to correct that going forward."
Peters also mentioned the lack of a veteran presence on the back end, something that was particularly glaring in late February. Young players played well at times, but there weren't a lot of experienced leaders to guide them.
As for goal scoring, tough decisions need to be made in this realm. Captain Eric Staal is the longest-tenured Hurricane left on the roster, and one of only two performers from the 2006 Stanley Cup team.
Staal's contract (which includes a no-trade clause) runs out after next season. His younger brother, Jordan, was traded to the Hurricanes so the two could play together, and Eric Staal loves Raleigh and wants to stay.
"I do know that as everybody is well aware of, he has a no-move clause, so he does control a lot of that. But he does like it here, wants to be a part of the solution, wants to get back to having that playoff success that we've had in years past," Francis said. "So we'll have those discussions over the summer and see which direction they take us in."
Alexander Semin was brought in to be a goal-scorer, too. He made $7 million and scored just six goals, his lowest NHL output ever.
It was revealed earlier in the week that Semin had a wrist injury prior to the start of the season. Peters and Francis also insisted Semin wasn't a negative presence in the locker room, but Peters acknowledged the challenges a 31-year-old player faces.

"I don't anticipate the league having more offense next year. I really don't. Kids are bigger, stronger, quicker, faster. They come in at a younger age ready to play and they're hungry. So the amount of backside pressure, the tracking, the checking, whatever you want to call it is at an all-time high," Peters said.
"So if you're not able to make plays at pace and play at the pace of the game, I don't know how you can play at the pace of the game....Everyone knows where the area of emphasis is on their game that they have to get better, stronger, quicker. The older you get, the harder that becomes."
The crowds at PNC Arena aren't what they used to be, though. And even the players notice the influx of opposing teams' fans, many of whom live in the area.
The only reason the fans have to hope that things will change is that there is new leadership, so there's a freshness to Francis' approach that he has to hope will resonate. He's his own man, but he said last season that he's aware his hiring was perceived as more of the same, since he came from inside the organization.
He takes a lot of fan feedback, though, and he wants to make sure that the fans stay patient. He could fix things quickly and get the team back to the playoffs for a year, maybe, but the future wouldn't be good. And he knows that's the most important thing.
"I think people in this market hopefully understand where we're at and where we're trying to get to. I think the people that I've talked to this season liked the changes that were taking place, liked the fact that we were in hockey games every night, and the quality of hockey on a lot of nights was very good, whether it was in our building or on the road," Francis said.
"So I think they see that, that we're moving in that direction. I just hope that they stay with us as we go along this process, because I do feel that we're moving in that right direction."
And there won't be a quick fix.
Francis said prior to the start of this past season that he felt the team was good enough to make the playoffs. At times, they looked that way. At times, they looked anything but.
But when asked if the team was "close" -- a phrase repeated far too often in years past -- or if it was building, Francis struck a chord between the two.
"We had a good enough team that we felt we could compete for a playoff spot. We didn't get a chance to do that right out of the gate," Francis said. "But I think the message from Day 1 was always to make sure that we have the long-term vision of this franchise in mind. We have to do what's right for this organization in the long term.
"I don't want to get to the playoffs for one year and then miss it for four years. When I get to the playoffs, I want to make sure that we're there each and every year going forward. That's always been our vision and our plan to develop it that way."
Peters is a part of building that, too. The players seem to like both him and his system, and they'll come into next season a step or two ahead of last year when they were still learning both it and him.
And he's a fiery competitor. When the Hurricanes beat Pittsburgh late in the year, headlines used adjectives to describe his team that he took personally -- and he hopes his players did too.
"Guys want to win in this market. They know how good a hockey town this really is. We have passionate fans. We're not happy about where we're at," Peters said.
"All those articles when we beat Pittsburgh and it says 'Penguins lose to lowly Canes' or 'hapless Carolina beats somebody' -- they're all in my desk. I know it motivates me. It's going to motivate our guys.
"I'm going to play the best 12 forward, the best six (defensemen), and the best goalie coming out of camp that are going to allow us to get off to a good start. I don't know if a guy's in the last year of his deal. I don't know if he's making $700 or $7 million.
"The guys who deserve to play that are going to allow us to get wins coming out of the gate are going to be wearing the Carolina Hurricane uniform on the ice. Simple."
---