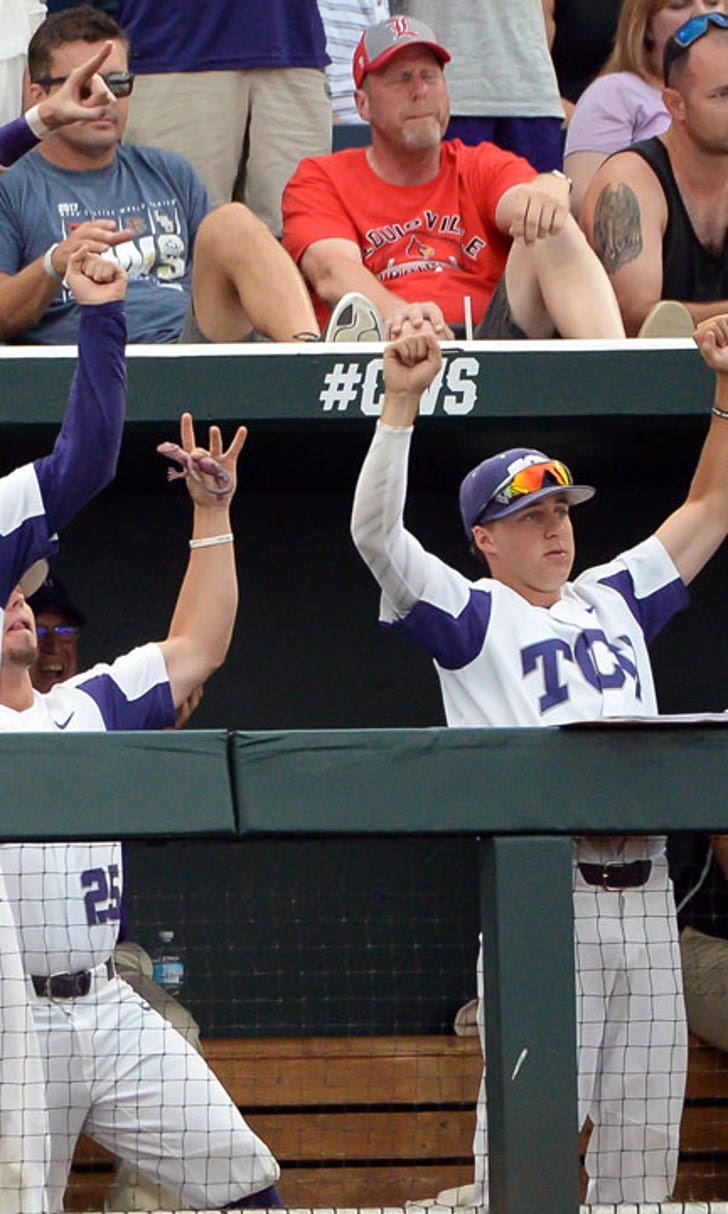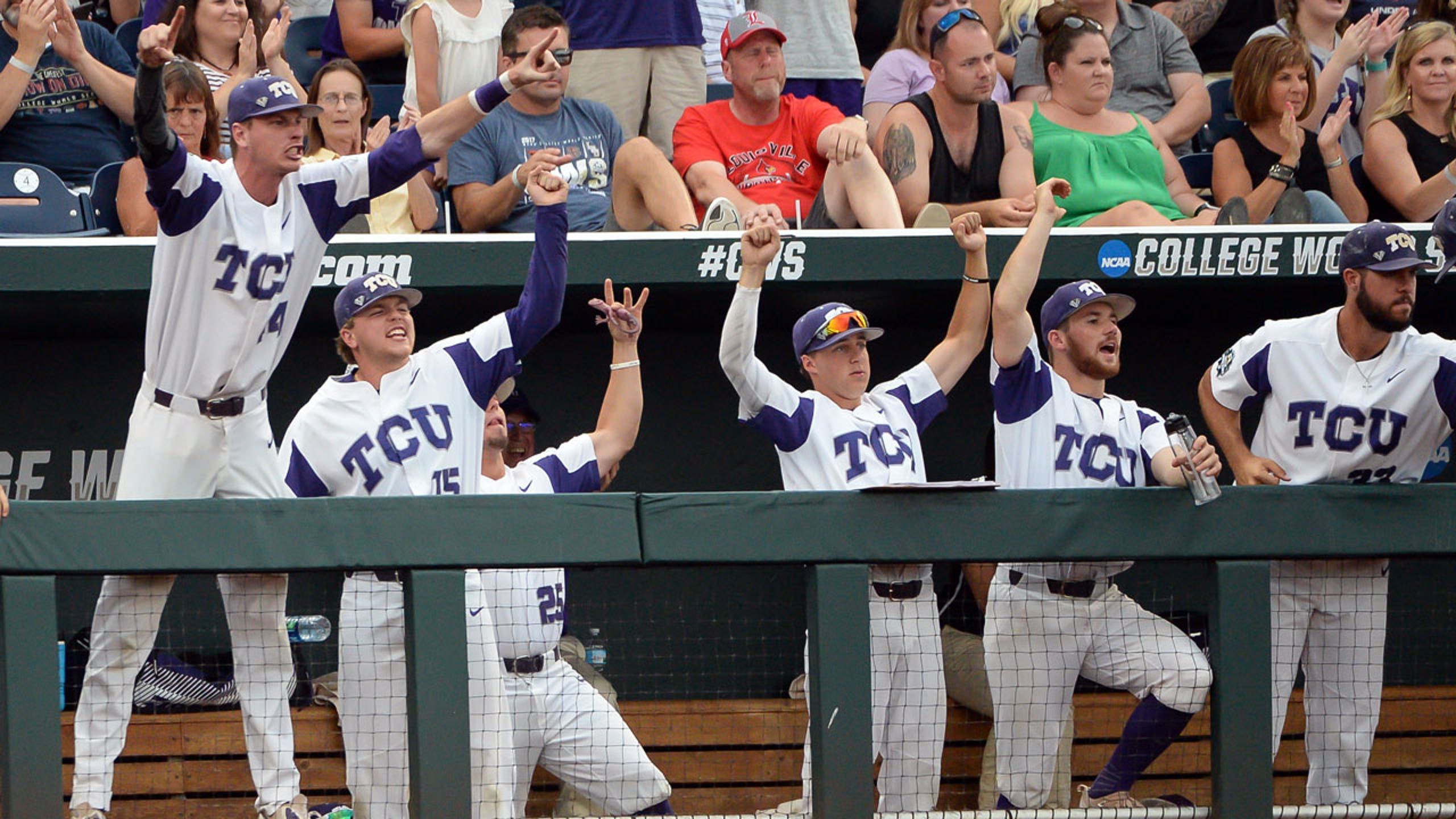 FOX Sports Southwest's 2018 College Baseball and Softball Broadcast Schedule
BY FOX Sports Southwest Communications • February 26, 2018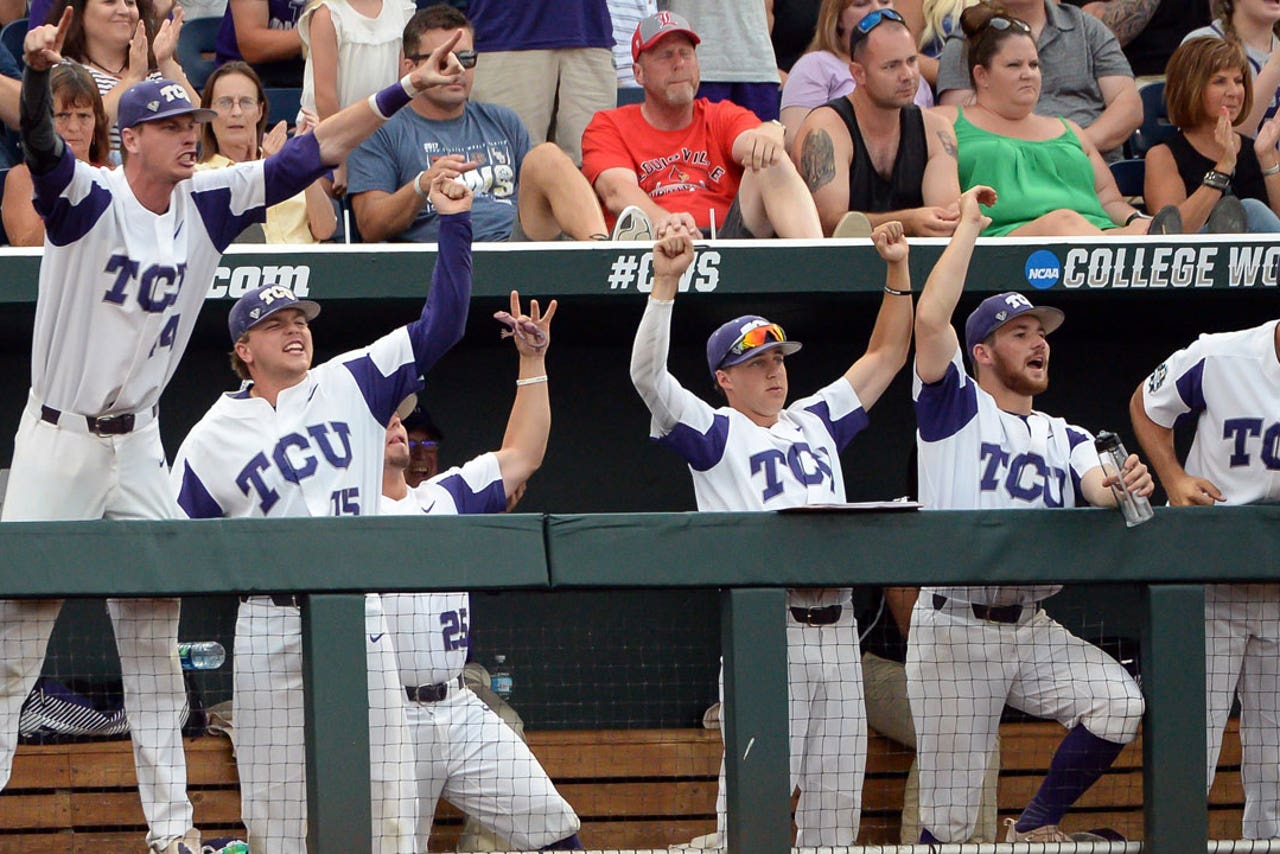 FOX Sports Southwest will once again deliver a full slate of college baseball and softball games throughout the 2018 season.

In addition, FSSW will also feature wall-to-wall coverage of the 2018 Big 12 Baseball Championship as well as the 2018 Big 12 Softball Championship.

Every college baseball and softball game airing on FOX Sports Southwest will also be available on FOX Sports GO, the live streaming platform that showcases all of FOX Sports' events and studio programming through pay-TV providers.

2018 College Baseball Broadcast Schedule
| | | | |
| --- | --- | --- | --- |
| Air Date | Time | Game | FSSW Territory |
| TUE 02/20/2018 | 6:30 p.m. | UT Arlington at TCU | ALL |
| SUN 02/25/2018 | 1:00 p.m. | Long Beach State at TCU | Check Local Listings |
| TUE 02/27/2018 | 6:30 p.m. | Oklahoma at Dallas Baptist | FSSW PLUS - ALL |
| FRI 03/02/2018 | 6:30 p.m. | New Mexico at Texas Tech | Check Local Listings |
| SAT 03/03/2018 | 4:00 p.m. | Alabama at Oklahoma | Check Local Listings |
| SUN 03/04/2018 | 1:00 p.m. | UC Irvine at TCU | Check Local Listings |
| TUE 03/06/2018 | 6:30 p.m. | Dallas Baptist at Oklahoma | Check Local Listings |
| SAT 03/10/2018 | 2:00 p.m. | Oral Roberts at Dallas Baptist | ALL |
| SUN 03/11/2018 | 1:00 p.m. | George Washington at Baylor | Check Local Listings |
| TUE 03/13/2018 | 3:00 p.m. | Dallas Baptist at Oklahoma State | Check Local Listings |
| WED 03/14/2018 | 6:30 p.m. | Texas Southern at Oklahoma | FSOK |
| SAT 03/17/2018 | 1:00 p.m. | Kennesaw State at Oklahoma | Check Local Listings |
| SAT 03/17/2018 | 2:00 p.m. | Texas Tech at Baylor | Check Local Listings |
| SUN 03/18/2018 | 12:30 p.m. | Minnesota at TCU | Check Local Listings |
| SUN 03/18/2018 | 1:00 p.m. | Texas Tech at Baylor | Check Local Listings |
| SAT 03/24/2018 | 2:00 p.m. | Kansas at Baylor | Check Local Listings |
| SAT 03/24/2018 | 2:00 p.m. | Kansas State at TCU | Check Local Listings |
| SAT 03/24/2018 | 4:00 p.m. | West Virginia at Oklahoma | Check Local Listings |
| SUN 03/25/2018 | 11:00 a.m. | West Virginia at Oklahoma | Check Local Listings |
| SUN 03/25/2018 | 1:00 p.m. | Kansas at Baylor | Check Local Listings |
| SUN 03/25/2018 | 1:00 p.m. | Kansas State at TCU | Check Local Listings |
| TUE 03/27/2018 | 6:30 p.m. | Oklahoma State at Oklahoma | Check Local Listings |
| THU 03/29/2018 | 6:30 | Baylor at Oklahoma | Check Local Listings |
| THU 03/29/2018 | 6:30 p.m. | West Virginia at Texas Tech | Check Local Listings |
| SAT 03/31/2018 | 2:00 p.m. | West Virginia at Texas Tech | Check Local Listings |
| SAT 03/31/2018 | 4:00 p.m. | Baylor at Oklahoma | Check Local Listings |
| SUN 04/01/2018 | 12:00 p.m. | TCU at Oklahoma State | Check Local Listings |
| FRI 04/13/2018 | 6:30 p.m. | Kansas State at Texas Tech | ALL |
| SUN 04/15/2018 | 1:00 p.m. | Kansas State at Texas Tech | Check Local Listings |
| TUE 04/17/2018 | 6:30 p.m. | Oral Roberts at Oklahoma State | ALL |
| FRI 04/20/2018 | 6:30 p.m. | Oklahoma at Texas Tech | ALL |
| SAT 04/21/2018 | 2:00 p.m. | Oklahoma at Texas Tech | ALL |
| SUN 04/22/2018 | 1:00 p.m. | TCU at Baylor | ALL |
| SUN 04/22/2018 | 2:00 p.m. | Oklahoma at Texas Tech | ALL |
| TUE 04/24/2018 | 6:30 p.m. | Oklahoma State at Dallas Baptist | ALL |
| FRI 04/27/2018 | 7:00 p.m. | Oklahoma at Oklahoma State | ALL |
| SAT 04/28/2018 | 7:00 p.m. | Oklahoma at Oklahoma State | ALL |
| SUN 04/29/2018 | 3:00 p.m. | Oklahoma at Oklahoma State | FSOK |
| TUE 05/01/2018 | 6:30 p.m. | UT Arlington at Dallas Baptist | ALL |
| TUE 05/01/2018 | 7:00 p.m. | New Mexico at New Mexico State | ALL |
| FRI 05/04/2018 | 6:30 p.m. | Texas at Texas Tech | ALL |
| FRI 05/04/2018 | 7:00 p.m. | Utah Valley at New Mexico State | ALL |
| SAT 05/05/2018 | 2:00 p.m. | Kansas State at Oklahoma | ALL |
| SAT 05/05/2018 | 4:00 p.m. | Lamar at TCU | ALL |
| SUN 05/06/2018 | 1:00 p.m. | Kansas State at Oklahoma | ALL |
| SUN 05/06/2018 | 2:00 p.m. | Texas at Texas Tech | ALL |
| SAT 05/12/2018 | 3:00 p.m. | Oklahoma at Baylor | ALL |
| SAT 05/12/2018 | 4:00 p.m. | West Virginia at TCU | ALL |
| SUN 05/13/2018 | 1:00 p.m. | Oklahoma State at Baylor | ALL |
| THU 05/17/2018 | 6:30 p.m. | Texas Tech at Oklahoma State | ALL |
| FRI 05/18/2018 | 6:30 p.m. | Texas Tech at Oklahoma State | ALL |
| SAT 05/19/2018 | 1:00 p.m. | Texas Tech at Oklahoma State | ALL |
| SAT 05/19/2018 | 2:00 p.m. | Missouri State at Dallas Baptist | ALL |
2018 College Softball Broadcast Schedule
| | | | |
| --- | --- | --- | --- |
| WED 03/07/2018 | 6:00 p.m. | Northwestern State at Baylor | Check Local Listings |
| FRI 03/09/2018 | 2:30 p.m. | Illinois State at Oklahoma | ALL |
| FRI 03/09/2018 | 5:00 p.m. | Indiana at Oklahoma | Check Local Listings |
| SAT 03/10/2018 | 5:00 p.m. | South Carolina at Oklahoma | Check Local Listings |
| SUN 03/11/2018 | 1:30 p.m. | South Carolina at Oklahoma | FSOK |
| SUN 03/11/2018 | 4:00 p.m. | Illinois State at Oklahoma | FSOK |
| TUE 03/20/2018 | 6:30 p.m. | North Texas at Baylor | Check Local Listings |
| SAT 03/24/2018 | 1:00 p.m. | Texas Tech at Oklahoma | Check Local Listings |
| SUN 03/25/2018 | 12:00 p.m. | Iowa State at Oklahoma State | FSOK |
| SUN 03/25/2018 | 2:00 p.m. | Texas Tech at Oklahoma | Check Local Listings |
| TUE 03/27/2018 | 5:30 p.m. | Wichita State at Oklahoma State | Check Local Listings |
| THU 03/29/2018 | 6:30 p.m. | Oklahoma at Baylor | Check Local Listings |
| FRI 03/30/2018 | 6:30 p.m. | Oklahoma at Baylor | Check Local Listings |
| TUE 04/03/2018 | 6:30 p.m. | New Mexico at New Mexico State | Check Local Listings |
| WED 04/04/2018 | 6:00 p.m. | Tulsa at Oklahoma State | FSOK |
| SAT 04/07/2018 | 5:00 p.m. | Cal St. Bakersfield at New Mexico State | ALL |
| TUE 04/10/2018 | 5:00 p.m. | McNeese State at Baylor | ALL |
| WED 04/11/2018 | 4:00 p.m. | McNeese State at Baylor | ALL |
| WED 04/11/2018 | 5:00 p.m. | Wichita State at Oklahoma | ALL |
| FRI 04/13/2018 | 5:00 p.m. | Baylor at Oklahoma State | FSOK |
| SAT 04/14/2018 | 4:00 p.m. | Baylor at Oklahoma State | ALL |
| SUN 04/15/2018 | 12:00 p.m. | Baylor at Oklahoma State | FSOK |
| FRI 04/20/2018 | 6:30 p.m. | Kansas at Baylor | ALL |
| WED 05/02/2018 | 7:00 p.m. | Oklahoma State at Oklahoma | ALL |
| FRI 05/04/2018 | 6:30 p.m. | Oklahoma at Oklahoma State | ALL |
| SAT 05/05/2018 | 6:30 p.m. | Texas at Baylor | ALL |
---