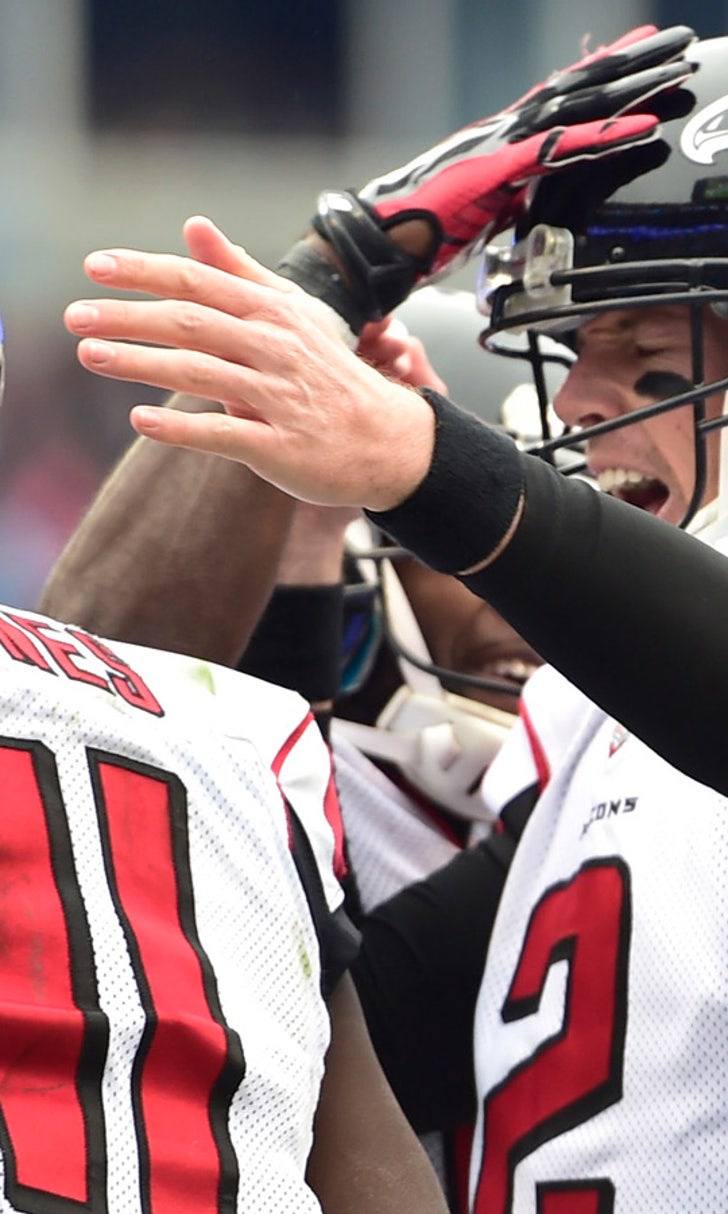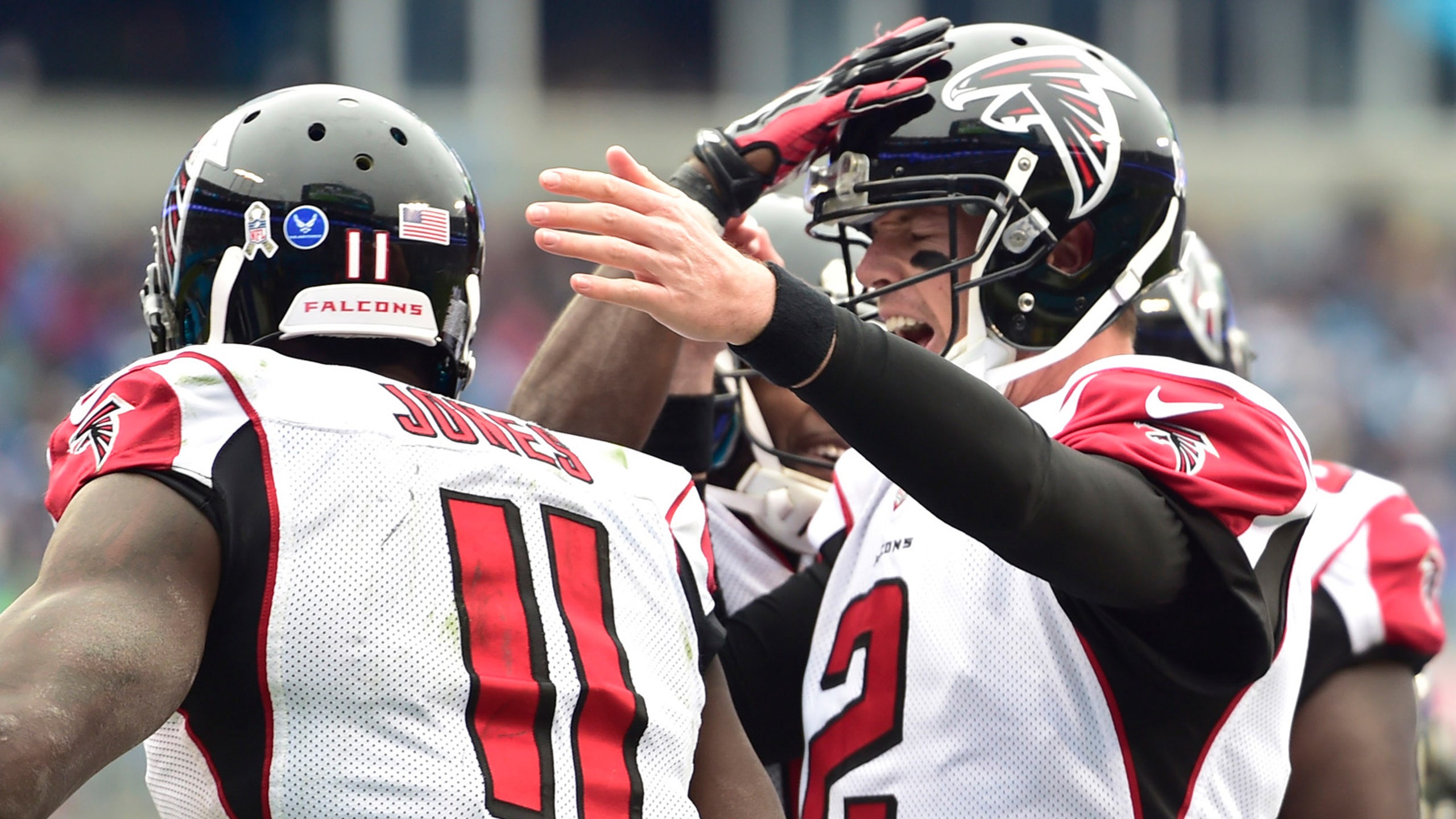 Four Downs: Win over Panthers vaults Falcons into first place
BY foxsports • November 16, 2014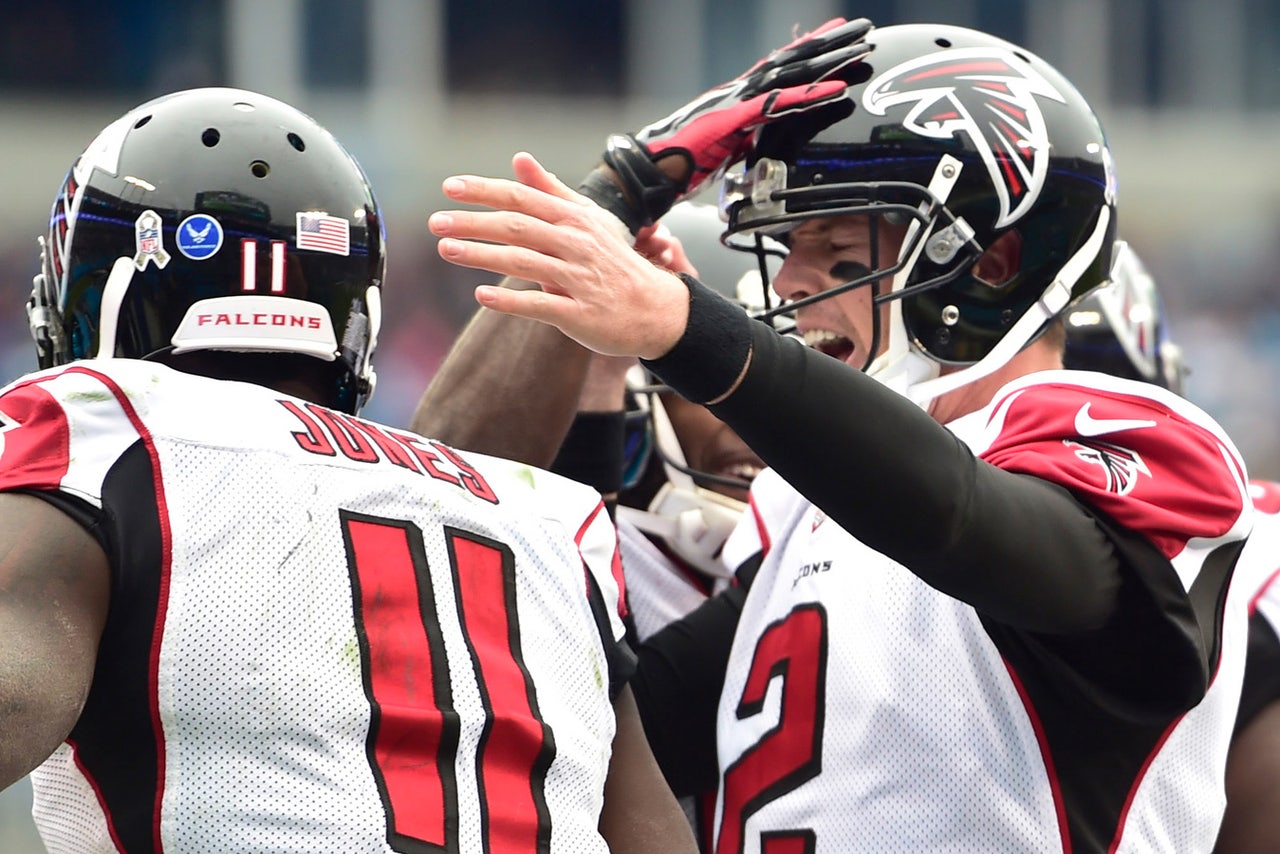 CHARLOTTE, N.C. -- Their performance was neither impressive nor pretty, but the Atlanta Falcons moved to 4-6 on the season with a 19-17 win over the Carolina Panthers on Sunday.
Here are four observations from Atlanta's fourth divisional win of the season:
The Falcons moved to 4-6 on the season after beating the Panthers on Sunday. Because the Saints lost to Cincinnati, New Orleans is also 4-6. Since Atlanta won its Week 1 game against the Saints, by tiebreaker rules, Atlanta now sits atop the division.
There are two aspects of Atlanta's current situation in the NFC South that are completely inconceivable.
There's almost no reason that a 4-6 team should be winning any division in the NFL. But the NFC South has been mediocre at best in 2014, and Atlanta is now reaping the benefits of beating every other divisional foe --- Tampa Bay twice.
Anyone that tells you they could have guessed the Falcons would be in first place after Week 11 is absolutely lying to you. Especially considering this team lost five games in a row, including a game in London that it was leading 21-0 at halftime.
The division is a complete mess, and it's jumbled. The top (Atlanta and New Orleans at 4-6) is separated from the bottom (Tampa Bay at 2-8) by only two games, and the four teams have a combined 13-27-1 record.
It's been a while since Atlanta has had success on the road.
The Falcons were 1-7 last season away from the Georgia Dome, and 6-2 the year prior. Their record on the road and outside is even worse.
Prior to last week's win in Tampa Bay, Atlanta hadn't won a road game in the elements (not that Tampa is synonymous with elements as a weather term) since Week 12 of the 2012 campaign.
After Sunday's win over Carolina at Bank of America Stadium, outdoor road wins are starting to feel like old hat.
Back-to-back road wins in outdoor stadiums is a big deal for the Falcons.
The last time Atlanta won two road games in succession was in Week 5 and Week 8 of the 2012 season. The victories came over Washington and Philadelphia. It's been even longer since the Falcons won outdoor road game in consecutive weeks.
In 2010, the Falcons beat Tampa Bay, Carolina and Seattle in consecutive weeks on he road. All three games were outside too.
The Falcons were 5 for 15 ( 33 percent) on third down and 1 for 3 (33 percent) in red-zone efficiency. Neither of those figures is where the team wants to be, but neither is terrible either.
But they don't tell the whole story.
Atlanta beat Carolina 19-17. And while a win is good, the Falcons should have been much farther ahead at the end of the game. That had a big problem on Sunday kicking field goals instead of scoring touchdowns, and basically getting into any position to score.
The Falcons made one trip into the red zone in the first half and came away with one field goal. A second-down incompletion and a sack on third down thwarted plans for seven red-zone points. Even though Atlanta only made one trip inside Carolina's 20-yard line at the half, it had other opportunities to make things happen.
The Falcons intercepted Cam Newton twice, but only turned those picks into three points.
Atlanta's head coach Mike Smith said after the game that Carolina was defending the Falcons in a manner that didn't allow a lot of shots at the end zone. Since the Falcons only had 346 total yards, and Carolina was shutting down deep threats, Atlanta couldn't sustain long drives.
That showed up on the scoreboard.
There is a fine line between defending a teammate and inciting an opposing team. When Harry Douglas peeled Carolina's Josh Norman off Devin Hester after a third-quarter play, a large fight exploded.
"One thing that I know about our team is that we're going to have each other's backs," said Douglas. "That's every group on this team. I know in our receiver group, they aren't taking out anyone, I don't care who it is. It doesn't matter who is in the situation, we're going to protect one another."
While that's an admirable attitude to possess -- and it won't get Douglas in trouble with anyone on his team -- it almost got his team in trouble in the standings.
The Falcons were up 16-3 when the fight broke out. Carolina head coach Ron Rivera said the fisticuffs led to his team getting fired up.
"It did (light a spark), it really did. To a degree, I'm proud and excited about the way they stepped up and weren't going to let themselves get pushed around," said Rivera. It was kind of one of those things that was a little chippy at one point, but these are two teams that are rivals, divisional rivals, and things get heated very quickly."
After the fight, Carolina scored 14 points and took a lead. Only to have Matt Bryant kick a game-winning field goal with 2:08 left in the game.
---
---