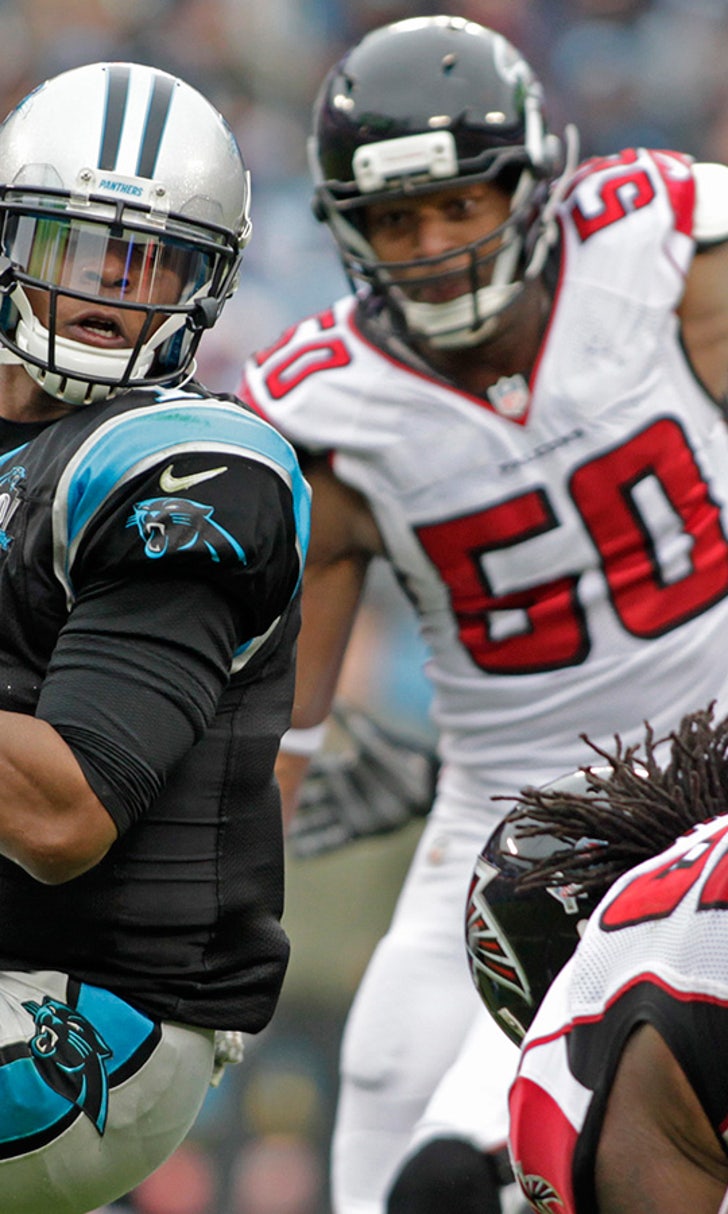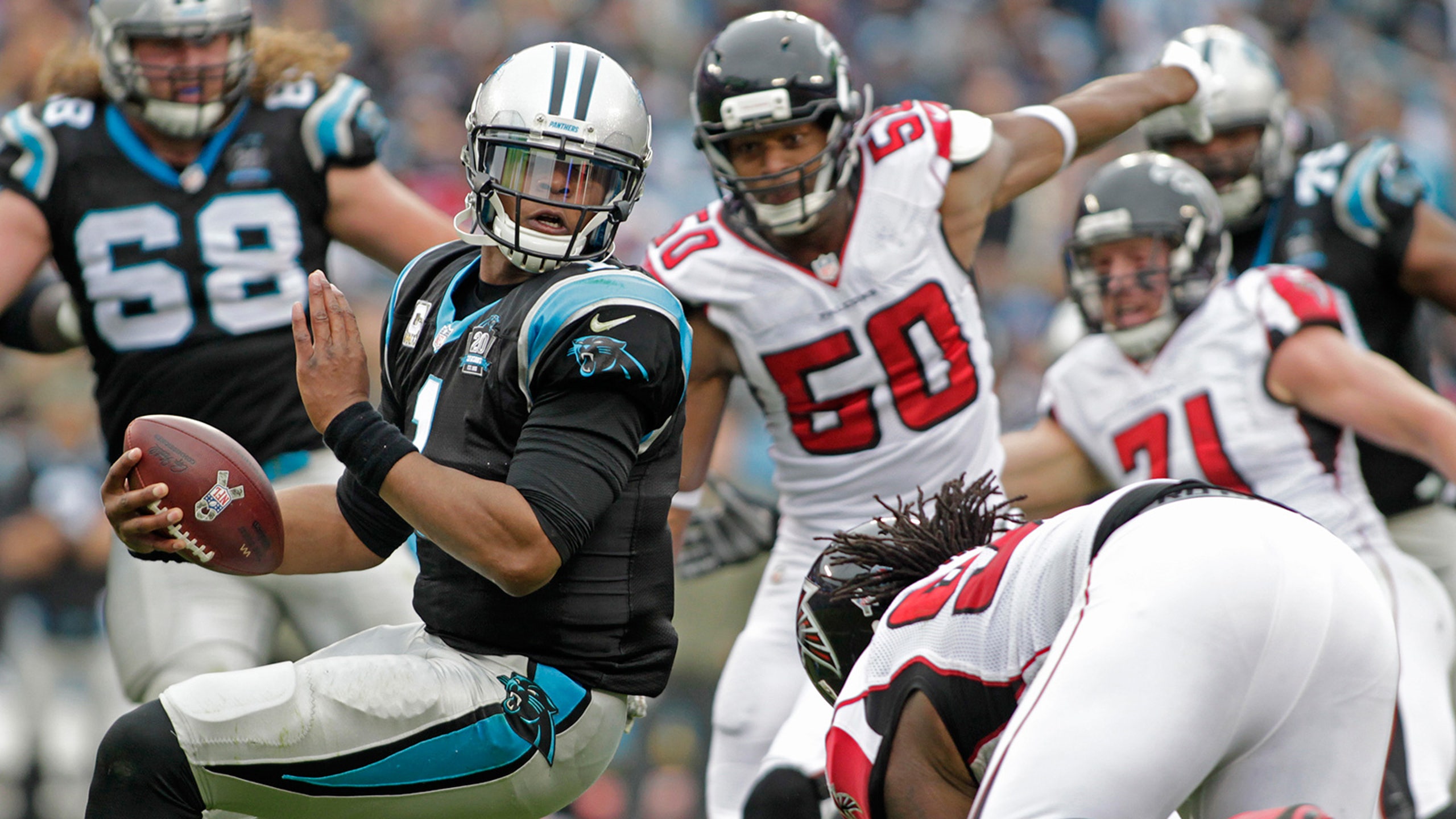 Four Downs: Panthers' comeback attempt falls short versus Falcons
BY foxsports • November 16, 2014
CHARLOTTE, N.C. -- With both teams entering with just three wins each and still only a game or less out of first place in the NFC South Division, Atlanta and Carolina desperately wanted a win. In the end, Atlanta came away with the 19-17 victory Sunday afternoon at Bank of America Stadium to claim first place in the division. Here are four observations from the game:
With the home crowd booing louder and louder on each missed pass and with little hope of expecting anything different than what the Panthers and quarterback Cam Newton had shown through the first three quarters, Carolina's offense magically came alive.
Trailing 16-3 with less than 10 minutes to play, Newton hit a couple of passes and then rookie wide receiver Kelvin Benjamin pulled down an improbable grab for a touchdown to suddenly make it 16-10. Moments later after forcing an Atlanta punt, Newton hit fourth-string receiver Philly Brown, an undrafted rookie who'd missed the previous three games with a concussion, for a back-peddling, 47-yard touchdown to give Carolina a 17-16 lead with 6:29 left to play.
Before his sudden emergence, there was little to no reason to expect a sudden change in Newton's performance. After all, in his previous four contests and first three quarters of Sunday's game, Newton had completed just 52.8 percent of his passes, while having thrown only three touchdowns, two of which came in garbage time, and eight interceptions.
Moreover, in the four games prior to playing the Falcons, Newton had averaged just 208.3 yards passing per game. Through the first three quarters, he was even worse, going 12 of 23 for 99 yards and two interceptions.
"Often times in that game, I was questioning myself," Newton said. "I know I'm better than I'm playing."
But in that fourth quarter, Newton found his rhythm that had been so sorely lacking for most of the season. During those final 15 minutes, Newton was 11-of-14 for 193 yards and two touchdowns.
"He came alive," Panthers coach Ron Rivera said.
In the end, Newton played just well enough in the final quarter to lose by only two points.
It's seems almost silly and insane to say, but with New Orleans losing to Cincinnati Sunday, the Falcons are the leaders of the NFC South, despite only having four wins. The Saints also have four wins, but Atlanta has four divisional wins and have beaten New Orleans head-to-head.
Even more amazing is the fact that the Panthers sit just a half-game behind the Falcons and Saints, despite having only three wins and one in their last nine games.
"Somebody's trying to give us a gift," said Carolina cornerback Josh Norman. "The crazy part is we're still in it. ... Do we deserve to be in it? Does anybody in the NFC South deserve to be in it?"
Rivera said despite his team's record, he and the rest of the coaching staff are still amped up and not acting as though the season's over, because, he said, it's not.
"No, it's not an ordinary year, but most of us coaches and a lot of us former players have been in these types of situations before," he said. "We have been where the division has been down and it's really a game of attrition now. The one that gets hot at the right time, the one that steps up at the right time, gives themselves an opportunity at the end, will be in the race. They will be the ones that go to the tournament. That's what our goal is, to be better at the end."
Even with the losing skid, the Panthers still control their own destiny and with the NFL's easiest remaining schedule, there really is a belief in the Carolina locker room that maybe, just maybe, there's a greater entity at work.
"It's a crazy situation," Carolina safety Thomas DeCoud said. "The way the season is going ... I don't want to say somebody up there is a Panthers fan, but somebody is giving us every opportunity to stay in the chase. Now we've just go to start capitalizing on those opportunities."
With 1:42 left in the game, Carolina trailed by two, but had the ball first-and-10 at the Falcon 32 and looked to be in great shape to win the game.
This is where, depending on your point of view, Rivera either did nothing wrong or threw away his nickname of 'Riverboat Ron' and ultimately cost his team the win by being too conservative. Carolina ran up the middle three straight times, forcing the Falcons to have to burn all three of their timeouts. However, it set up anything but a sure thing in a 46-yard field goal for placekicker Graham Gano.
"I expect him to make that," Rivera said.
Gano, who was 6 of 7 from 40 yards or more on the season, pulled his kick slightly and just barely missed it to the left.
Rivera was questioned repeatedly why he didn't try to get the first down by maybe throwing it and getting a closer attempt at a field goal. And even if Gano had made the kick, it still would have left Atlanta with nearly 1:20 remaining, which is plenty of time for an offense like Atlanta's, to try and get a game-winning field goal of its own.
"We forced them to use timeouts," Rivera said. "We ran what we felt like were good runs. If we get the first down, great, we are closer. If not, they use all three timeouts. We make the field goal. We kickoff and no they don't have any timeouts.
" ... If we tried for another first down and threw an incompletion, the clock stops. There are a lot of things that go into it. I made the decision that I felt was best at that point in the game. That is why I made the decision."
For his part, Newton said his job isn't to second guess the coaches.
"It comes down to coach calls the plays," he said. "I just go out there and manage the game. I'm not going to question his play calling. I'm not going to question anything because if we would have won that football game, none of these questions would be lingering."
It's the moment every good kicker dreams of and the position he wants to be in: the game on the line and the outcome resting on whether or not the ball sails through the uprights. Gano wanted to be in that exact spot.
However, the outcome was anything but what he or anybody wearing blue and black and expected.
"I can't say it was mechanics," Gano said. "I just missed the kick. I could stand here and make excuses, but I'm not that type of man. I just missed the kick and I've got to come back and hit the next one."
Gano actually got one last chance to redeem himself by having a 63-yard attempt on the game's final play. But it was partially blocked and barely made it halfway to the end zone.
Gano said he felt as though it would have been good had it not been blocked.
"God blessed me with a strong leg," he said. "I felt like I hit it clean."
But it all goes back to that missed 47-yarder.
"It's painful," he said. "I've got to make that kick. I'm the placekicker here. I wish I could have it back, but I've got to put it through the uprights. ...
"Given another opportunity, I'm confident I would've hit that kick again. It's tough. It hurts for sure. I knows the fans are disappointed, the team's disappointed, but I don't think there's anybody more disappointed than I am right now."
---