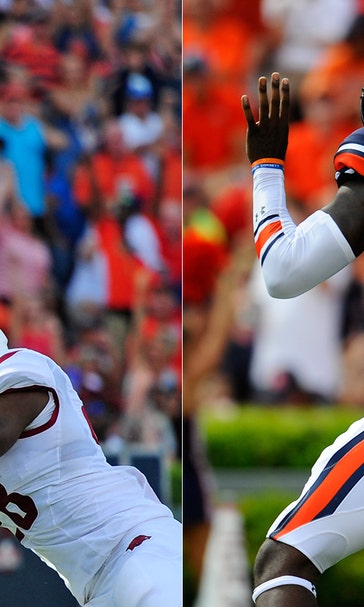 Four Downs: No. 6 Auburn drops Arkansas, but is QB dilemma brewing?
August 30, 2014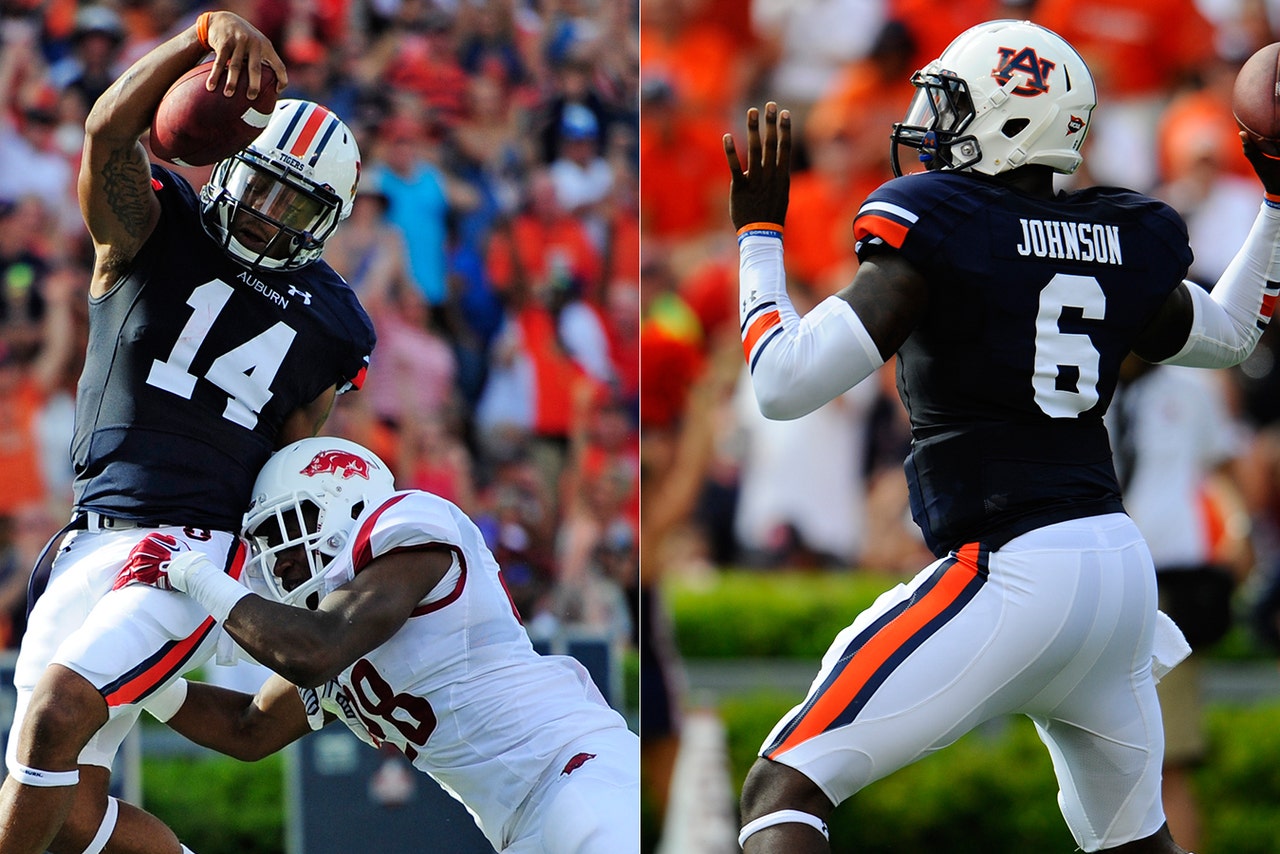 AUBURN, Ala. -- Before kickoff, a clock counted down on the Jordan-Hare Stadium big screen, getting all the way to one second before it stopped, the Auburn faithful erupting as Chris Davis' now iconic touchdown return on a missed field goal against Alabama played.
In the Tigers' first home game since that Iron Bowl, another return figured prominently, as Jermaine Whitehead ran an interception back 33 yards for a score, helping No. 6 Auburn break things open in beating pesky Arkansas 45-21 Saturday in both teams' season and SEC openers.
Here are four thoughts from The Loveliest Village On The Plains, including the seedlings of an Auburn quarterback controversy, the Razorbacks' improvement and more:
Just maybe Gus Malzahn knew exactly what he was doing.
In his approach to the Tigers QB situation heading into the opener -- he announced sophomore Jeremy Johnson would make the start in place of Nick Marshall, who was cited for marijuana in July -- he seemed like he was withholding information to keep Arkansas guessing.
When would we see Marshall, who threw for nearly 2,000 yards and ran for over 1,000 more in helping the Tigers to an SEC crown and a spot in the BCS title game?
It turned out, it didn't matter all that much.
Johnson hit on his first seven attempts, throwing for two first-half touchdowns -- a 49-yarder to Melvin Ray and 18 yards to D'haquille Williams -- and setting up another with a 26-yard strike to C.J. Uzomah to get to the Razorbacks' 1-yard line. He didn't misfire until seven minutes into the second quarter, and even that was a drop by Ricardo Louis. Johnson finished 13 of 17 for 243 yard and the two scores.
"Jeremy did an outstanding job. He can really throw it and the way he handled himself was really nice," Malzahn said.
It's even more impressive considering Johnson had 41 attempts as a freshman, with 21 of those coming against Western Carolina and 16 more against Florida Atlantic. He had just four in SEC games (two vs. Texas A&M and one each against Arkansas and Georgia) with two completions.
Here's the reminder that the Razorbacks were 76th in total defense among FBS teams last season, allowing 413.4 yards per game, and 72nd vs. the pass (235.0). But in his first substantial SEC action, Johnson was poised, polished and deceptive running the read-option
Marshall stepped in after halftime and wasted little time making his presence felt, leading a nine-play, 78-yard scoring drive ending with the QB running in the score from 19 yards out. He was 4 of 6 passing for 50 yards and ran eight times for 19 yards.
When it comes to running the read-option, Marshall is a magician and his presence opens things up for the rest of the Tigers backs (see the 234 second-half rushing yards as proof). But Malzahn spent much of the offseason expounding on a desire to open up the passing game one season after the Tigers ranked first on the ground (328.3 ypg) and 106th through the air (173.0). Johnson directed the offense to 311 yards compared to 284 by Marshall.
Calling it a QB controversy, or even suggesting there could be one after one strong game against an underwhelming defense isn't fair, especially since Marshall wasn't out there in the first half for a reason -- and he did direct the Tigers to the national title game in his first season.
Marshall is still the man, but what Johnson did can't be ignored.
"Nick's still our quarterback, but Jeremy is going to have a role. We talked in the offseason about giving him more of different situations, different packages," Malzahn said.
Johnson added the effectiveness Malzahn has wanted via the pass, and with a month before Auburn enters the real teeth of its schedule -- beginning with an Oct. 4 trip to LSU -- whether Malzahn feels a need to juggle QBs following Johnson's SEC starting debut will be intriguing.
The strength of the Razorbacks' running game is its depth, as Arkansas is one of only two teams boasting two returning backs with at least 900 yards last year (the other is the squad Bret Bielema previously coached, Wisconsin). The program has a budding star in Alex Collins, who ran for 68 yards on 10 carries.
But if Saturday was any indication, the Razorbacks will be even better in Year 2 under Bielema.
Arkansas was a respectable 38th last year in yards per game (208.7) as Collins earned SEC Freshman of the Year honors. Saturday, they outrushed Auburn, which led the nation in rushing yards in 2013, 151-68 in the first half, averaging 7.2 yards per carry. Though on the negative end, the Razorbacks looked completely out of sorts after halftime, running eight times for two net yards.
A close second to whether the Razorbacks can stop anyone on defense (one game in, it doesn't look good) is the development of QB Brandon Allen, who threw 10 interceptions to 13 TDs last year.
It helped matters that he was going against a Tigers defensive front that lost end Dee Ford to the NFL and Carl Lawson for an undetermined portion of this season after knee surgery. But Allen showed (seemingly) improved decision-making for 2.5 quarters until throwing a pick-six and took advantage of the one-on-one situations defenses can offer by obsessing over stopping the run, completing 18 of 31 passes for 175 yards and two scores.
We'll find out for sure just how far along the Razorbacks are offensively when they face No. 21 Texas A&M, No. 2 Alabama and No. 12 Georgia in three straight games in September and October.
What's undeniable is Arkansas looks vastly improved from the team that lost to the Crimson Tide and South Carolina by a combined score of 104-7 last season.
Cameron Artis-Payne and Corey Grant were listed as "1 and 1A" on the Tigers depth chart at running back heading into Saturday, but Malzahn seemed to be playing favorites from the get-go.
Artis-Payne had 19 of the first 22 carries by an RB and showed he's more than the bruiser he's often been labeled as, ripping off six runs of 10 yards or longer, including 13- and 28-yarders on consecutive carries in the fourth quarter and a 32-yarder. His 26 total carries and yards of 177 were also career-highs.
"Get more carries, get more yards," Artis-Payne said. "I feel like I played OK. Just got to get to the tape and see what I have to work on."
Despite the overwhelming number of carries in Artis-Payne's favor, Malzahn said this wasn't indicative of how things will play out going forward.
"It just depends on what the defensive gives us," Malzahn said. "You'll see both (Artis-Payne and Grant) through the course of the year."
Still, this is the same approach the Tigers used last year as Mason emerged from a crowded backfield to become a Heisman Trophy finalist, and while one game isn't enough to call Auburn's RB situation set, Artis-Payne without question took advantage of his opportunity to steal the job.
Last season, Florida State's "Red Lightning" became a college football celebrity, appearing on a YouTube video showcasing Seminoles touchdowns, the 5-foot-7, bearded ball boy sprinting down the sidelines in celebration.
We all know about the perceived SEC speed. Well, Auburn could have its answer to Red Lightning, and fitting for this conference, he can absolutely fly.
During Ray's 49-yard touchdown reception in the third quarter, the Tigers ballboy ran down the sideline, coming within a yard of the 6-3, 207-pound wide receiver, who has a 4.55 second 40-yard dash time.
Find this young man a roster spot, Gus.
---