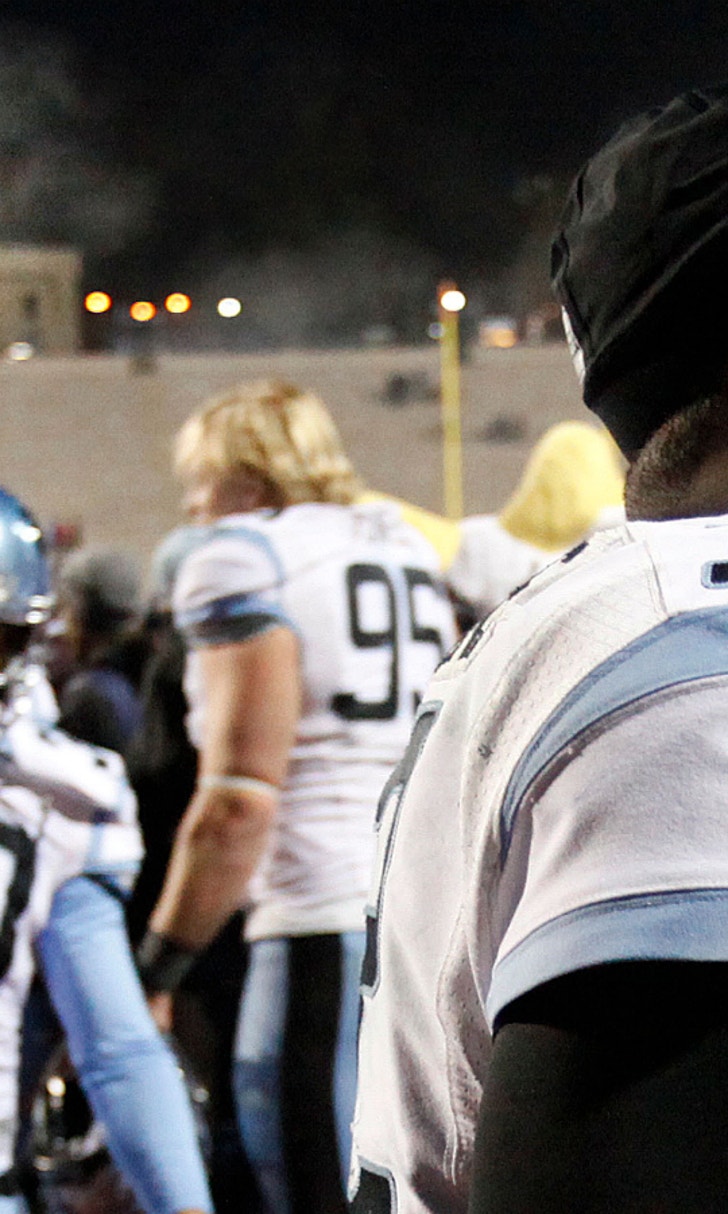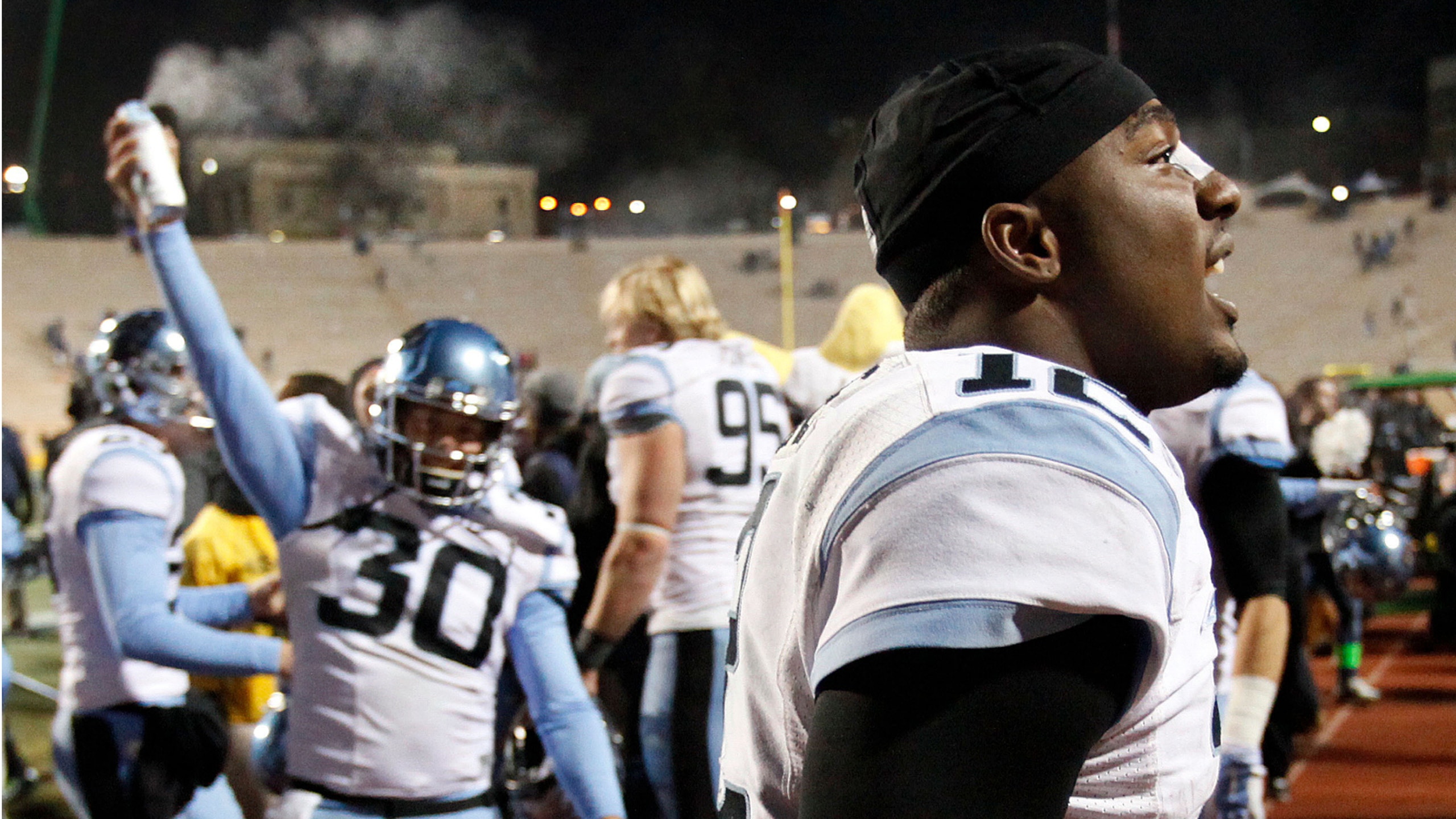 Four Downs: Duke loss gives Coastal to Georgia Tech; UNC back to bowl
BY foxsports • November 21, 2014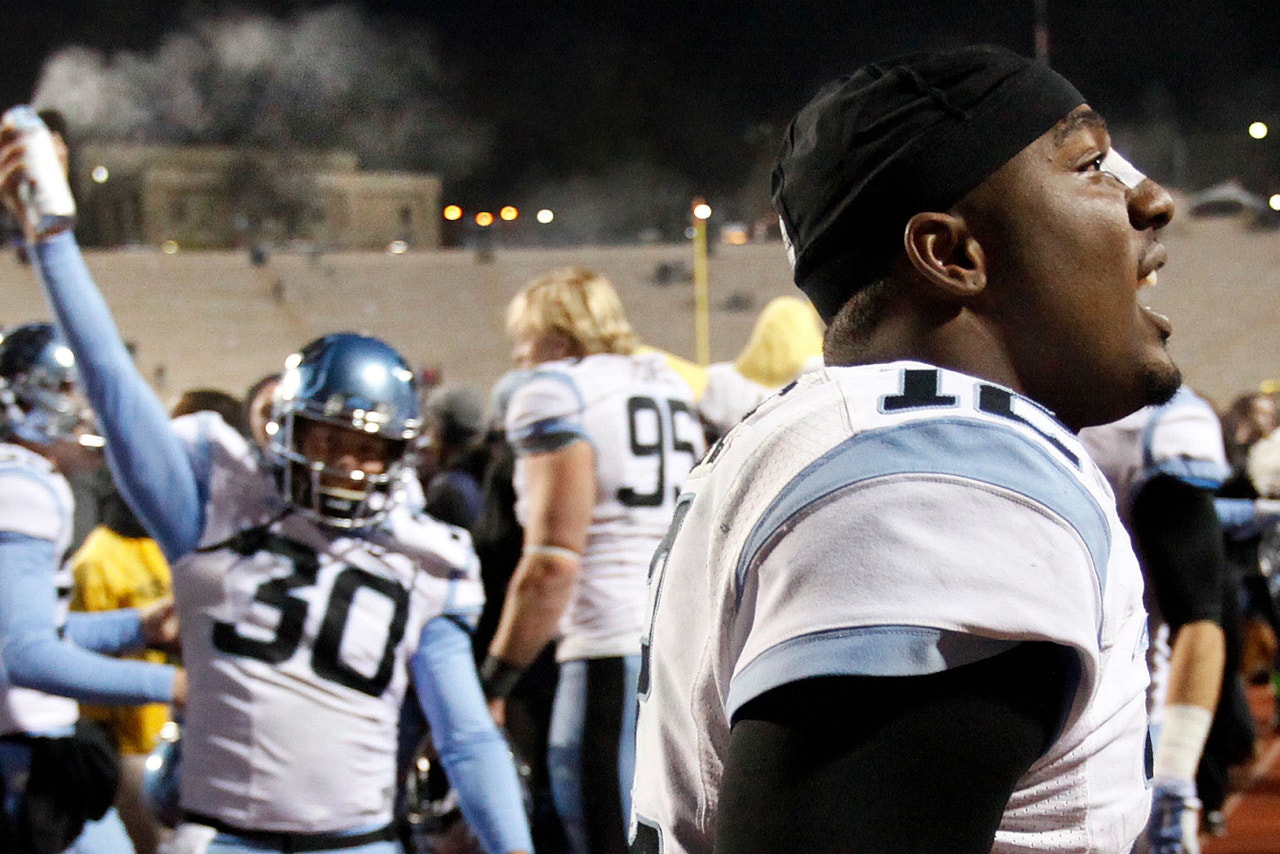 DURHAM, N.C. -- The dreams of repeating as Coastal Division champions died Thursday night in spectacular fashion, as North Carolina (6-5, 4-3 ACC) crushed No. 25 Duke 45-20 in a game that wasn't really that close and secured bowl eligibility for the second straight season. Duke (8-3, 4-3 ACC) had a chance to win two of its final three games against bottom-tier teams in the ACC according to record, and it has now lost two in a row with just one game left against Wake Forest. With the loss, Duke now out of the Coastal Division race and Georgia Tech -- which, oddly enough, lost to both of these teams but has been on a tear as of late -- clinches the Coastal crown and will face Florida State in Charlotte in two weeks. 
The crowd was one of the best Duke has had in quite some time, and it was ready and eager to see its No. 25 Blue Devils bounce back from a disappointing performance the week before against Virginia Tech, knowing it had to only win out to repeat as Coastal Division champs.
But Duke continues to be bitten by the turnover bug and turned it over twice in the first quarter alone (UNC turned those into 14 points, including one defensive touchdown). Duke fought back to cut it to 14-7, but North Carolina marched down the field on its ensuing drive to go back up 21-7, converting a fourth and goal at the one-yard line and almost puncturing the balloon of the crowd, sucking the life and energy out of the stadium.
The Duke sideline, which had been hopping and energetic, fell quiet. Stunned faces abounded, as did blank faces.
"Human nature is a tough thing to battle when you're shocked. You're so high, so emotional. I thought they were in a great spot to start the ballgame. Human nature, as we all know, can be tough to overcome," head coach David Cutcliffe said.
"I don't want to get frustrated. I don't like that word. I don't want to see that on our sideline, and I didn't see that. Frustration means people start mouthing at each other. I never saw any of that. I just saw shock."
With such a very real and legit chance to get back to the ACC title game, especially considering what Duke did to end last season (winning their final eight games in a row), maybe it was asking too much for them to be able to do it again.
It would seem like a collapse for Duke to not be able to finish this season, but that's not the way Cutcliffe wants to look at it.
All the players echoed the main point about the expectation being to win this year -- last year it was more a nice story. That creates a whole new dynamic for Duke. It's one the team and Cutcliffe had been handling just fine to this point in the season, though. Cutcliffe admitted that perhaps some of the pressure had been getting to his players.
"In the terms of pressure being like choke, no. In the terms of wear and tear on your body and the emotions? Yes," Cutcliffe said.
"You remember last year, we won eight games in a row to end the year, six ACC games, to get to Charlotte. So they know how to manage it. But that's what I'm alluding to, and I'm just talking about the wear and tear that an 18-23 year-old is dealing with. I need to do a better job of helping them manage that, to be real honest with you. I've got to find a way. If somebody's got an answer, I'm looking for one."
Of course, perspective would be that Duke has never won nine or more games two years in a row. That's still very much on the table, if not likely, with Wake Forest next week.
Duke, for a long time, was a team that didn't turn the football over and waited for you to make mistakes. That hasn't been the case the last few weeks, as the Duke has six turnovers in its last seven quarters of football after turning it over six times in the 33 quarters before that.
The personnel and talent are better for Duke, and thus the expectations of what they're capable of must be higher too.
Cutcliffe knows that Duke can't win many -- if any -- games without clicking in all areas of the game. And that just hasn't been happening. 
"We can't turn the ball over, bottom line. We cannot turn the football over. That falls on me. That trend has got to stop. That's a big deal. I don't know if we win the game, but we've got a better chance to win any game when we don't turn it over."
Williams has almost literally carried his team this season, setting a new UNC single-season record for total offense (3,499 yards) with his 374 yards on Thursday.
Finally he got some help.
UNC came into this season with a relatively loaded backfield, but it hadn't manifested itself to date as Williams had to carry the rushing load (no pun intended).
A combination of injuries and ineffectiveness of both the backs and the line limited their production, but something is clicking now as sophomore T.J. Logan is on a roll, rushing for 208 yards on 36 attempts in the last two games (he had 135 yards in the six games prior to that).
Logan finished with 116 yards and a touchdown on 18 carries, and it was the first time this year a UNC running back has hit the 100-yard mark, which seems hard to believe or comprehend and yet here we are.
That's a big reason that the Tar Heels not only dominated the game, but also shattered their previous season-high in rushing yards, rumbling for 315 yards on the ground on 57 carries. Not since Giovani Bernard was in the backfield has UNC had that kind of rushing performance as a team, and it was big in this one.
For Florida State this year, they've overcome slow starts with big second halves. With North Carolina in all three years under Larry Fedora, it's been a slow start to the season followed by a strong end.
The Tar Heels are now 4-1 in their last five games after starting the season 2-4, and not really playing well in either of their two wins. Arguably, the season turned in the loss at Notre Dame, which was probably the best game of the season to that point.
This is nothing new, though. Last year, The Tar Heels started out 1-5 before finishing the season by winning six of their final seven games, including a bowl. The only loss was to Coastal Division champ Duke. In Fedora's first season, UNC actually began the season 1-2 before winning seven of its final nine games (it couldn't go to a bowl that year).
One has to start to wonder what the Tar Heels could do if they actually were able to get things together earlier in the year, but a number of factors go into it. The schedules have generally eased up as the season has gone on, although it remains to be seen if that was the case this year or not. In a four-game stretch after the first two non-conference wins, UNC faced four straight teams that either were ranked when UNC faced them or had been ranked at some point this season. UNC lost all four.
But in the last five games, UNC has beaten two teams that are now ranked. Georgia Tech, unranked when the two played, is currently 17th in the Associated Press poll. Topping No. 25 Duke represents Larry Fedora's first win over a ranked team during his time at UNC.
You can argue semantics, but the fact remains that Fedora somehow gets his team to power through bad starts to the year and figure it all out by the end. What it means, I have no idea, but it's something.
---