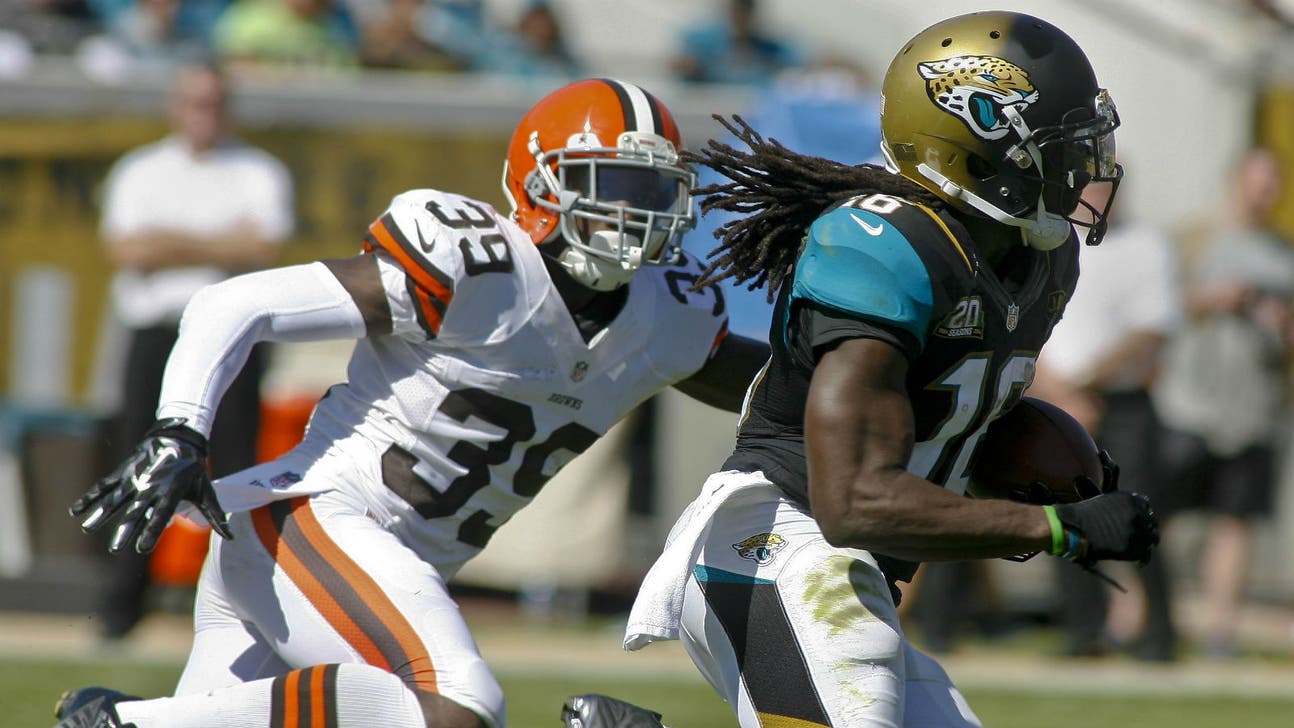 Former Wolverine happy to beat Ohio team
Updated
Mar. 4, 2020 2:59 p.m. ET

JACKSONVILLE, Fla. (AP) -- Denard Robinson finished the sentence quicker than he hit holes.
When asked whether his 127-yard rushing performance on Sunday against the Cleveland Browns was more special because of the opponent, Robinson chimed in "because it came against a team from Ohio?"
"Yeah, that was good to do it against an Ohio team," said Robinson, a former star quarterback at Michigan who grew to dislike rival Ohio State during his four years in Ann Arbor.
Robinson's career day helped the Jacksonville Jaguars beat the Browns 24-6, snap a nine-game losing streak, and win for the first time this season.
It also provided some validation for Robinson, who is in his first full season as a full-time running back.
"It just comes down to working hard," he said. "Everybody helped me become a running back."
The Jaguars (1-6) selected Robinson in the fifth round of the 2013 draft, essentially taking a flyer on a productive college player who didn't seem to fit an NFL position.
Jacksonville tried Robinson at receiver and returner -- his hands proved to be an issue early on -- before eventually putting him in the backfield.
"I didn't know how to do it, how to make the right steps, how to block a guy or anything like that," he said. "I had to work on how to get the ball in the backfield because I was used to getting the ball from the gun.
"It's a big difference, but I've just got to work harder."
Jacksonville began the day ranked last in the NFL in rushing, averaging 69.5 yards a game. With starter Toby Gerhart (foot) out for the second consecutive week, Robinson got the start.
And he got the majority of the carries (22), including an 8-yard TD run in the fourth quarter.
The Browns (3-3) played without nose tackle Ahtyba Rubin, and Jacksonville took advantage by getting Robinson in holes between the tackles.
"I want to show people that I'm not just a scat back," he said. "I want to be that 215-pounder that can run the ball and do different things."
Maybe it should have been expected. Even though Robinson went 1-3 against the Buckeyes, he ran for 292 yards and three touchdowns in his final two games in the revered rivalry.
"Man, he's a player," Jaguars left tackle Luke Joeckel said. "He did a lot of great things. We tried to get him in space, and he even made space sometimes. He's an explosive guy and can make guys miss."
---