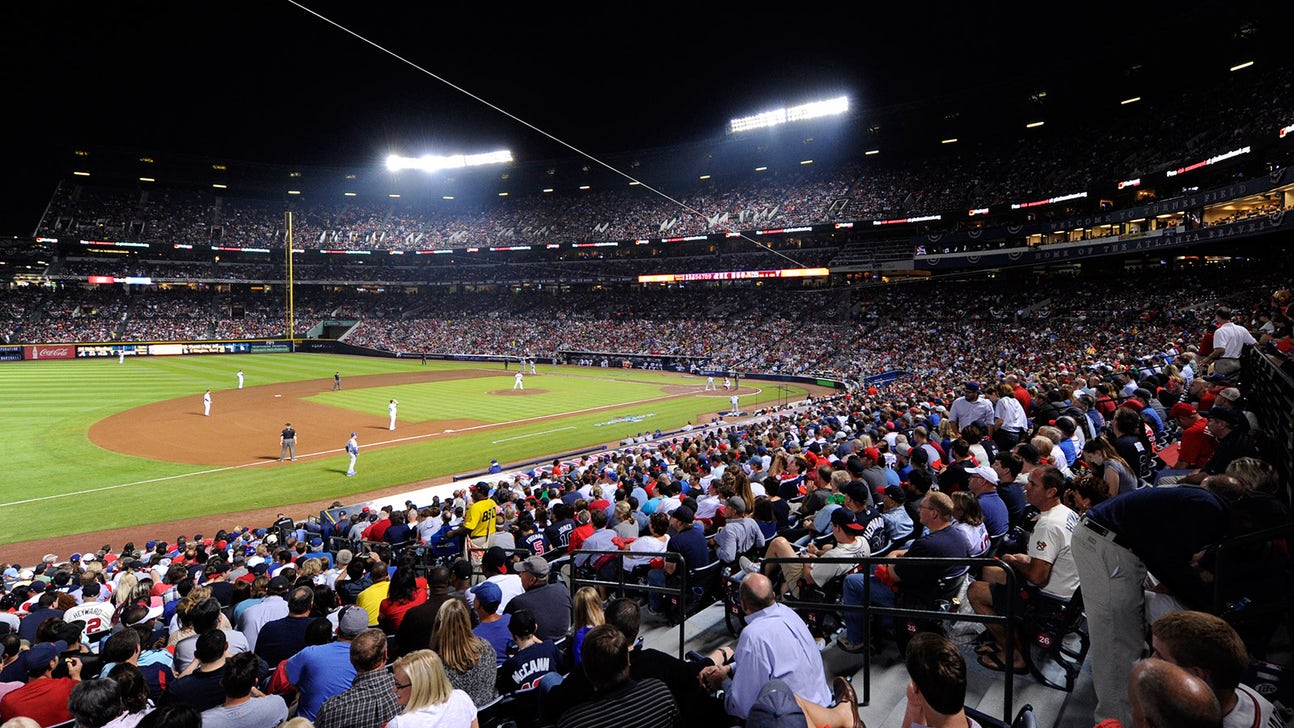 Former catcher Lopez highlights Braves Hall of Fame inductees
Updated
Mar. 4, 2020 5:49 p.m. ET

Former Braves catcher Javy Lopez was making his rounds down at the team's spring training camp in Lake Buena Vista, Fla., but he'll be back in Atlanta soon enough. The three-time All-Star who was a starter during the team's 1995 World Series championship will be inducted into the Braves Hall of Fame, the team announced Tuesday morning.
Lopez will join former head athletic trainer Dave Pursley and former Boston Braves shortstop Rabbit Maranville in the team's honorary club.
The ceremony is set for May 23 at the 755 Club in Turner Field.
"We are happy to welcome these three very deserving individuals into the Braves Hall of Fame," Braves president John Schuerholz said in a statement. "This group represents the Braves organization from each city where we have played and are an integral part of our very rich history."
After making his major league debut in 1992 and taking over the Braves' starting job and in 1994 (playing 80 games), Lopez went on to become one of the franchise's most productive catchers: hitting .287/.337/.502 and 214 home runs in 4,368 plate appearances over a 12-year career in Atlanta. An above-average offensive player for the better part of his Braves career -- logging a 114 OPS+ and 26.3 WAR (FanGraphs) -- his best season came in 2003, a contract year, when he finished fifth in the MVP voting after hitting 43 home runs and driving in 109 runs in just 129 games.
In 60 career postseason games, Lopez hit .278/.324/.493 and 10 home runs, including a two-run homer in the bottom of the sixth inning in Game 2 of the World Series (starts at 2-hour, 45-second mark of video):
He was the face behind the plate for a substantial portion of the team's golden age of pitching, serving as a battery mate for the likes of Cy Young winners and Baseball Hall of Famers Tom Glavine and Greg Maddux (although Maddux often used his own personal catcher, such as Eddie Perez), as well as John Smoltz and Steve Avery, among others.
Lopez signed with Baltimore as a free agent in 2004, playing three more seasons for the Orioles and Red Sox before retiring in 2007.
Pursley served as an athletic trainer for the franchise from 1961 to 2002, spanning the move from Milwaukee to Atlanta and the team's World Series win. He worked four All-Star games in his career (1972, 1983, 1991, 2000) and won the '95 Athletic Training Staff of the Year distinction as the head trainer. According to the team's release, his work with the team's pitchers is worth note as well: Pursley holds patents on equipment to strengthen a pitcher's shoulders.
Then there's Maranville, perhaps the most interesting selection of the bunch.
A Baseball Hall of Fame member from the Class of '54, the 5-foot-5 and fleet-footed Rabbit still ranks among the franchise's leaders in triples (103, 1st) and steals (194, 9th). Despite playing 15 seasons with the Braves in Boston (1912-1920, 1929-1933, 1935) and finishing top-five in the MVP voting three times, Maranville concluded his career without ever becoming a true offensive threat -- his career OPS+ was just 82; league average being 100 -- save for a three-season stretch from 1917-1919, when the leagues didn't name an MVP. He was a member of Boston's 1914 title, though, and served as a player-manager for the Chicago Cubs in 1925 (with dubious results).
Lopez, Pursley and Maranville join 25 other members in the Braves Hall of Fame, including the most recent inductees Smoltz, third baseman Chipper Jones and manager Bobby Cox.
---